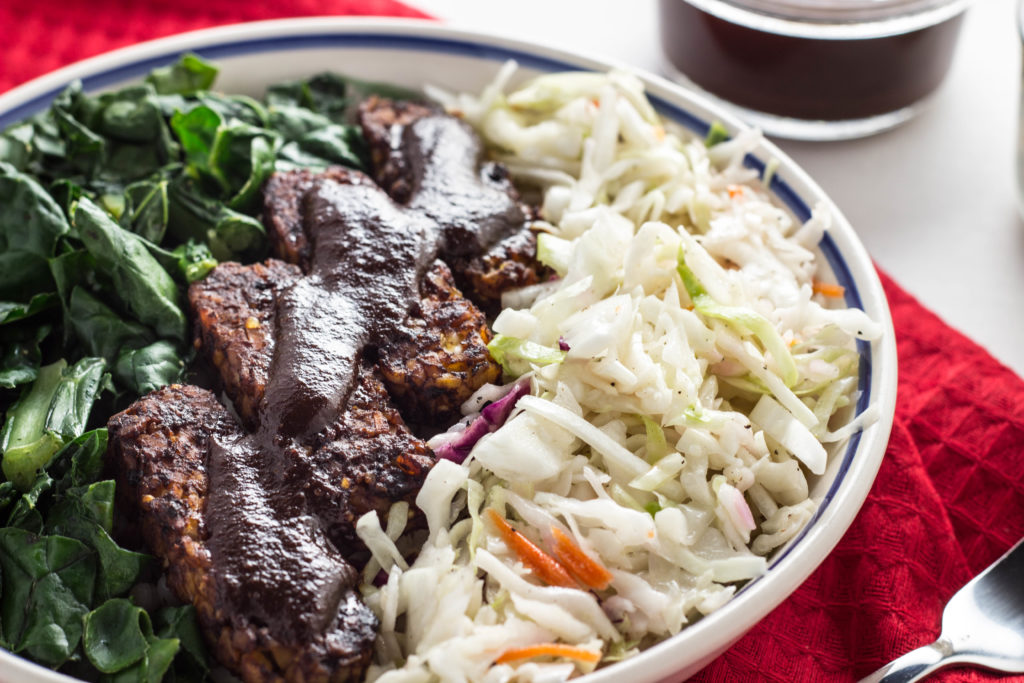 Summer is meant for barbecue, right? Being vegan doesn't mean we have to miss out on the barbecue fun. In fact, there are lots of ways to eat vegan barbecue, but my new favorite way is with this BBQ Tempeh Bowl.
So, what's in this bowl? Sautéed Greens, a quick and easy slaw, and tempeh drenched in homemade barbecue sauce, all sitting atop a bed of pearled barley. Lots of flavors and textures make every bite of this bowl interesting and tasty.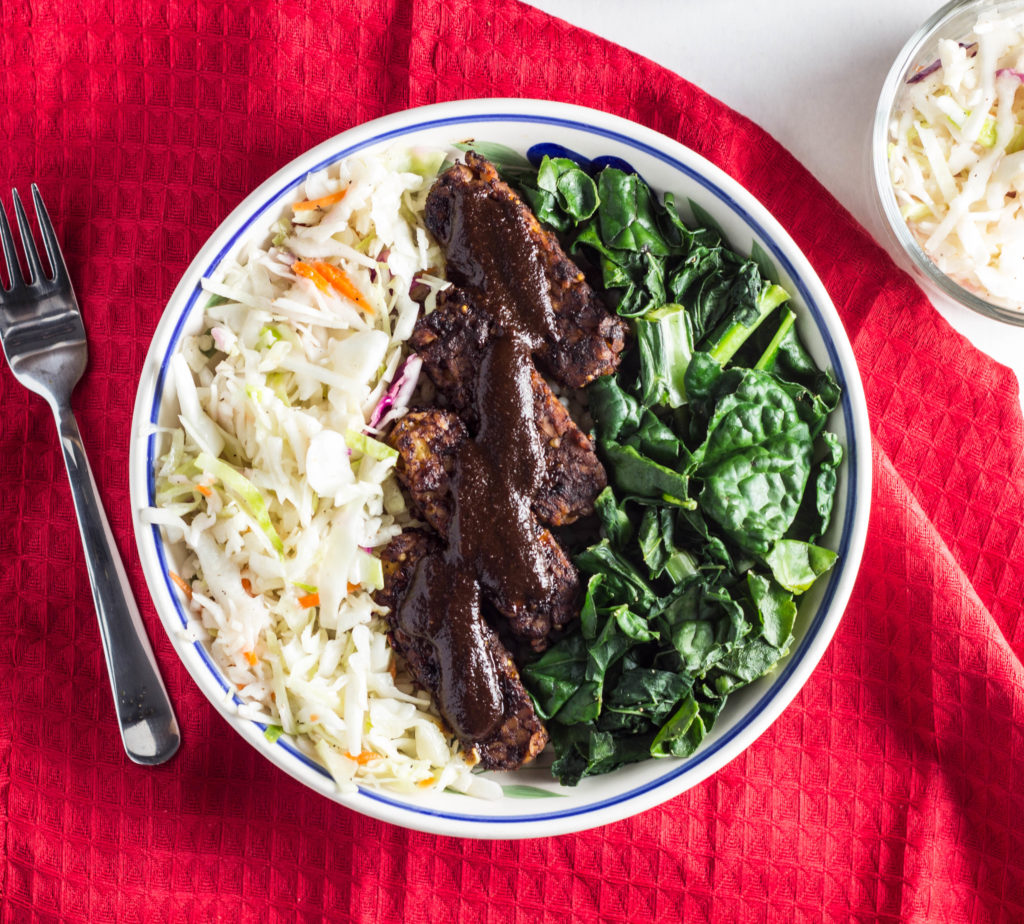 I made a homemade bbq sauce because a lot of the ingredients in store bought varieties are well, kinda scary.  Don't worry though, this sauce comes together in about 20 minutes and if you're really sort of time bottled sauce will work in a pinch. I like my sauce not very sweet and with a peppery bite so I add a lot of black pepper. Black strap molasses adds a great old fashioned flavor and some nutrition to this sauce too. Molasses is a good source of potassium, calcium, iron, and vitamin B6.
Some sort of slaw is almost guaranteed to be served when barbecuing so of course I had to make some for this bowl. I went with a quick oil and vinegar dressing opposed to a creamy one mostly because we're not mayo or vegan mayo people. The result is less creamy, but with all the flavor of typical cole slaw. The key to making this slaw is preparing it at least a couple of hours ahead of when you need it and refrigerating to let the flavors blend.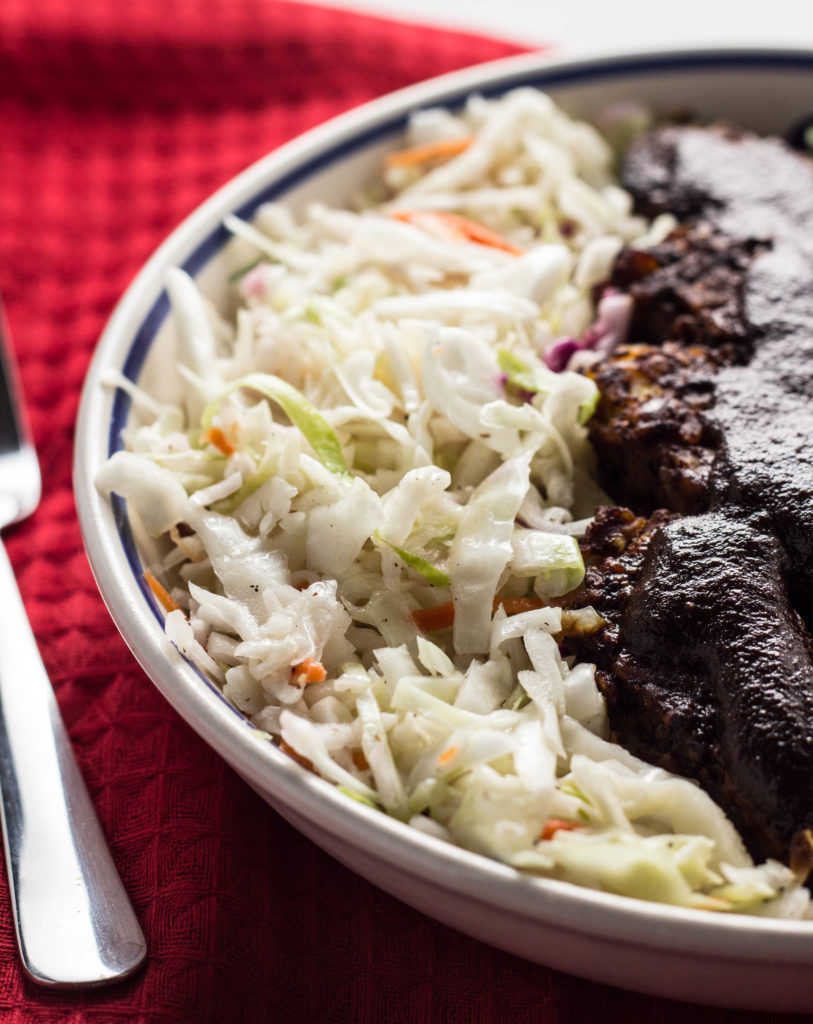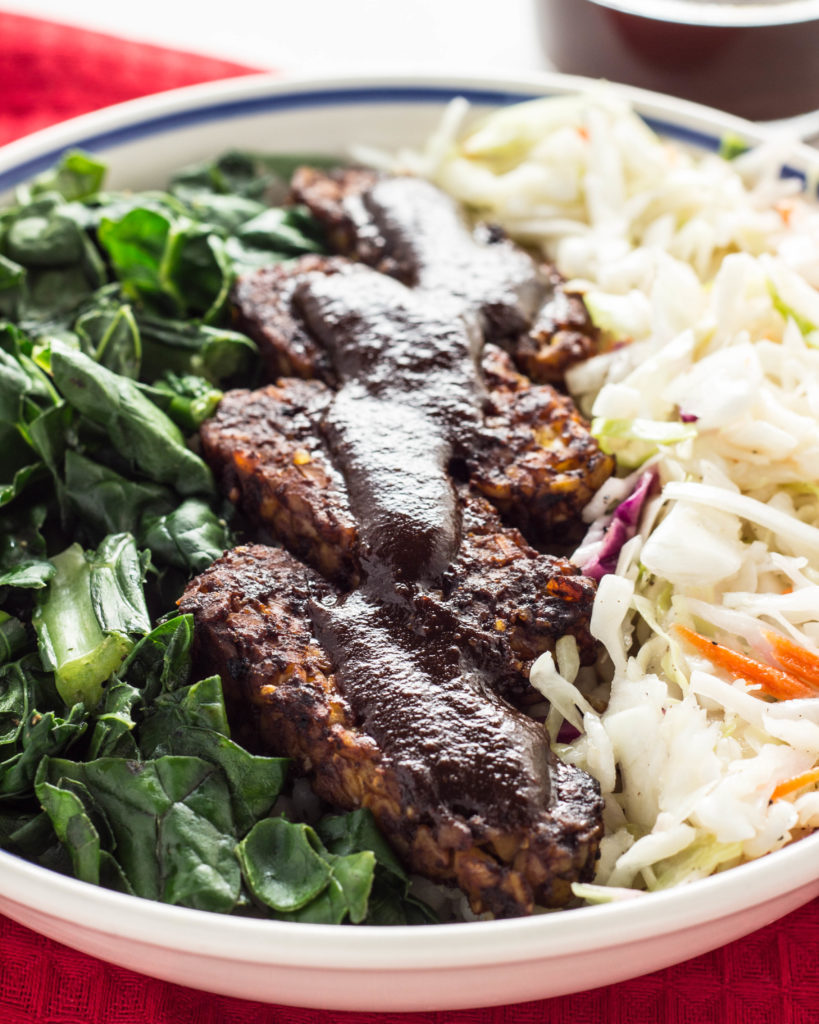 We really enjoyed this for dinner and definitely plan to make it again and again throughout the summer.
If you try this recipe, let me know how it turns out! Leave a comment below or snap a pic and tag it @weelittlevegans on Instagram so I'll be sure to see it!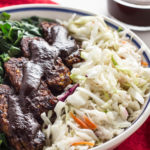 Vegan BBQ Tempeh Bowl
Ingredients
1

cup

uncooked pearled barley

2 ½

cup

low sodium vegetable broth or water

2-3

cup

kale, collard greens, or another green, roughly chopped
Tempeh:
1

8 oz

package tempeh

1-2

tbsp

olive oil

½

cup

bbq sauce homemade or store bought

My Recipe is below.
Homemade BBQ Sauce:
1

cup

tomato sauce

¼

cup

black strap molasses

2

garlic cloves, minced

3

tablespoon

apple cider vinegar

¼-1/2

teaspoon

black pepper

½

teaspoon

salt

1

tsp

smoked paprika

½

teaspoon

ground mustard

1

tablespoon

vegan Worcestershire sauce

1-2

tbsp

maple syrup if you prefer a sweeter sauce
Cole Slaw:
8

oz

cole slaw veggies. I used a prepackaged blend with no dressing.

2-3

tbsp

olive oil

2-3

tablespoon

apple cider vinegar

salt and pepper to taste
Instructions
Cole Slaw:
Combine all ingredients in a bowl and toss to coat. For best flavor refrigerate for 2-3 hours before serving to give flavors time to blend.
BBQ Sauce:
Combine all ingredients in a saucepan and bring to a boil. Reduce heat and simmer for 20-25 minutes stirring often. Taste and adjust seasonings to your taste. Allow to cool before storing in the refrigerator.
Pearled Barley:
Combine broth or water and barley in a saucepan. Bring to a boil and reduce heat and cover. Simmer for about 45 minutes or until soft and a bit chewy and all liquid has cooked away.
Tempeh:
Slice tempeh into ½ inch thick pieces. Heat oil in skillet over medium heat. Add tempeh and cook for 5 minutes or until browned and even a little charred. Flip and cook for another 5 minutes to brown other side.Add bbq sauce and gently toss to coat.
Greens:
Saute in a skillet with a drizzle of oil or a bit of water until wilted. Salt and pepper to taste.

To prepare bowls, scoop barley into bowl and top with tempeh, kale, and slaw. Drizzle with additional bbq sauce, if desired.
Recipe Notes
To keep gluten free use brown rice instead on barley.