This Vegan Southern Potato Salad is creamy without the mayo and super flavorful, perfect for summer get togethers!
It just isn't a summer get together without the potato salad at least here in the South anyway. When I was a kid, my mom would always make up a big bowl whenever the family would have barbecues and later when I met my husband I found out his mom would do the same. Although their recipes are a bit different, the tradition is the same and each is known for their recipes. So, of course I had to come up with an equally delicious vegan version of my own. It took some trail and error, but I did it. This Vegan Southern Potato Salad tastes every bit as delicious as the one I grew up eating.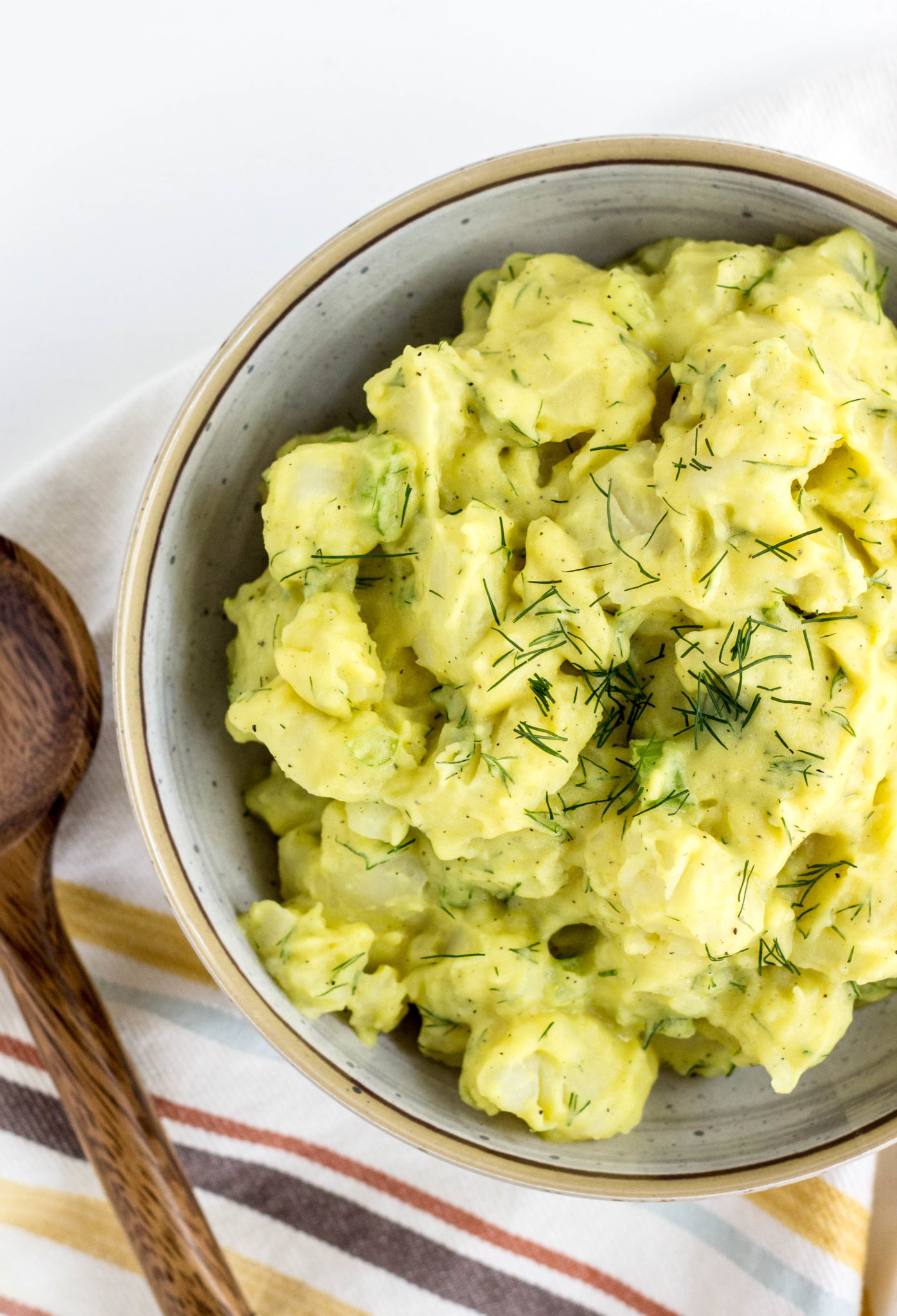 There's a great deal of variety when it comes to potato salad, but they pretty much all have a mayonnaise based dressing that coats the potatoes. For Southern style potato salad, mustard is always added and sometimes hard boiled eggs, onions, and pickle. My mom's recipe calls for all three, while my mother in law only adds the eggs. Either way neither are vegan, so a remake was in order.
I could have easily just substituted a vegan mayo and called it done, but I really wanted to avoid the mayo, which is made with loads of oil, so instead I went with dairy free yogurt. When mixed with the potatoes it really is the same texture and mouth feel of the mayo based salads of my past.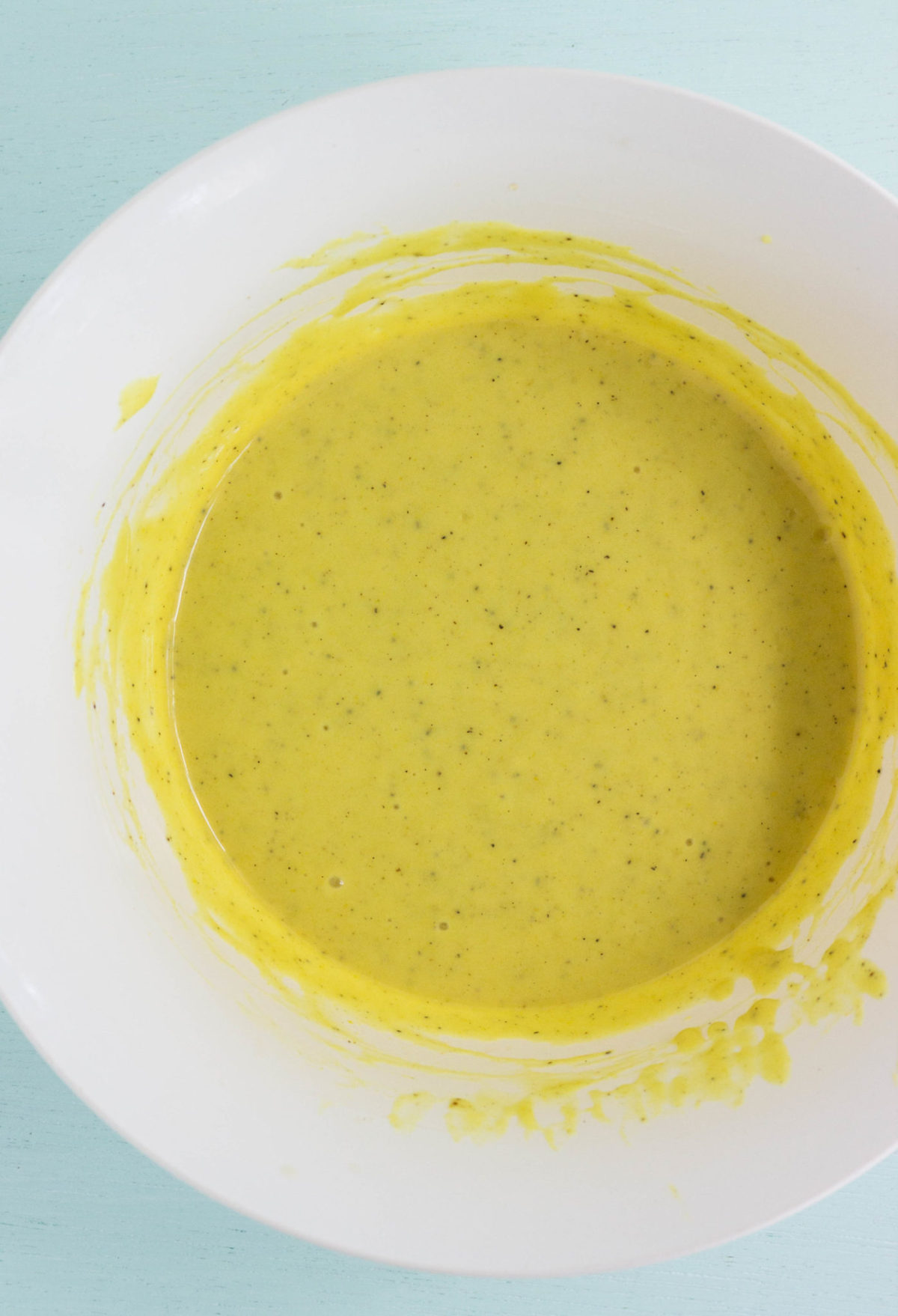 Over time, I have learned a few very important tips when it comes to making the most delicious potato salad:
Add a generous amount of salt to the potatoes while cooking. This will ensure maximum flavor since foods eaten cold tend to taste more bland if not well seasoned.
Be sure not to under or overcook those potatoes either. You want them to be tender, but not so tender they turn to mush when everything gets mixed up. Look for just the edges of the potatoes to begin to break.
Add a splash of vinegar to the water while cooking the potatoes and another splash immediately after they are done. Acid makes the whole dish pop!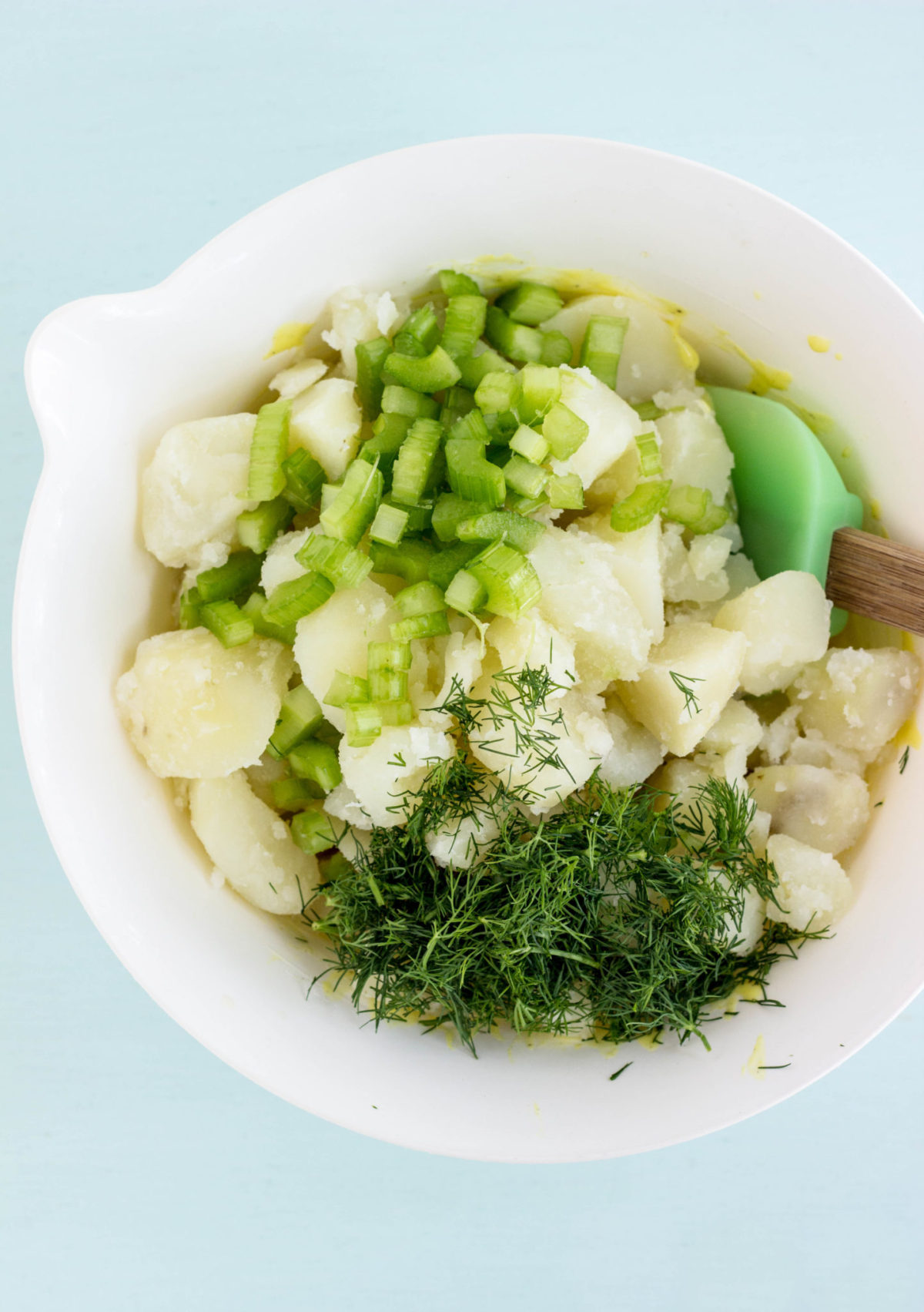 Of course, I wanted to put my own stamp on this dish so I made a few other changes to the moms' basic recipes. First, eggs were out obviously. I don't feel it necessary to try and replicate that portion so I didn't even bother. Next, I add fresh dill to give that pickle-y flavor without the actual pickle. This dish is already quite salty so using the fresh dill adds flavor without the additional salt in pickles. We like a lot of texture in our foods so I added chopped celery for some crunch instead of onion because we kind of hate raw onion around here.
What do the kids think? Two out of the three love it. My toddler just isn't on board with this one, but my older kiddos really enjoy it.
This Vegan Southern Potato Salad may be quite different than what we enjoyed as kids, but it is every bit as delicious, maybe even more so! Shh, don't tell the moms 😉
If you try this recipe, let me know how it turns out! Leave a comment below or snap a pic and tag it @weelittlevegans on Instagram so I'll be sure to see it!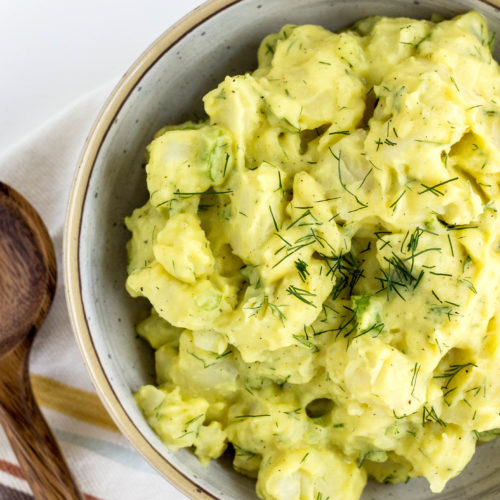 Vegan Southern Potato Salad
This Vegan Southern Potato Salad is creamy without the mayo and super flavorful, perfect for summer get togethers!
Ingredients
1 ½

lb

russet potatoes

3

tablespoon

apple cider vinegar

1

rib celery, diced small

1-2

tablespoon

fresh dill, chopped finely

5.3

oz

non dairy yogurt, plain and unsweetened

I used So Delicious coconut yogurt.

2

tablespoon

yellow mustard

¼

teaspoon

black pepper

¼

teaspoon

salt + 2 teaspoon for cooking potatoes

1

teaspoon

maple syrup
Instructions
Peel and chop potatoes into 1 inch pieces. Place in a large pot and add enough cold water to cover potatoes completely. Add 2 teaspoon salt and 1 tablespoon vinegar.

Bring to a boil and reduce heat to a rolling simmer. Cook, stirring occasionally until potatoes are tender, about 10-15 mins.

Drain, transfer to a shallow dish and sprinkle will 1 tablespoon vinegar. Allow to cool to room temperature.

Prepare dressing by combining yogurt, mustard, maple syrup 1 tablespoon vinegar, salt, and pepper in a large bowl. Whisk to thoroughly combine.

Fold in dill, celery, and potatoes until evenly coated.

Cover and refrigerate at least one hour or until ready to serve.
Notes
Potato salad can be made the day before needed and refrigerated. 
Recipe can easily be doubled to feed large groups.