A simple, delicious salad of shredded Brussels sprouts, sweet pomegranate arils and slivered almonds dressed in a light and refreshing lemony vinaigrette. This Brussels Sprout Pomegranate Salad is sure to impress!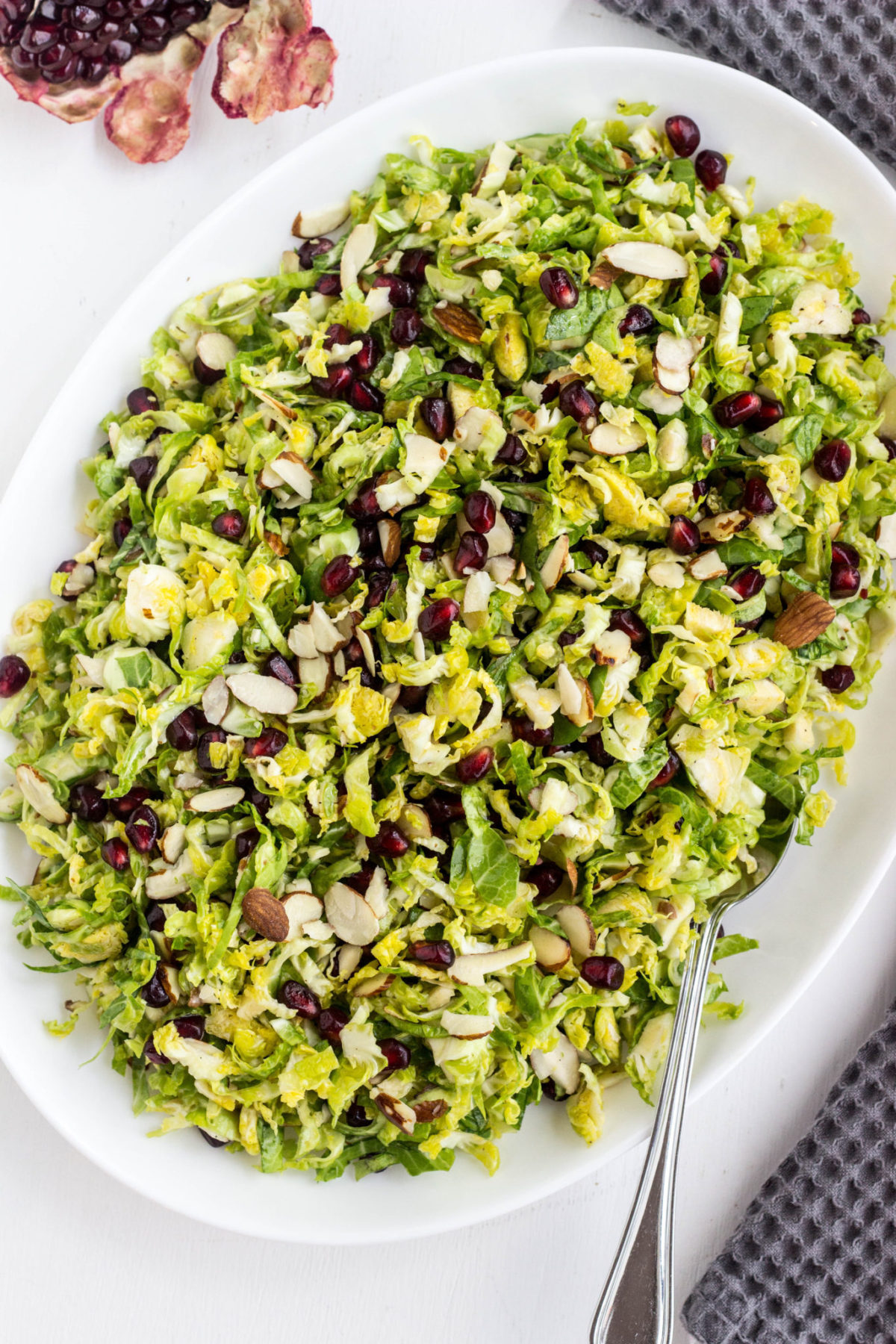 We've been enjoying this Brussels Sprout Pomegranate Salad for several years now so it's high time I share it here. We love the freshness of the sprouts combined with the crunch of almonds and a bright pops of flavor from the pomegranate and light lemony dressing. Really it's so delicious, even if you think you don't like Brussels sprouts, give this salad a try. I think you'll be pleasantly surprised. The festive color also makes this salad a great addition to holiday meals.
This recipe is one of a few around here featuring Brussels sprouts. Be sure to try this creamy Brussels sprout gratin or sprouts and tempeh hash.
Jump to: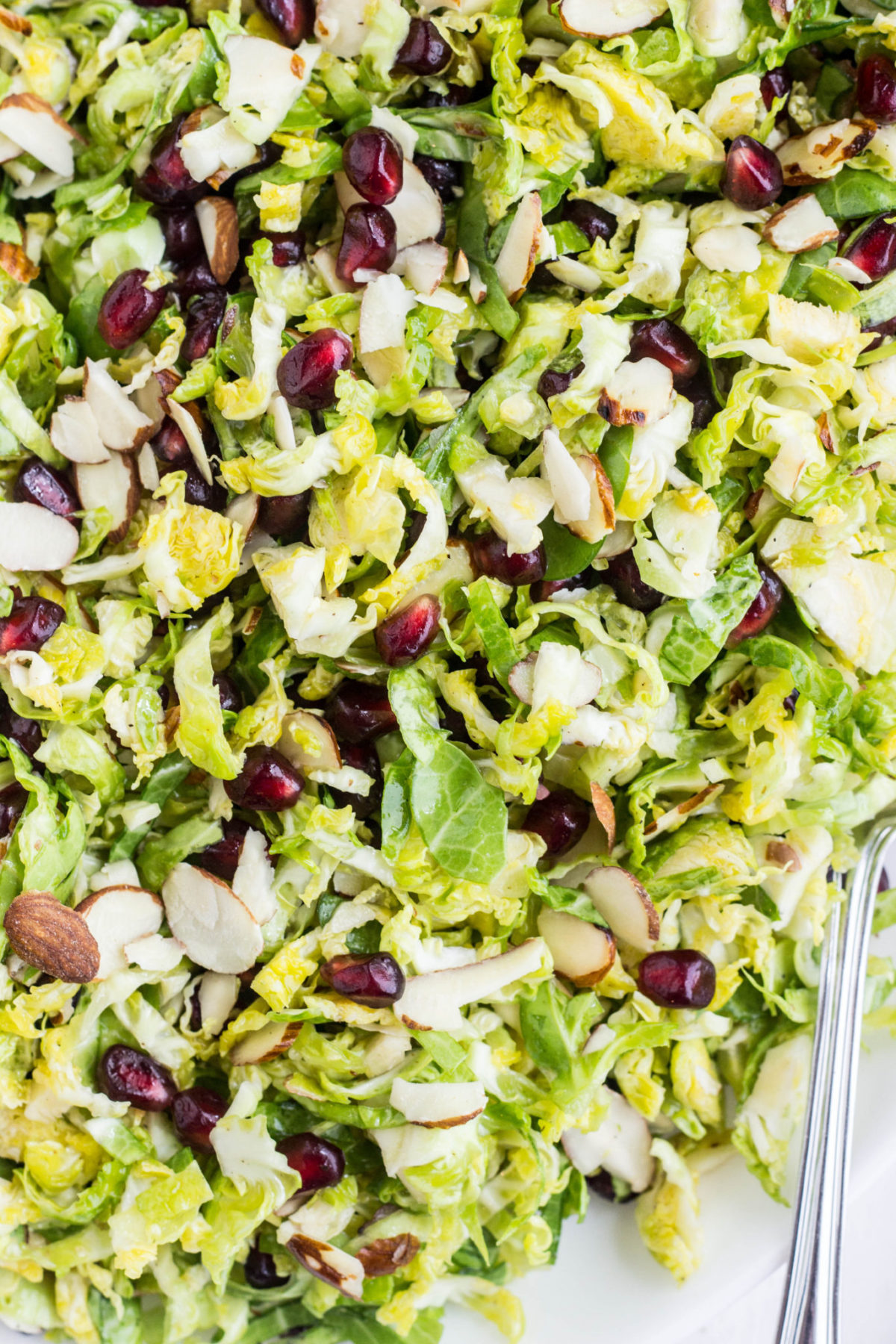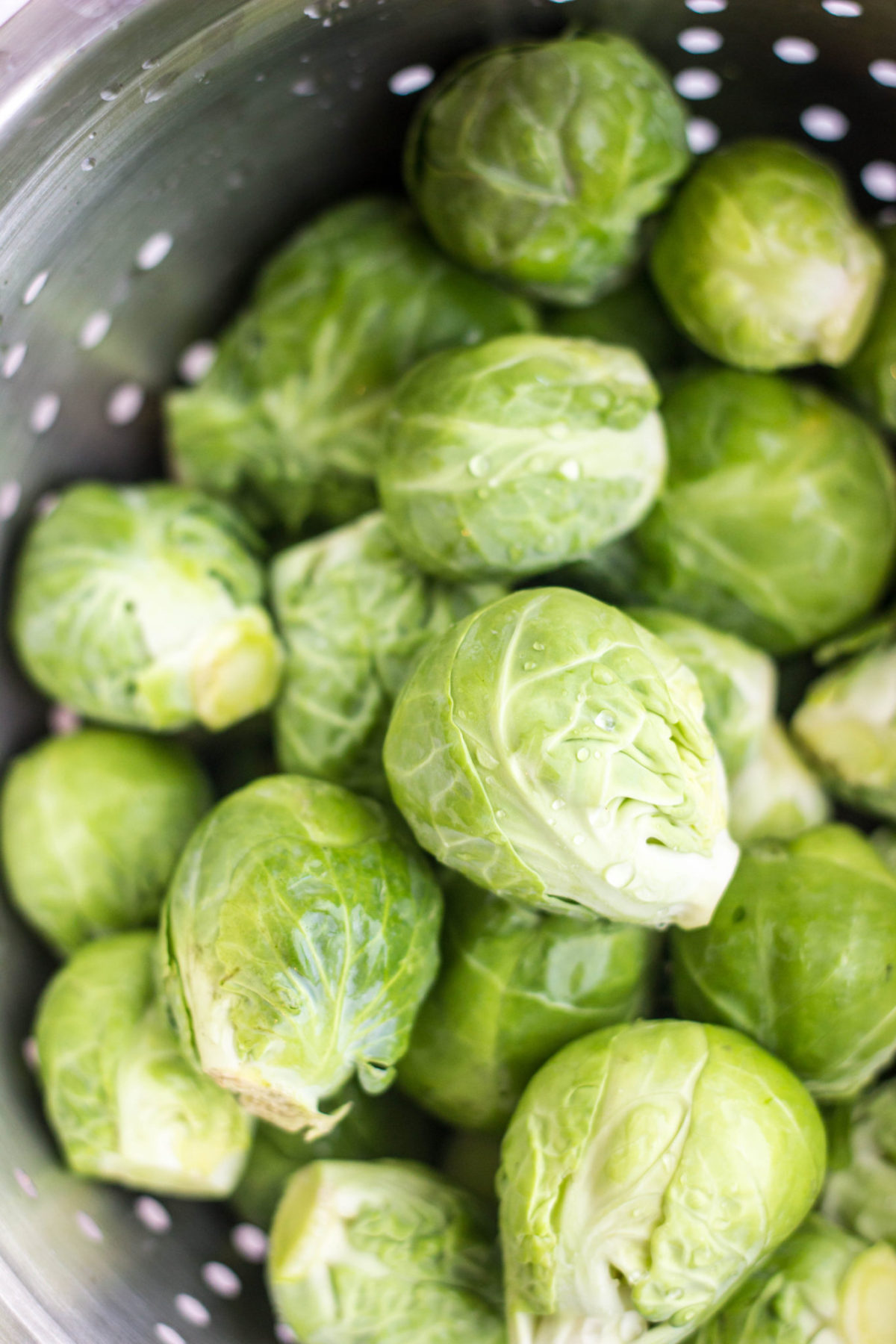 Besides being super tasty this salad is also beautiful thanks to those lovely deep red pomegranate arils and quite nutritious too.
health benefits of Brussels sprouts and pomegranates
Brussels sprouts named after the capital of Belgium where they first grew are part of the cruciferous family of vegetables. Think broccoli, cauliflower, cabbage, kale and other greens. They're loaded with:
vitamin C
folate
iron
calcium
vitamin K
fiber
Pomegranates are equally nutritious with many of the same vitamins and minerals listed above and more along with being rich in antioxidants, which we all know are important to our bodies to remove free radicals.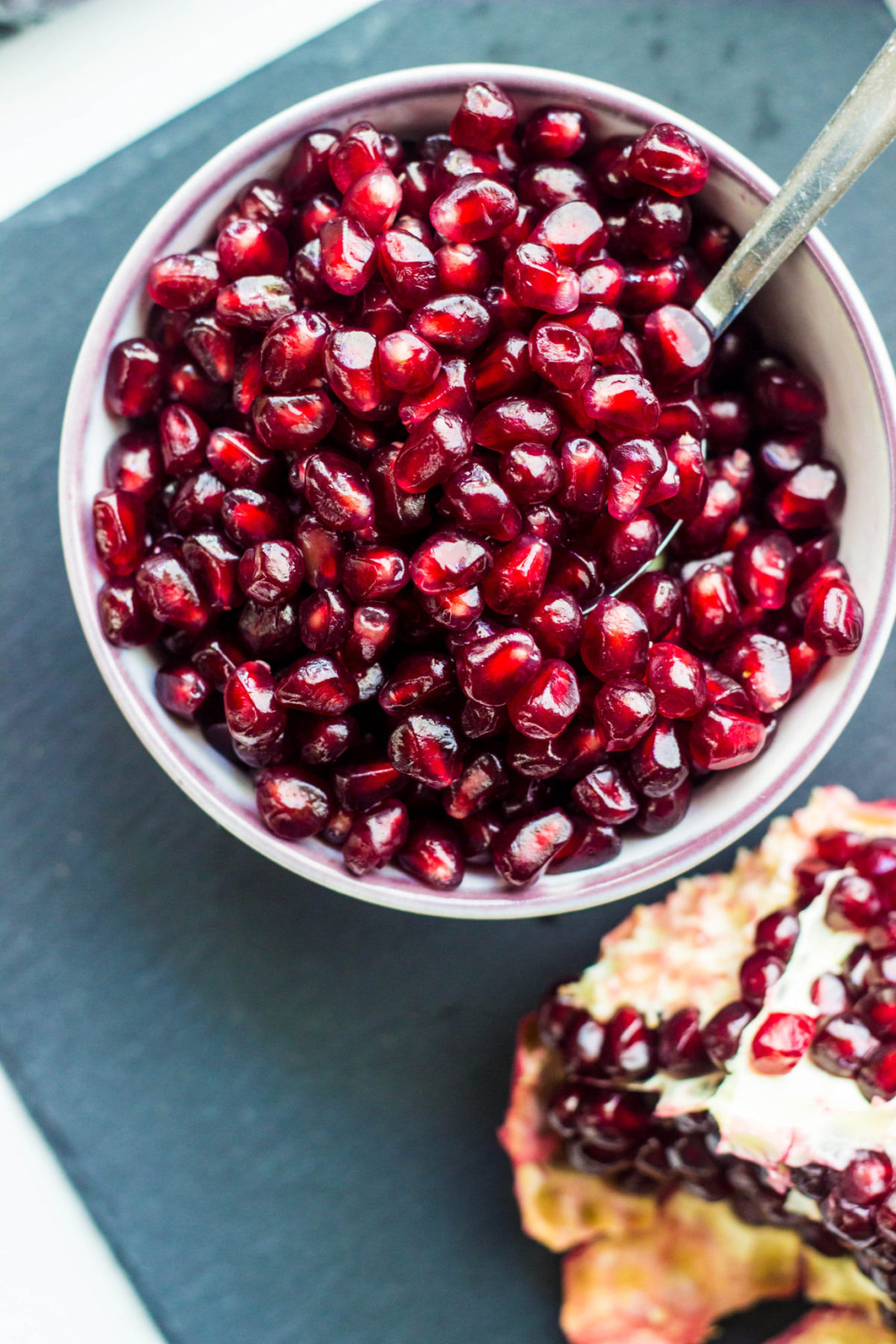 how to remove pomegranate seeds
To remove the seeds also known as arils from the peel start by cutting just the very top off. The next step is to gently cut down the sides of the fruit beginning at the top being careful not to cut too deep. You don't want to cut through the seeds inside. Make four of these shallow cuts to quarter the fruit and then pry the sections apart to separate. Use your fingers to carefully peel the arils away from the peel and membrane. You can do this over a bowl to catch the arils.
If you need to save time, many grocery stores sell prepackaged arils removed from the peel.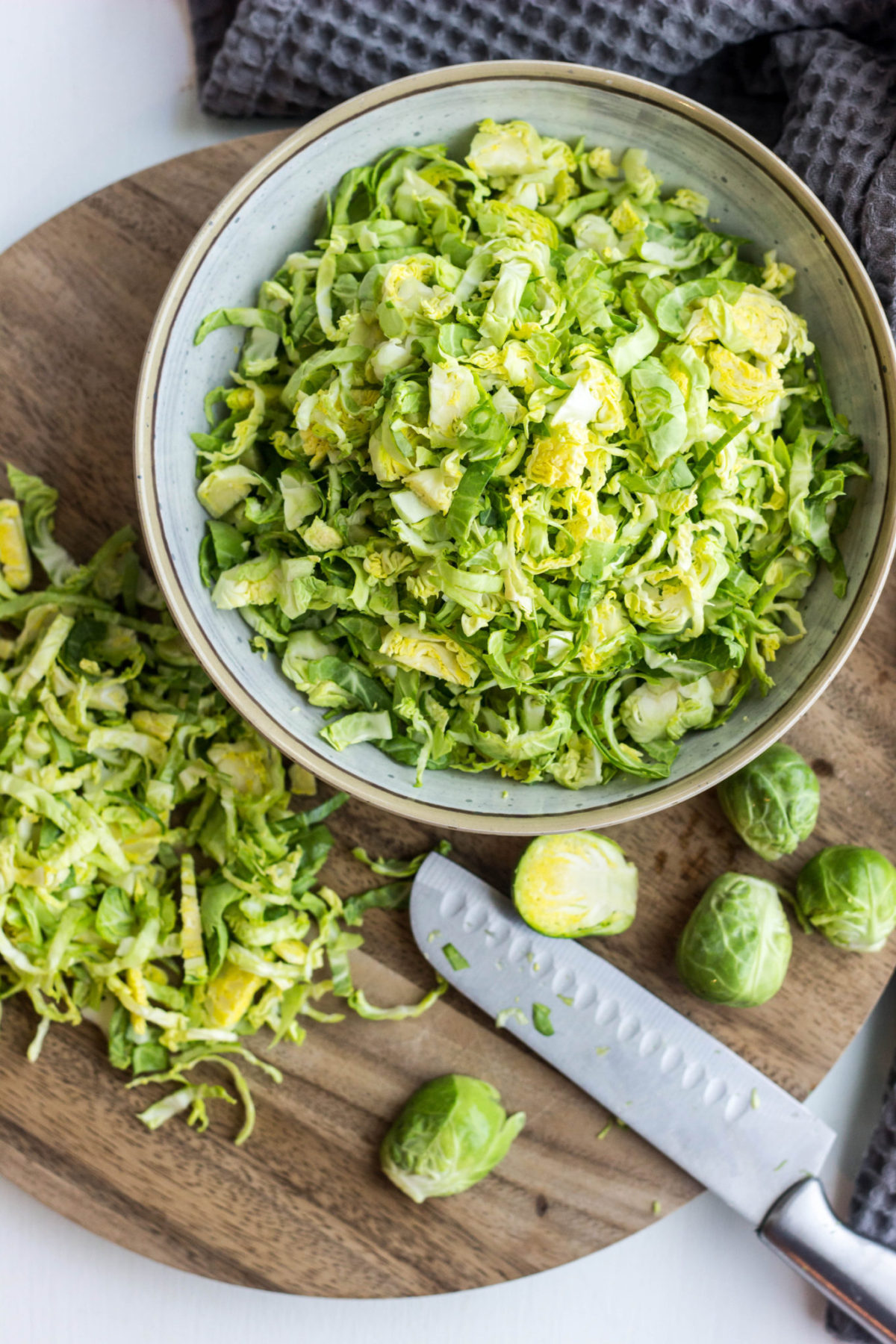 prep and cut the sprouts
Clean Brussels sprouts in water then trim the root end to remove any woody inedible pieces of stalk that may still be attached. Pull off any tough or blemished outer leaves as well.
Cutting the sprouts into thin shreds may seem difficult, but it's actually quite easy. Admittedly a little time consuming, but I find the chopping therapeutic so I don't mind. BUT if you're short on time or just prefer not to, you might be able to find prepackaged sprouts labeled shaved at the grocery store. You can also use a food processor with a shredding disc attached.
If you don't mind cutting the sprouts yourself, this is how to do it. Start by cutting the sprouts in half lengthwise. With the cut side down, using a sharp chef's knife slice across the width to create thin shreds, discarding the root. Separate the shreds using your fingers.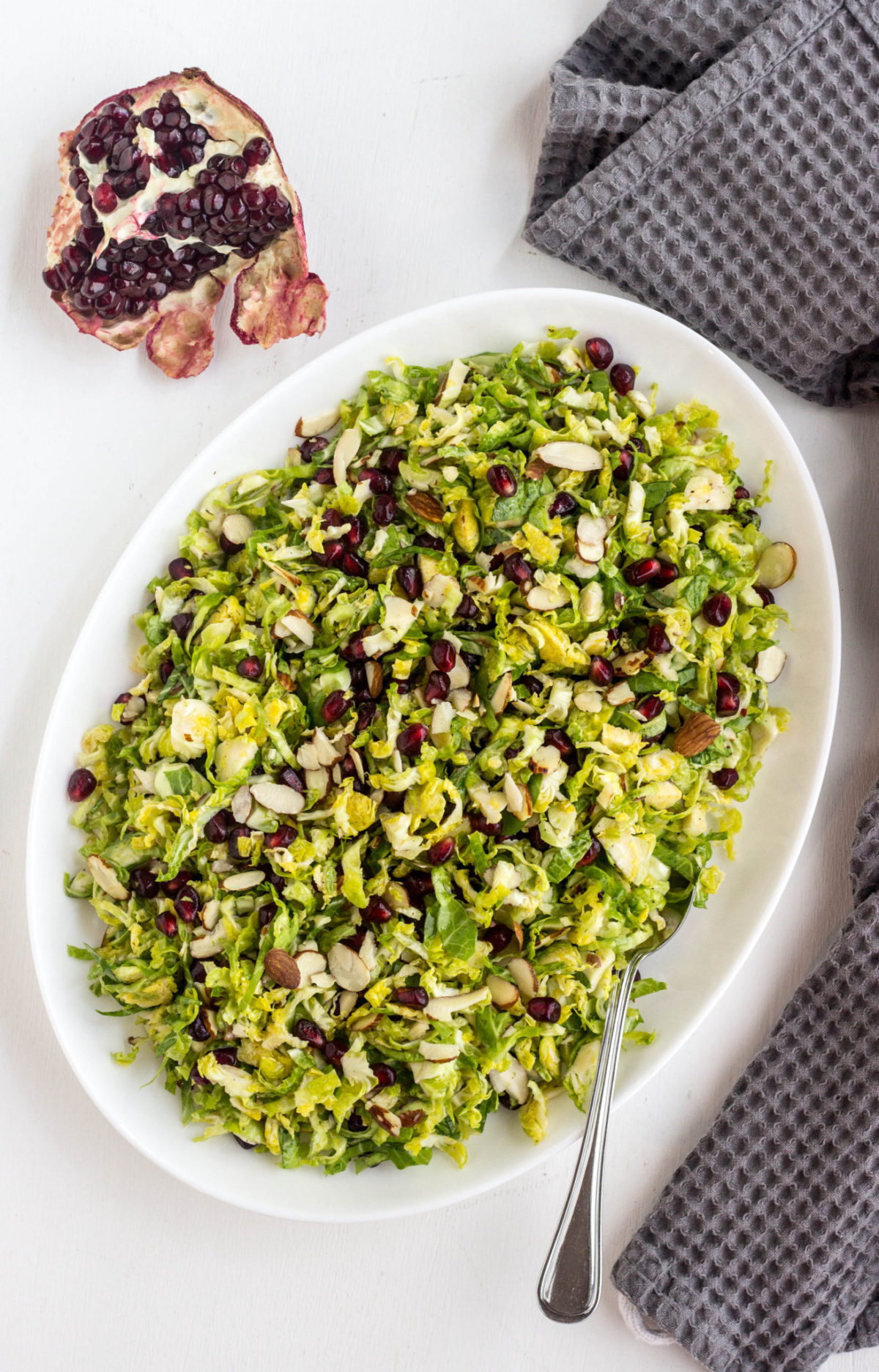 If you make a recipe, I would love to know how it turns out! You can leave a comment and rating below or snap a pic and tag it @weelittlevegans on Instagram so I'll be sure to see it!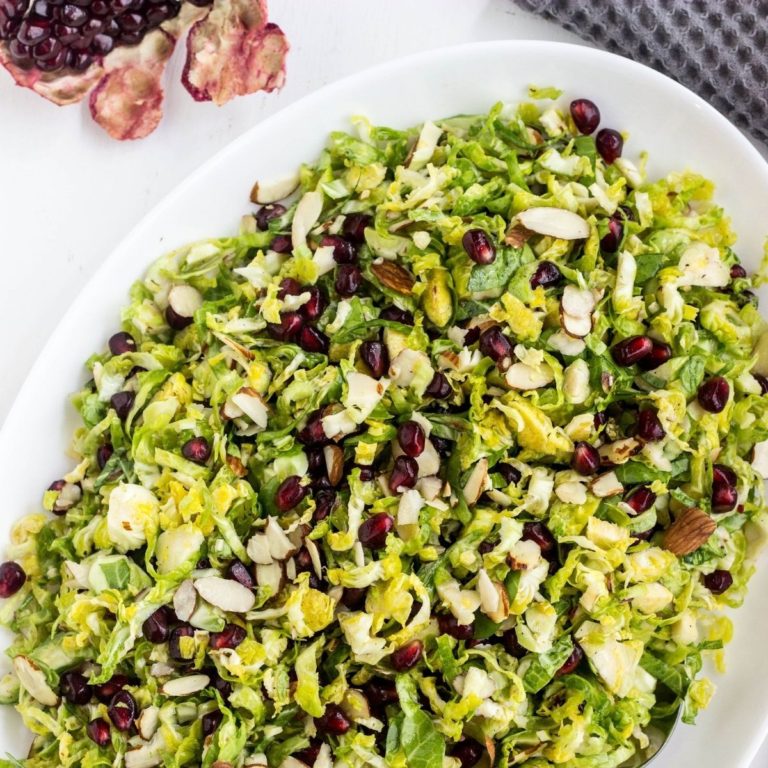 Brussels Sprout Pomegranate Salad
A simple, delicious salad of shredded Brussels sprouts, sweet pomegranate arils and slivered almonds dressed in a light and refreshing lemony vinaigrette.
Ingredients
lemon vinaigrette
⅓

cup

fresh squeezed lemon juice

3

tbsp

avocado or olive oil

2

tbsp

maple syrup

salt and pepper to taste
salad
1

lb

Brussels sprouts

½

cup

slivered almonds or pecans

1

cup

pomegranate arils
Instructions
lemon vinaigrette
Pour lemon juice into a small bowl or measuring cup and while whisking add oil to emulsify. Add maple syrup, salt and pepper and whisk to combine. Set aside.
salad
Clean and remove any blemished leaves from each Brussels sprout.

Cut sprouts in half lengthwise. With cut side down thinly slice across the width of sprout and discard the stem.

Seperate the shreds with fingers and transfer to a large bowl.

Add pomegranate arils and slivered almonds to the bowl of sprouts and toss to thoroughly incorporate.

Pour vinaigrette over the salad and toss to coat. Taste and add salt and pepper as desired.

Serve immediately or refrigerate for later.