Sweet and creamy Strawberry Swirl Coconut Ice Cream made with just 7 ingredients and no ice cream maker.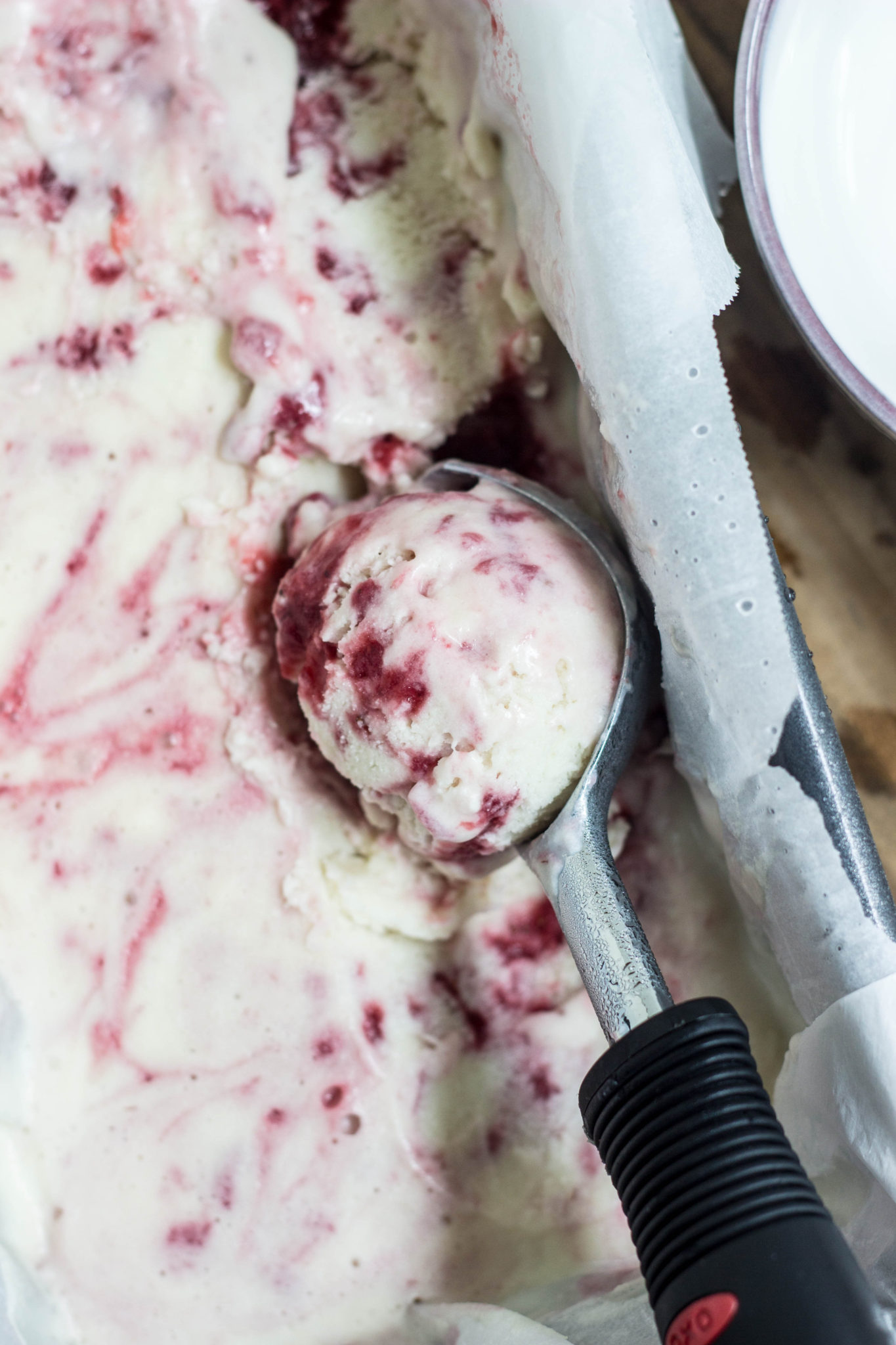 Summer is here and the temperatures are getting hot in Florida so we're doing what we can to keep cool. Swimming and enjoying plenty of cool, refreshing treats are fun and delicious ways to beat the heat. The newest creation to come out of our kitchen, this Strawberry Swirl Coconut Ice Cream, does just the trick for these hot summer days. It's creamy, rich and full of delicious flavor and the best part, super simple to make.
Always keeping it simple, we made this ice cream with just a handful of ingredients and without the need for any special equipment. That's right - creamy, delicious ice cream with no ice cream maker required.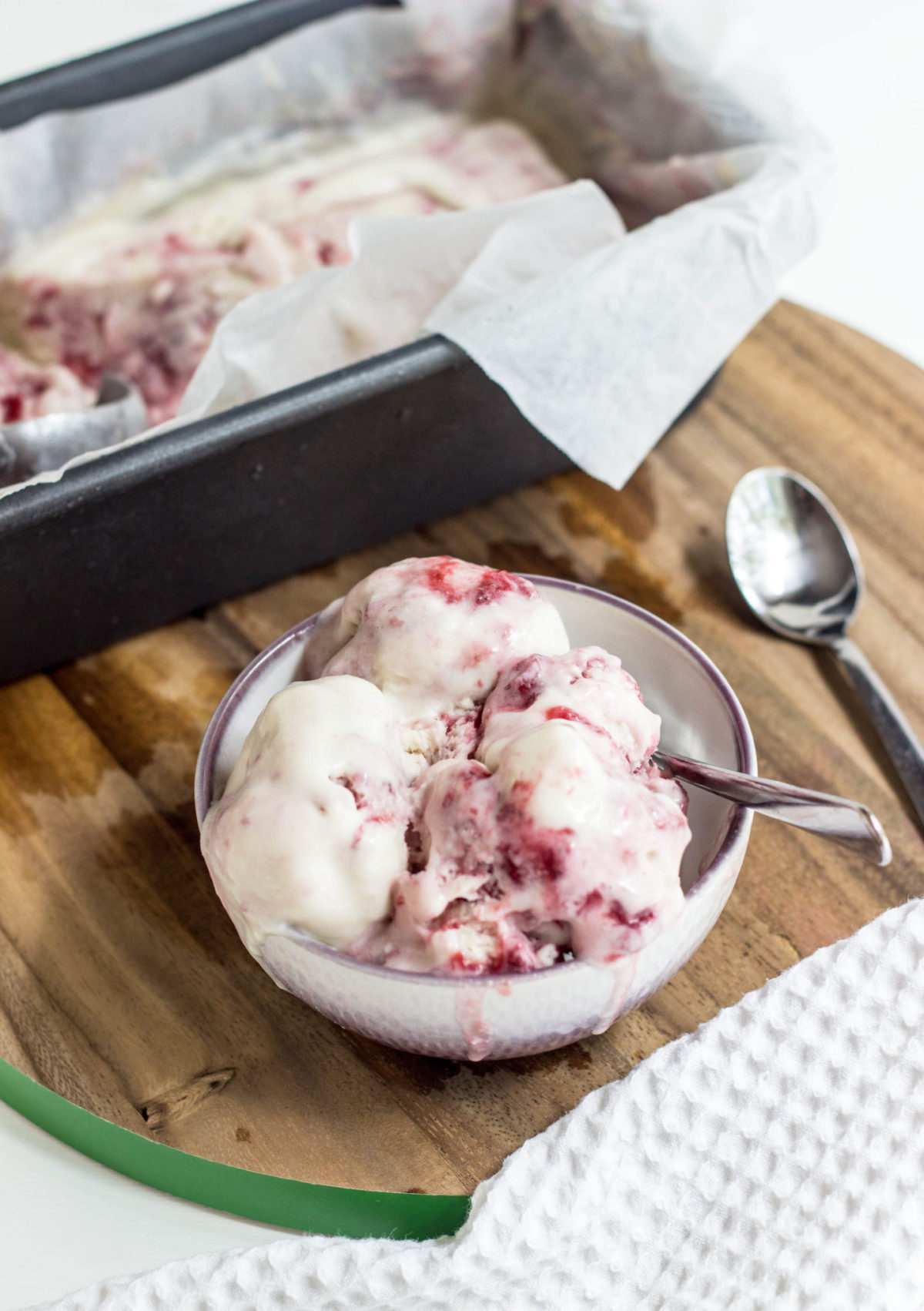 Of course, if you have an ice cream maker you can certainly use it if you like. Follow the the instructions for making the base below up to the point of freezing and then follow your maker's directions instead. Once the base is ready swirl in the prepared strawberry sauce.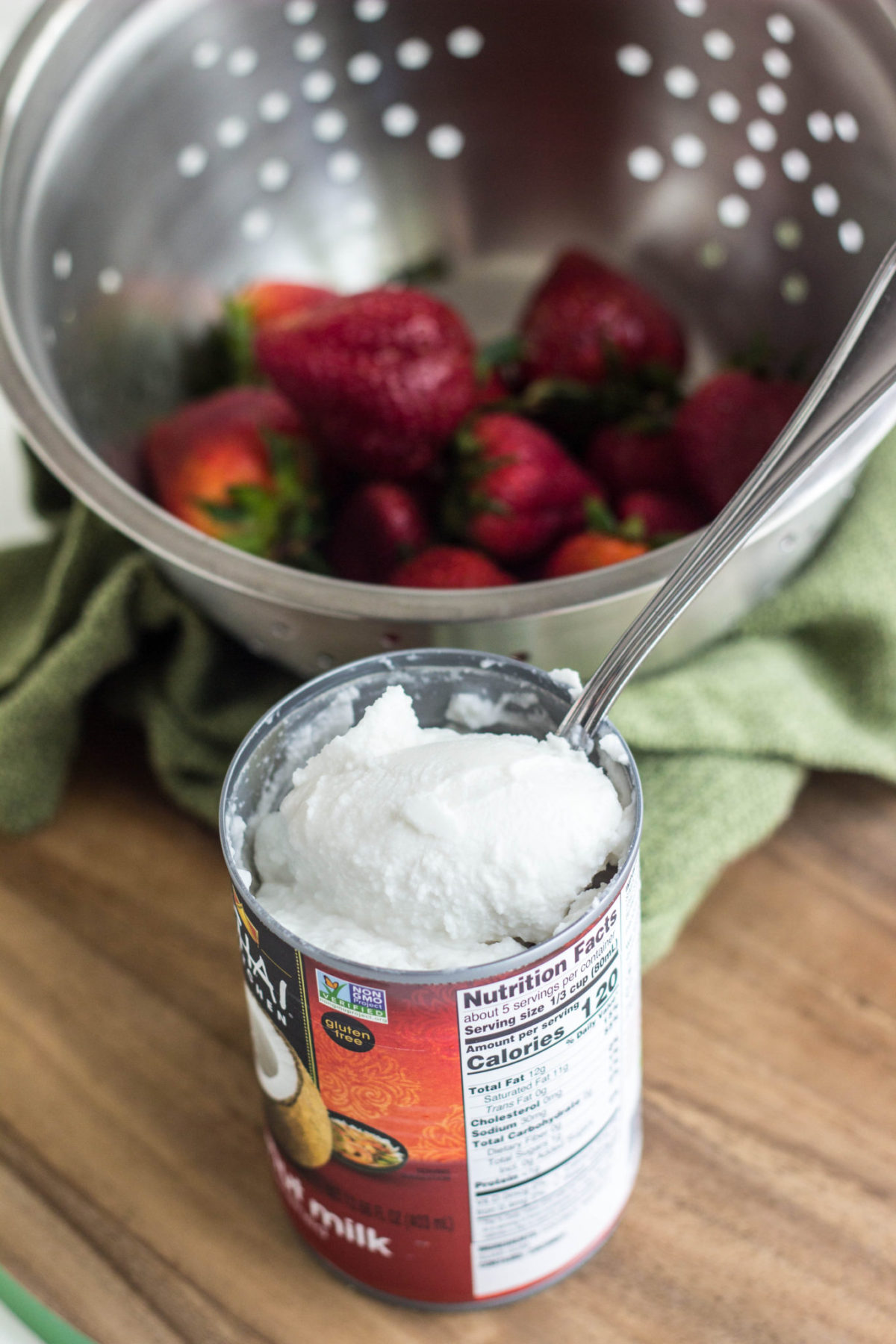 How do you make a creamy ice cream base without dairy or eggs?
For our vegan ice cream base, we're using canned full fat coconut milk or canned coconut cream. Our favorite brand is Thai Kitchen. You'll want to chill the cans in the fridge overnight to allow the cream to firm up at the top while the water stays at the bottom. It should be thick like you see above. To make the base you simply scoop the firm cream off the top leaving the water for another use such as in smoothies.
Once we have the thickened cream, it's to sweeten it up. We like maple syrup for a refined sugar free option. Add a little vanilla and pinch of salt and that's all you need for a creamy, vegan ice cream base.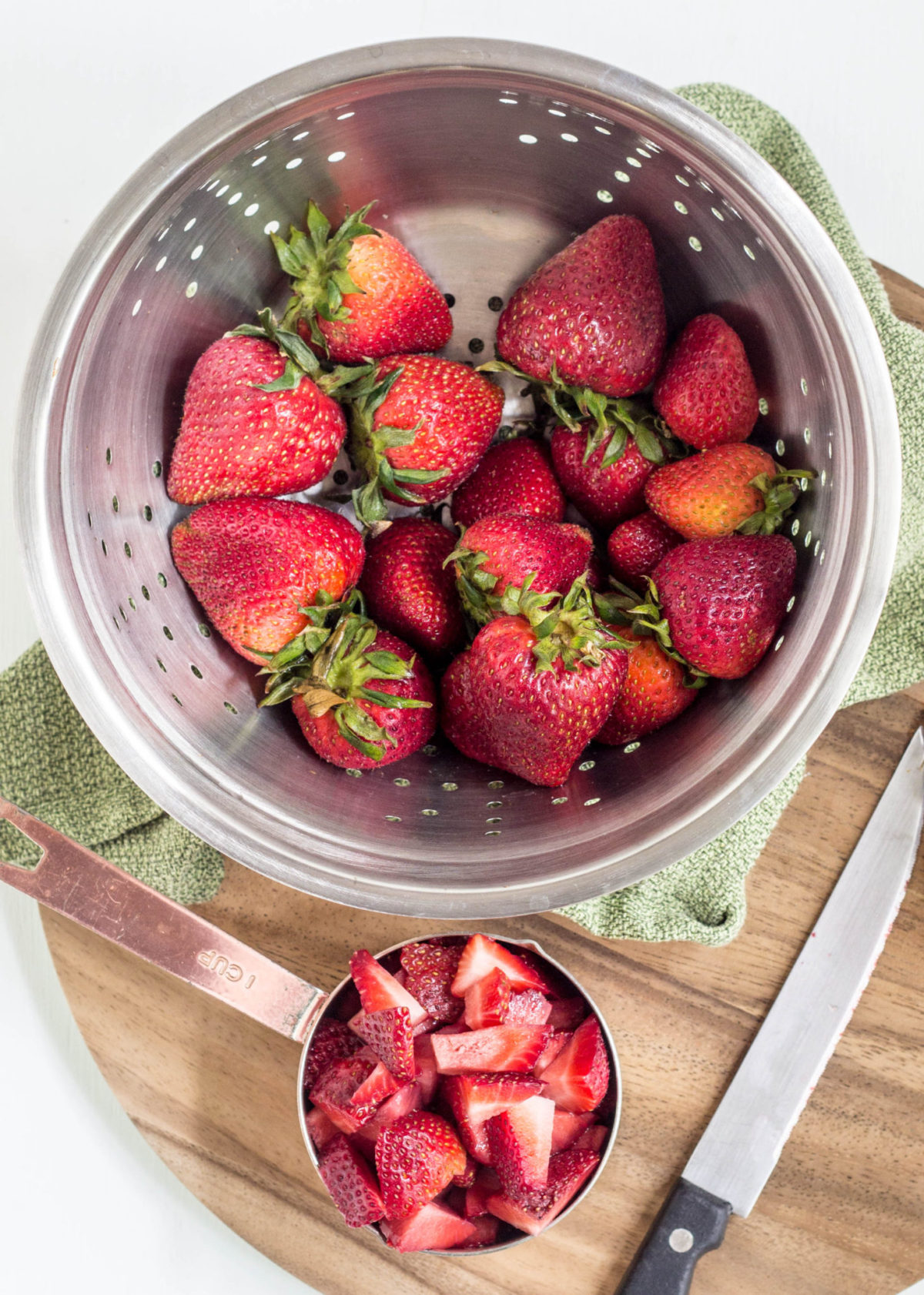 The fun part - Mix ins!
To make those delicious swirls of strawberries throughout the ice cream, start by chopping fresh strawberries. You could also use frozen if that's all you have. From there, heat the cut berries, a bit of sugar and squeeze of fresh lemon juice in a sauce pan. Simmer and stir often until the strawberries have broken down and formed a sauce that coats the back of a spoon. Super simple!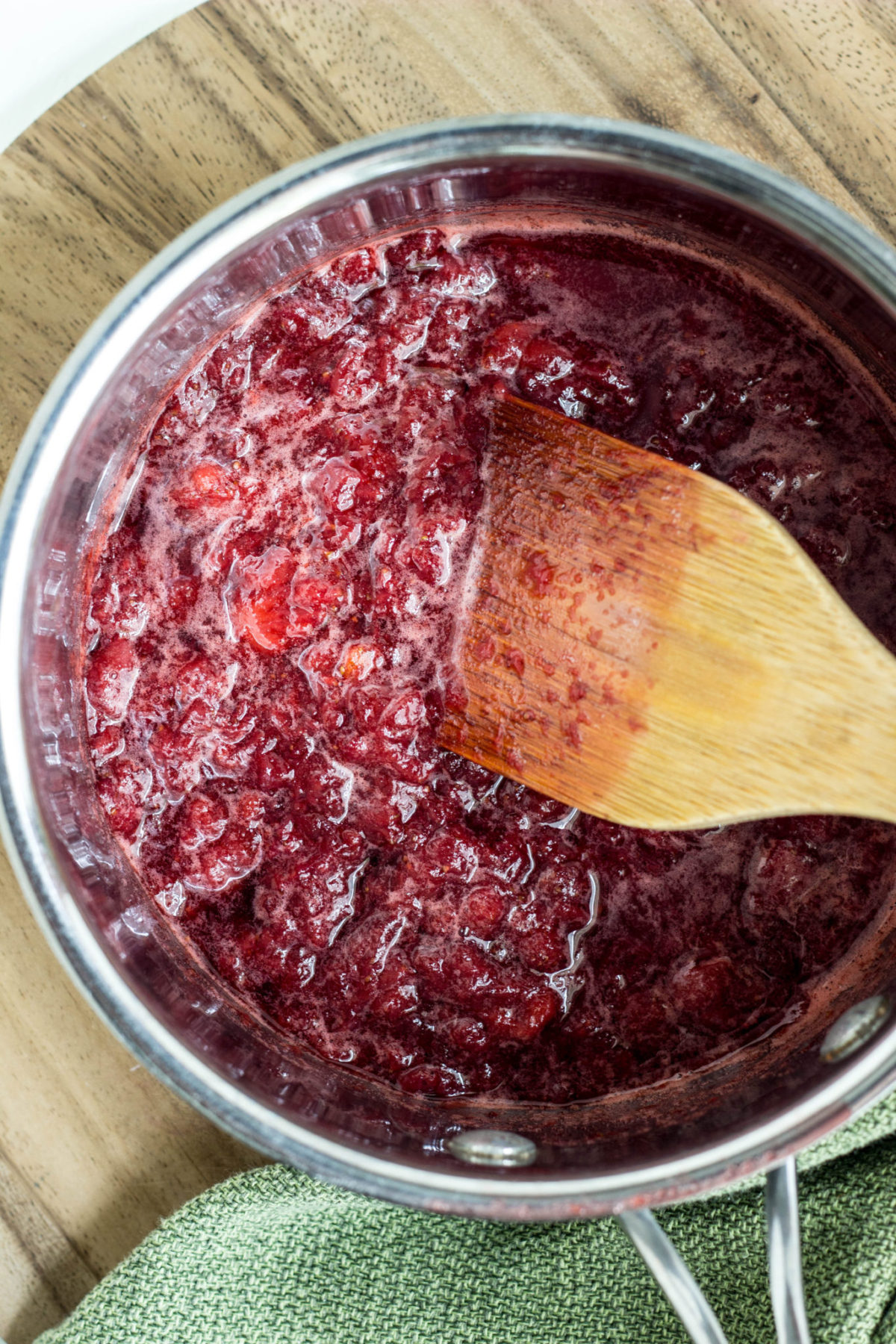 Once the base of the ice cream has firmed up a bit in the freezer dollop spoons of the cooled sauce over the top and use a knife or skewer to swirl it through. Looks impressive, but really it's so easy!
The whole family really loves this ice cream and we hope you will too!
And just in case you need more ways to beat the heat here are other cool treats to try:
Peanut Butter Banana Ice Cream Bites
Vegan Cookies 'n Cream Ice Cream Cups
Creamy Vegan Lemonade Smoothie
Vegan Creamy Cantaloupe Popsicles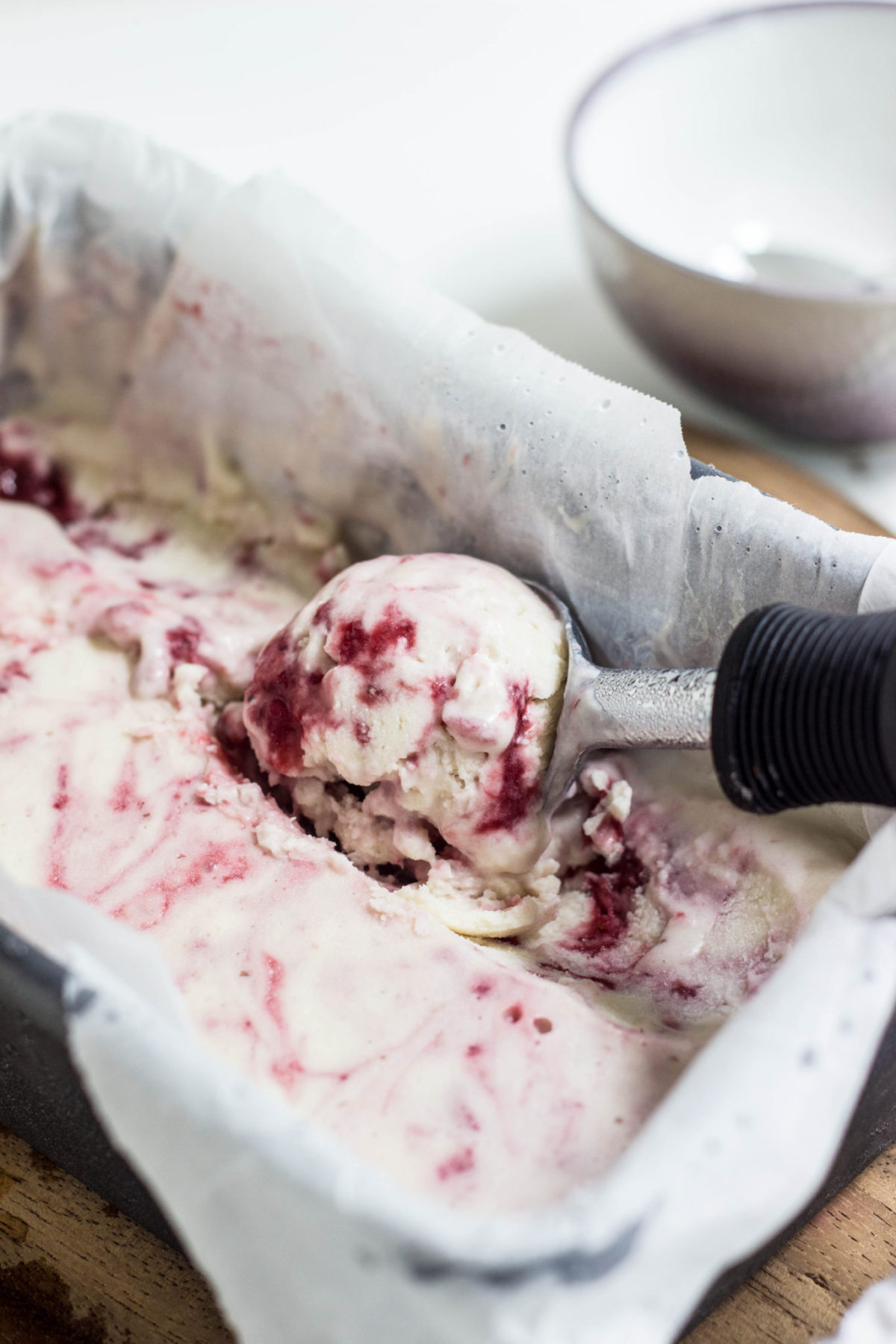 If you make a recipe, I would love to know how it turns out! Leave a comment and rating below or snap a pic and tag it @weelittlevegans on Instagram so I'll be sure to see it!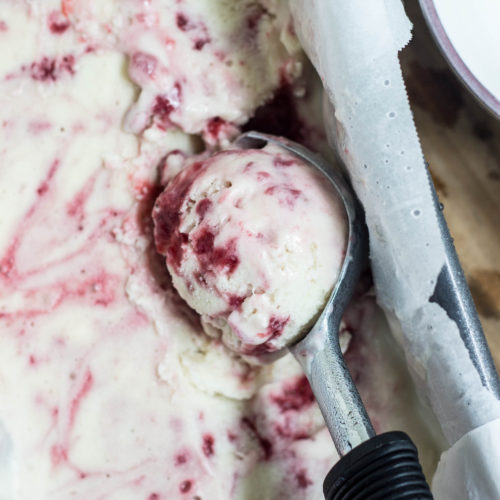 Strawberry Swirl Coconut Ice Cream
Ingredients
Ice Cream Base:
2

cans full fat coconut milk or cream

½

cup

maple syrup

1

teaspoon

vanilla

pinch of salt
Strawberry Swirl:
1

cup

chopped strawberries

¼

cup

sugar or maple syrup

2

tsp

fresh squeezed lemon juice
Instructions
Ice cream base:
Chill coconut milk or cream overnight in the fridge to allow cream firm up at the top of the can.

Scoop firm cream leaving the water in the can into a bowl. Add maple syrup, vanilla and salt and whisk to thoroughly combine. You can use a stand mixer, hand mixer or whisk for this step.

Line a loaf pan or other similar container with parchement paper to protect the surface from damage when scooping ice cream later and transfer the coconut cream mixture to the pan. Place in freezer for about one hour to firm enough to add strawberry swirl.
Strawberry swirl:
While base is beginning to freeze prepare sauce by combining chopped strawberries, sugar or syrup and lemon juice in a sauce pan.

Bring to a boil and then reduce heat to a simmer. Continue simmering for 15-20 minutes or until strawberries have broken down and formed a sauce that coats the back of a spoon. See photo above.

Remove from heat and allow to cool before swirling into ice cream base.

Once sauce has cooled and ice cream base has firmed up some, remove pan from freezer. Stir the mixture and spoon sauce over the top of ice cream base. Swirl the sauce through using a knife or skewer.

Return pan to freezer to freeze fully, 2-3 more hours.

When ready to serve, allow to thaw briefly and scoop as normal.
Recipe Notes
You can use an ice cream maker if desired. Follow the directions for making the ice cream base up to the point of freezing. Instead transfer the mixture to the base of ice cream maker and follow the manufacturer's instructions. Once ready transfer ice cream to container and swirl the strawberry sauce in. 
CLICK BELOW TO PIN FOR LATER