Sweet, creamy, and delicious! These Vegan Cookies 'n Cream Ice Cream Cups are surprisingly simple to make with just 5 ingredients needed.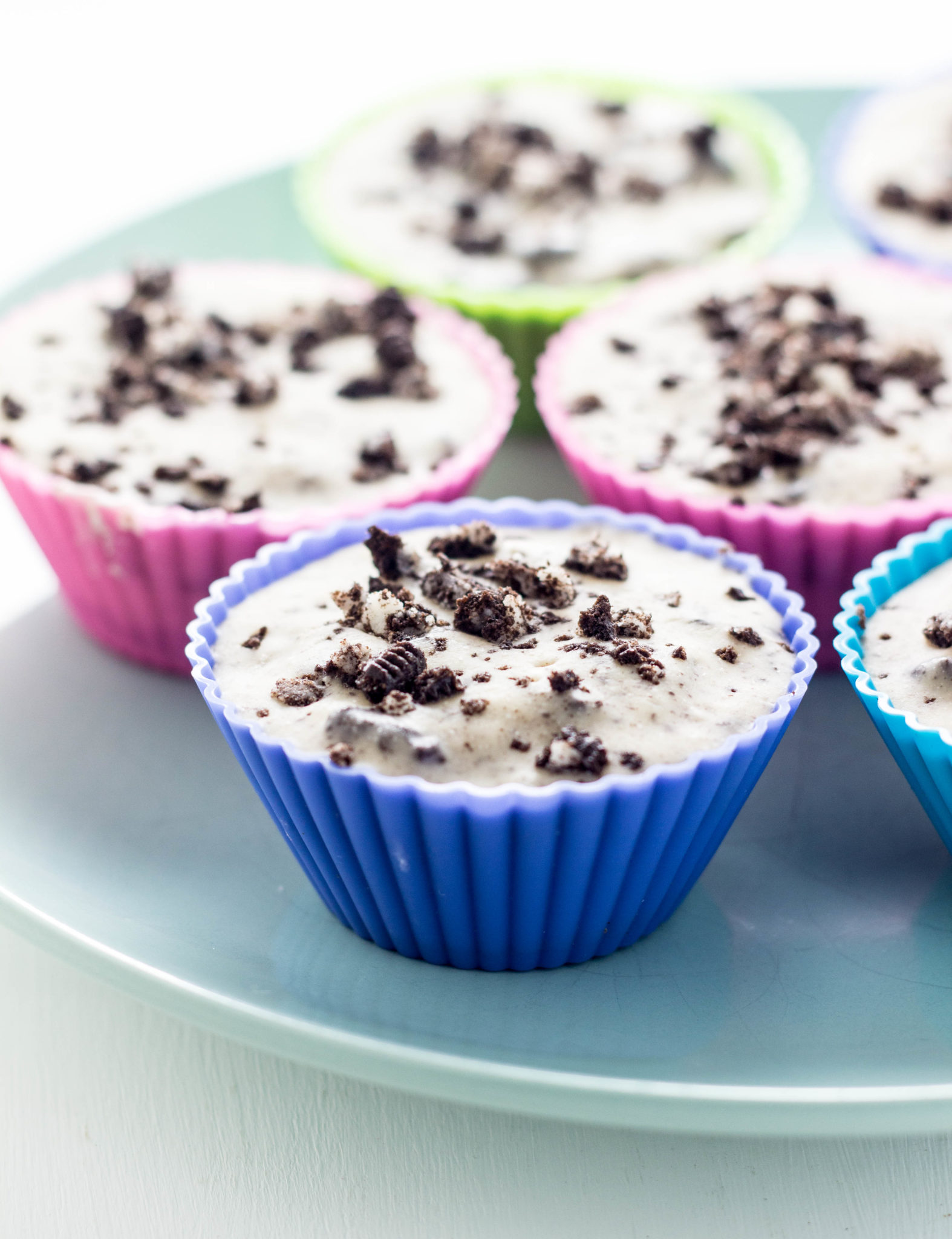 These Vegan Cookies 'n Cream Ice Cream Cups are the perfect birthday dessert or a cool treat on a hot summer day.
This Strawberry Swirl Ice Cream or these Honeydew Melon Popsicles are another tasty way to be the heat!
Jump to:
ingredients
These ice cream cups require just 5 ingredients and are super easy to assemble.
vegan chocolate sandwich cookies like Oreos. 
coconut cream or full fat coconut milk
maple syrup
vanilla
salt
Ok, let's clear the air about one thing, because I'm sure somewhere they will be someone who disagrees about whether Oreos are in fact vegan because of the sugar. To achieve the desirable white color of sugar, it goes through a process involving bone char, which is exactly what it sounds like. Not pleasant and of course I would prefer it wasn't used and when I purchase sugar I always get certified vegan brands, but we don't stress over every ready made snack or treat.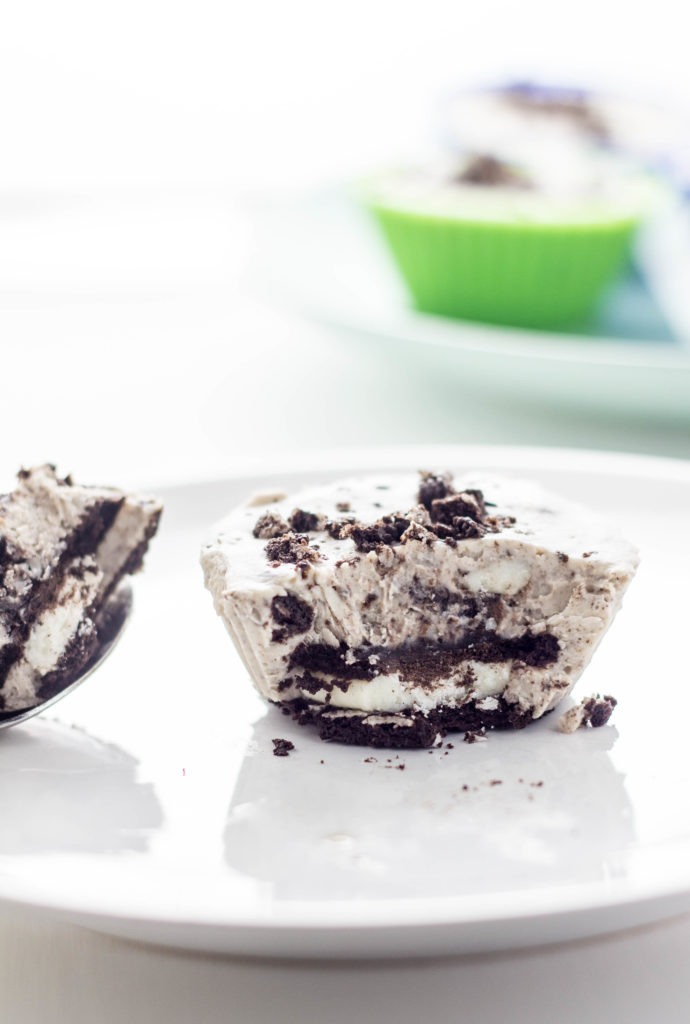 There's no need to crush up cookies for the crust. Instead just pop the whole cookie in the bottom of the cupcake liner and top with a simple coconut milk ice cream base.
After you've made the ice cream base, pour it over the cookie and pop the pan in the freezer(be sure to make sure the pan you are using actually fits in your freezer) for at least a couple of hours. The cream should be set and firm just like ice cream. Yum! This recipe as written yields 9 ice cream cups, but could easily be doubled or tripled even to accommodate a large group or just to have stashed in the freezer.
top tip
The creamy base for this simple ice cream is made with coconut cream or full fat coconut milk(the kind that comes in the can). The trick is to put the can in the fridge overnight so the cream will separate from the water and harden to a scoop able texture. This scoop able cream is them whipped with a sweetener, I use maple syrup, along with any add-ins and then placed in the freezer to set into a delicious creamy, rich dairy free ice cream. Sounds great, right? It is, but every now and again you may end up with a dud can that just doesn't firm not matter how long it sits in the fridge.
The good news is it will still work. The only issue is the cookie at the bottom tends to float up through the liquid so use a spoon to push them back down and everything should go smoothly from there. The texture is also not quite as creamy this way, but still delicious. So, you can definitely still make these even if you happen to get a dud can of milk.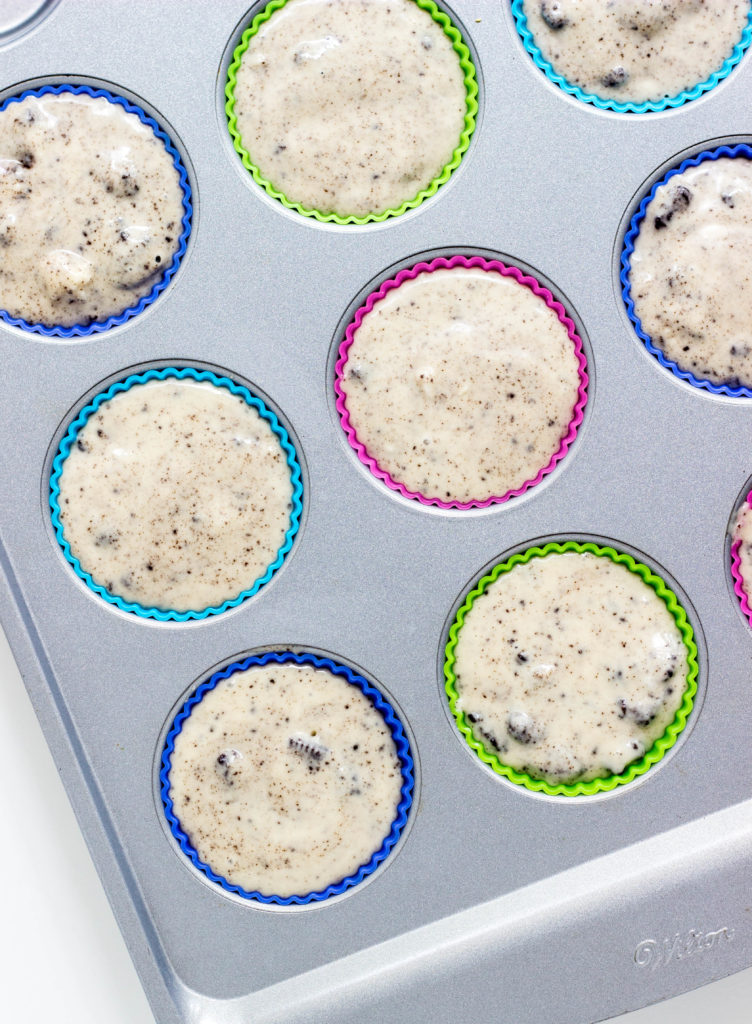 equipment
The only equipment you need is a hand mixer and maybe not even that if you have a whisk and want to get in an arm work out.
storage
Obviously, these ice cream cups needed to stay in the freezer until ready to serve. I prefer to take them out about 5 minutes before eating to let the ice cream soften a bit. Store any leftovers in an air tight container for up to one month.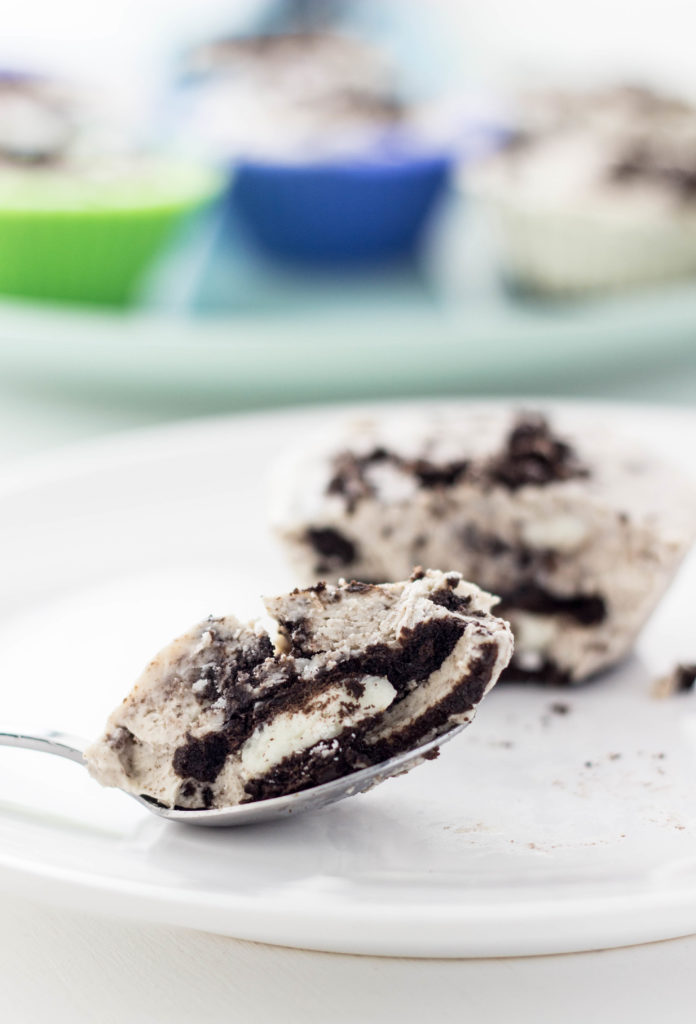 As always, if you try this recipe, I'd love to know how it turns out! Leave a comment below or snap a pic and tag it @weelittlevegans on Instagram so I'll be sure to see it!
Vegan Cookie 'n Cream Ice Cream Cups
Sweet, creamy, and delicious! These Vegan Cookies 'n Cookies Ice Cream Cups are surprisingly simple to make with just 5 ingredients needed.
Ingredients
15

vegan chocolate sandwich cookies

I used Double Stuff Oreos.

1

can

coconut cream or full fat coconut milk

¼

cup

maple syrup

1

teaspoon

vanilla

tiny pinch of salt
Instructions
Place the can of coconut cream or milk in the fridge the day before you plan to make these so the cream will thicken. After a day in the fridge the cream should be thick and scoop able. If the cream doesn't thicken see notes below.

Line a muffin pan with 9 reusable or paper liners. Place a cookie in the bottom of each of the 9 cups. Set aside

Roughly chop or crush 5 sandwich cookies. Set aside.

Scoop thickened cream into a bowl and add maple syrup, vanilla, and salt. Use a hand mixer or stand mixer to whip until everything is incorporated and creamy.

Add chopped cookies to cream mixture and fold them in.

Spoon mixture into each of the 9 muffin wells in the pan already prepared.

Crush the last cookie and sprinkle the tops of each cup if desired.

Place in a freezer for at least two hours before serving.

Remove ice cream cup from liner and serve immediately.
Recipe Notes
If the coconut cream doesn't firm up you've gotten a dud can. Don't worry you can still make these. The bottom cookie may float up a bit due to the more liquid-y texture of the milk. Just use a utensil to push it back down and continue with the recipe. 
You can use lite coconut milk if you prefer, but there's no need to refrigerate the can because the cream will not spereate. Again the cookie will likely float up and need to be pushed back down. Also, the end product will not be as creamy and rich.