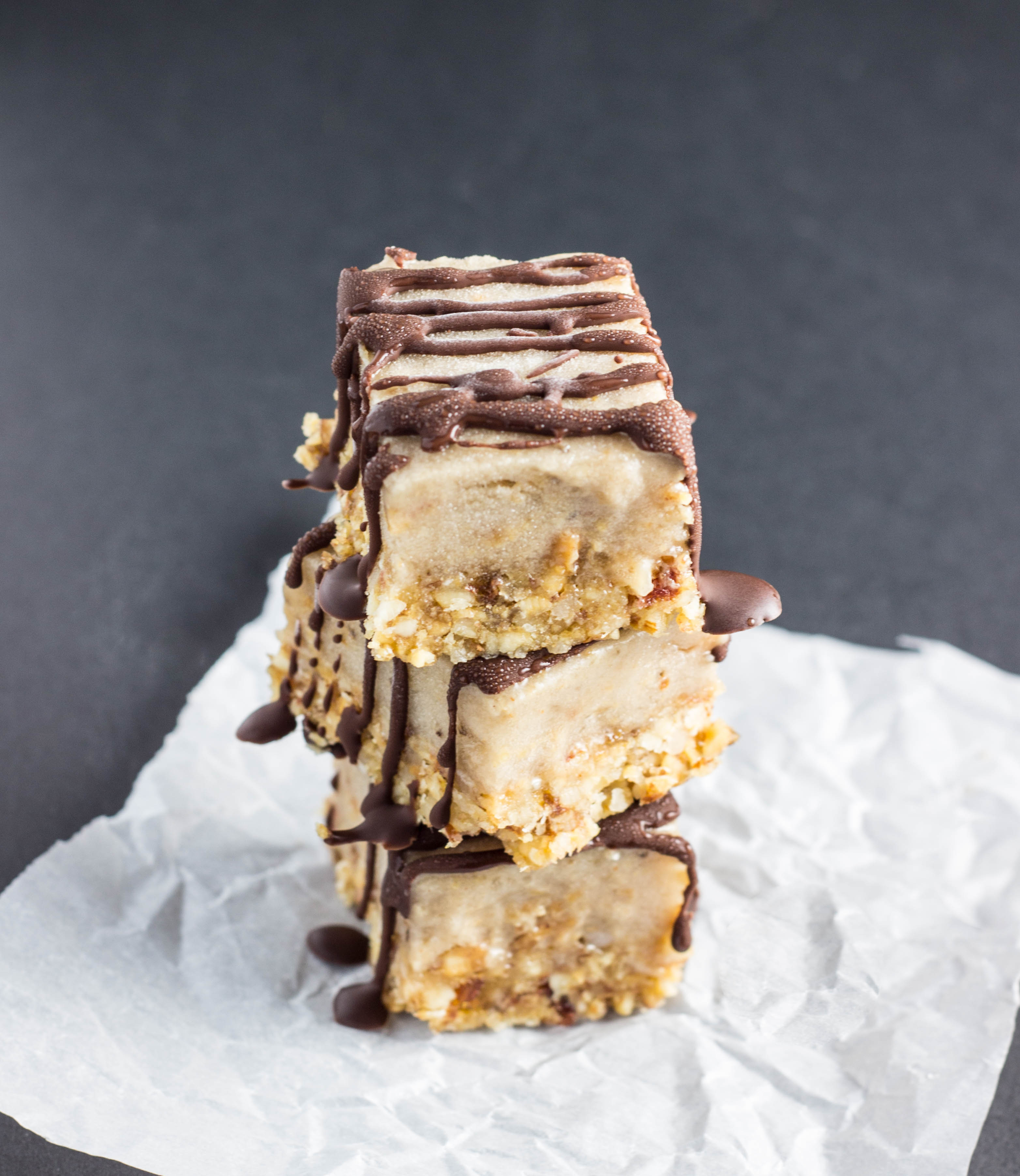 Have you seen the Dibs ice cream treats before? In wandering through the freezer section of the grocery store in the past I've seen this frozen dairy dessert. Really that's what it says on the container. Look at the ingredient list and you understand why. With ingredients like corn syrup, hydrogenated cottonseed oil, and propylene glycol monostearate, it hardly qualifies as ice cream. Sure there's some milk and whey, but mostly it's a long list of difficult to pronounce ingredients and additives. Why eat all of that scary stuff when you can have these oh so delicious and healthier Peanut Butter Banana Ice Cream Bites?
These little ice cream bites are made with just 7 pronounceable ingredients and are so simple to make. And there's peanut butter and chocolate, does it get any better than that?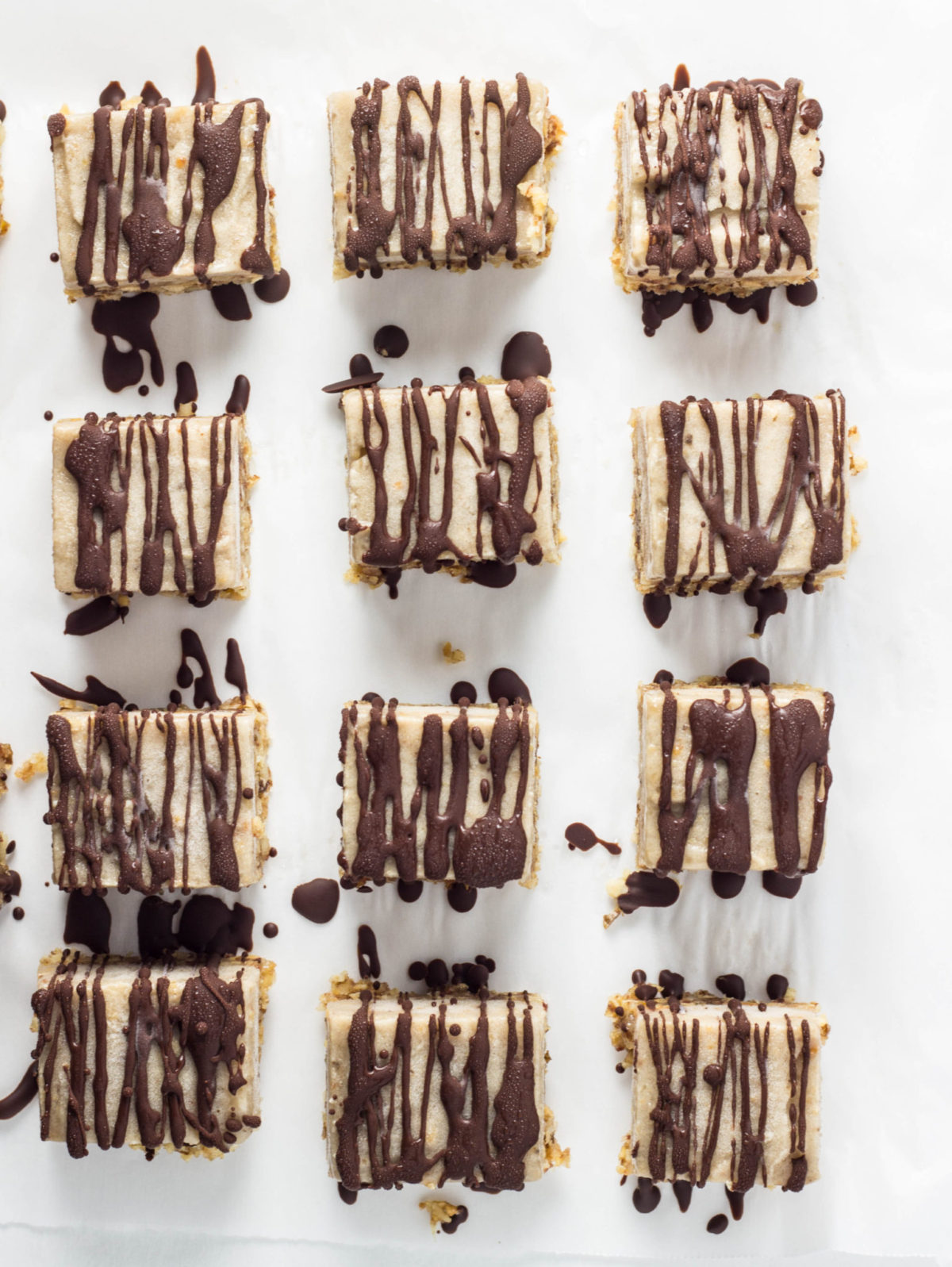 These bites start with a simple crust made from peanuts and almonds and medjool dates combined in a food processor. Simple and perfect for holding the next part of this treat. Frozen bananas or nice cream, make up the "ice cream" layer of these bites. If you've been a vegan for a while you have no doubt at least heard of nice cream, but if you're new to the nice cream party, it is simply frozen bananas blended until creamy and the consistency of soft serve ice cream. Incredibly simple and so delicious. Chocolate completes these little treats because well peanut butter and chocolate are made for each other. I drizzled the chocolate mostly because I was down to one bar in my stash and wanted to have some left to eat later, but I think completely dipping them would be great too.
If you try this recipe, let me know how it turns out! Leave a comment below or snap a pic and tag it @weelittlevegans on Instagram so I'll be sure to see it!
Peanut Banana Ice Cream Bites
Ingredients
For the crust:
6

medjool dates, pitted

1

cup

unsalted roasted peanuts

½

cup

almonds
For the ice cream:
4

frozen bananas

3

tablespoon

peanut butter
For the chocolate drizzle:
2-3.5

oz

vegan dark chocolate

1-2

teaspoon

coconut oil
Instructions
For the crust:
Soak dates in hot water for 10 minutes to soften.

Combine peanuts and almonds in bowl of food processor and pulse until nuts are broken down and crumbly.

Add dates and process until thoroughly combined. Mixture should hold together when pressed between fingers.

Line a baking dish with parchment paper leaving extra on the sides to lift bites from pan later. I used an 8x8.

Transfer nut mixture to dish spreading around.

Press mixture down firmly. I placed another piece of parchment paper over the top and rolled a small jar over mixture to apply even pressure.

Place in freezer while you prepare ice cream.
For the ice cream:
Put bananas in food processor or high speed blender.

Blend until creamy. You may need to stop and scrape down sides as you go. You may need to add a splash of non dairy milk to get things moving depending on your blender of processor.

Add peanut butter and pulse to combine.

Remove crust from freezer and pour ice cream over the nut layer spreading evenly.

Return to freezer for 1-2 hours until ice cream is firm.

Remove from freezer and lift bites out of baking dish.

Trim the edges if desired, and cut into desired size squares.

Place on a baking sheet and return to freezer while you prepare chocolate.
For the chocolate drizzle:
Melted desired amount of vegan chocolate and coconut oil either on the stove top using the double boiler method (if you're not sure what this is simply Google it) or in the microwave in 15 second intervals. Stirring between each interval. Be careful not to burn chocolate.

Remove ice cream bites from freezer and drizzle or dip in chocolate. It should harden very quickly, but if not return to freezer to set. I used about 1.5oz chocolate and 1 teaspoon coconut oil for my drizzle.

Store in freezer until ready to enjoy!
Notes
Prep time does not include freeze time for bananas.