A simple, no fuss creamy polenta topped with sautéed baby portabella mushrooms, lightly wilted garlicky spinach, and freshly toasted pine nuts. This warm and comforting dish comes together in about 30 minutes and makes a delicious, quick meal on chilly nights.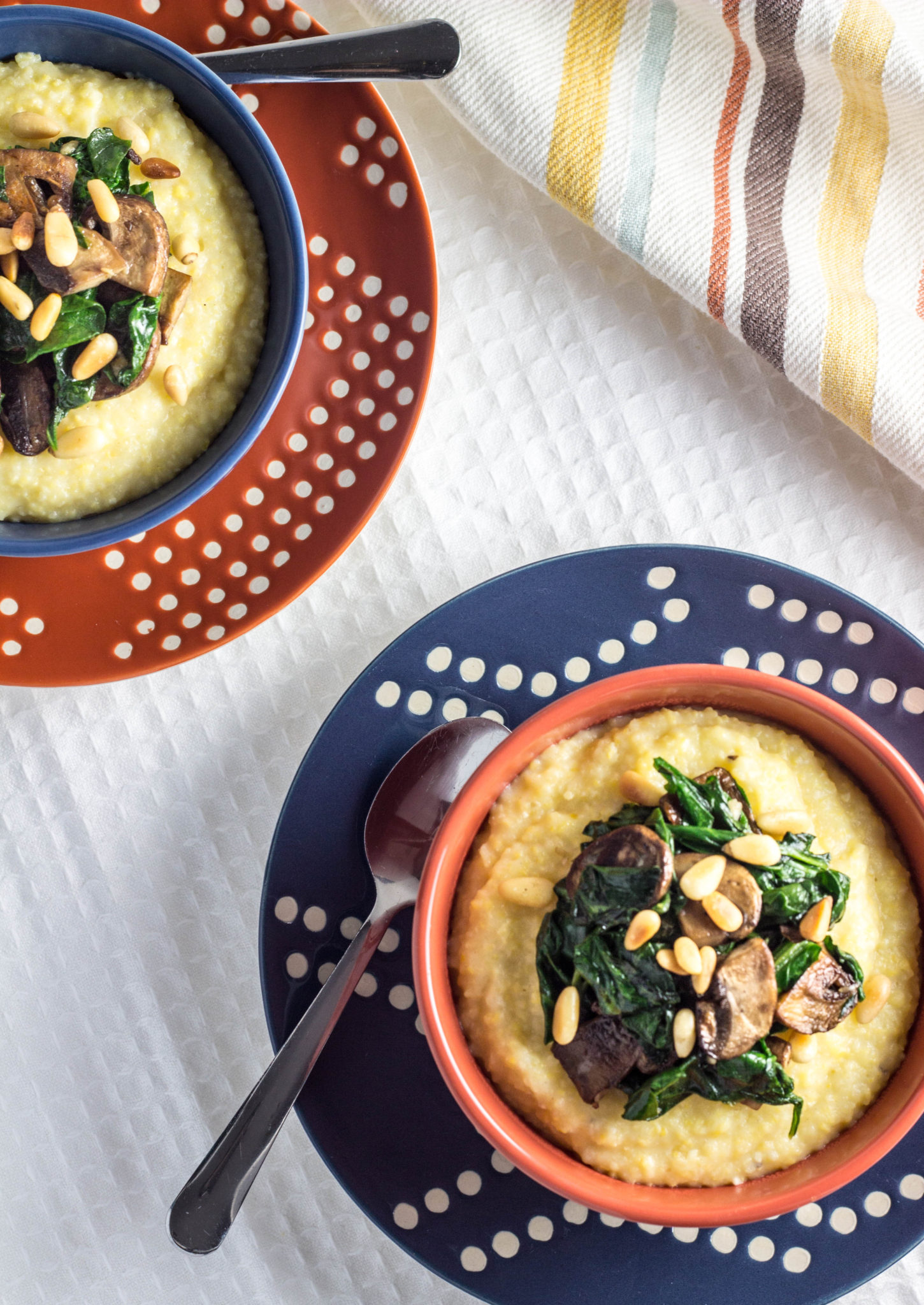 I haven't had any cravings per se with this pregnancy, just certain things I enjoy more than others. One of the things I can't seem to eat enough of lately is mushrooms. While my little one and I love the earthy flavor and for lack of a better word meaty texture of mushrooms, my husband and oldest kiddo are not fans. I don't really see this as a bad thing though because that means more for me! I usually just sauté mushrooms because it brings out the flavor more without taking a whole lot of time. I then enjoy them on a slice of toast for a quick little snack or simply as a side to a meal.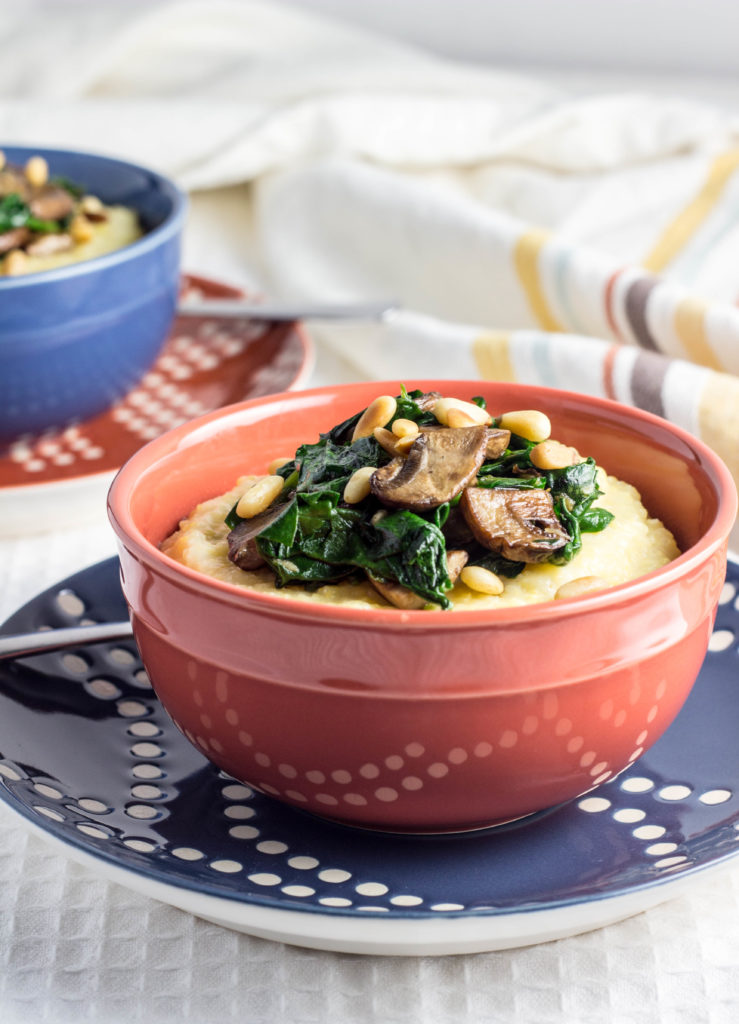 Since we are still having colder weather I wanted something a little heartier and warming this weekend, but I didn't want to spend a lot of time in the kitchen or waiting an hour or longer to eat for something like stew or casserole. Enter this deliciously, creamy no fuss polenta topped with sautéed mushrooms, spinach, and pine nuts. Polenta seems to be another one of those foods that people either love or hate and again this is one of the foods my hubby and oldest just don't enjoy. But, my youngest and I love it so, this was a meal just for the two of us.
What's great about polenta is that it can be made in a variety of ways and textures. It can be creamy and porridge like or cooked longer to become firm and then sliced into rounds or sliced into sticks and baked like french fries. Although some of those methods require several steps and longer preparation time. For the sack of time and simplicity I went with a creamy polenta as the base for all the mushroomy, spinachy goodness on top. I've found the easiest way to make polenta is simply to cover and cook at a low temperature stirring occasionally. There's no need to stand there whisking or stirring constantly to achieve a lump free, creamy texture. That mean's you can have this whole meal or side dish prepared and on the table in about 30 minutes making it perfect for a quick meal on a busy weeknight.
If you try this recipe, let me know how it turns out! Leave a comment below or take a picture and tag it @weelittlevegans on Instagram so I'll be sure to see it!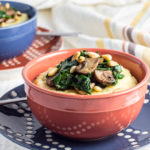 Creamy Polenta with Mushrooms and Spinach
Course:
Main Course, Side Dish
Ingredients
1

cup

polenta

2

cups

unsweetened plain almond milk

2

cups

water

½

teaspoon

salt

2-3

tablespoon

nutritional yeast

optional

2

cups

mushrooms, sliced.

I used baby bellas.

2

cups

spinach, roughly chopped

2

tablespoon

pine nuts

1

tablespoon

olive oil

additional salt and pepper to taste
Instructions
Bring almond milk and water to a boil. Add ½ teaspoon salt and whisk in polenta about ¼ cup at a time.

Reduce heat to a low simmer and continue to whisk for 1-2 minutes longer to prevent lumps. Cover and continue to simmer for 30-35 minutes stirring every 10 minutes. Polenta is ready when tender and creamy. Once polenta is ready add nutritional yeast if using and stir.

While polenta is cooking heat a skillet over medium heat and toast pine nuts for 3-4 minutes until lightly browned. Remove from pan and set aside.

Heat olive oil in already warmed skillet. Add mushrooms to skillet and sauté for about 5 minutes or until beginning to brown slightly. Add garlic and spinach and cook for 1-2 minutes or until spinach in wilted. Salt and pepper to taste.

Divide polenta into bowls and top with mushrooms and spinach. Sprinkle with pine nuts. Serve immediately.
Recipe Notes
If the polenta thickens too much you can add additional milk and/or water and stir to thin.
CLICK BELOW TO PIN FOR LATER