Frosted Pumpkin Gingerbread Cookies, made with real pumpkin and fresh ginger for a festive flavor perfect for the holiday season. Made with spelt flour, no refined sugar and as always they're vegan.
Now that we're in the full swing of fall(even if the temperature doesn't feel like it in Florida) we're ready for all things cozy. That means lots of baking everything from breads to casseroles and of course cookies. Our current cozy baking obsession are these Frosted Pumpkin Gingerbread Cookies.
ingredients
These tender cookies are made with real pumpkin puree and just enough fresh ginger for that familiar warm zing without being overbearing.
Frosting:
cashews
lemon juice
maple syrup
cinnamon
non dairy milk
Cookies:
spelt flour
cinnamon
nutmeg
ground clove
baking soda
salt
coconut oil
coconut sugar
maple syrup
pumpkin puree
fresh ginger
See recipe card for quantities.
instructions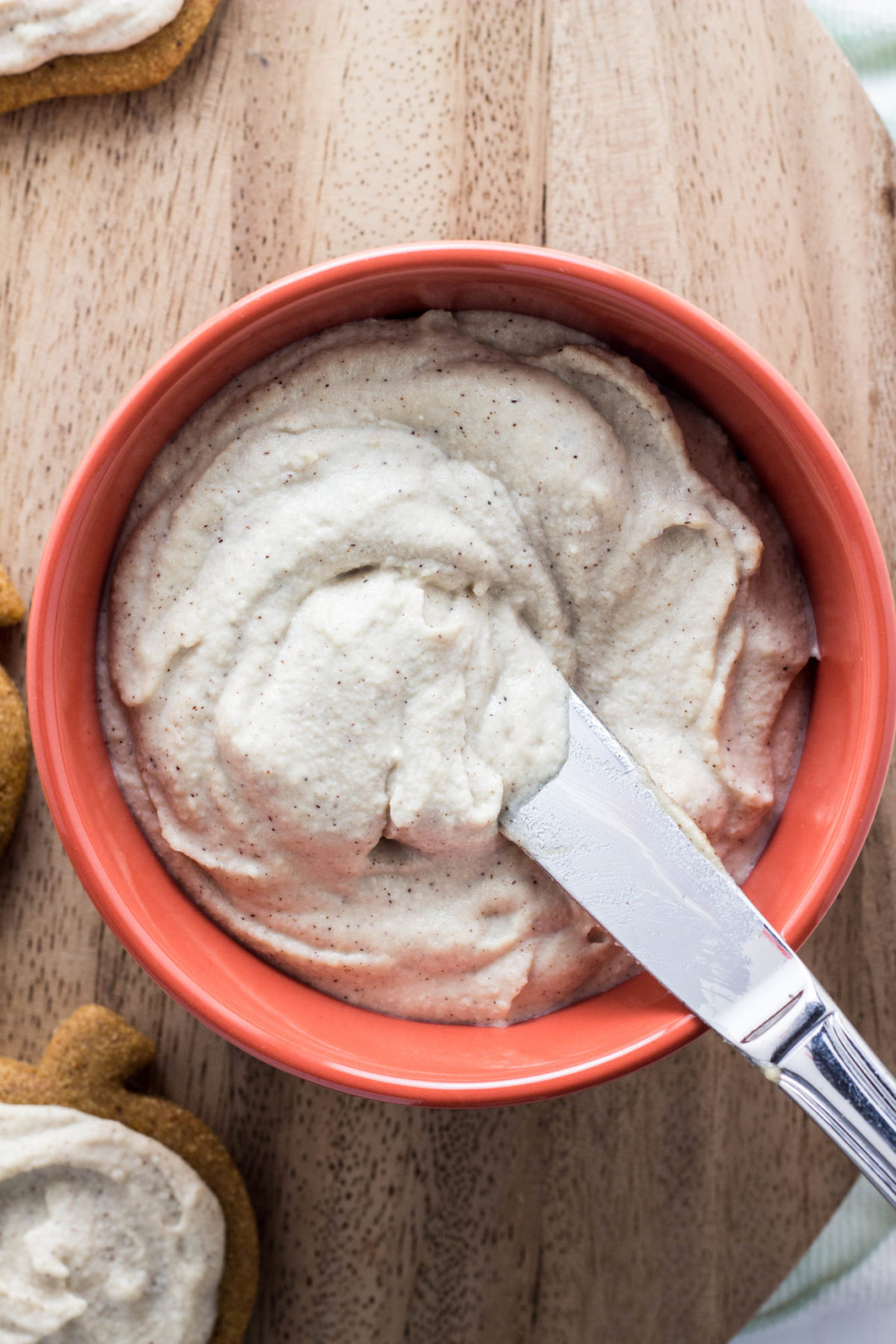 This dreamy cream cheese style frosting is made from cashews and a good dash of cinnamon for the perfect accompaniment to these cookies. Just look at the cinnamon speckles throughout, swoon!
You'll need to soak the cashews in hot water for at least a couple of hours or overnight. This softens the nuts so they can be easily blended into a creamy, delicious spread for slathering on the cookies.
Combine all ingredients in the bowl of your food processor and blend. Stopping to scrap down the sides of bowl as needed until mixture is smooth and creamy. Transfer to bowl with a lid and refrigerate until needed. See variation note below for alternative to cashews.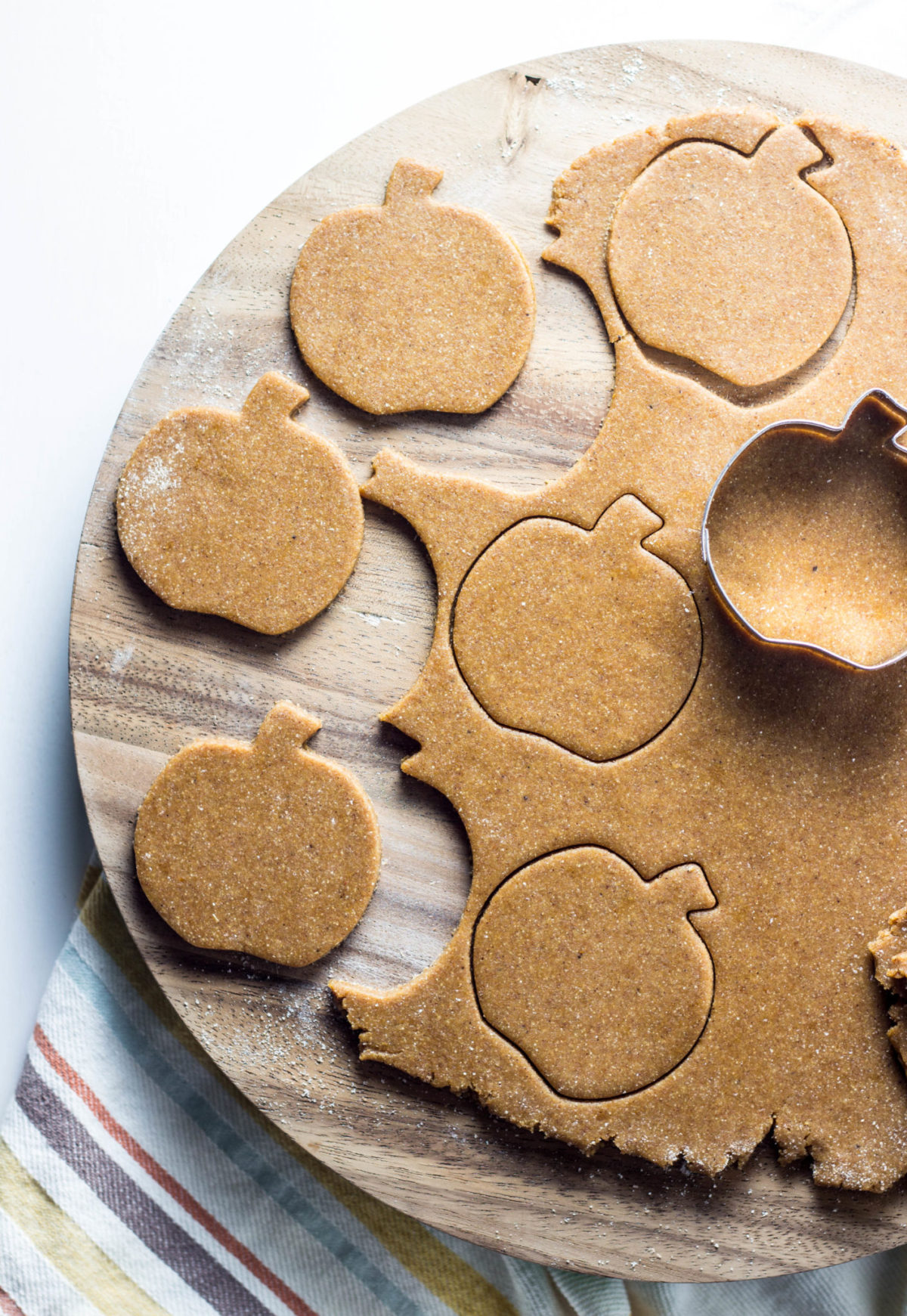 Next, it's time to make the cookie dough. Combine the flour, cinnamon, clove, nutmeg, baking soda and salt in a bowl and set aside. In the bowl of stand mixer or another large bowl if using a hand mixer, cream together oil, sugar and maple syrup until creamy and fluffy. Then add pumpkin and fresh ginger and mix to thoroughly incorporate. Finally, add flour mixture a little at a time, mixing to incorporate until a soft dough has formed.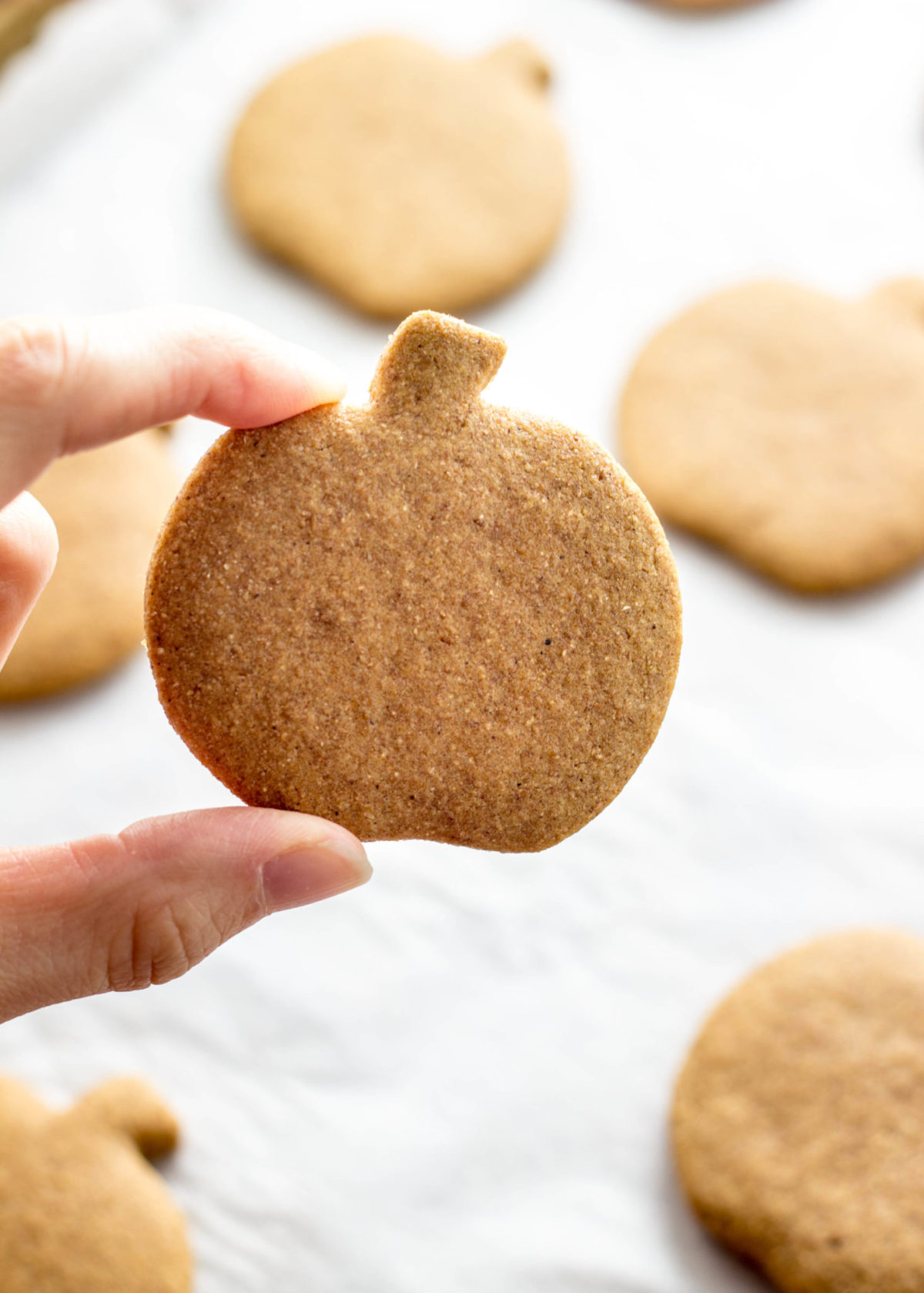 substitutions
I used spelt flour for these cookies instead of the usual whole wheat flour. Spelt flour has a milder, sweeter flavor than whole wheat and also provides a softer, more tender texture which works well with the pumpkin.
I also tested these with white whole wheat flour and the results were still delicious so feel free to use that if you prefer.
variations
If cashews are a no go for your family, you can make a simple glaze from confectioner's sugar and the tiniest bit of non dairy milk. Stir until you have a somewhat thick, spreadable consistency and then you can pipe or simply smear a bit on each cookie.
I use a cute little pumpkin cutter for ours, but really any cutters you have will work. Fall leaves or woodland animals would be equally cute. Do be sure to flour your work surface and rolling pin to prevent dough from sticking.
Alternatively, you can make small balls of dough and flatten slightly with the palm of your hand.
equipment
You will need a food processor or high powered blender to make the frosting and stand mixer or hand mixer to make the cookies.
If you try this recipe, I'd love to know how it turns out! Leave a comment below or snap a pic and tag it @weelittlevegans on Instagram so I'll be sure to see it!
Frosted Pumpkin Gingerbread Cookies
Ingredients
Frosting:
1

cup

cashew pieces

soaked in hot water for 2 hours or overnight.

1

tablespoon

fresh lemon juice

2

tablespoon

maple syrup

3

tablespoon

non dairy milk

½

teaspoon

cinnamon
Cookies:
2

cups

spelt flour

½

teaspoon

cinnamon

⅛

teaspoon

nutmeg

⅛

teaspoon

baking soda

¼

teaspoon

ground clove

¼

teaspoon

salt

¼

cup

coconut oil, scoop able.

¾

cup

coconut sugar

¼

cup

maple syrup

⅓

cup

pumpkin puree

½

teaspoon

fresh ginger, grated finely
Instructions
Combine all ingredients for frosting in bowl of food processor or high speed blender. Blend, stopping to scrap sides of bowl as needed, until smooth and creamy. Refrigerate while preparing cookie dough.

In a bowl combine flour, cinnamon, clove, nutmeg, baking soda, and salt. Set aside.

Using a stand mixer or hand mixer combine oil, sugar, and maple syrup together until creamy and fluffy, about 1 minute. The mixture should lighten in color as well.

Add pumpkin and ginger mixing to thoroughly combine.

Add flour mixture a little at a time mixing to incorporate. Continue until all flour has been added.

Split the dough in half and form a disc. Wrap each piece in plastic wrap and refrigerate for one hour.

After dough had chilled, preheat oven to 350 degrees. Line 2 baking sheets with parchment paper. Set aside. 

Roll out one piece of dough at a time using a floured rolling pin on a lightly floured surface. Use a cookie cutter to cut shapes from dough and transfer to prepared baking sheet. Leave a little space between each cookie.

Continue this process until both discs of dough have been rolled and cut.

Bake for 8-9 minutes until very lightly browned on the bottom.

Allow cookies to cool a few minutes before moving to a wire rack to fully cool. Frost once the cookies have fully cooled. I recommend not frosting until just prior to serving.

Store frosted cookies and frosting should be refrigerated to prevent browning.
Notes
Cashew free option: Make a simple glaze by stirring together a cup of confectioner's sugar and a very small amount of non dairy milk, start with a teaspoon at a time, until you have a somewhat thick consistency you can pipe or smear on each cookie.