A simple, healthier, and fun treat to enjoy this Easter, these Vegan Coconut Nest Cookies are made with whole food ingredients and taste delicious!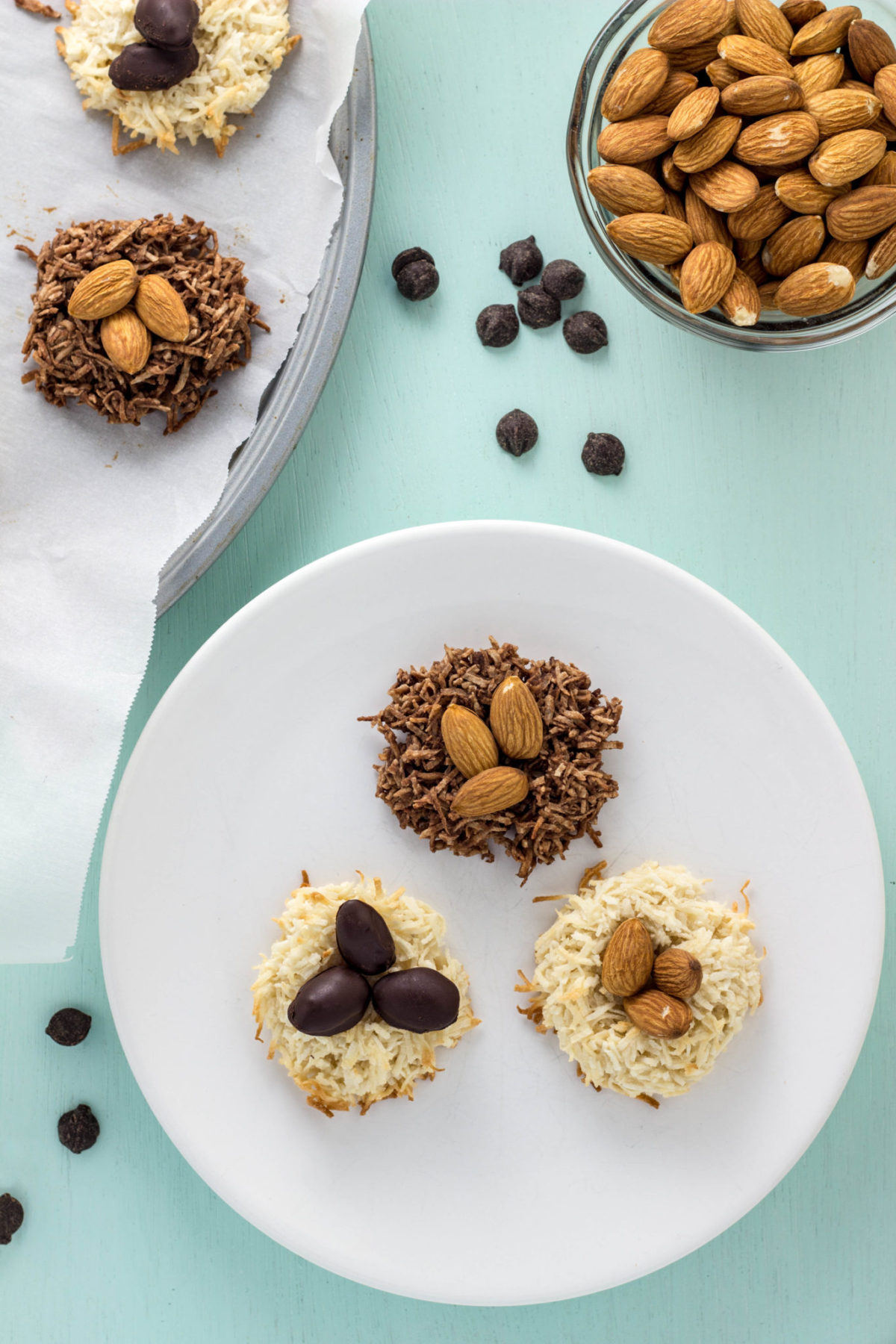 Easter is this weekend and I've got a super quick and simple recipe to share with you today. These super cute Vegan Coconut Nest Cookies are made with just 9 natural ingredients in about 30 minutes!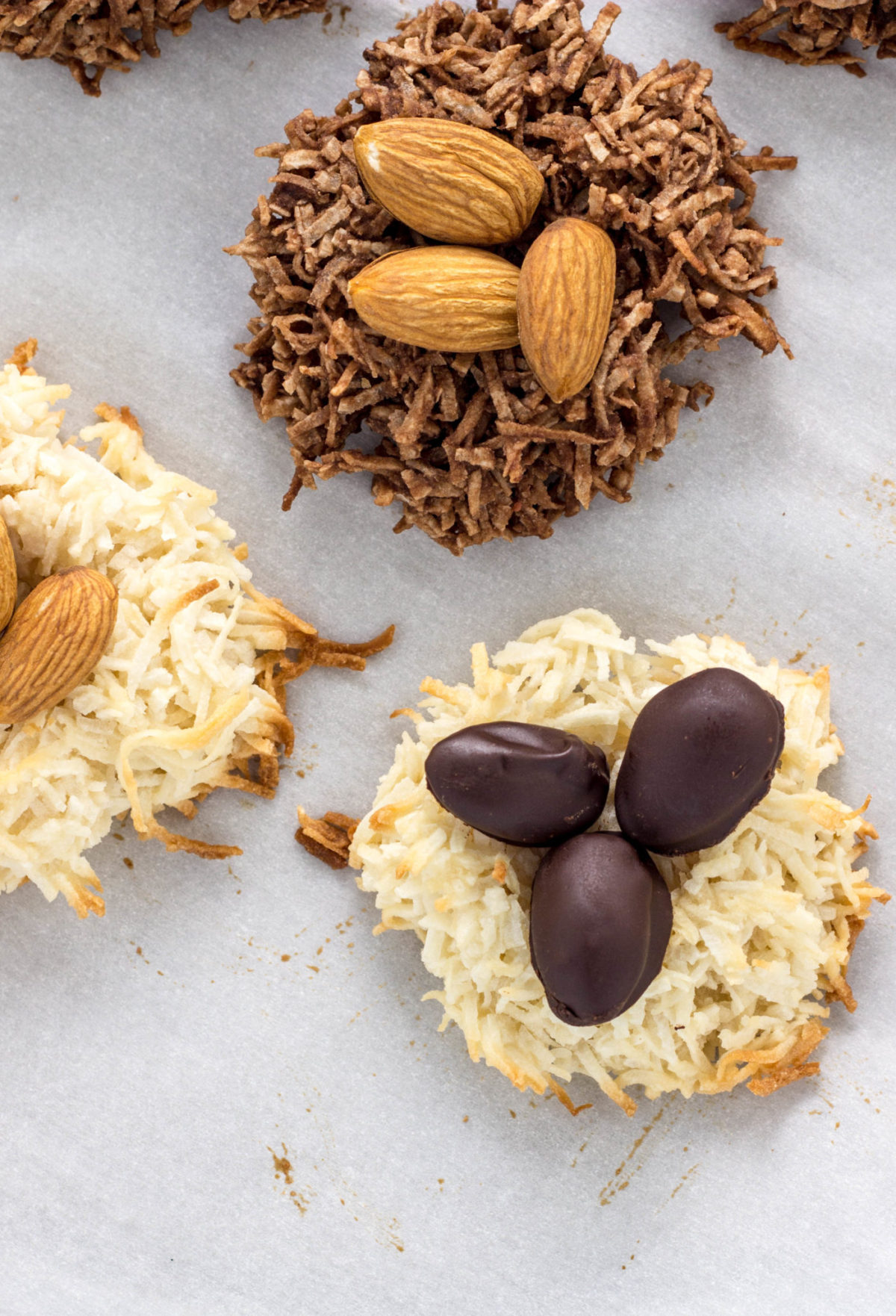 Since, Easter is pretty heavy on the overly sweet candies and artificial colorings and flavors, I wanted to make a healthier treat for the family to enjoy this year. These cookies are made simply with nothing artificial and sweetened only with a bit of real maple syrup.
For the "eggs" in the nests I used raw almonds dipped in melted dark chocolate and also some non dipped almonds. You could also use jelly beans for a little more sweetness. Check out my guide for which brands are vegan.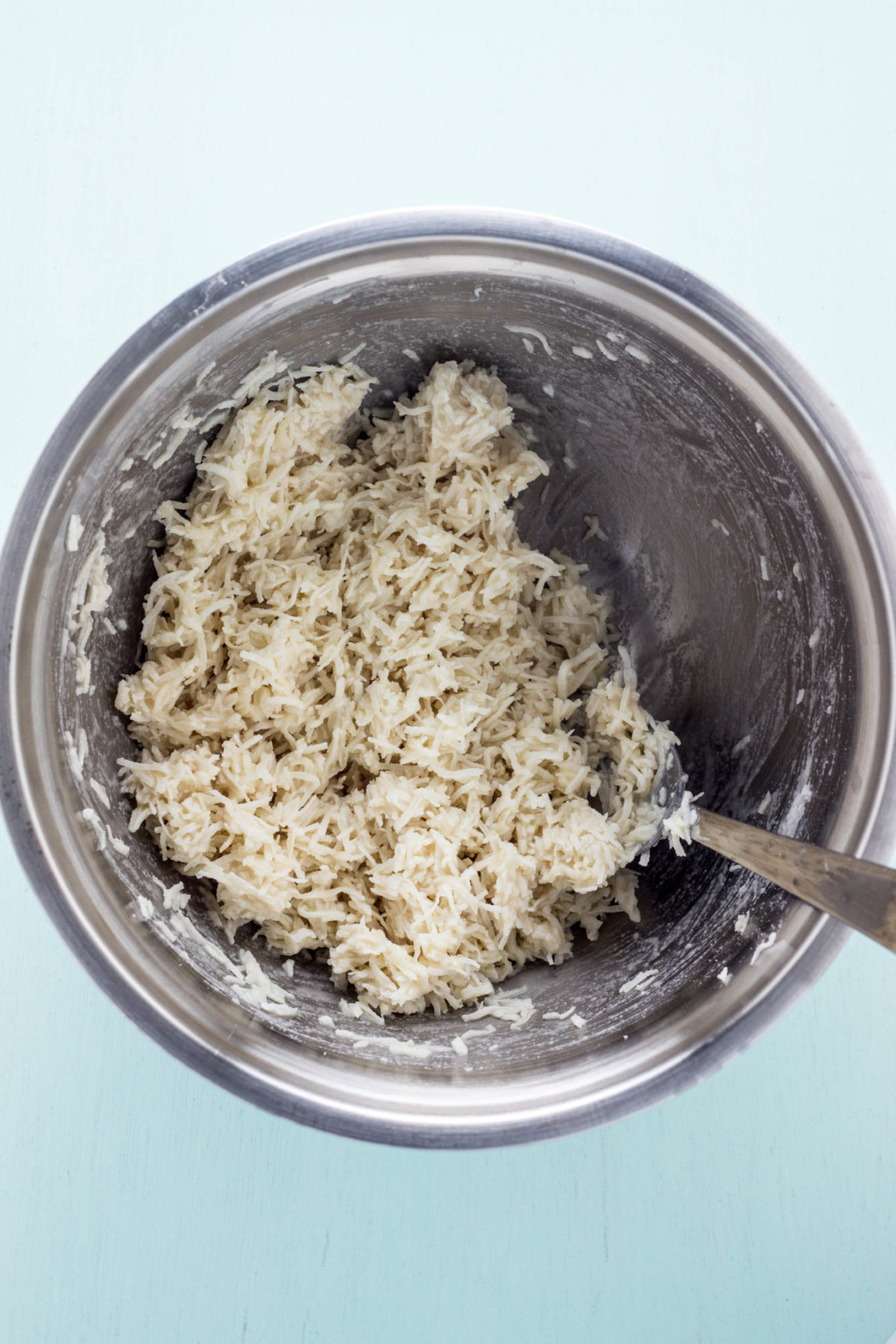 For the cookie itself, white rice flour and non dairy milk along with maple syrup holds the coconut together. I used white rice flour because whole wheat would have imparted a wheat flavor and made for a slightly tougher cookie. I don't keep all purpose flour in the house, but had the rice flour from another cooking endeavor and since it has a neutral flavor and can be a bit stickier it worked great for these cookies. I think all purpose flour would work as well if you don't have access to white rice flour.
To make chocolate cookies, add cocoa powder and a bit more sweetener and mix to fully incorporate. I started with a vanilla batch, scooped half the mixture, and then added cocoa powder and sweetener to the remaining mixture to make a split batch.
To scoop the cookies, I used a spoon and pressed mixture together with my fingers a bit and then slid it off the spoon onto a baking sheet, but you could also use a small cookie scoop if you have one.
Once the cookies have baked, the final step is to lightly press the middle with a small spoon or your finger while the cookies are still warm to create a little indention to hold the "eggs". Just be sure not to press too hard or the cookie may break apart. Also, it's important to let the cookies cool fully before removing them from the pan so they can firm up more.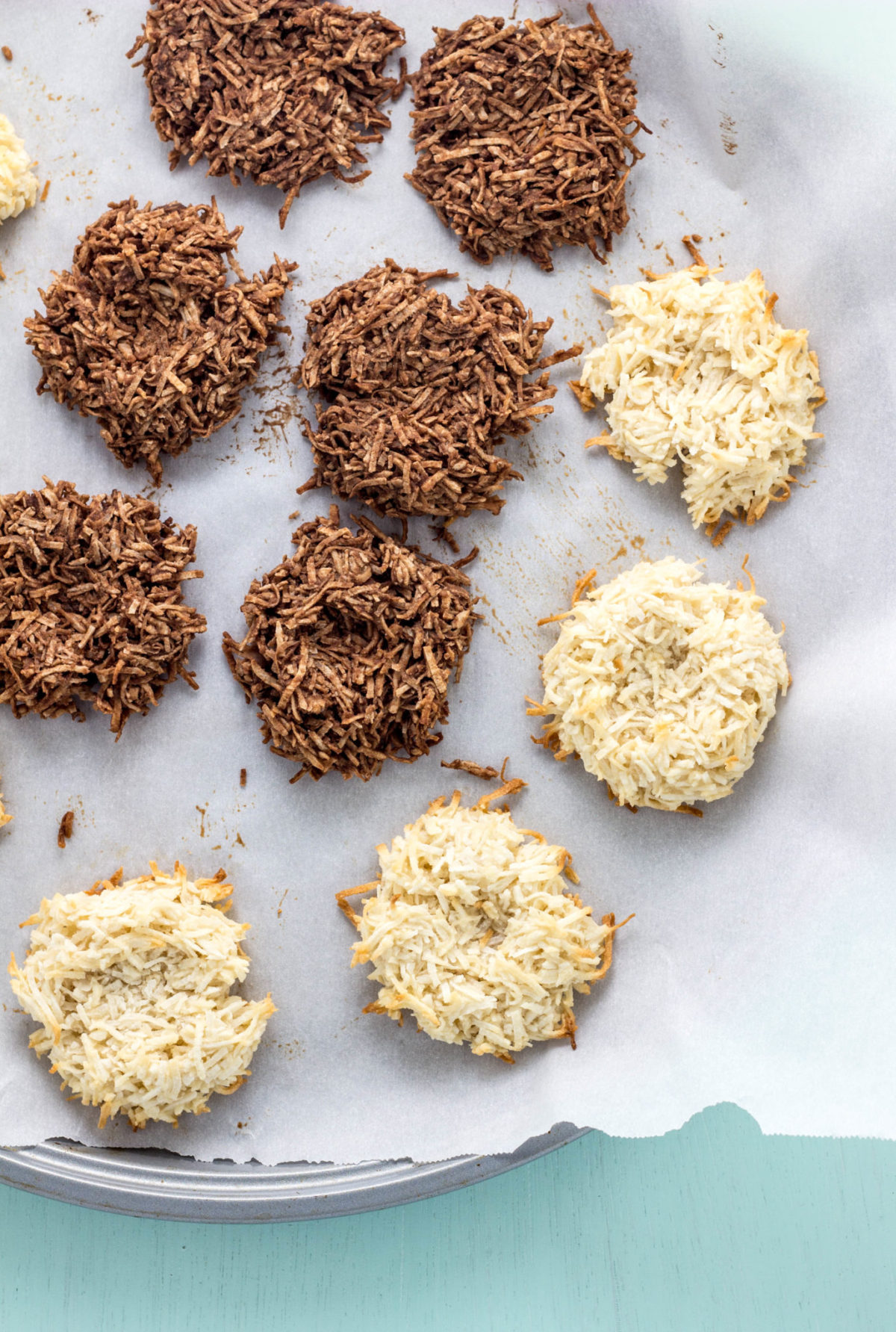 They really look like little nests, especially the chocolate ones!
These cookies are soft and tender, but do hold shape. Although if you wanted to make them a bit sturdier dipping the bottoms in melted chocolate would definitely help and add even more deliciousness.
If you try this recipe, let me know how it turns out! Leave a comment below or snap a pic and tag it @weelittlevegans on Instagram so I'll be sure to see it!
Vegan Coconut Nest Cookies
Ingredients
2

cups

unsweetened shredded coconut

3

tablespoon

maple syrup

¼

teaspoon

salt

½

teaspoon

vanilla

¼

cup

white rice flour

½

cup

unsweetened non dairy milk

2

tablespoon

cocoa powder + additional 1-2 maple syrup

optional
Optional: Chocolate Covered Almonds
¼

cup

vegan chocolate, melted

I used Enjoy Life Dark Chocolate Morsels

¼

cup

raw almonds

vegan jelly beans

optional
Instructions
Preheat oven to 350 degrees and line a baking sheet with parchment paper. Set aside.

In a medium bowl thoroughly combine all ingredients including cocoa powder if using.

Scoop one tablespoon of mixture, press mixture together with fingers, and slide off spoon onto baking sheet.

Bake for 20 -22 minutes until dry and edges are toasted and brown.

Remove from oven and immediately use a small spoon to gently press the center to create an indention taking care not to press too hard. Allow cookies to cool fully before removing from pan.

Prepare almonds if using. Dip almonds into melted chocolate, using a fork to remove, place on a parchment lined plate. Refrigerate for about 20 minutes to set chocolate.

After nests have completely cooled and almonds have set, place 2-3 almonds or jelly beans on each nest. You can also place a smear of melted chocolate on the cookie before placing almonds to prevent the nuts from moving. Simply refrigerate to set chocolate.
Notes
If desired, dip the bottoms in melted chocolate after the cookies are completely cooled and before adding almonds or jellybeans. Allow chocolate to set on parchment paper in fridge and then add "eggs".