Crisp, light and melt in the your mouth delicious, these Vegan Meringue Cookies are made with aquafaba and naturally colored.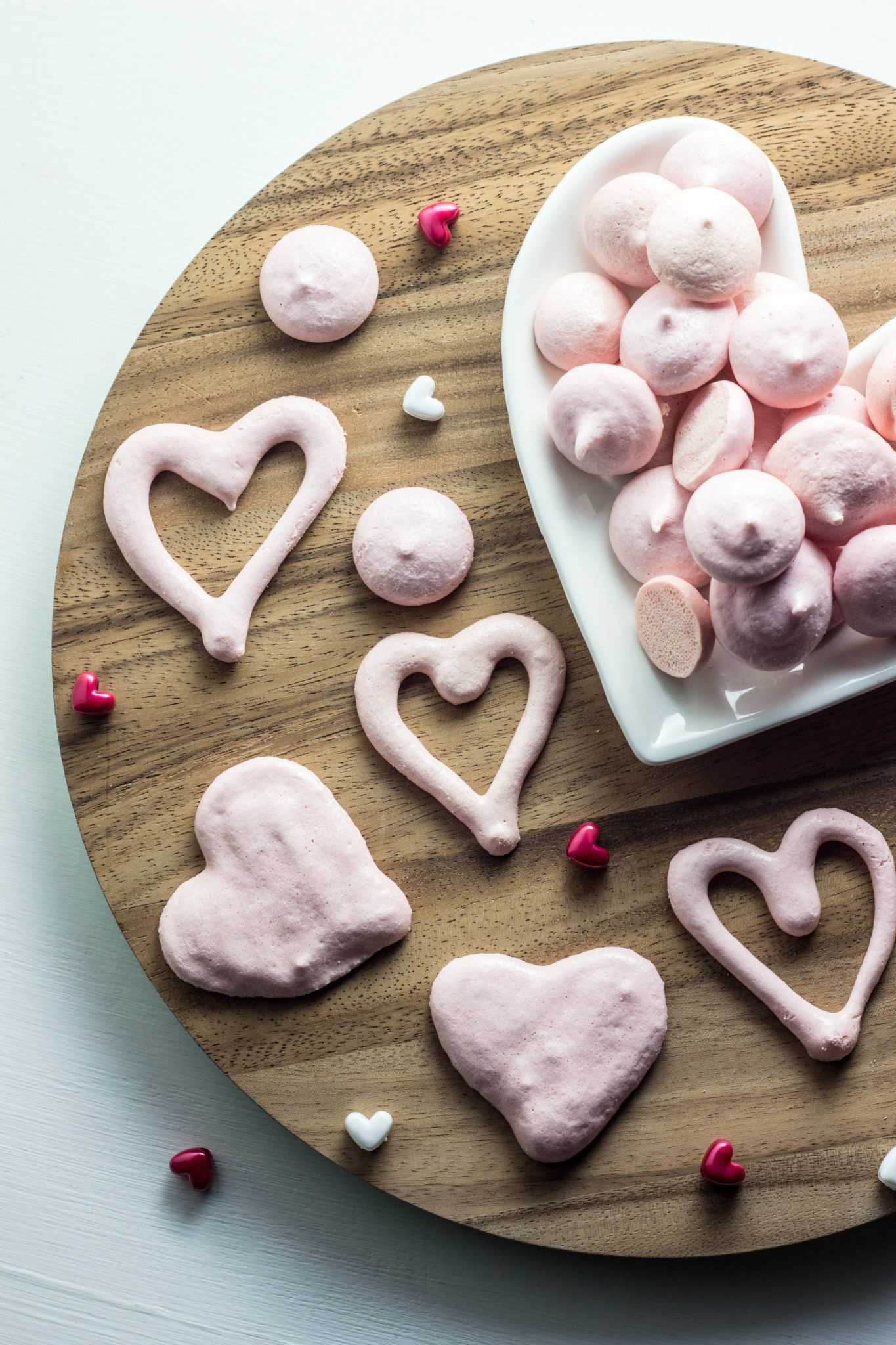 With Valentine's Day around the corner, it was time to start to thinking about what kind of treats we wanted to make this year. My preference is for anything chocolate, but the kids wanted something different and it had to be pink. So, we tried a few things with so-so results. Eventually, these Vegan Meringue Cookies happened and although not chocolate I have to admit they're very tasty.
Normally, meringue is made by whipping egg whites with sugar so obviously not vegan friendly. Aquafaba aka bean water is the trick to making vegan meringue. When I heard about this a few years ago I have to admit I was skeptical and resisted trying it for some time. And when I did eventually try it, I wasn't quite sure what all the fuss was about. Well, I realize now that I was totally missing out. There really are a ton of delicious things that can be made with this stuff. For instance, these naturally colored Vegan Meringue Cookies with a crisp, airy texture that just melts in your mouth. So delicious!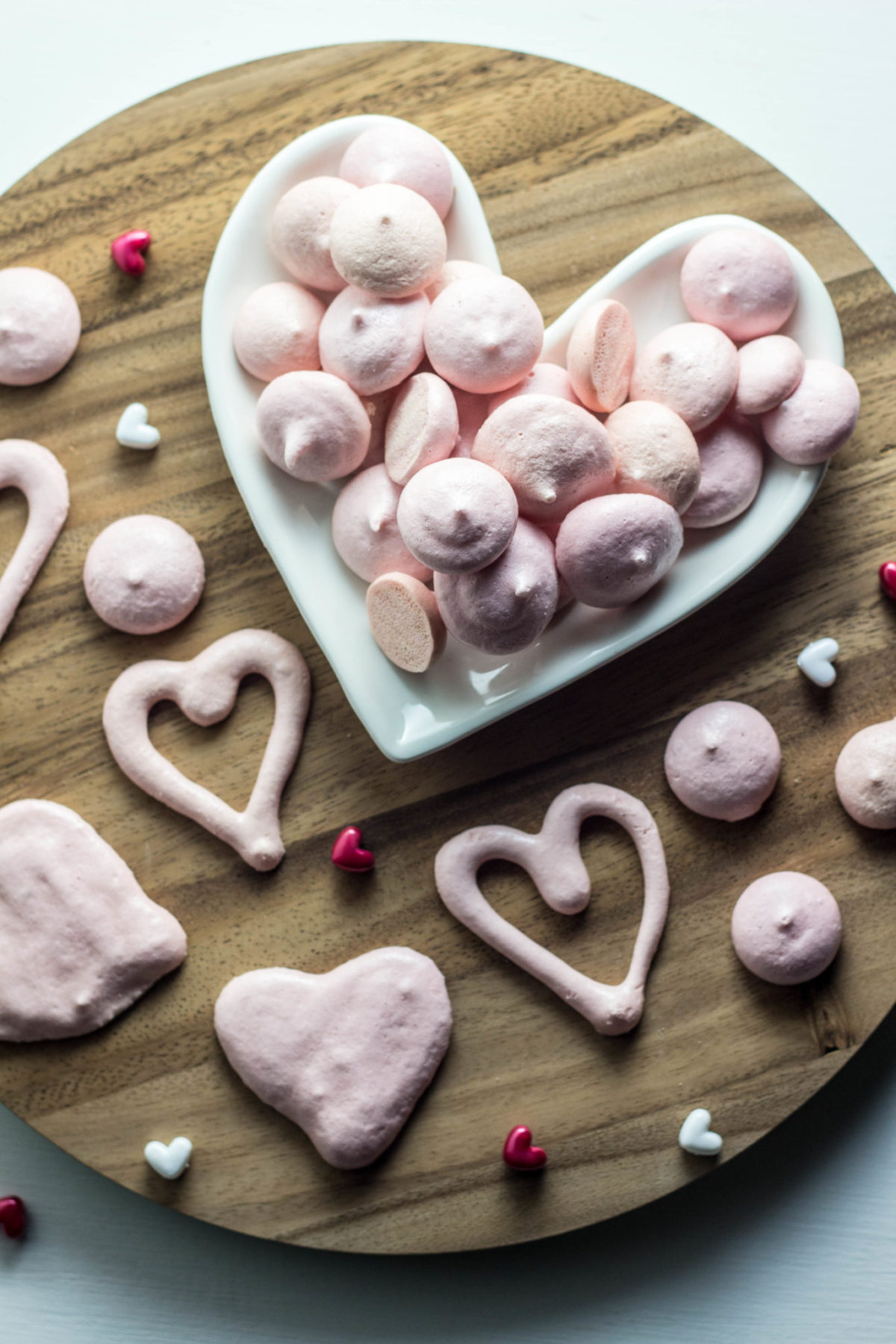 In case anyone else is like me and late to the aquafaba party, here's a quick explanation on what it is exactly. You know the water that comes in a can of chickpeas, that's usually drained and discarded. Yeah, that's aquafaba. An awesome person figured out that it works extremely well as an egg replacer for amazing vegan desserts and baked goods. So, instead of pouring it down the drain, save it and make these meringue cookies or the couple dozen other things you can make with it. Seriously, just google "aquafaba recipes". There's tons of delicious recipes to make.
The basic recipe for meringue cookies is egg whites and sugar with a 1:2 ratio. This was my starting point and from there I tweaked the ratio reducing the sugar to our liking. We found them to be sweet enough this way without being overly sweet.
For the pretty pink color, we used beetroot powder. Just a tiny bit will give a faint pink color or add a bit more for a darker hue. Note, that the more powder you add the more noticeable the beet flavor will be. We didn't find this to be a problem since everyone enjoys the flavor of the beet powder here. If you're concerned about this, start with just a tiny amount and taste the fluff. Then you can decide to add more or not based on your preferences.
I also plan to try out other colors using various powders so you might see a few variations in the future if they work out well.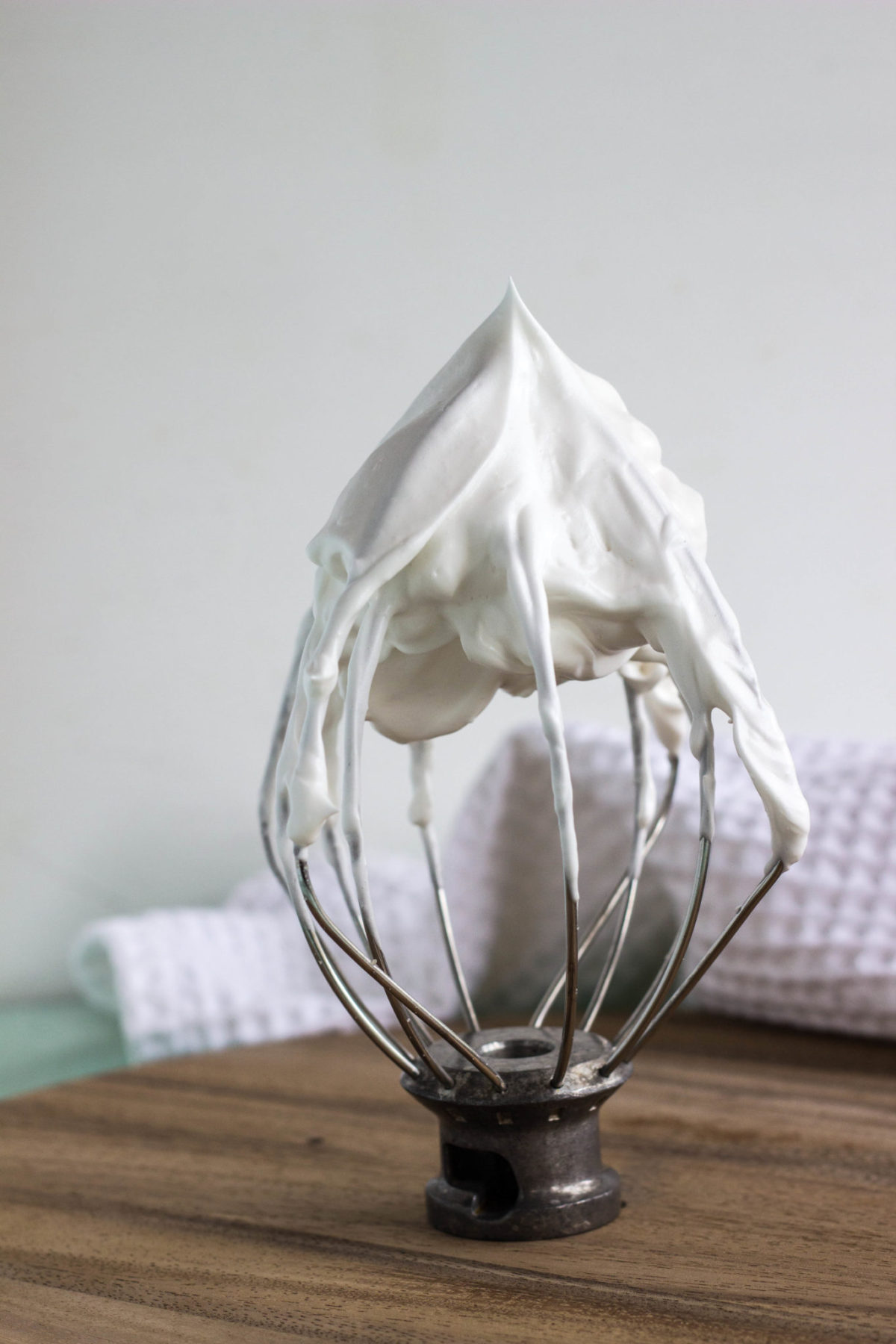 Tips:
Don't try to whip this by hand with a whisk. It's not going to work well. Use a stand mixer or an electric hand mixer.
Don't skip the cream of tartar. This helps to stabilize the fluff and without you may not achieve nice stiff peaks like you see above.
Leave a little bit of space between each cookie on the baking sheet as it will expand a bit. I made this mistake initially and had several cookies join together.
If you pipe more delicate designs like I did here with the open hearts, peel them off the paper very gently to avoid breaking them.
We live in Florida, where the humidity is high so I find storing these in the fridge prevents the cookies from becoming sticky. If you also live with high humidity, definitely store in an air tight container in the fridge. They should last for 2-3 days.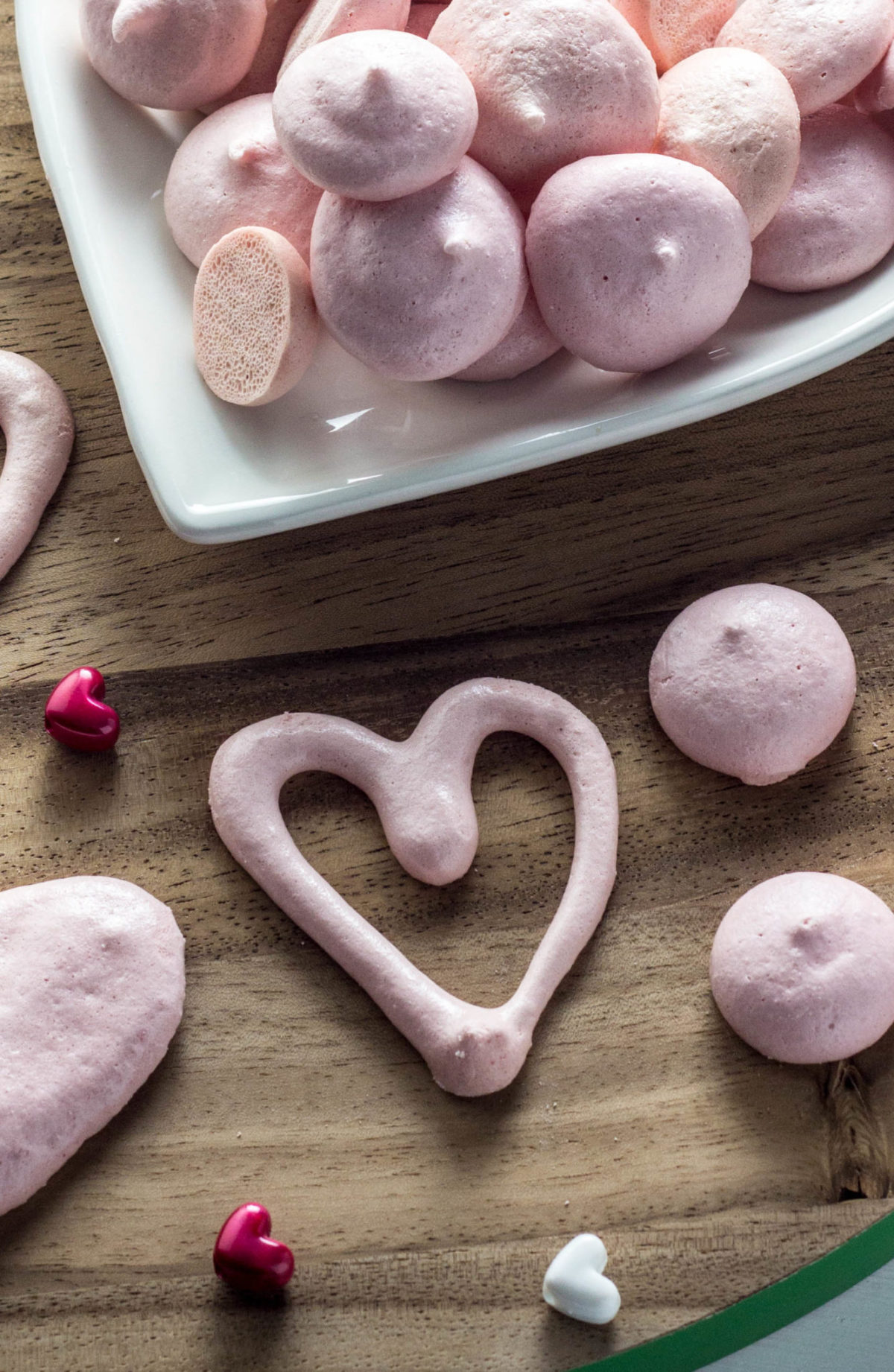 If you try this recipe, let me know how it turns out! Leave a comment below or snap a pic and tag it @weelittlevegans on Instagram so I'll be sure to see it!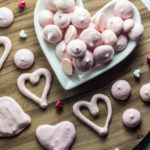 Vegan Meringue Cookies - Naturally Colored
Crisp, light and melt in the your mouth delicious. These Vegan Meringue Cookies are made with aquafaba and naturally colored.
Ingredients
6

tablespoon

water from canned chickpeas

¼

teaspoon

cream of tartar

½

cup

granulated sugar

I use Florida's Crystals.

½

teaspoon

vanilla

¼ -½

teaspoon

beetroot powder

I used ½ tsp.
Instructions
Preheat oven to 250 degrees and line 2 baking sheets with parchment paper. Set aside.

In a bowl combine the chickpea water and cream of tartar and using a stand mixer or hand mixer beat on low speed until foamy.

Once mixture is foamy begin adding sugar 1 tablespoon at a time mixing on high between each tbsp. Continue this until all sugar has been added.

Continue to beat until stiff peaks form and the mixture is white and glossy. You should be able to hold the bowl upside without spilling the mixture.

Add vanilla and beetroot powder and mix until thoroughly incorporated.

Scoop mixture into a piping bag with desired piping tip.

Pipe desired shapes onto prepared baking sheets.

Bake for 40 minutes. Turn off the oven without opening the door and leave cookies for 1 hour. Do not open the door at all during this time. This allows the cookies to continue drying.

After the hour remove pans from the oven and transfer cookies to an airtight container. Humidity will cause the cookies to get very sticky so store in the fridge if you live somewhere with high humidity.
CLICK BELOW TO PIN FOR LATER