Fresh baked bread ready in less than an hour, this Cinnamon Raisin Soda Bread is made with basic pantry ingredients. Simple and delicious!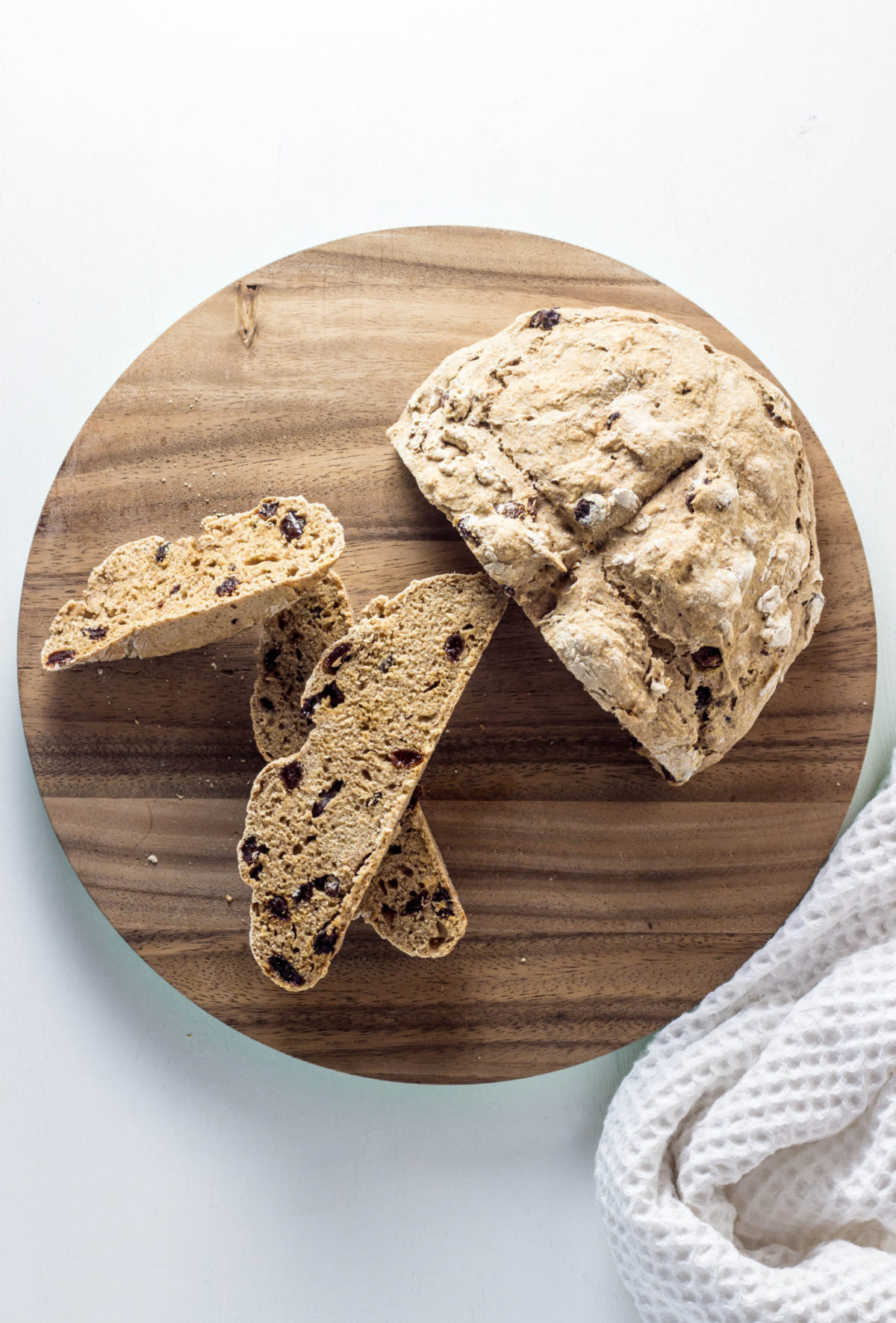 Does the thought of homemade bread just seem too daunting? No worries, this Cinnamon Raisin Soda Bread is very simple and requires no yeast so there's no waiting around for the dough to rise. You only need a few basic ingredients you may already have in the pantry.
Jump to:
what's in soda bread?
Traditionally, soda bread is just 4 ingredients - flour, baking soda, salt and buttermilk. Tasty enough, but we wanted to punch up the flavor a bit with cinnamon and raisins. We also added a tiny bit of sugar, but you can omit if desired. So while this isn't traditional soda bread, it is just as simple and so yummy.
vegan buttermilk
Soda bread gets it's rise from baking soda and buttermilk normally, but since buttermilk is not vegan we have to make a substitution. To make vegan "buttermilk" simply combine your non dairy milk of choice with a little vinegar and allow to sit for a few minutes to "sour". The "buttermilk" will react with the baking soda and give the dough the lift it needs during baking. That's it, super easy and no weird ingredients.
This is also a great baking project to get the kids involved with while everyone is staying indoors in the current situation. Older kids can help measure and younger ones can dump and mix dry ingredients.
notes about the recipe
We use a combination of white whole wheat flour and all purpose flour to produce a nice texture with more nutrition than all purpose alone. You can also use one type of flour if you prefer or that's all you have on hand.
The dough will be quite a bit wet and sticky. This is normal, just flour your surface and hands and form the loaf the best you can. You can add a little more flour if really needed.
You also want to get the loaf in the oven as quickly as possible once the liquid is mixed with the dry ingredients because the baking soda begins to react immediately. The sooner the loaf is in the oven the better the rise will be so an adult or older child would probably be best to mix and form the loaf.
To help ensure the center is cooked slice an X thought the middle of the loaf to allow steam to escape as it bakes. Baking time will vary a bit for everyone depending on your oven and the dough. It can take between 30 and 40 minutes. The outside should have a golden brown color and the center should appear cooked through.
We enjoyed this as an afternoon snack. It would be great as a weekend breakfast with a little butter too. We hope you enjoy this loaf as much as we do and stay safe with everything going on right now in the world ❤️
If you make this recipe, I would love to know how it turns out! You can leave a comment and rating below or snap a pic and tag it @weelittlevegans on Instagram so I'll be sure to see it!
Cinnamon Raisin Soda Bread
Ingredients
1

cup

non dairy milk, plain unsweetened

I use almond milk

1

tbsp

vinegar, white or apple cider

1

cup

white whole wheat flour

1

cup

all purpose flour

½

teaspoon

salt

½

teaspoon

baking soda

1

teaspoon

cinnamon

1

tablespoon

sugar

optional

½

cup

raisins

You can also use dried cranberries, currants or other dried fruit
Instructions
Preheat oven to 400 degrees. Line a baking sheet with parchment paper or lightly oil a small cast iron skillet. Set aside.

Combine milk and vinegar and set aside for 5 minutes to make "buttermilk".

In a bowl combine flours, salt, baking soda, cinnamon and raisins and mix thoroughly.

Add the buttermilk to the flour mixture and stir with a wooden spoon.

Transfer to a floured surface. Using floured hands knead a few times and form into a round loaf. The dough will be wet and sticky, but only add enough flour to form the round.

Transfer loaf to prepared baking sheet or skillet.

Bake until golden brown and cooked through, 30 - 40 minutes.

Allow to cool for 5-10 minutes before transferring to a wire cooling rack.

Slice and enjoy while it's a bit warm, room temperature or toasted with a smear fo vegan butter.