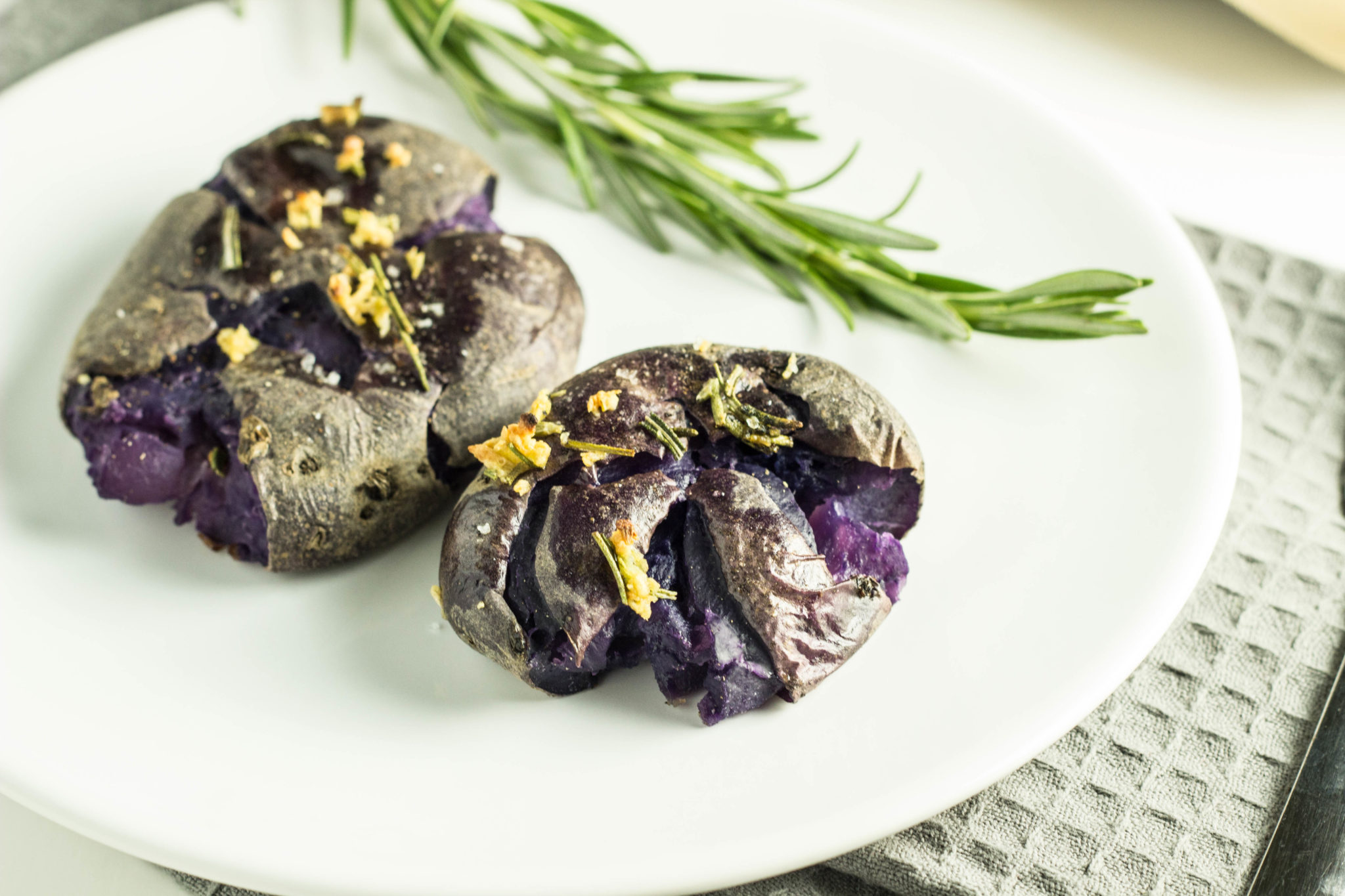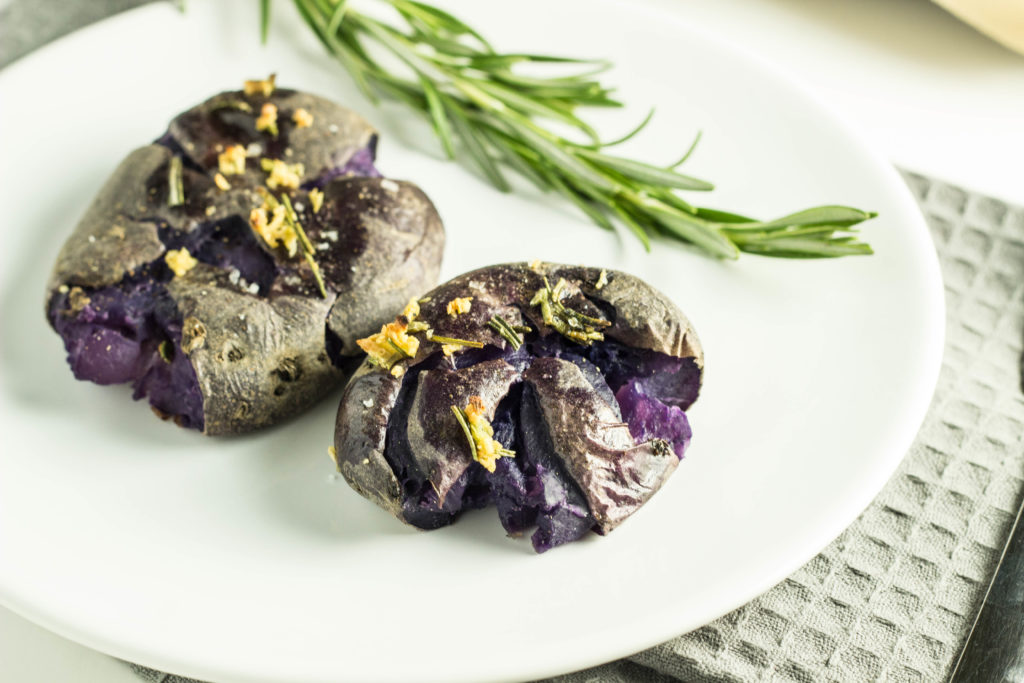 I've mentioned our weekly produce box about a thousand times before because that really is where most of the inspiration for what we eat daily comes from and a lot of what we really eat gets shared here. This week's box contained beautiful organic purple potatoes so I came up with this super simple tasty side, Garlic and Rosemary Purple Potatoes.
If you're not familiar with purple potatoes they are native to South America and can be used in a variety of ways such as baking, roasting, mashing, or in this case smashing. They are usually smaller in size than other varieties of potatoes and like other blue and red foods such as blueberries they are also rich in antioxidants like anthocyanin, carotenoids, and phenolic acid. These antioxidants help boost the immune system, may prevent some cancers, and some studies show they can help lower blood pressure too.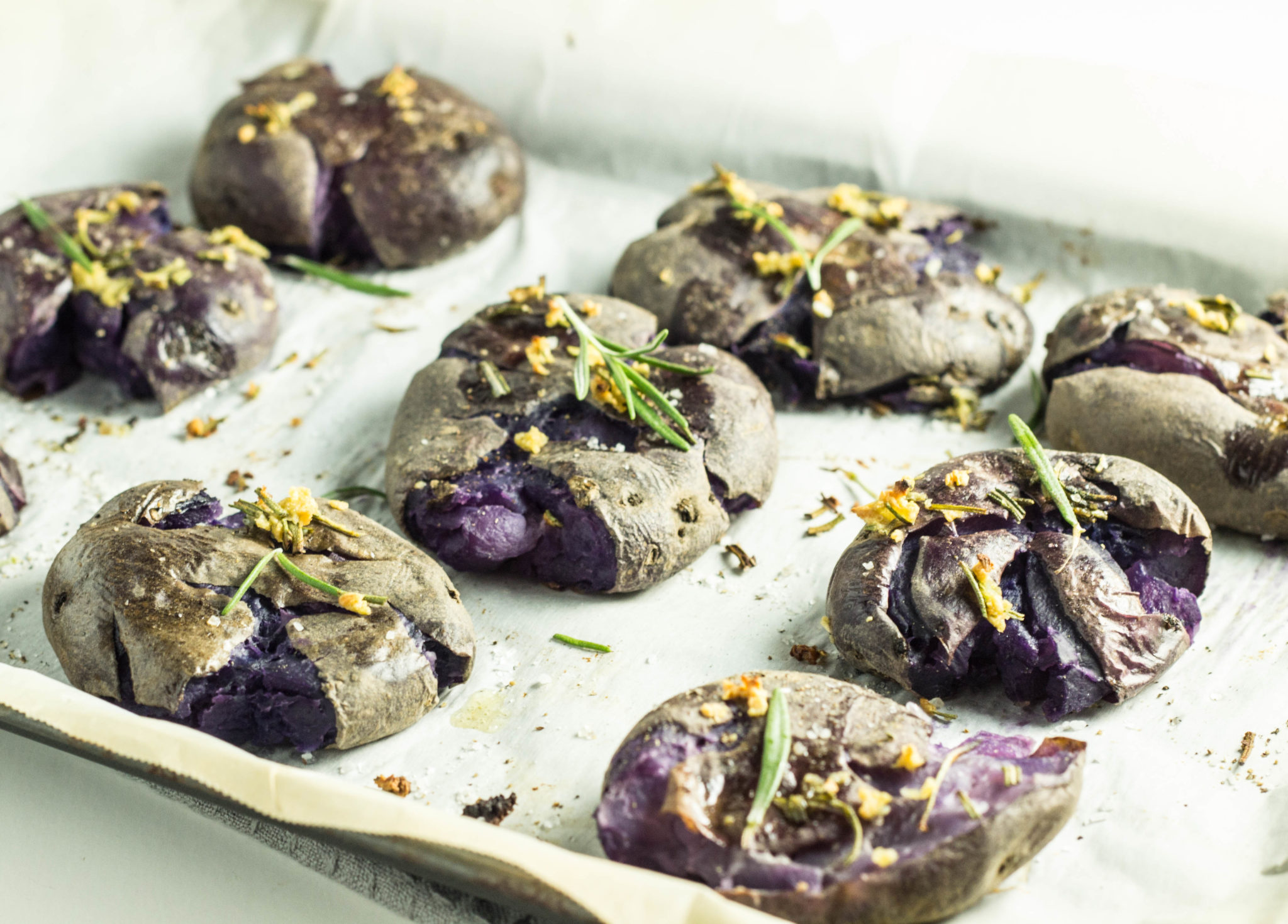 So,  when I got to thinking about what to do with these purple beauties I decided I wanted to do something that would preserve that lovely color. I've mashed them before and they become much lighter in color while boiling. I've also roasted them and they get brown around the edges and the color just isn't as vivid. So, for this bunch I decided to smash them.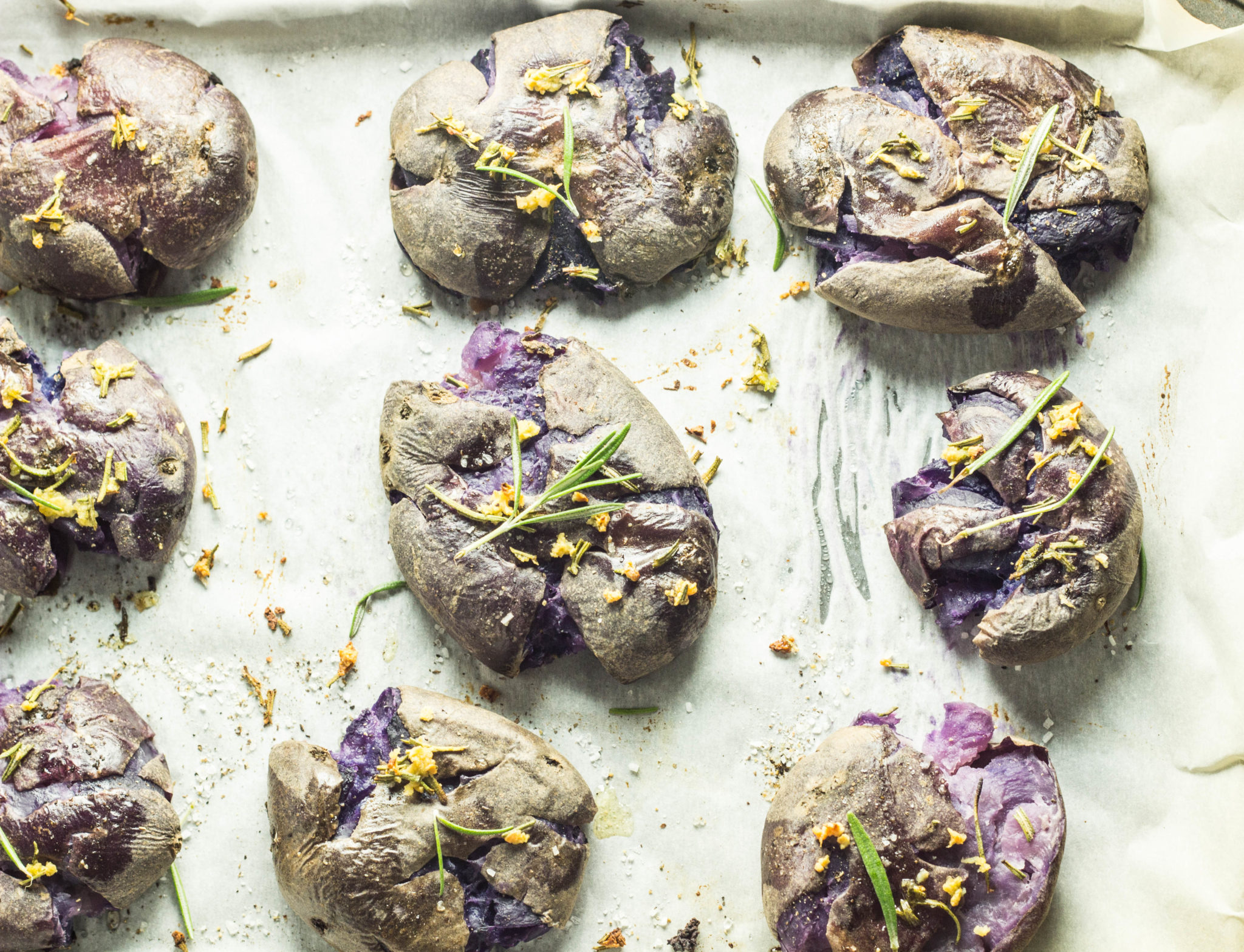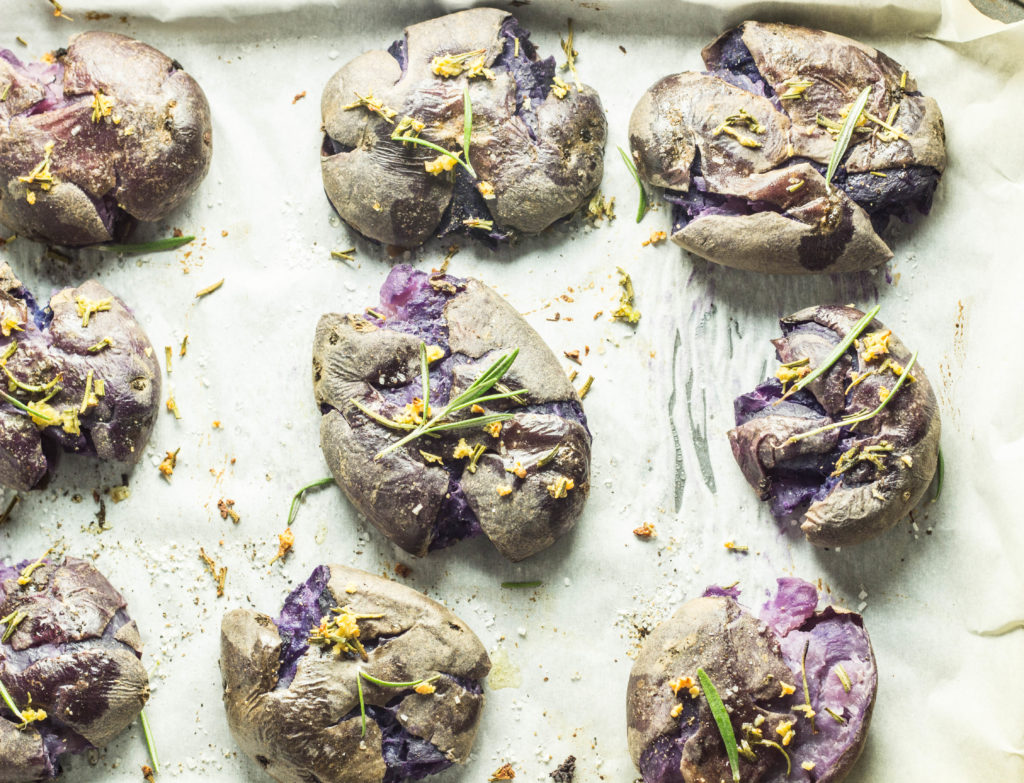 Start by boiling them whole just long enough that you can easily pierce them with a fork without breaking them apart. Drain and allow them to cool a few minutes. Then have fun literally smashing them with the palm of your hand or if you prefer not to get dirty (aka not have fun) use a fork or potato masher. Boiling them whole keeps all that deep color inside and then you get to play with your food so it's great for the kids to help out with.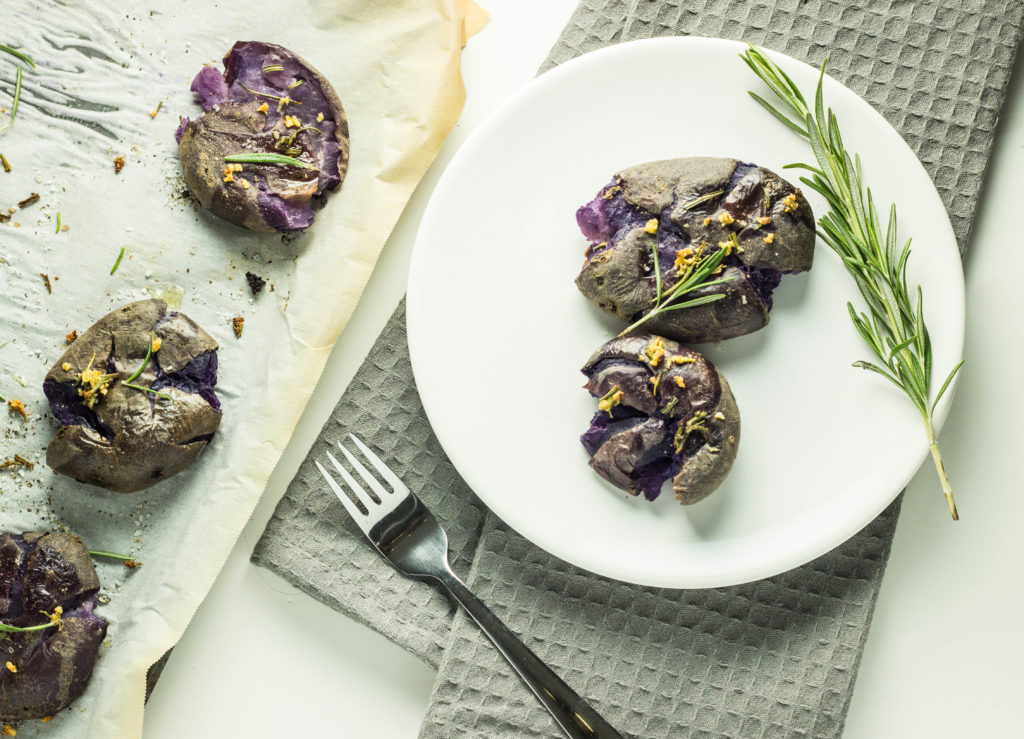 Do you like to get your hands messy in the kitchen or use gadgets and tools?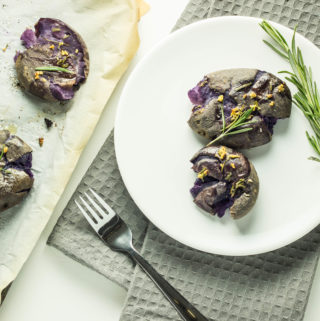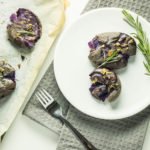 Garlic Rosemary Smashed Purple Potatoes
Ingredients
1

lb

small purple potatoes

2-3 inches

2

tablespoon

olive oil

2

garlic cloves, minced

1

sprig fresh rosemary

salt and pepper to taste
Instructions
Preheat oven to 425 degrees and line a baking sheet with parchment paper.

Clean potatoes and place in a large pot with enough water to completely cover them.

Bring to a boil and cook until tender about 25-30 minutes. A fork should easily pierce them, but they should not fall apart.

Drain water and allow potatoes to cool enough to handle.

While potatoes cool prepare rosemary. To remove the rosemary needles from the twig hold the top with hand, pinch fingers around, and slide fingers down the twig with enough pressure to pull needles loose. Roughly chop needles.

Add minced garlic and rosemary needles to a small dish and mix up.

Arrange potatoes on baking sheet and with a fork. potato masher, or my favorite the palm of your hand begin to gently flatten potatoes.

Add a dash of salt and pepper, and sprinkle with garlic and rosemary mixture.

Bake for 15- 20 minutes or until crispy.