Learn how to make Simple Vegan Croutons with just 4 ingredients. Perfect for topping salads!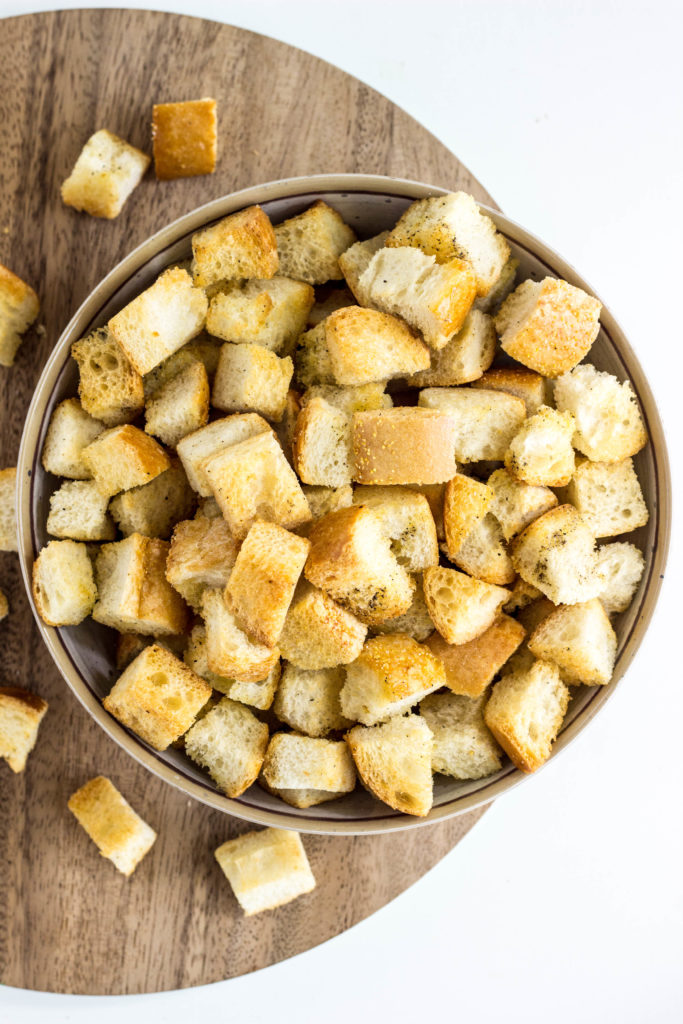 It's time again for a new how to guide, friends. This time we're making Simple Vegan Croutons. But why? Because it's super simple and once you've tried homemade you'll never want to use store bought again. Yes, the taste is really that much better!
Croutons are bits of bread that are oiled, seasoned and baked to crunchy perfection, great for topping salads with. The problem is most store bought varieties are not vegan and the ones that are, are just okay. I'd much rather just make them myself using a nice piece of bread. Making your own food also means you know exactly what's in it so it's usually healthier and it tends to be cheaper too.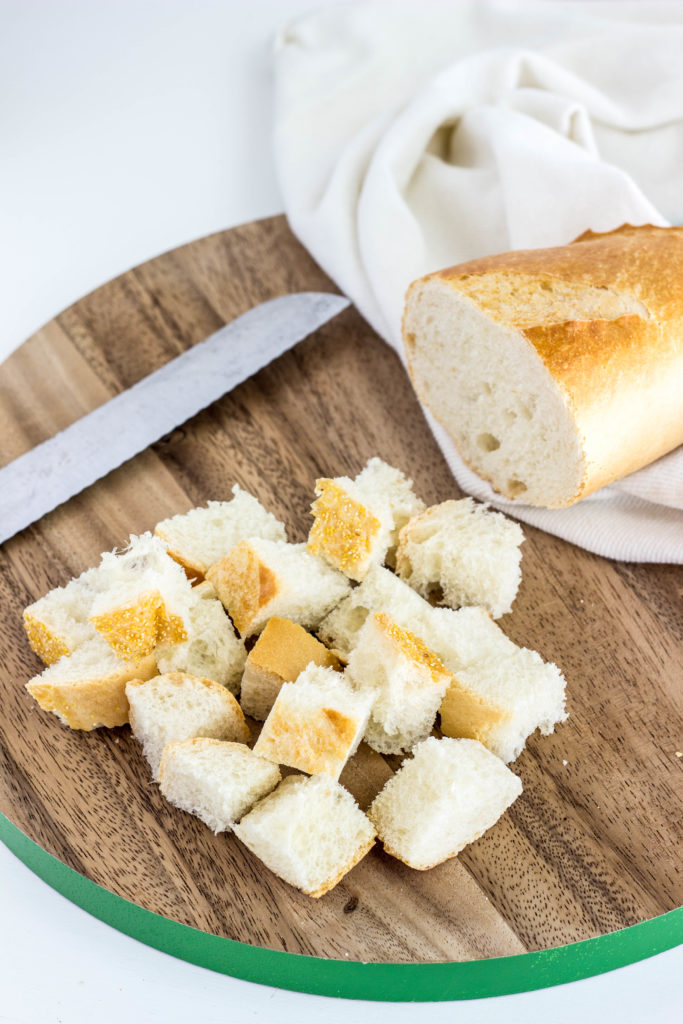 For this batch, I used a baguette I picked up at the store, but nearly any bread will work even sandwich slices. Day old bread is best to make the crispiest croutons so this is a great way to use up any bread that is a bit stale. Just keep in mind that different types of bread will require different baking times to achieve the desired crunchiness.
You have a choice when it comes to the shape of your croutons too. You can chop the bread into about 1 inch pieces like I've done or you can tear it into small pieces for a more rustic look. If you tear the bread just keep the pieces similar in size for the most even baking.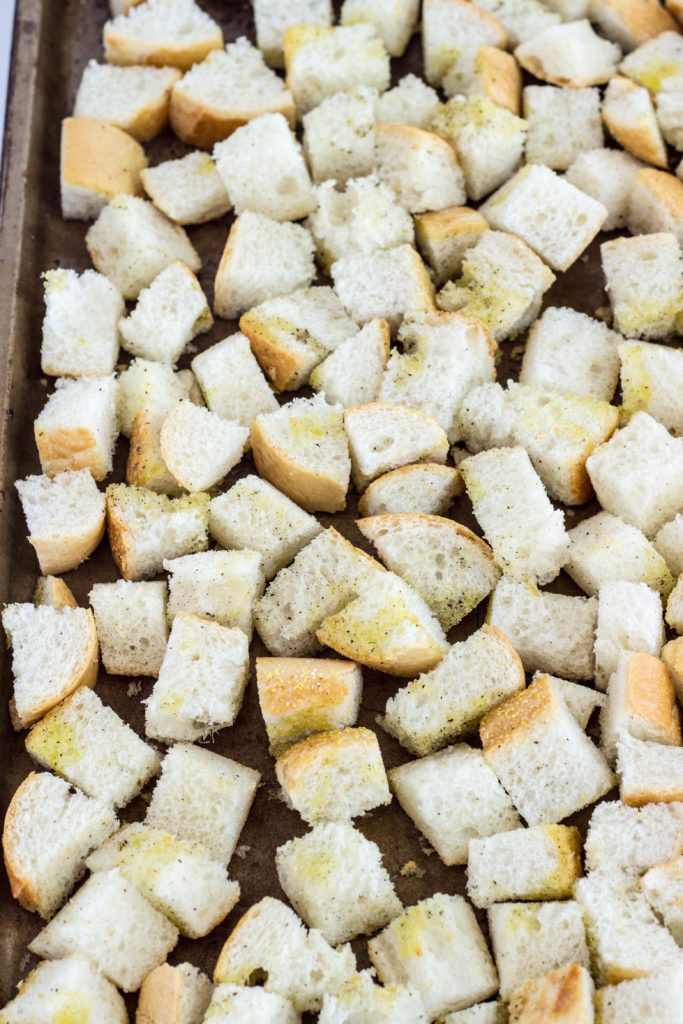 As for flavoring I kept things simple with a little olive oil, salt, and pepper. Feel free to add dried herbs or garlic powder (fresh garlic will burn and taste bitter) for even more flavor.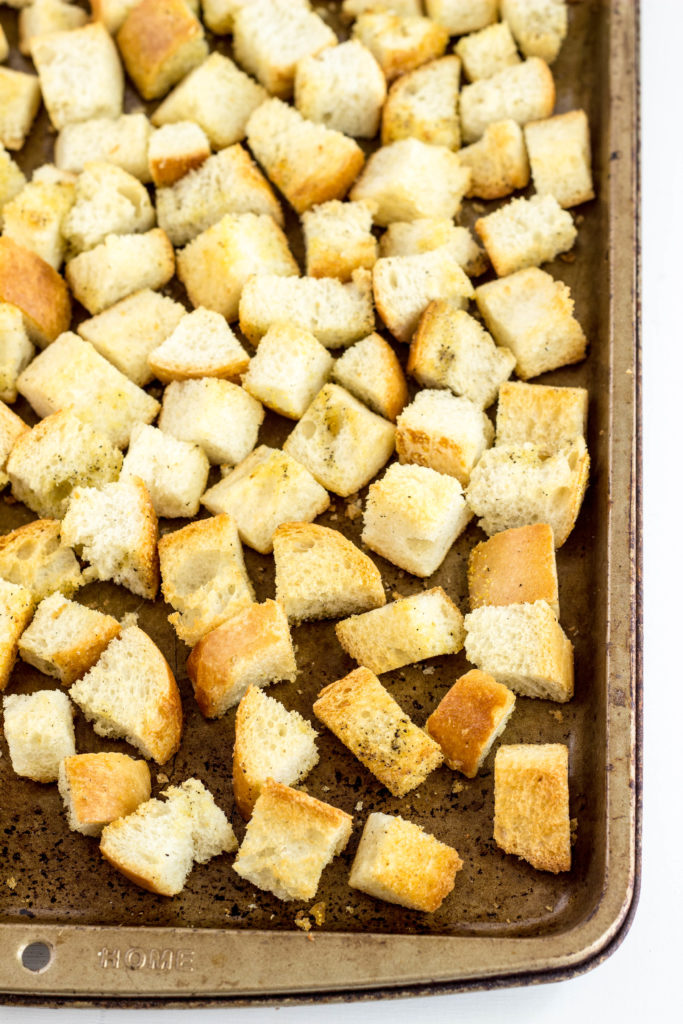 Once you've baked your croutons to golden, crispy perfection store them in an airtight container in the pantry. They should stay crispy for 3 to 4 days.
Use these croutons to top soups and salads or try them crushed over roasted veggies. I'll also be sharing a yummy recipe later this week using these croutons so be sure to check back. The family is a little obsessed with it right now so you really don't want to miss it!
If you make your own croutons, let me know how they turn out! Leave a comment below or snap a pic and tag it @weelittlevegans on Instagram so I'll be sure to see it!
How to Make Simple Vegan Croutons
Ingredients
8

oz

bread such as a baguette

2

tablespoon

olive oil

¼

teaspoon

salt

¼

teaspoon

black pepper

1

teaspoon

dried herbs

optional
Instructions
Preheat oven to 375 degrees and set a baking sheet aside.

Chop bread into ¾ to 1 inch pieces and transfer to a bowl.

Drizzle with olive oil and using your hands toss to coat.

Sprinkle with salt, pepper, and dried herbs if using and toss again using hands.

Spread the bread in a single layer on baking sheet.

Bake for 5-7 minutes and stir or flip bread.

Continue baking for 5 -7 minutes more or until bread is lightly browned and crunchy. The amount of time needed will depend on the type of bread used.

Store croutons in an airtight container in the pantry.