Sesame Seed Olive Oil Crackers made with only 5 ingredients and ready in less than 30 minutes.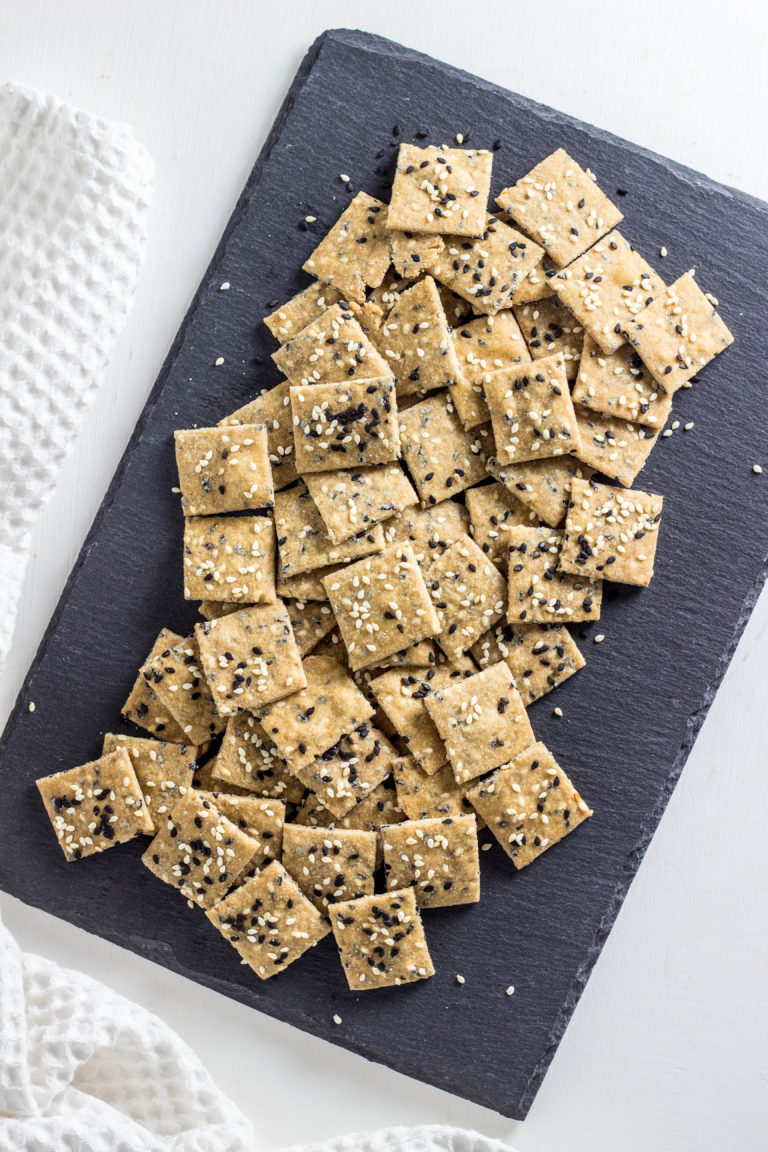 My kids are snack-aholics and crackers are a serious favorite around here. So, we almost always have some on hand.
Of course, you can buy a multitude of different crackers at nearly any store, but making them yourself is so simple and way tastier. These Sesame Seed Olive Oil Crackers, for instance, only require 5 ingredients and less than half an hour to whip up. So simple. In fact, my 10 year old is confident she can make these crackers without any help and plans to give it a try over the weekend.
I'll let you know how it turns out over on Instagram so if you haven't already, head over and hit that follow button 🙂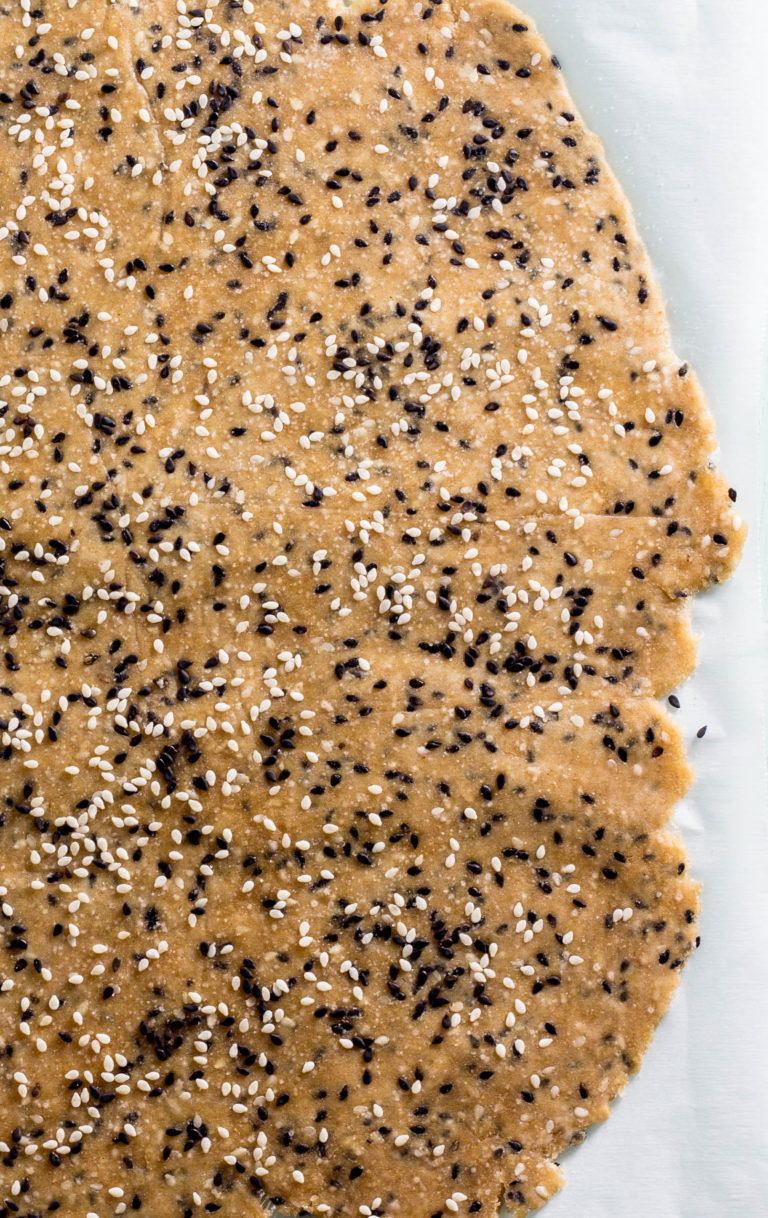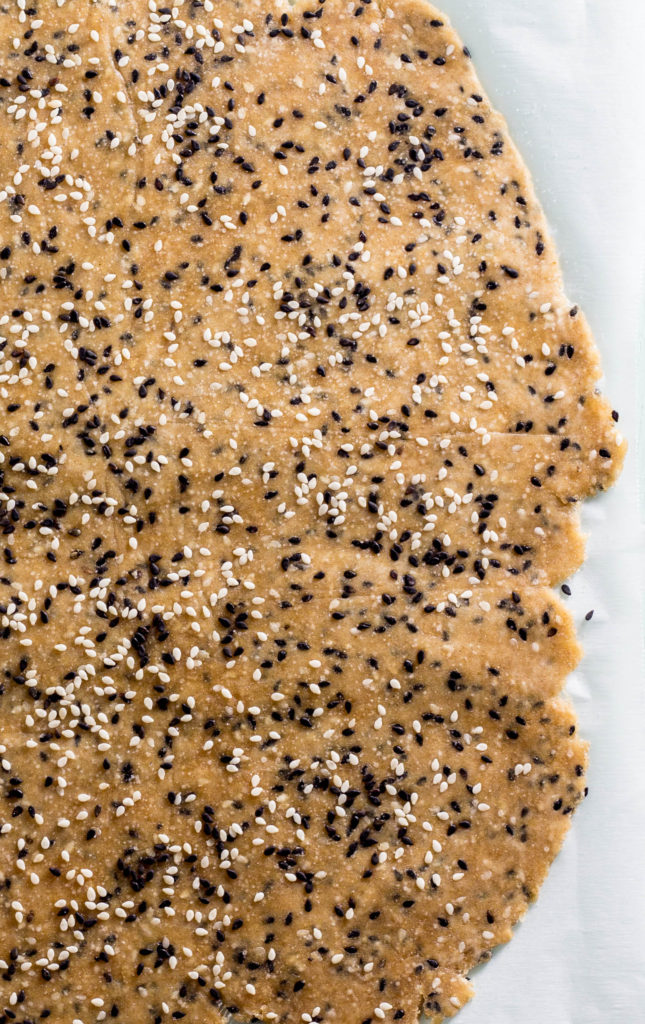 I use a combination of white and black sesame seeds for our crackers, but if you only have one variety on hand, that's totally fine, either will work.
And, if you prefer a cracker without sesame seeds due to allergies or simply preference try my Whole Wheat "Cheesy" Herb Chia Crackers. Several readers have tried those and raved about them.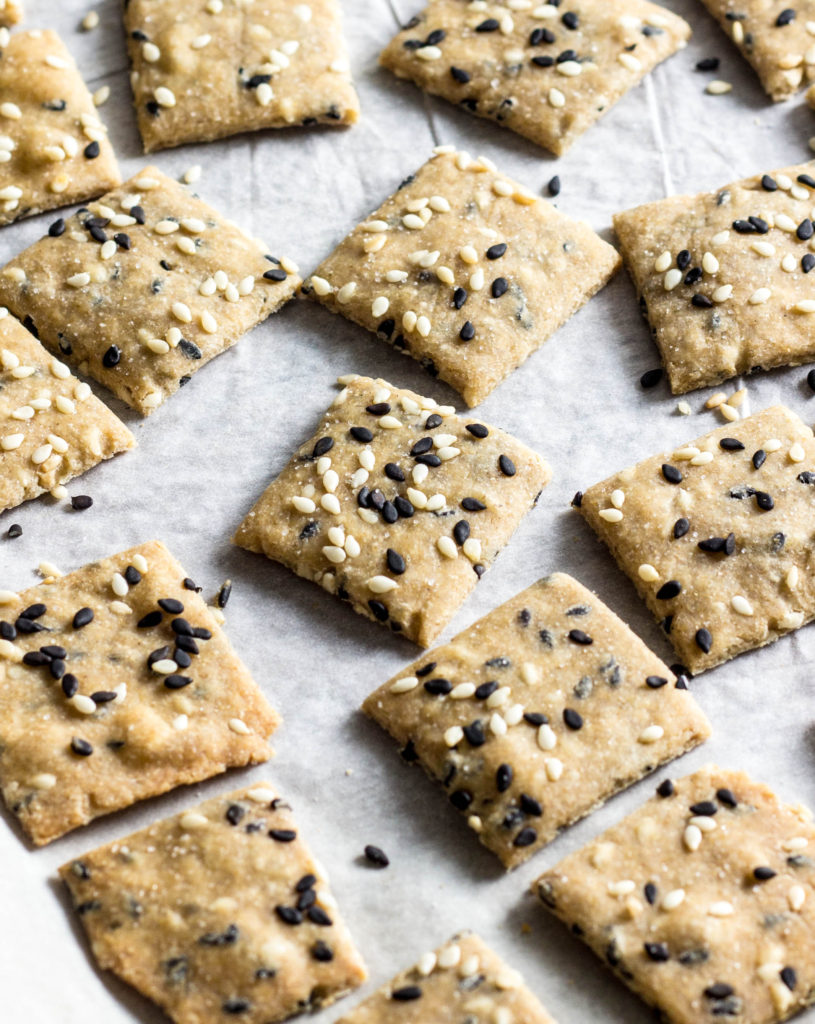 These crackers are simple, but here's a few tips to ensure complete success:
Water helps bring the dough together, but don't add too much. Just enough to bring the dough together so that it holds shape.
Rolling out the dough thin and evenly will ensure a crisp cracker all the way through. The thinner the dough is, the better it will crisp up as well. The best way to do this is by rolling the dough between parchment paper. Rolling directly on the parchment also makes it very easy to transfer the crackers to the baking sheet. Simply lift the parchment paper and place on the baking sheet.
Pricking the crackers with a fork before baking will allow steam to escape so crackers don't puff up as they bake.
Baking the crackers on parchment paper helps ensure an even bake, especially, if you have darker pans. These crackers bake quickly so don't walk away for long. I don't separate the crackers before baking and instead wait until after the first 8 minutes to do this. The dough is so thin it can be difficult to do this before.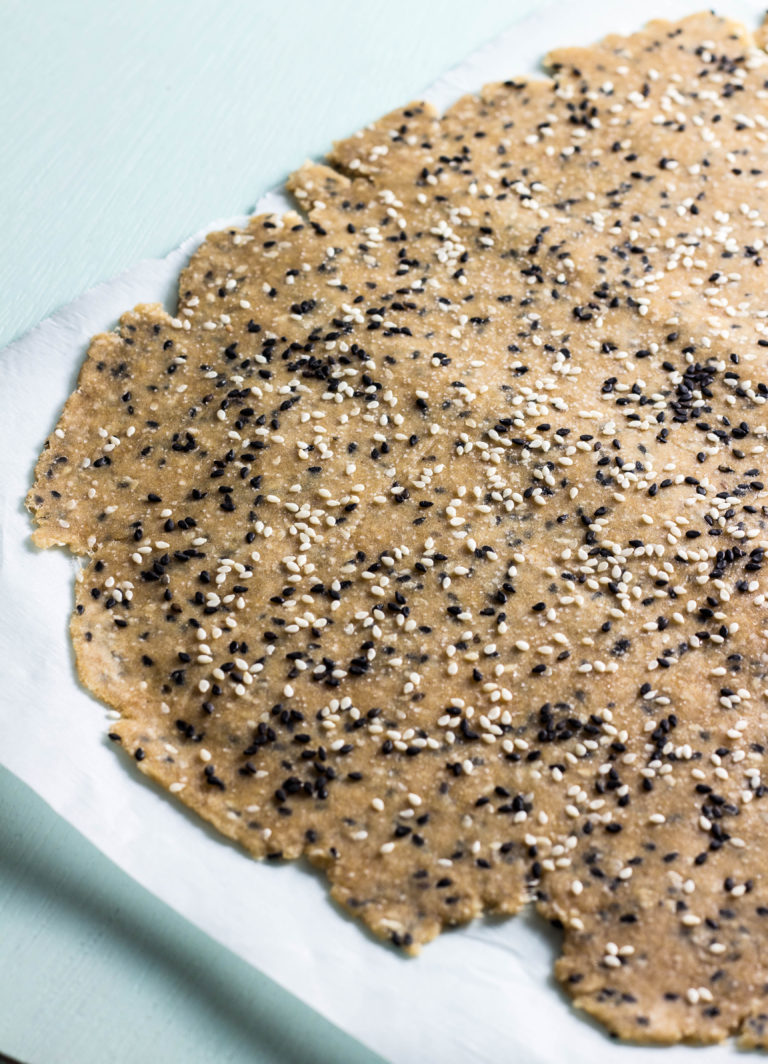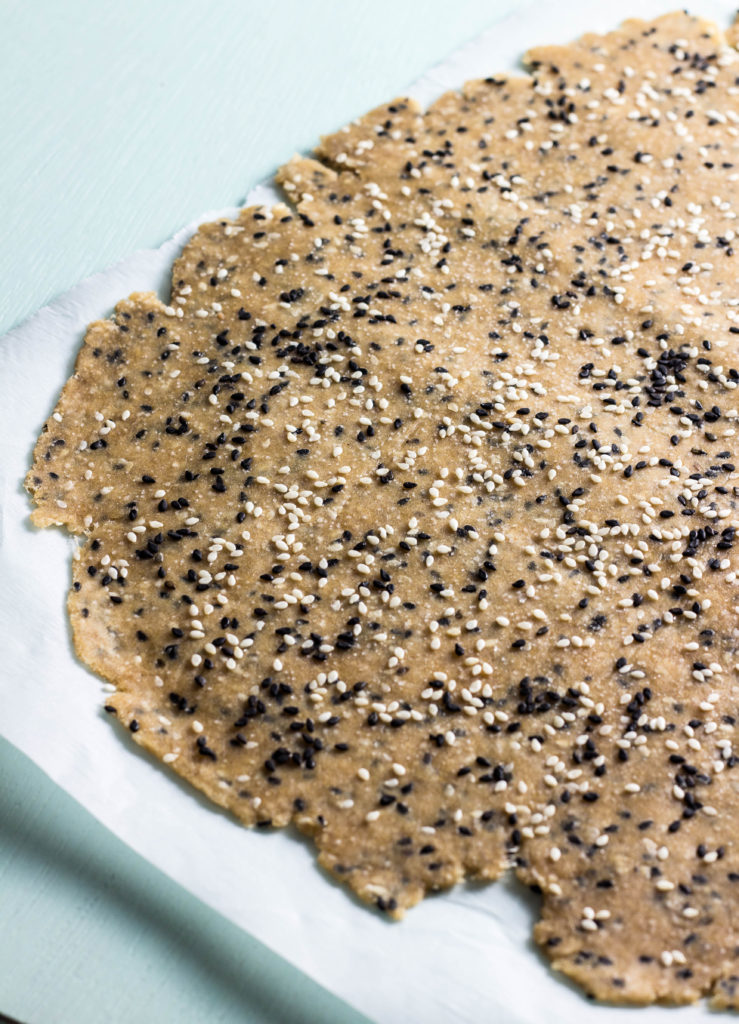 Note: I recommend pricking the dough with a fork to prevent air bubbles as the crackers bake. However, if you forget this step, as I did with this batch, it doesn't seem to cause too much of an issue. There was a bit of bubbling, but not enough to affect the overall bake and the crackers are of course tasty. That doesn't mean you should skip this step though.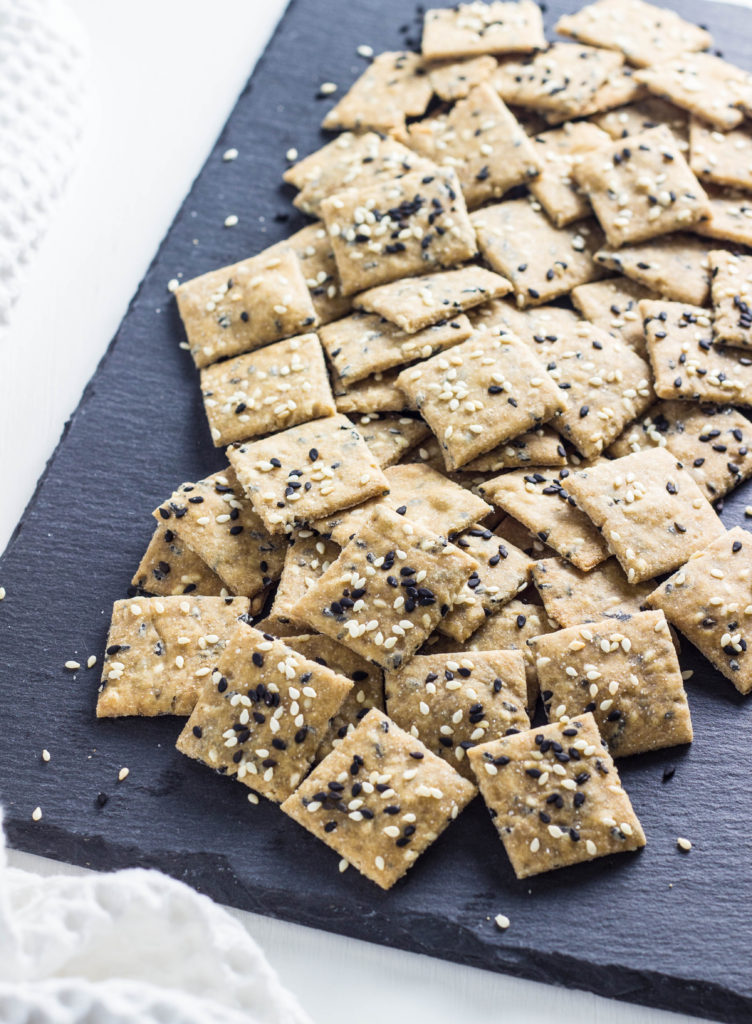 If you try this recipe, let me know how it turns out! Leave a comment below or snap a pic and tag it @weelittlevegans on Instagram so I'll be sure to see it!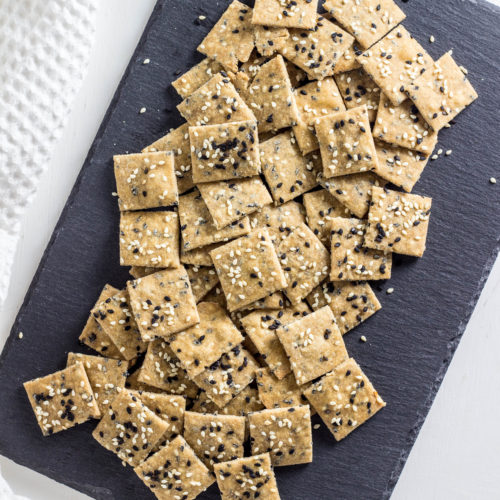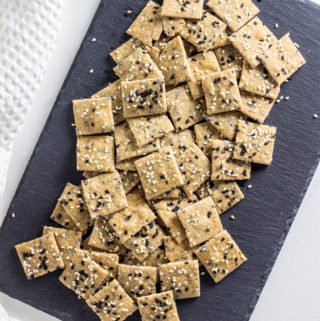 Sesame Seed Olive Oil Crackers
These Sesame Seed Olive Oil Crackers are made with just 5 ingredients and are in under 30 minutes.
Ingredients
1

cup

white whole wheat flour

½

teaspoon

salt

2

tbsp

sesame seeds + more for topping

3

tablespoon

olive oil

4-5

tbsp

water
Instructions
Preheat oven to 400 degrees. Set aside 2 baking sheets.

In a bowl combine flour, salt and sesame seeds stirring to combine.

Add oil and 4 tablespoon of water. Stir to combine. Mixture will be crumbly, but should hold together when pressed with hand. Add remaining tablespoon of water if needed. Knead a couple of times to bring the dough together.

Split dough into 2 pieces and form into disc shape. Place one disc between 2 sheets of parchment paper and using a rolling pin, roll out the dough to a thin sheet. About ⅛ of an inch in thickness. The thinner it is, the crispier the crackers will be.

Use a pizza cutter to cut 1 inch squares or desired size. Do not separate the squares. You can remove the edge scrapes and roll again to create squares, if desired. I don't worry about this and just bake as is.

Prick each cracker with a fork a couple of times and sprinkle with additional sesame seeds and salt if desired. Place parchment paper over crackers and use rolling pin to roll the seeds into the dough to help them stick better.

Transfer crackers still on parchment paper to baking sheet. Complete this same process with the second disc of dough.

Bake for 8 minutes and check for browning. The edges will bake and brown faster. Separate the crackers at this point. Remove crackers as the brown to your liking and continue to bake remaining crackers. Total bake time is about 12 -15 minutes.

Remove from oven and allow to cool completely before storing in an air tight container.