This Vegan Chickpea Flour Squash Quiche is made with just 9 ingredients in about an hour. Perfect for a quick brunch or dinner!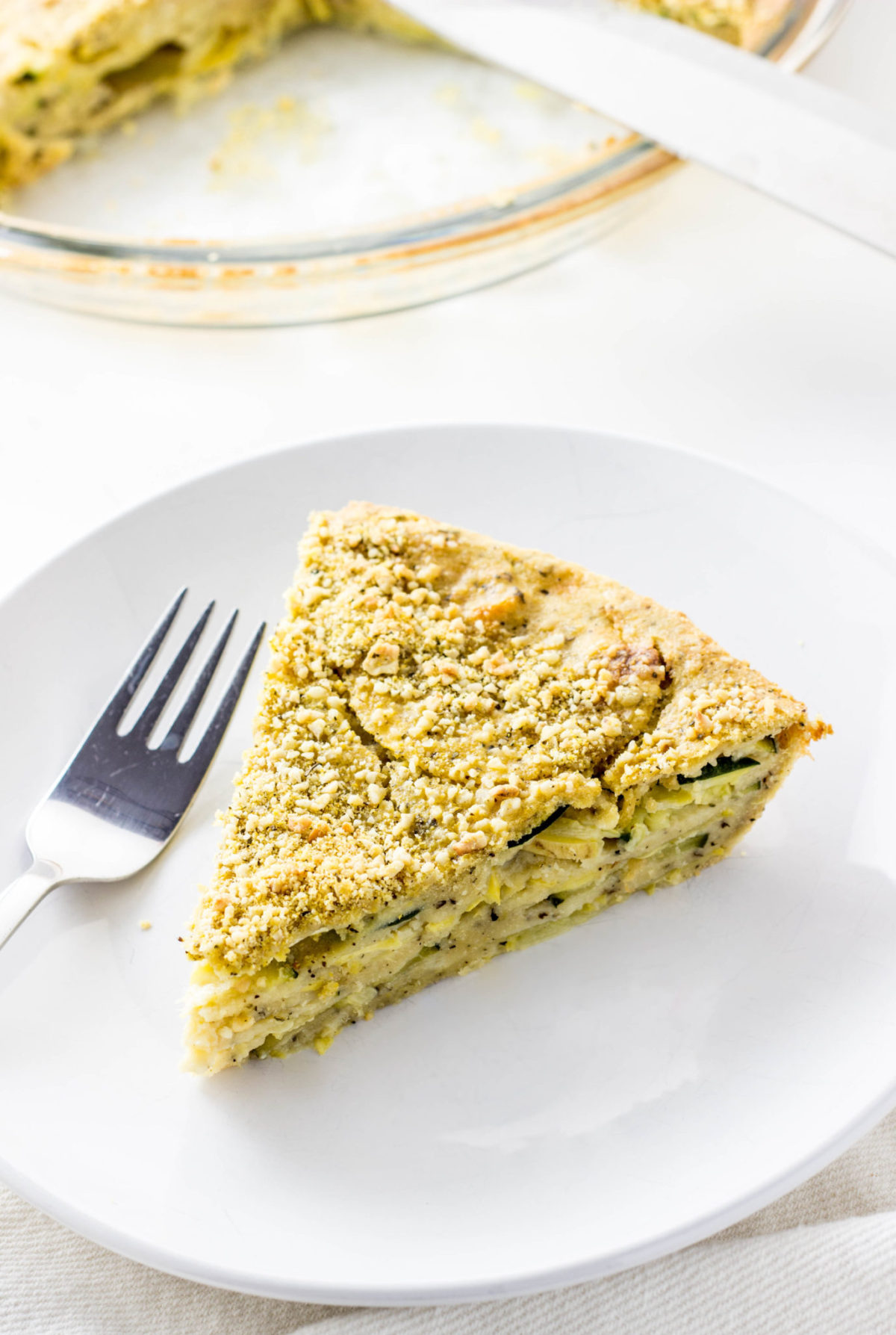 Anyone else find themselves with an abundance of squash this time of year? We've been receiving a couple of pounds of yellow squash and zucchini weekly from our produce box. We really like squash, but the kids can get a little bored eating it the same old way every week. So, to use it in a different way I made this Vegan Chickpea Flour Squash Quiche and it was a hit with the whole family.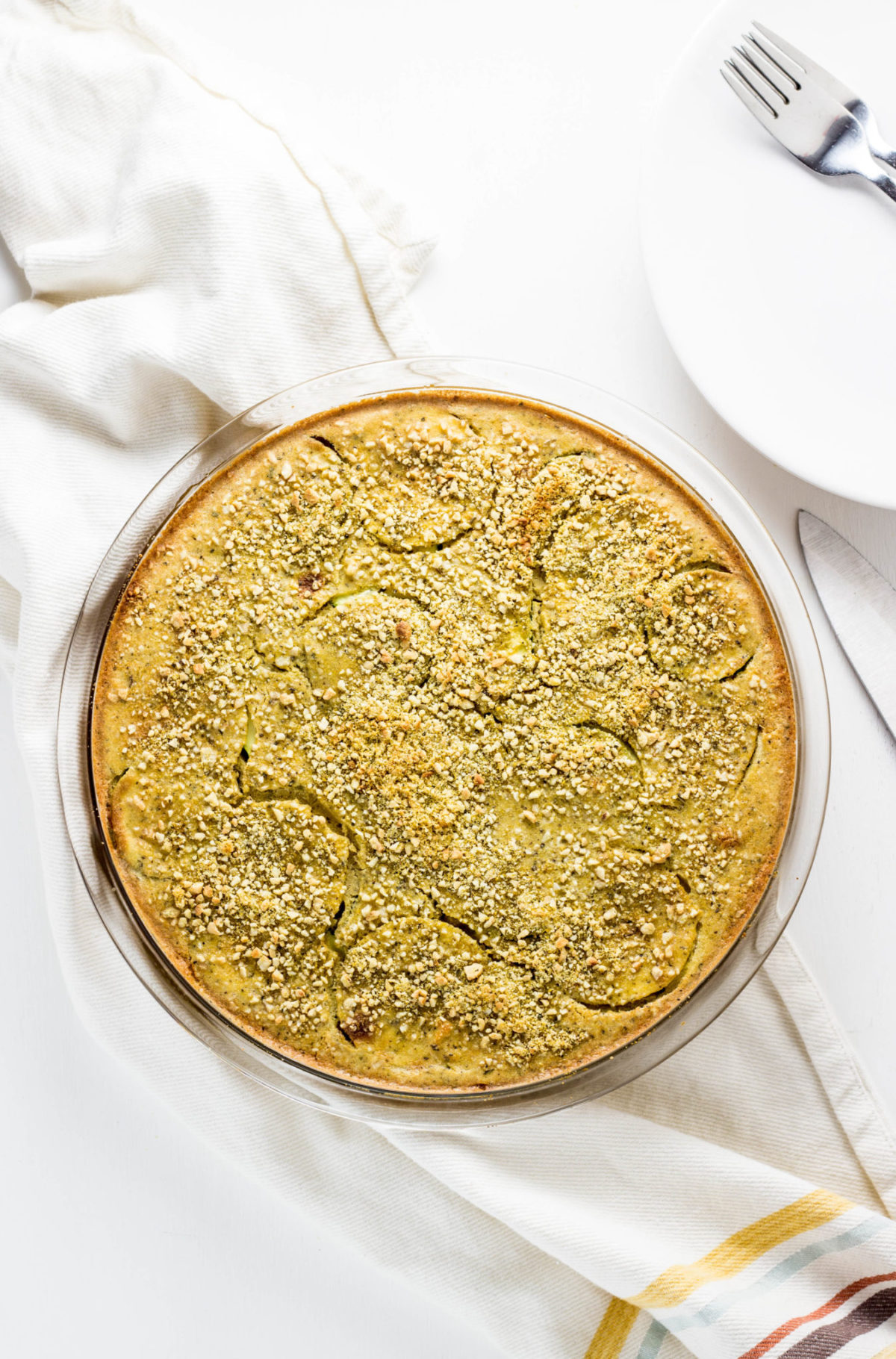 What is Chickpea Flour?
Chickpea flour also known as garbanzo flour, besan flour, or gram flour is nothing more than dried chickpeas ground finely into a flour. It is naturally gluten free, a great source of protein and extremely versatile. We use it a lot in our house to make socca, these omelettes, and even cookies.
If you're new to chickpea flour you're probably wondering where to get it. It is almost certainly available in any health food store, but it is also becoming increasingly more common in everyday grocery stores. You can also make it yourself, just grind dried chickpeas in a food processor or a high speed blender until a fine powder. And you can, of course order it from a variety of websites.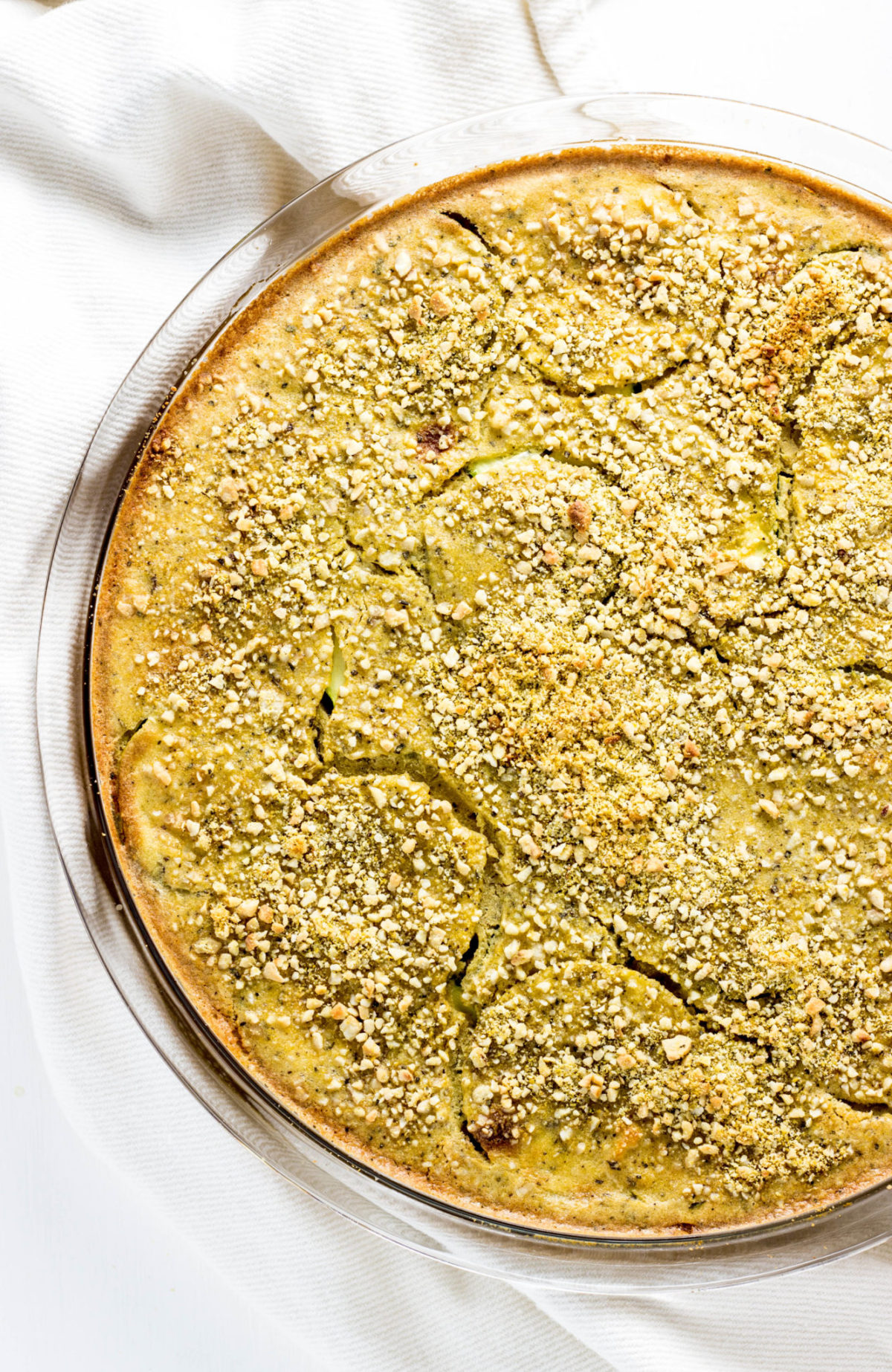 While this isn't exactly the same as an egg and dairy based quiche obviously, it is fluffy, a bit creamy and definitely delicious.
There's one important step when baking this chickpea flour quiche and that is letting the batter rest. Allowing the batter to rest gives the flour time to absorb the water and hydrate to produce a creamier interior. The longer you can let the batter rest the better, but 30 minutes would be the minimum.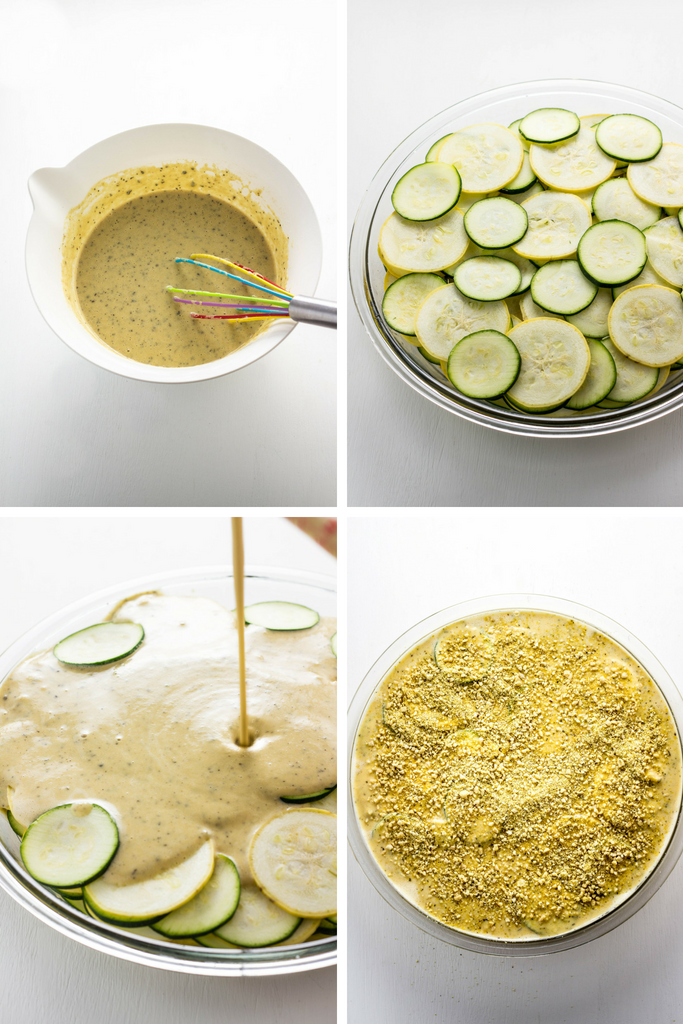 As a topping and for extra flavor I added a generous sprinkle of my Herbed Cashew Parmesan. You can omit this if you like, but it really kicks up the flavor and adds a bit of a different texture which is really nice.
When baking this quiche you're looking for the edges to be browned and the batter to be fully set, but still soft in the middle. Over baking will result in a dry, but still flavorful quiche. No one wants a dry quiche so keep a close watch on it in the last few minutes of baking.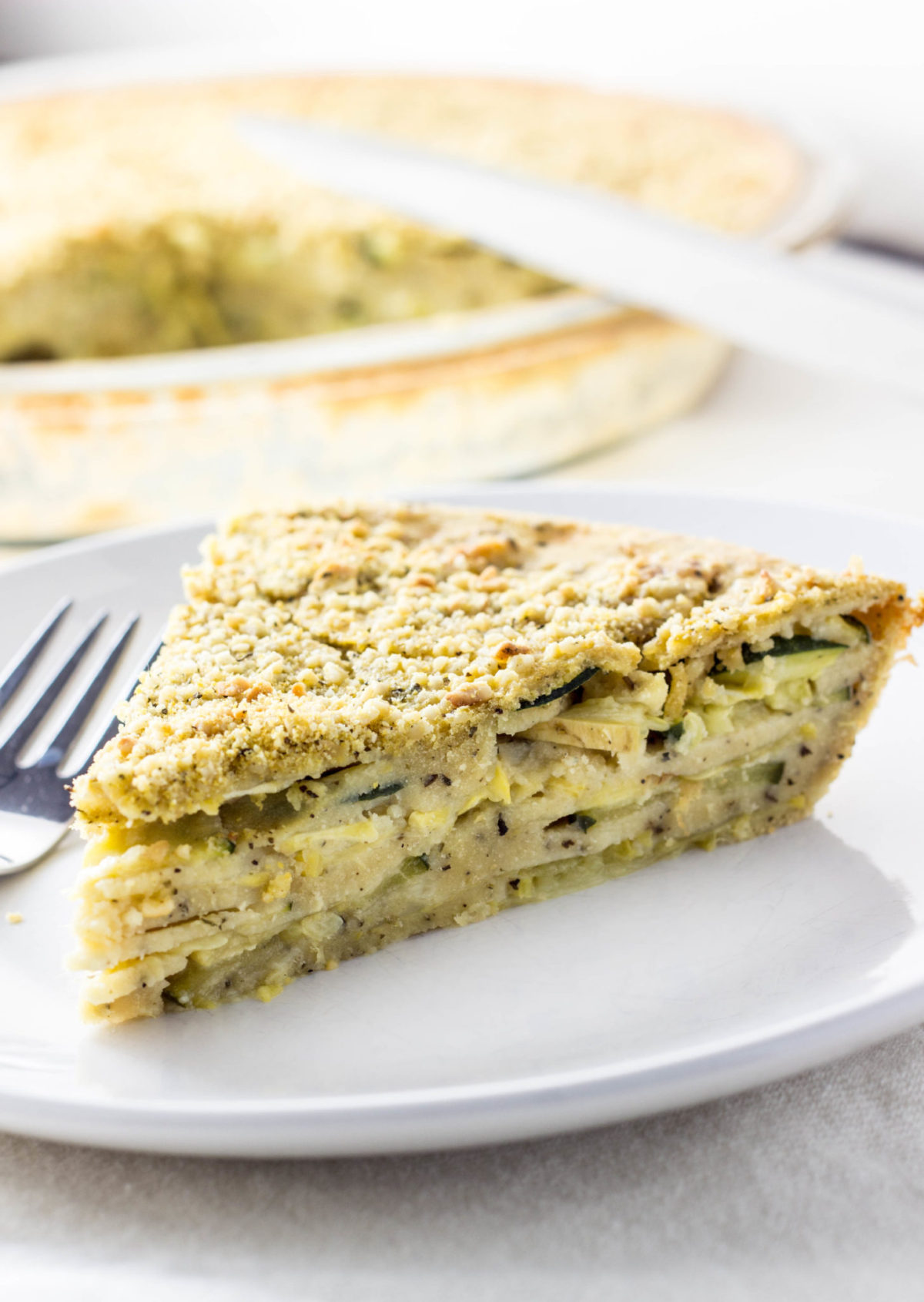 If you try this recipe, let me know how it turns out! Leave a comment below or snap a pic and tag it @weelittlevegans on Instagram so I'll be sure to see it!
Vegan Chickpea Flour Squash Quiche
Ingredients
2 -3

medium zucchini or yellow squash or a combination

1 ½

cup

chickpea flour also known as garbanzo flour

1 ½

cup

water

2

tbsp

olive oil plus more for greasing baking dish

1

teaspoon

salt

½

teaspoon

pepper

1

tsp

dried basil

2

tbsp

nutritional yeast

¼

cup

cashew parmesan

link to my recipe below
Instructions
Sift chickpea flour into a medium sized bowl.

Add nutritional yeast, basil, salt and pepper and whisk to thoroughly incorporate.

Add oil and water and whisk together. Set aside and let rest for a minimum of 30 minutes up to 2 hours.

While batter rests, slice squash and/or zucchini very thinly. A mandolin works very well for this, but do be very careful.

Preheat oven to 425 degrees and lightly grease a 9 in pie plate. Set aside.

Press squash between a tea towel or paper towels to remove excess moisture.

Arrange squash and zucchini in layers in prepared pie plate.

Pour batter over squash slowly, allowing it to fill in around the veggies and fully cover the squash.

Sprinkle cashew parmesan over the top. I used my herbed cashew parmesan.

Bake for 30-35 minutes until edges have browned a bit and the center is set and no longer liquid. Watch closely in the last few minutes to avoid over baking .

Allow to cool a few minutes before running a knife around edges and slicing. Serve immediately or allow to cool fully.