Eggs aren't the only way to get protein in the morning. This Vegan Chickpea Flour Omelette packs as much protein as an egg and tastes just as delicious. Filled with veggie goodness so it's hearty and filling. A great way to start the day!
Nutrition is obviously incredibly important when you're pregnant. Growing a whole other human being is hard work for the body and it's crucial to get enough of every vitamin and mineral. Seriously, I don't think there's even one that's not completely essential, which I guess is why the prenatal pills are so huge! Protein is a big deal too, particularly during the second and third trimester, where I currently am with mine. So, in my quest to ensure I'm getting the recommended 70 plus grams of protein per day I'm constantly seeking out new ways to get it like with this Vegan Chickpea Flour Omelette. It's super yummy, filling, and you'll be starting the morning with the goodness of veggies.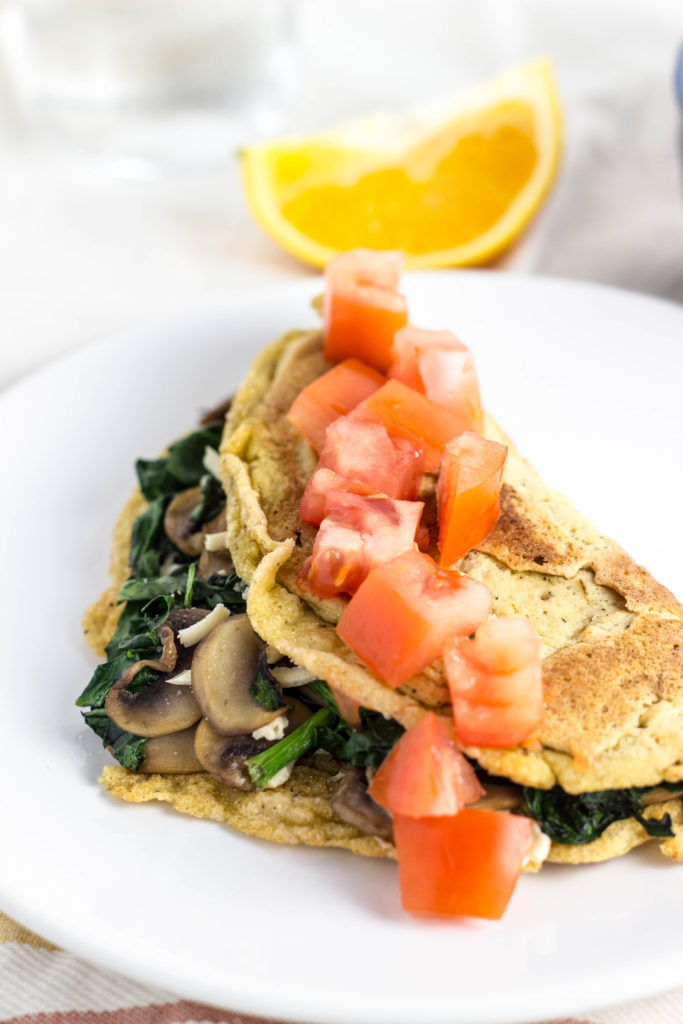 I could have easily made a tofu scramble, but tofu is a no go these days. I can't get past the smell and the texture is just blah! It never would have bothered me before, but something about it right now. Pregnancy hormones are weird like that. And since I know some of you can't or choose not to consume soy and chickpea flour also happens to be gluten free, everyone wins!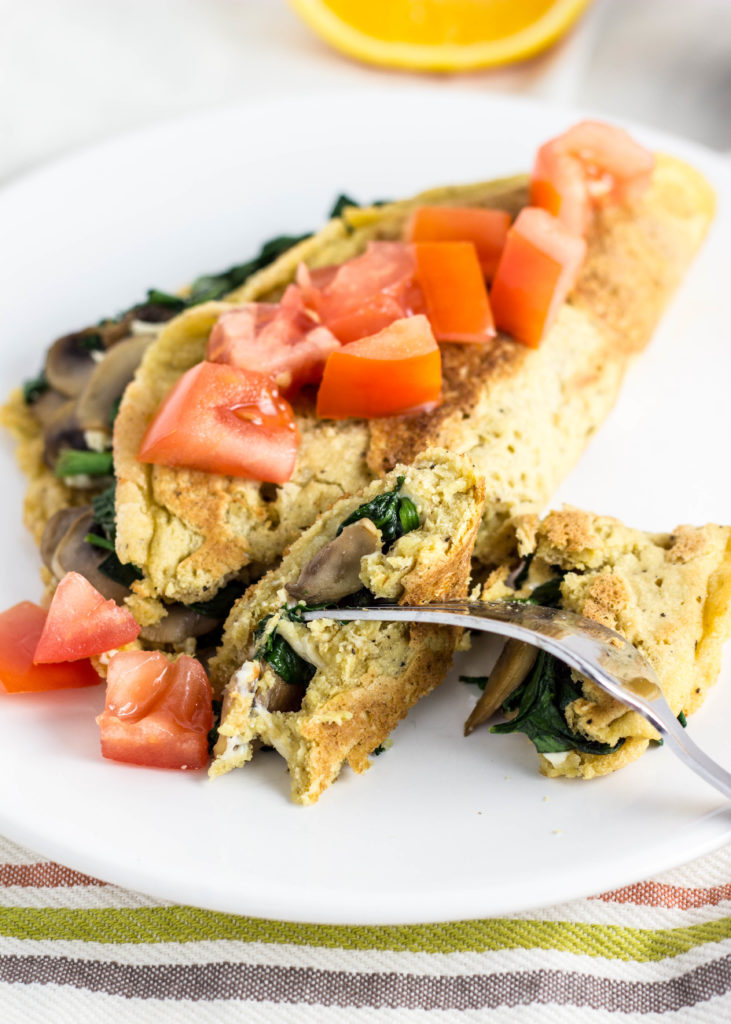 Let's talk about the nutrition facts on chickpea/garbanzo flour. There's roughly 110 calories per ¼ cup serving with 6 grams of protein. That's the same amount of protein in 1 egg, but there's no saturated fat or cholesterol, no animal suffering involved, and there's virtually no risk of salmonella. Chickpea flour is also a good source of fiber and a decent source of iron. My go to brand is Bob's Red Mill and we nearly always have several packages in the house.
The best part about any omelette is being able to fill it with anything you like. For this one, I sautéed mushrooms and spinach with garlic, added a little vegan cheese, and topped with fresh tomatoes. This version doesn't have the same texture as an egg based omelette, but it is fluffy, flavorful, and delicious in it's own non eggy way and being filled with veggies definitely gives it that omelette like quality. If you prefer a more eggy texture, a tofu based version would probably be better for you.
If you try this recipe, let me know how it turns out! Leave a comment below or take a picture and tag it @weelittlevegans on Instagram so I'll be sure to see it!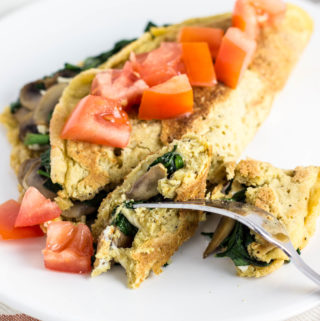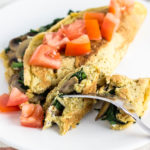 Vegan Chickpea Flour Omelette
Ingredients
¼

cup

chickpea(garbanzo) flour

I like Bob's Red Mill.

1-2

tablespoon

nutritional yeast

1

garlic clove, minced

¼

teaspoon

baking soda

scant ¼

teaspoon

salt

dash of black pepper

¼

cup

water

2

teaspoon

coconut or olive oil

1-2

cups

chopped vegetables ie mushrooms, spinach, bell peppers, etc.
Instructions
Heat 1 teaspoon of oil in a skillet over medium heat. Sauté vegetables and set aside.

In a small bowl whisk together flour, nutritional yeast, garlic and other spices, baking soda,and water.

Heat additional teaspoon or so of oil in a small nonstick skillet over medium heat. You want to make sure the pan has enough oil to prevent the omelette from sticking.

Pour batter into hot skillet. Shimmy the pan a little to spread around pan in a thin layer. Cook for 4-5 minutes until edges have set and bubbles have formed across the surface. Gently shake the pan to loosen and carefully flip. Continue to cook for 2-3 more minutes adding desired toppings. If using a vegan cheese such as Daiya, cover pan with a lid to help melt the cheese. Check that omelette has throughly cooked by lifting away from pan slightly. It should be be dry and lightly browned. It is super important to cook well because raw/undercooked garbanzo flour taste horrible.

Flip one side over to close and serve immediately.