These Vegan Conversation Hearts Candies are sure to put a smile on any vegan kiddos face!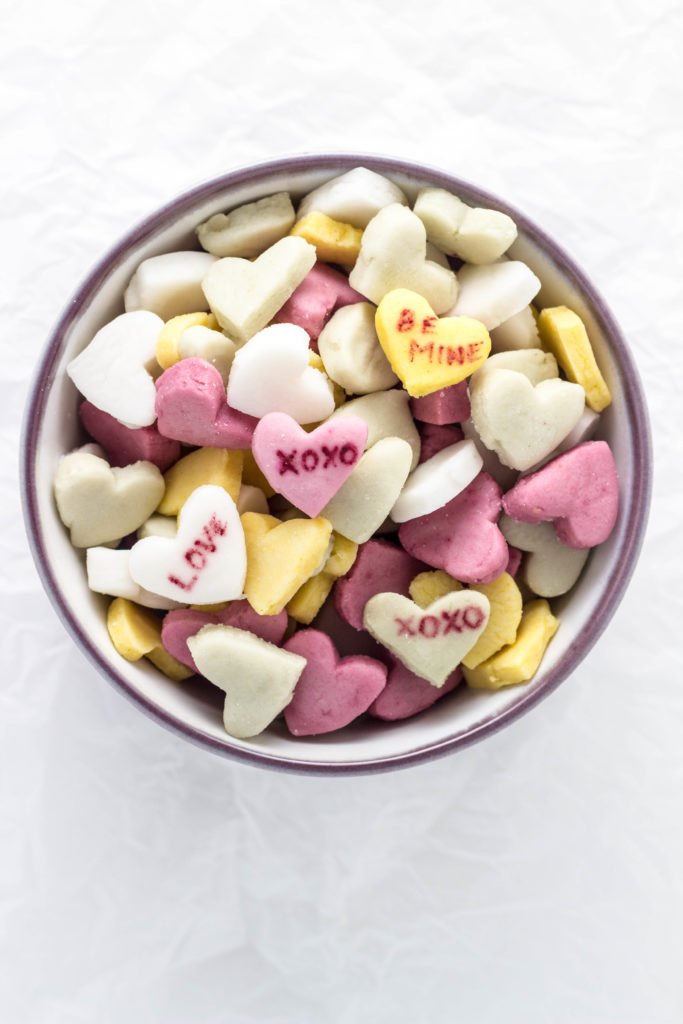 Every year around Valentine's day, the kids have some kind of activity at school involving the dreaded conversation hearts and every year I start the hunt for a vegan version only to be let down by the lack of one. Those ever popular hearts seem innocent enough until you start reading the ingredient label and see that pesky little ingredient that seems to sneak it's way into otherwise benign candies all too often. Gelatin! It's made from the skin, bones, and connective tissues of animals so it is most definitely not vegan and just plain gross, if you ask me! So, after having my hopes dashed again this year, I decide it was time to take matters into my own hands and I got to work on creating these Vegan Conversation Hearts. And you guys, I'm so excited to share this one!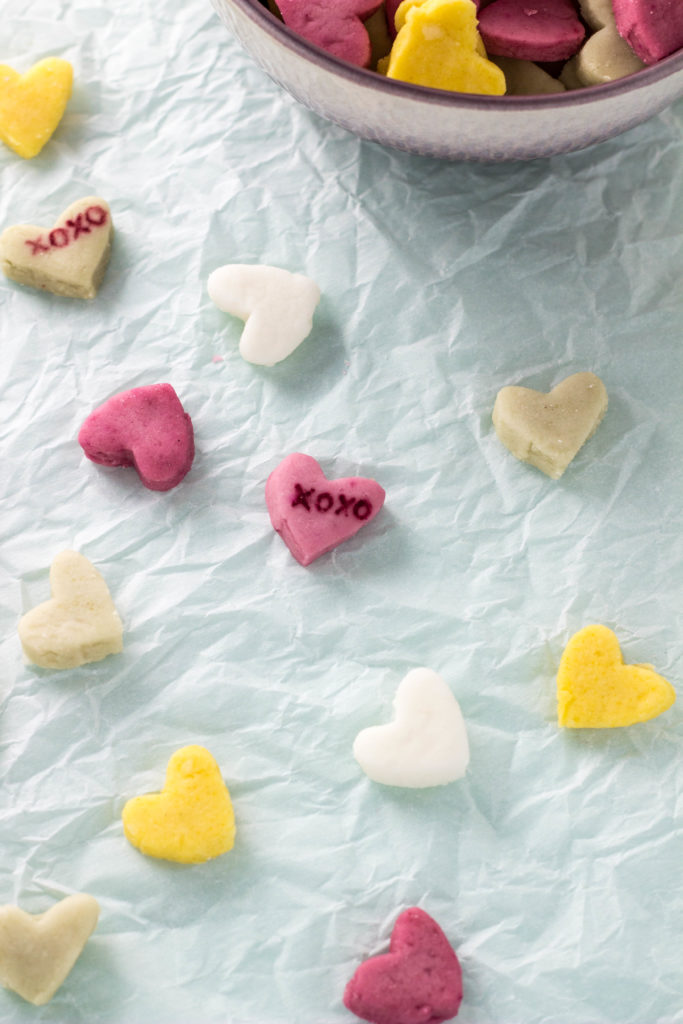 I first had to find out just what the non vegan hearts were made from so I would have a starting point for my own. For that, I turned to my favorite foodie scientist, Alton Brown. I've learned so much about the science behind cooking and baking from him, that has really helped with own recipes.
So like most, Alton's recipe employs the aforementioned icky ingredient, but I have used agar before and knew it would work well as a vegan counterpart to gelatin.
What is Agar?
Agar sometimes called agar-agar is a gelatinous substance obtained from algae and is completely vegan. It is used in a variety of desserts throughout Asia as well as being used in labs as a growth medium for culturing bacterias and fungus to be observed under microscope(because its better than gelatin.) It is available in powder and flake forms in Asian grocery stores and some health food stores as well as online. For this recipe, we'll be using the powder version.
In order to activate the setting properties of agar, it is necessary to dissolve the powder in liquid and then heat the mixture. This simple step is how the candy hearts will set and harden.
Funny story, when I made the first and second batch of these hearts I mistakenly grabbed guar gum from the cabinet rather than agar. Since the two have similar thickening properties, it worked just fine and as such you can use either one depending on what you have available. After realizing my mistake, I did make a third batch with agar to be certain it worked as well.
The only differences I noticed between the two, was that the guar gum had the tendency to meld back together after cutting out the hearts so you will need to cut and remove the shapes a few at time in order to avoid this. The texture of the guar gum hearts also remained a bit softer in the middle than with agar, but it is not at all unpleasant.
Once the agar or guar gum has been heated and gelled a bit, the next step is to mix in confectioner's sugar in a cup at a time until a dough has formed. You're looking for it to resemble play dough, not too sticky and holds it shape like you see above.
As for coloring and flavoring the candy hearts I went the natural route using matcha green tea powder for green, beet powder for pink, ground turmeric for yellow and vanilla extract for white. Feel free to use food coloring, other powders, spices, and extracts to color and flavor however you like.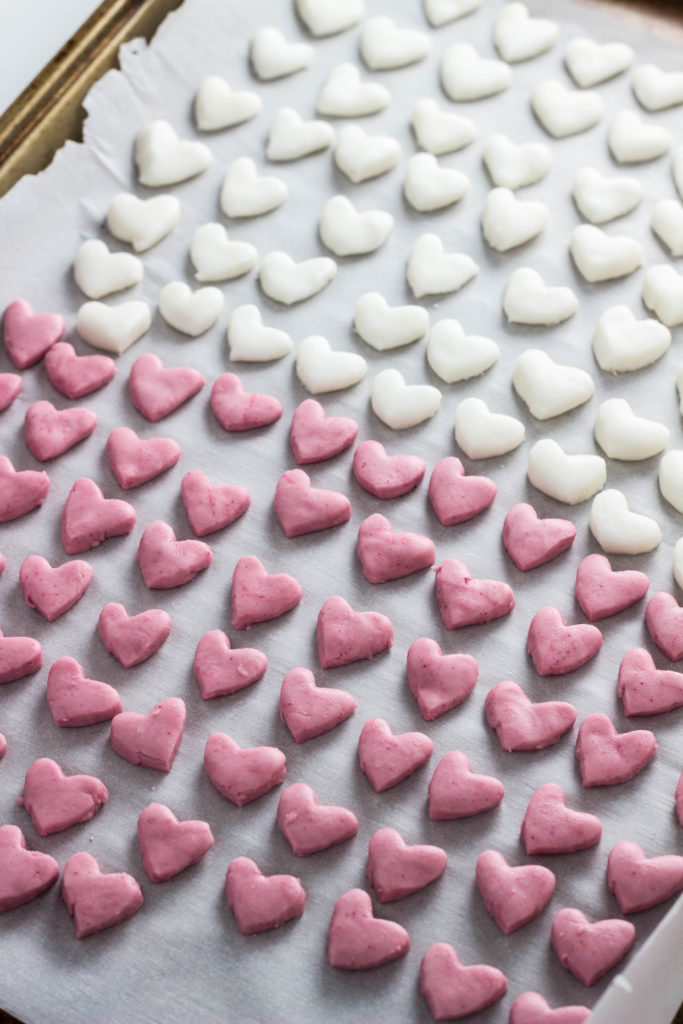 Now for the tedious part, cutting out all those tiny hearts. This is a great time to get any play dough fans involved to help roll and cut the hearts.
The final step is letting the candies dry out. You want to arrange them on a parchment lined baking sheet and leave them on the counter to set and dry. This can take anywhere from a day to two to perhaps a little longer depending on how thick the candies are and the humidity where you live.
After a couple of days I was happy with the texture. They were not quite as hard and definitely not chalky like the store bought, but I was never really a fan of conversation hearts anyway so this worked for me. They had a nice melt in your mouth feel that I prefer, kind of like the soft mints that crunch and then melt. My husband who did like conversation hearts in his pre-vegan days enjoyed them this way too, but said they more closely resembled the store bought after the third day. The kids have nothing to compare them to since they have never actually eaten the store bought so their opinion is based solely on if it's a candy they like. They do and are thrilled to have something similar to what the other kids will be using for the activities next week!
One more thing-for the messages, I simply mixed a pinch of beet powder with water until it formed a paste and used a toothpick to write on the hearts after they had dried. This step is completely optional as the hearts are cute enough without.
And if you want to make these throughout the year skip the heart cutter altogether and use a circle cutter or for an even faster method just roll out the dough and use a pizza cutter to make small squares.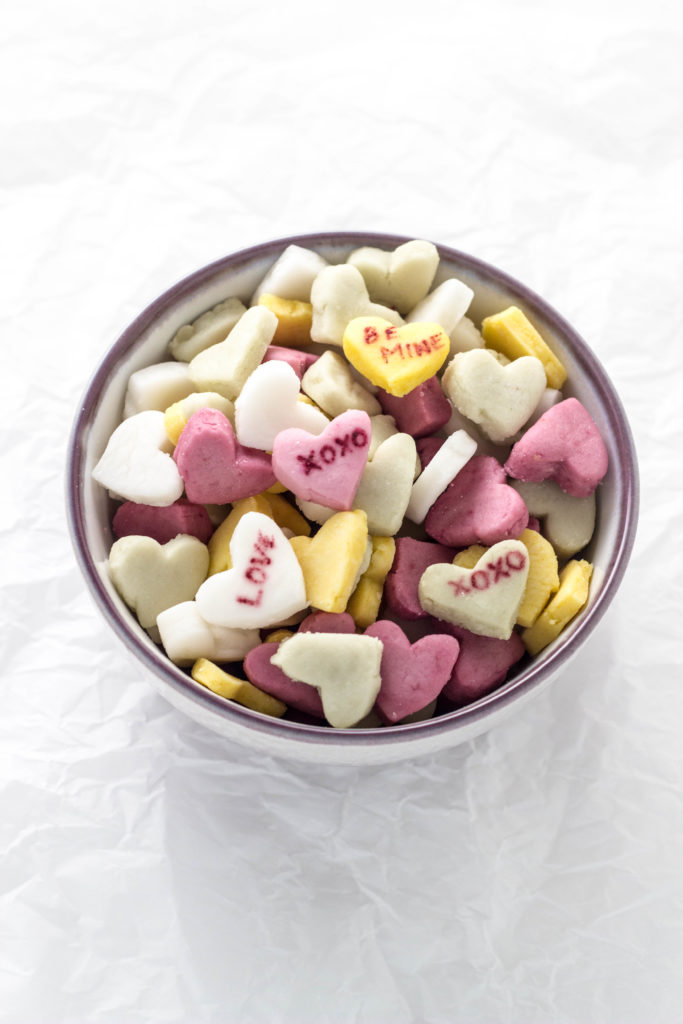 If you try this recipe, let me know how it turns out! Leave a comment below or snap a pic and tag it @weelittlevegans on Instagram so I'll be sure to see it!
Vegan Conversation Hearts Candy
Ingredients
2

tsp

agar powder or ½ teaspoon guar gum

½

cup

water

1

tbsp

maple syrup

¼

teaspoon

salt

5

cups

confectioner's sugar + more for kneeding and rolling
Flavorings and color:
¼

teaspoon

matcha or spinach powder

green

¼

teaspoon

beet powder

pink

¼

teaspoon

turmeric

yellow

¼

tsp

vanilla

white
Instructions
In a saucepan combine water and agar powder or guar gum. Don't worry if guar gum forms lumps as heating will dissolve them.

Heat over medium heat until the mixture begins to bubble. Reduce heat and simmer for 5 minutes stirring often. The mixture will begin to form a gel.

Pour gel into the bowl of stand mixer with the paddle attachment or use a hand mixer.

Add confectioner's sugar one cup at a time beating on low until all sugar has been added and a dough that resembles play dough has formed.

Divide dough into four equal pieces. Wrap 3 of the dough balls in plastic wrap and set aside. Take the fourth and make a small dent in the center of dough ball and add desired coloring or flavoring. Kneed on a surface sprinkled liberally with confectioner's sugar to incorporate into the dough thoroughly.

Roll dough out on a surface sprinkled with confectioner's sugar to a thickness of ⅛ to ¼ inch. Cut out desired shape and transfer to a baking sheet lined with parchment paper. Set in an undisturbed area to dry.

Continue this process working with one piece of dough at a time until all have been flavored, rolled, and cut.

Allow candy hearts to dry undisturbed in open air for 1-3 days or until hardened. The length of time will depend on the thickness of the candies and the humidity in your area.

After candy has hardened write messages if desired using a vegan food coloring pen or mix ¼ teaspoon beet powder with enough water to form a paste and use a toothpick.

Store candies in a container in the pantry.