A delicious date caramel filled chocolate cup with crisp rice cereal, these Vegan 100 Grand Candy Bar Cups are a healthier, vegan remake of the popular candy.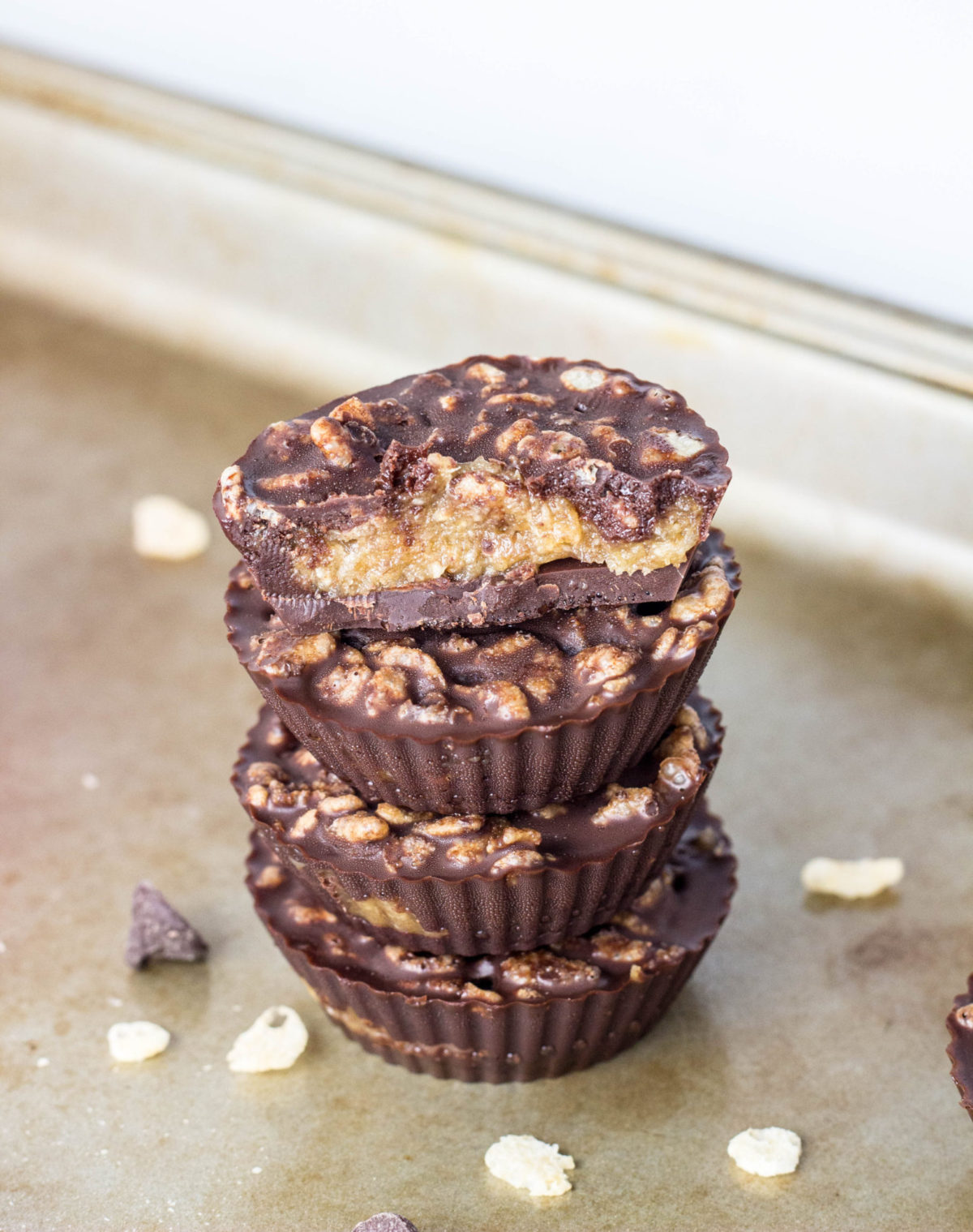 I have one more last minute Halloween candy make over for you guys today and it's super easy with no weird ingredients. These Vegan 100 Grand Candy Bar cups inspired by the candy bar of course, are the perfect treat to whip up in hurry.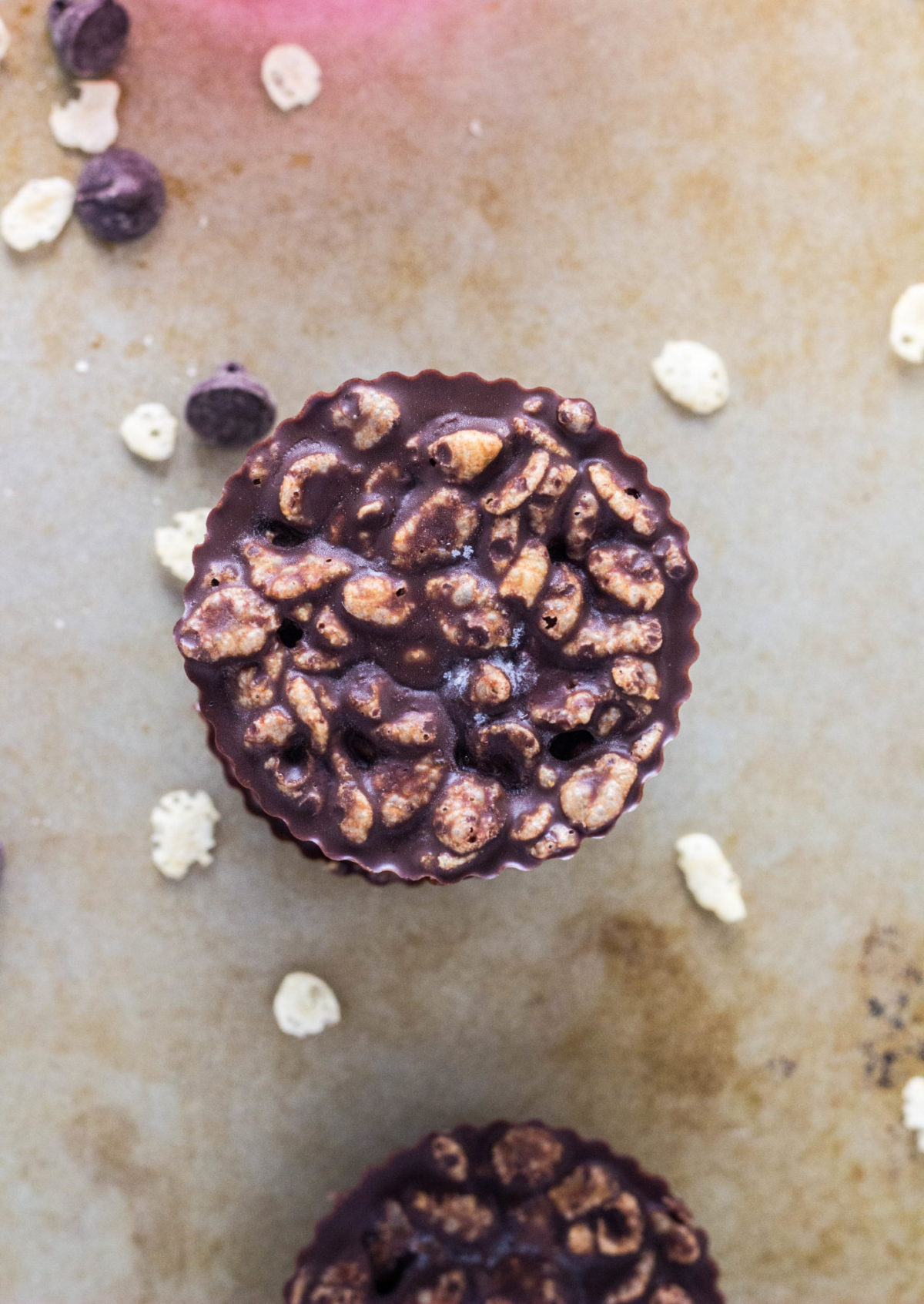 Jump to:
I first started making these candy cups when my oldest was in kindergarten 3 years ago. Wow, hard to believe she's in the third grade now, time goes by so fast!
Anyway her class was celebrating the 100th day of school with various actives and treats with the 100 theme. One of the treats being a 100 Grand Candy Bar. I have actually never had this candy before and honestly had no idea what was in it so I did a little search to find out. The description I found was pretty much chewy caramel and crisp rice dipped in milk chocolate. That seemed easy enough to create a vegan version of so I came up with this delicious cup form of the treat.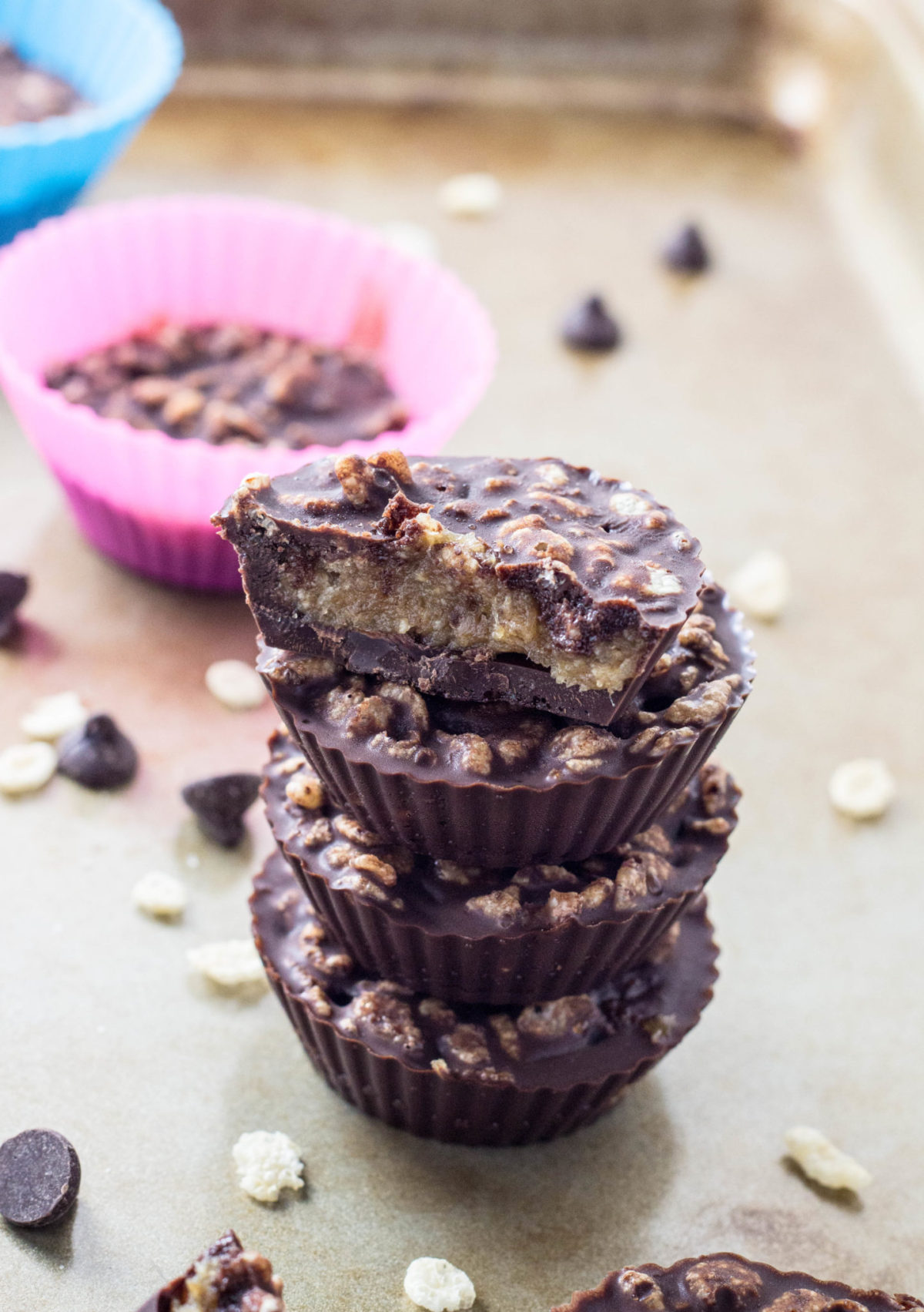 what's in it
These Vegan 100 Grand Candy Bar Cups only require 5 ingredients and about 30 minutes to wipe up.
Typically caramel consists of heavy cream, butter, and a lot of sugar. YUCK! Dates are naturally very sweet and have a bit of a caramel flavor, making them ideal for replacing the caramel in a variety of recipes. So that's just what I did here. A little oat flour thickens the date mixture and you get a delicious caramel center with no added sugar.
I can't say for certain how close these taste to the non vegan 100 Grand Bar because I have never had one, but I can say they are very tasty. Try them slightly thawed from the freezer for a chewy caramel center or let them thaw longer for a creamier center.
In case you need a few more candy recipes
Vegan Peanut Butter Snickers Bites
Vegan Pumpkin Peanut Butter Cups
Chocolate Coconut Butter Truffles
If you try this recipe, let me know how it turns out! Leave a comment below or snap a pic and tag it @weelittlevegans on Instagram so I'll be sure to see it!
Vegan 100 Grand Candy Bar Cups
Ingredients
1

cup

dates

2

tablespoon

oat flour

½

cup

crisp rice cereal

1

cup

chocolate chips

1

tbsp

coconut oil
Instructions
Place liners in wells of a muffin pan and set aside.

Remove pits from dates and soak dates in very hot water for about 10 minutes.

Drain dates discarding soak water.

Transfer dates to bowl of food processor and blend until completely broken down and pasty. Add 1-2 tablespoon water if needed to help blend.

Add oat flour and thoroughly combine to thicken date paste. Set aside.

In a small microwave safe bowl heat chocolate and coconut oil in 20 second intervals in the microwave until completely melted.

Spoon a small amount of chocolate into lined muffin pan. Just enough to coat the bottom and about ¼ inch up the sides. Gently swirl pan to coat sides and place pan in the freezer for 5 minutes or until chocolate sets.

Spoon about 1 teaspoon of date paste into each chocolate coated cup and gently spread into an even layer with back of small spoon.

Add crisp rice cereal to remaining chocolate and spoon about 1 tablespoon of mixture over the date paste layer.

Place pan in freezer for 20 - 30 minutes or until chocolate is fully set.

Store in a sealed container in the freezer.
CLICK BELOW TO PIN LATER