A twist on the classic summer party dish, this Vegan Kimchi Potato Salad is bursting with unexpected delicious flavor.
*I received free product from Nasoya for use in this post. All opinions expressed are my own.
Summertime is here and with that plenty of entertaining which means food is almost certainly involved. No matter what kind of entertaining you do during the summer certain foods are almost always present. Potato salad instantly comes to mind for me and probably many others too. It's almost guaranteed to be on the table at any get together. But why have the same old dish again and again?! Try something new instead and spice things up with this Vegan Kimchi Potato Salad.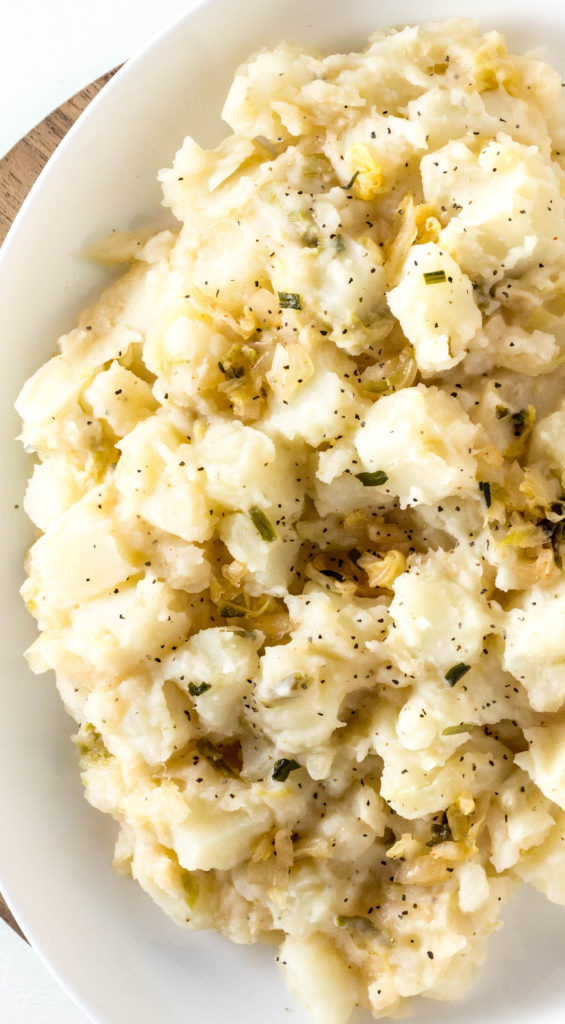 What is Kimchi?
Kimchi is a Korean side dish made of salted and fermented vegetables like napa cabbage and asian radish. The seasonings used can vary, but typically include red pepper, ginger, garlic, scallions and fish sauce or shrimp.
It's mostly served as a side dish to every meal. It has a very pungent smell and the flavor is a bit sour similar to other fermented foods like pickles and sauerkraut. Although, not nearly as sour as sauerkraut. It is also usually spicy.
I have to admit, we have never eaten kimchi before as many varieties contain seafood in some way. But, with the rise in popularity of this Korean staple, I was so interested to try it. So, when I was contacted about trying Nasoya's new line of vegan kimchi I jumped at the opportunity. There are four varieties available - Spicy, Mild, Radish, and White. All are packed with antibiotics, amino acids, and minerals while being free of artificial flavors and preservatives.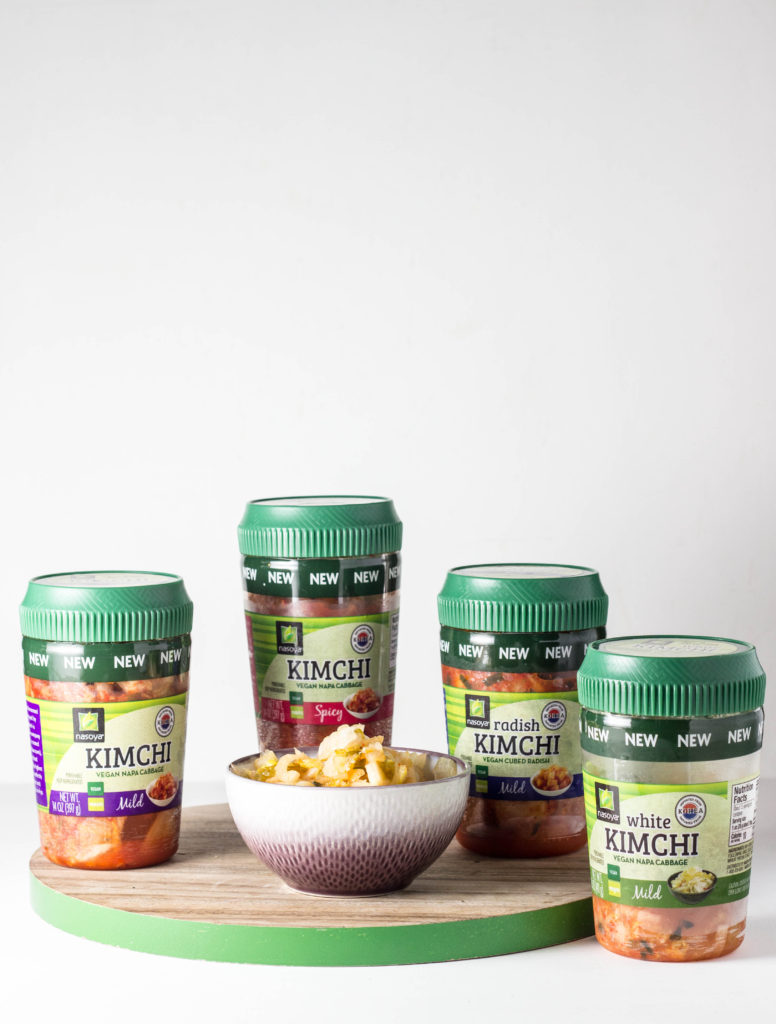 So, what did we think, specifically the kids? Well, they were very eager to try it and asked immediately to crack the jars open. After sampling each variety straight from the jar, my two older kids liked them and each ate a small dish as a snack. They did say though, they could be spicier. These are kids that eat a lot of spicy foods including wasabi so this could just be up to their particular tastes. My youngest tasted one variety, but wasn't interested in having anymore.
I enjoyed the flavor as well, not overwhelming sour and the mild is quite mild so if spicy is not your thing, it should be just right. The vegetables maintain a bit of crunch without tasting raw. Which to my understanding is how they should be. As for how authentic they taste, I can't really speak to that as I have never tasted kimchi before, but they are tasty. I do wish the the packaging was not plastic, that would be the one drawback for me.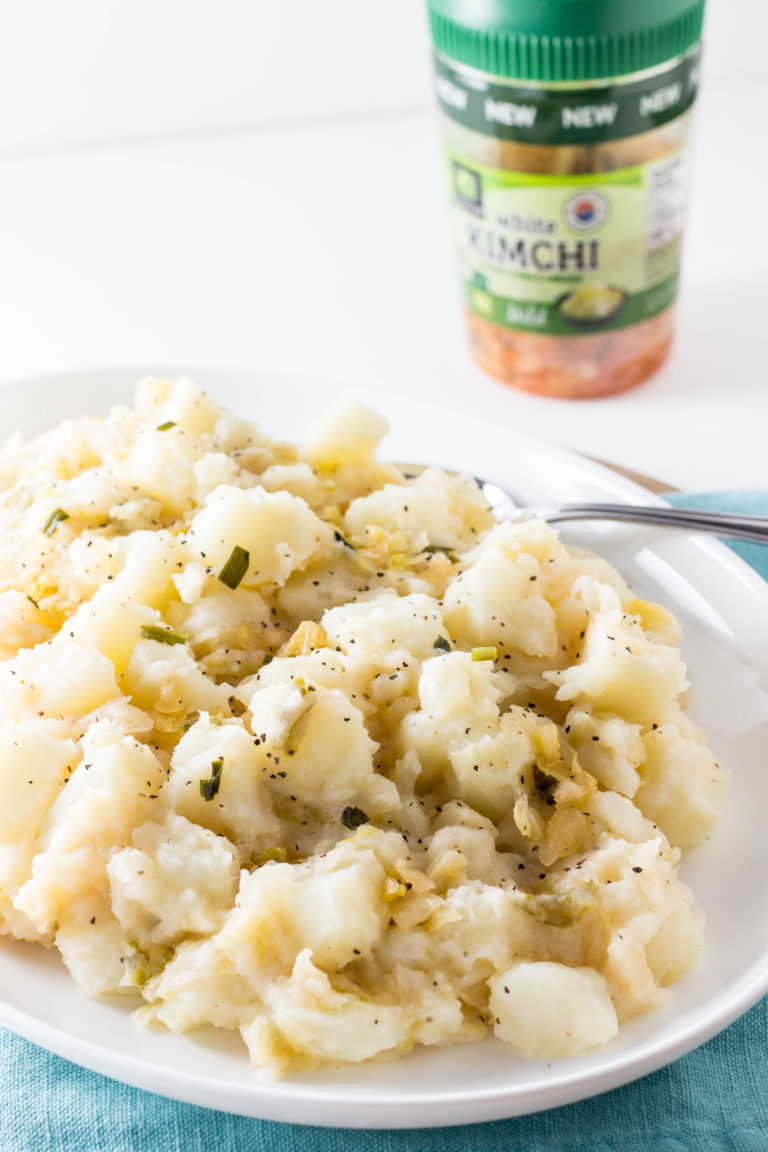 The older kids also really love this potato salad. Like they ate most of it! I used White Kimchi, but you can use any of the varieties really. The veggies add a nice bit of crunch similar to the celery I use normally in potato salad and the flavor definitely gives it an extra something special.
This kimchi would also be great as a burger or sandwich topping, an accompaniment to a rice or noodle bowl or even just a snack or topping for toasted bread. However, you enjoy it, it's sure to be delicious!
If you try this recipe, I'd love to know how it turns out! Leave a comment and rating below. And be sure to snap a pic and tag it @weelittlevegans on Instagram. I love to see what you make!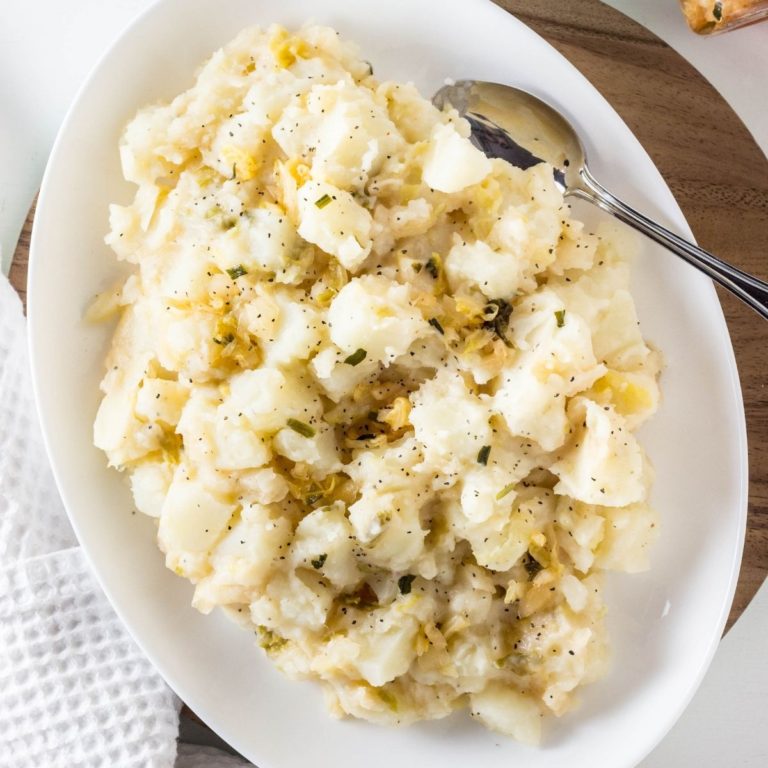 Vegan Kimchi Potato Salad
A twist on the classic summer party dish, this Vegan Kimchi Potato Salad is bursting with unexpected delicious flavor.
Ingredients
1 ½

lbs

russet potatoes

2

tablespoon

apple cider vinegar

1

5.3 oz

container non dairy yogurt, plain and unsweetened

1

teaspoon

dijon mustard

1

teaspoon

maple syrup

¼

teaspoon

salt + 2 teaspoon for cooking water

¼

teaspoon

pepper

¾ - 1

cup

Nasoya Kimchi, chopped

I use White Kimchi
Instructions
Peel and chop potatoes. Place in a large pot, adding enough water to cover the potatoes by 1 inch.

Add 2 teaspoon salt and 1 tablespoon vinegar to the water. Bring potatoes to a boil and reduce to a simmer.

Cook stirring occasionally, unti potatoes are easily pierced with a fork, about 10-15 minutes depening on the size of the pieces.

Drain and transfer to a shallow dish. Sprinkle with 1 tablespoon vinegar. Allow to cool to room temperature.

While the potatoes cook, combine yogurt, pepper, ¼ teaspoon salt, maple syrup, mustard and chopped kimchi in a large bowl. Refrigerate until ready to use.

After potatoes have cooled, trasfer them to the bowl of sauce and gently fold together to thoroughly coat.

Cover and refrigerate until ready to serve, at least one hour.