Vegan Pumpkin Chia French Toast made with 7 simple ingredients and ready in under 30 minutes.
It's nearly that time of year again when the pumpkin spice invasion begins. Everything from cereals to teas, candles and even dog treats start appearing on store shelves to be eagerly snapped up by those in the pumpkin camp. I'm totally in that camp and adore this time of year, even though we live in Florida and autumn isn't much of a season. This time of year is just filled with so many warm nostalgic feelings and there's also my favorite holiday, Halloween. Plus it's the lead up to the end of the year holidays. There's just so much fun to be had and memories to be made, I love it!
French toast is also really nostalgic for me and one of the foods I missed the most when we went vegan. It's a food my dad would make for us often as kids and it was to me, the best french toast. It didn't matter that he didn't use a fancier bread, usually just the standard white sandwich bread. It was made with love and that's what made it the best. I looked forward to those mornings so much and I want to have that same memory with my little ones so having a vegan version became a mission for me.
After searching around and seeing so many amazing looking recipes for vegan french toast some years ago, I knew it was possible and I had to give it a go, with my own spin of course. That's when this Vegan Pumpkin Chia French Toast came to be.
I've been making this french toast yearly for five years now and it never fails to be a hit even with my husband who is less than enthusiastic about pumpkin. It's perfectly crisp on the exterior, soft and creamy in the middle, and with the addition of pumpkin it's a lovely orange color. Totally makes up for the lack of fall leaves here in Florida!
This french toast is really simple to make and requires just 7 simple whole food ingredients and about 30 minutes to prepare. It's perfect for a leisurely weekend, but can also be made ahead to be frozen for busy week day mornings too.
To freeze: Prepare french toast according to directions below then place on a baking sheet and place in the freezer for a couple of hours. Once frozen transfer to a freezer safe container or zip top bag and store in the freezer for up to a month.
To reheat: Heat oven to 350 degrees. Place the desired number of pieces on a baking sheet and warm for 3-5 minutes or until heated through. Then serve as you would normally!
So, are you a pumpkin spice fan or is it overrated? Tell me what you think in the comments below.
And for those of you who are fans, here's a few more pumpkin infused recipes to check out:
This one is for the pups:
If you try this recipe, let me know how it turns out! Leave a comment below or snap a pic and tag it @weelittlevegans on Instagram so I'll be sure to see it!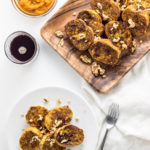 Vegan Pumpkin Chia French Toast
Ingredients
1 ½

tbsp

ground chia seed

measured after grinding

1

cup

non dairy milk

I use almond milk

½

cup

pumpkin puree

2

teaspoon

pumpkin pie spice or cinnamon

½

teaspoon

vanilla

½

tablespoon

maple syrup

dense crusty bread such as a french baguette

Gluten free, if needed.
Instructions
Combine all ingredients except for bread in a bowl and whisk to thoroughly incorporate. Set aside to thicken for 10 minutes.

While mixture thickens slice bread, if needed into ½ tp ¾ inch thick slices.

Heat a bit of vegan butter or oil in a skillet or griddle over medium.

Dip slices of bread in chia custard coating both sides for about 30 seconds to soak up some of the mixture.

Place in skillet and cook until browned, about 3-4 minutes. Flip and cook again until browned, about 3-4 more minutes.

Continue until all slices have been prepared. You can keep the finish french toast warm until serving by placing on a baking sheet in an oven set to 200 degrees.

Serve with real maple syrup, coconut whip cream, or any other toppings you like.
Recipe Notes
To freeze: Place in a single layer on a baking sheet and place in the freezer for a couple hours. Transfer to a zip top bag or freezer safe container and enjoy up to a month. 
To warm: Heat oven to 350 degrees and place desired number of pieces on baking sheet. Bake for 3-4 minutes or until warmed through.