I'm one of those people who writes a lot of lists and notes and really likes to plan things out. Always have been, always will be. It just helps me stay organized, focused, and I get a heck of a lot more done if I know a head of time what my goals are. When it comes to blogging one of the ways I keep track of things is with a binder. I keep a list at the front for recipe ideas and notes for recipes as I am cooking. I also add pages with recipes from magazines I like and think I might want to veganize. Then when I need a little inspiration I can flip through the binder and find something.
This Very Veggie Vegan Fried Rice was inspired by a page from that binder. A recipe for Spring Green Fried Rice from Better Homes and Gardens(May 2013 p. 164) caught my eye. The recipe was not originally vegan, so of course some changes had to be made.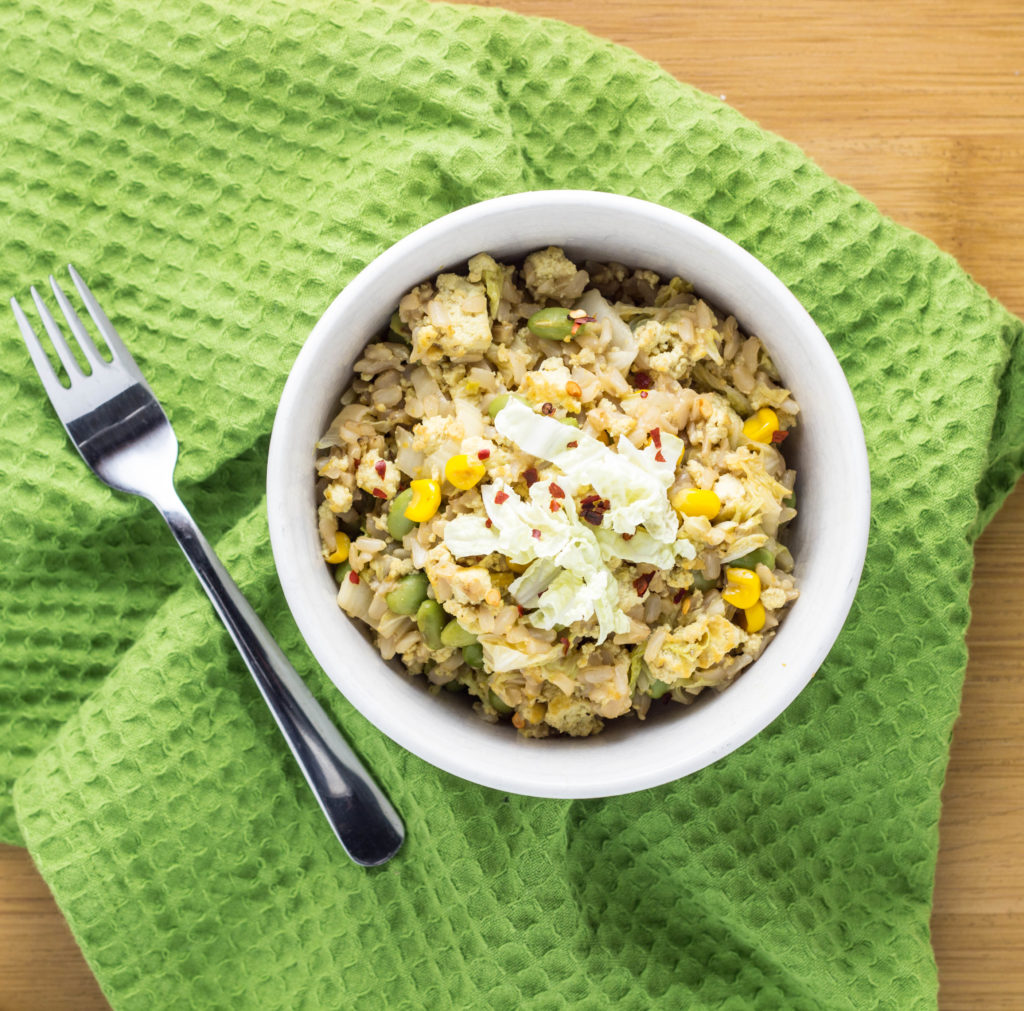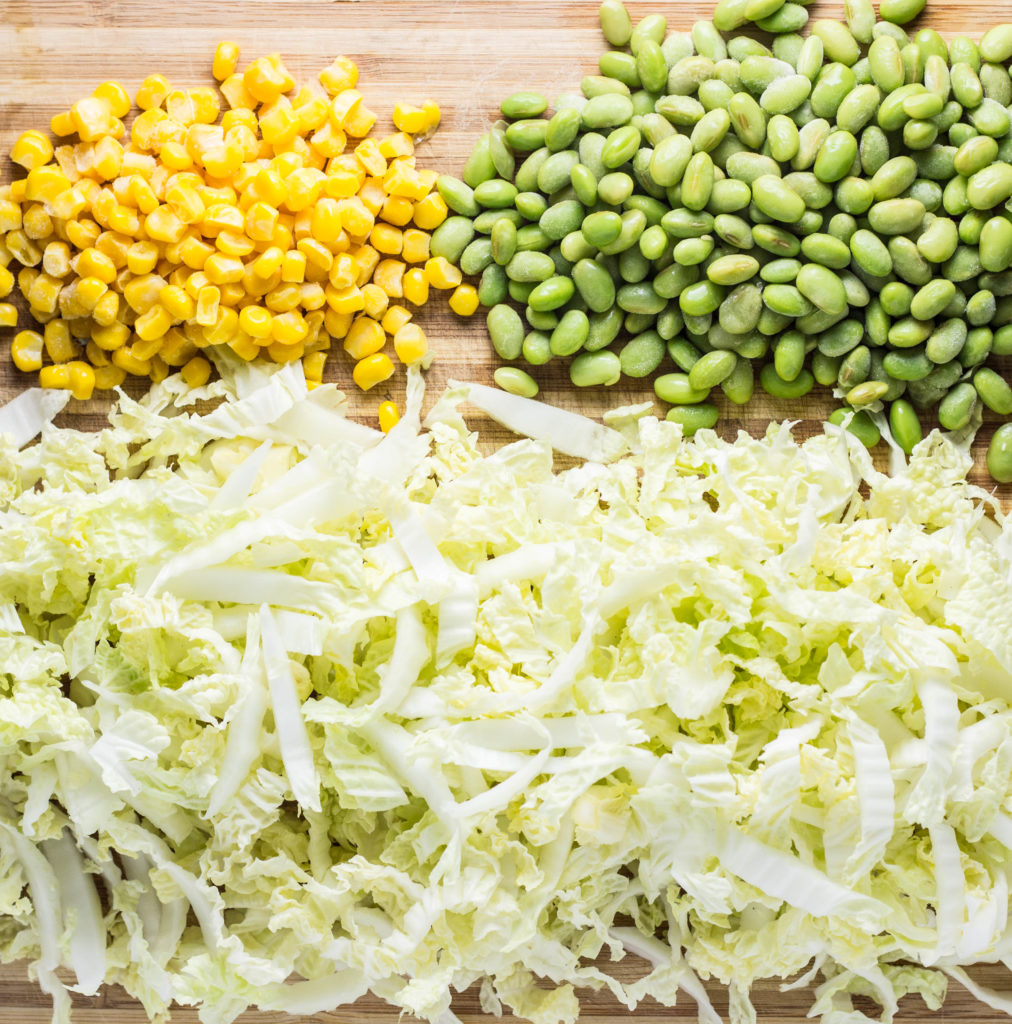 I replaced the typical egg with a super quick tofu scramble and added plenty of veggies, in fact so much that the rice isn't the main component anymore, but that's just fine with me. This was also a big hit with my husband. Going vegetarian for him, all those years ago, was a breeze because he didn't eat much meat anyway, but going vegan he struggled with missing eggs until he discovered tofu scramble. So, for him this rice has got it all.
With all that's packed into this rice, it is definitely more of a meal than just a side dish. Super filling and with plenty of staying power, this Very Veggie Vegan Fried Rice is sure to make tummies happy.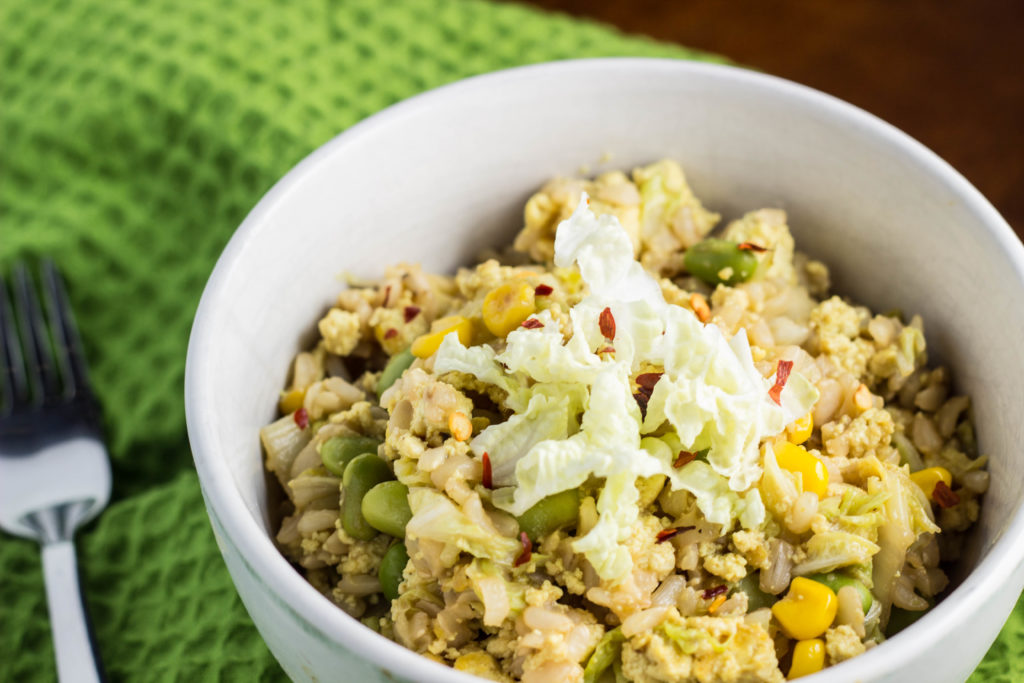 If you try this recipe, let me know how it turns out! Leave a comment below or snap a pic and tag it @weelittlevegans on Instagram so I'll be sure to see it!
Very Veggie Vegan Fried Rice
Ingredients
For Tofu Scramble:
12

oz

tofu

I used super firm.

1

tablespoon

olive oil

1

tablespoon

soy sauce

2

garlic cloves, minced

⅛ -¼

teaspoon

turmeric

dash or pepper
For the Fried Rice:
1

cup

dry brown rice

Prepared according to package a day ahead of time.

1

cup

edamame, thawed if frozen

1

lb

napa cabbage, thinly sliced

½

cup

corn or peas, thawed if frozen

1

teaspoon

fresh ginger, minced

2

garlic cloves

1

tablespoon

vegetable oil

3

tablespoon

soy sauce
Instructions
For tofu Scramble:
Drain water from tofu and cut into small cubes.

Heat oil over medium heat.


Add garlic and cook for 1 minute.

Add tofu and using a spatula cut cubes into small pieces that resemble scrambled eggs.

Add soy sauce, pepper, and turmeric and stir to thoroughly combine.

Continue to cook for 5 minutes longer or until scramble is dry and browned a bit. Set aside.
For the Fried Rice:
Prepare rice according to package directions a day early than you plan to make fried rice. Keep cold until needed. I had about 3½ cups prepared.

Heat oil in wok or large skillet.

Add garlic and ginger and cook for about 1 minute.

Add napa cabbage and cook for 2-3 minutes, stirring often.

Add edamame and corn or peas and cook for 2 minutes.

Add rice and soy sauce and cook for 2 minutes longer.


Add tofu and continue cooking for about 2 more minutes.


Top with crushed red pepper flakes, if desired.