It's been a little quiet around here. How have you guys been? We've all been adjusting to the new schedule since both kids have started school now. Somehow, I thought I would be able to accomplish a lot more each day with both of them being out of the house, but it turns out having to drive to two different schools every few hours to drop off and pick up really eats up time. So, I'm still working on figuring out exactly how to fit everything I need to do in each day. I do have a a very simple and super yummy recipe for you today for Whole Wheat Vegan Chocolate Chip Pancakes. This is one of my family's favorite pancake recipes.
For me, vegan pancakes have been one of the tougher foods to "veganize" and still maintain the fluffiness and lightness of conventional pancakes. Let's just say I've ended up with a few pancake bricks, especially using whole wheat flour, on my way to perfecting it. I've found the trick to making these pancakes fluffy and light is sifting the flour, not over mixing, and adding apple cider vinegar to the milk. No whole wheat bricks, just light and fluffy goodness.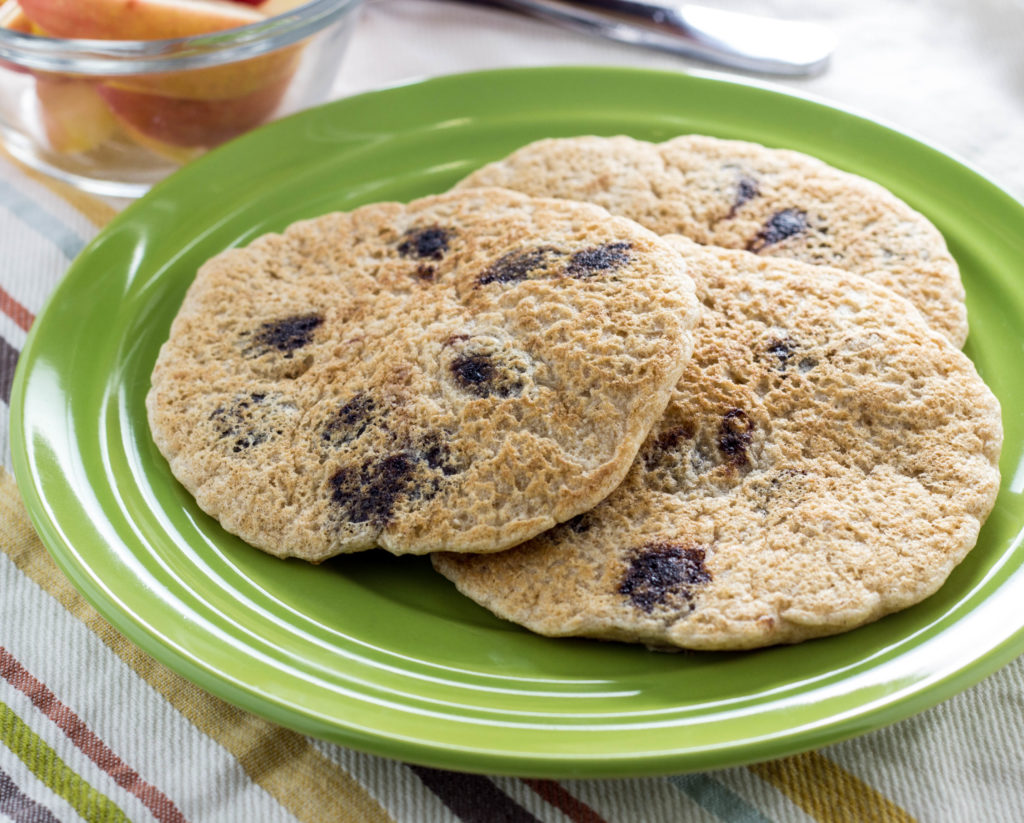 I like to use a little coconut oil in mine, but if you want a lower fat option, applesauce can definitely be used with only a little difference in the texture of the pancakes. Serve with your favorite syrup or fruit and you're in pancake heaven.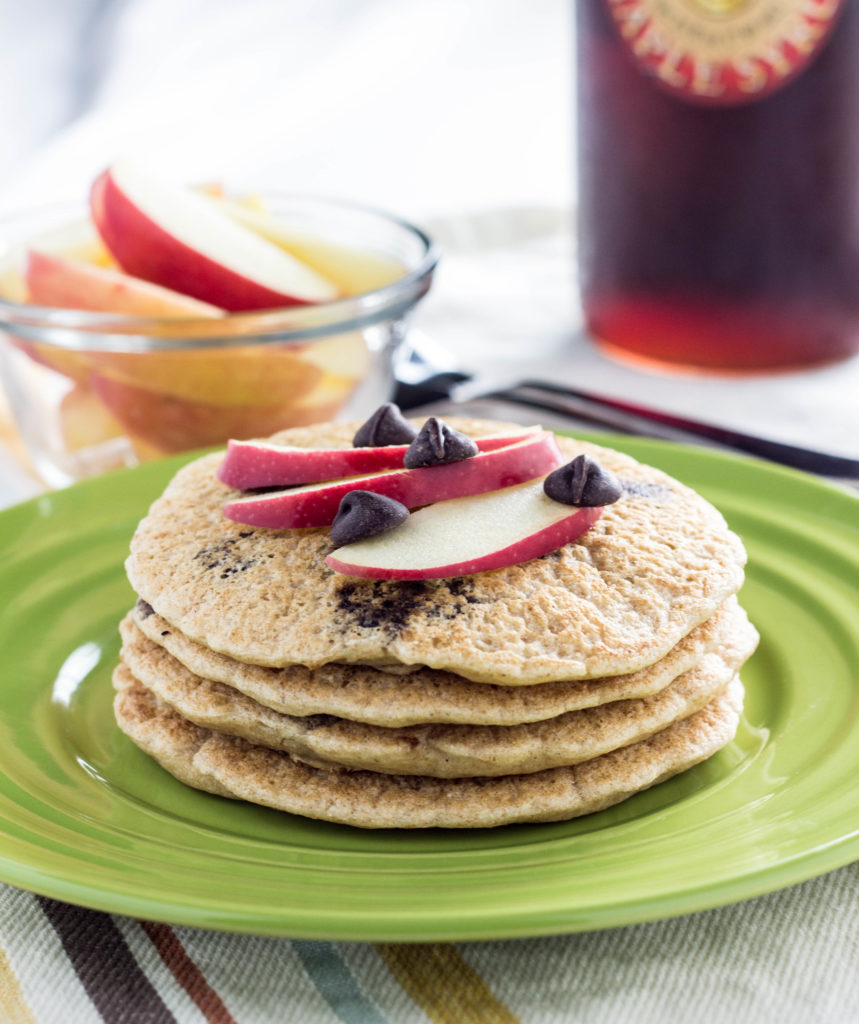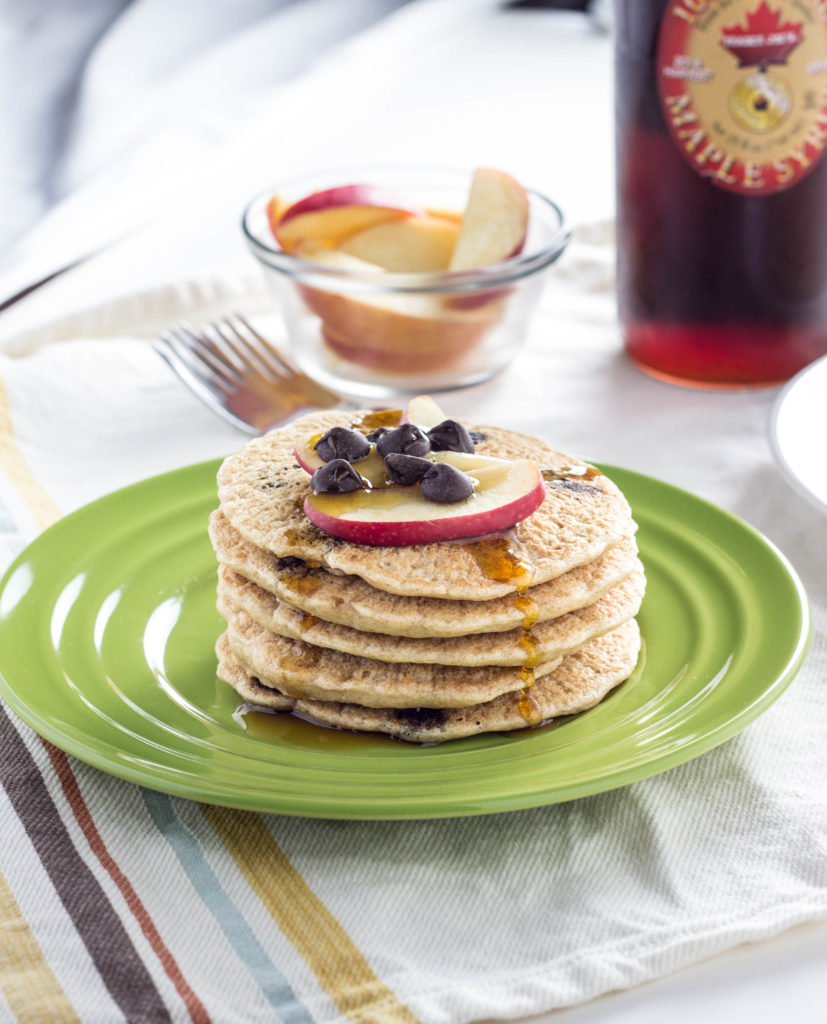 If you try this recipe, let me know how it turns out! Leave a comment below or snap a pic and tag it @weelittlevegans on Instagram so I'll be sure to see it!
Whole Wheat Chocolate Chip Pancakes
Ingredients
1

cup

white whole wheat flour, sifted

1

cup + 2 tbsp

almond milk

1

tablespoon

apple cider vinegar

1

tablespoon

coconut oil or apple sauce for oil free option.

2

teaspoon

baking powder

1

teaspoon

coconut sugar or raw sugar

1

teaspoon

vanilla extract

¼

teaspoon

salt

¼

cup or more

chocolate chips
Instructions
In a small bowl stir vinegar into milk and set aside to make a buttermilk substitute. The milk will curdle and look strange. Don't worry it's supposed to do that.

In another bowl combine sifted flour, baking powder, sugar of choice, salt and desired amount of chocolate chips. Be sure to mix thoroughly.

After milk has curdled warm slightly in the microwave to prevent coconut oil from hardening. You can skip this if using applesauce. Add coconut oil or applesauce and vanilla to milk and stir.

Add milk mixture to flour and stir just enough to combine. Do not over stir or pancakes will be tough.

Allow batter to rest a few minutes while skillet or electric griddle warms. Lightly oil if needed. I use the griddle set at 375 degrees and I do not add any oil to the surface.

Pour about ¼ cup of batter on hot surface of skillet or griddle. The batter should sizzle when it hits the pan. If it doesn't your skillet isn't hot enough. Cook until edges are dry and bubbles form across the middle. Flip and cook for about 2 minutes longer or until lightly browned.

Remove from skillet and keep warm in a warmed oven if desired. Serve with desired toppings such as apple slices, maple syrup, and a few extra chips.