A thin and crispy Whole Wheat Yeast Free Pizza Crust that's ready to eat in under an hour.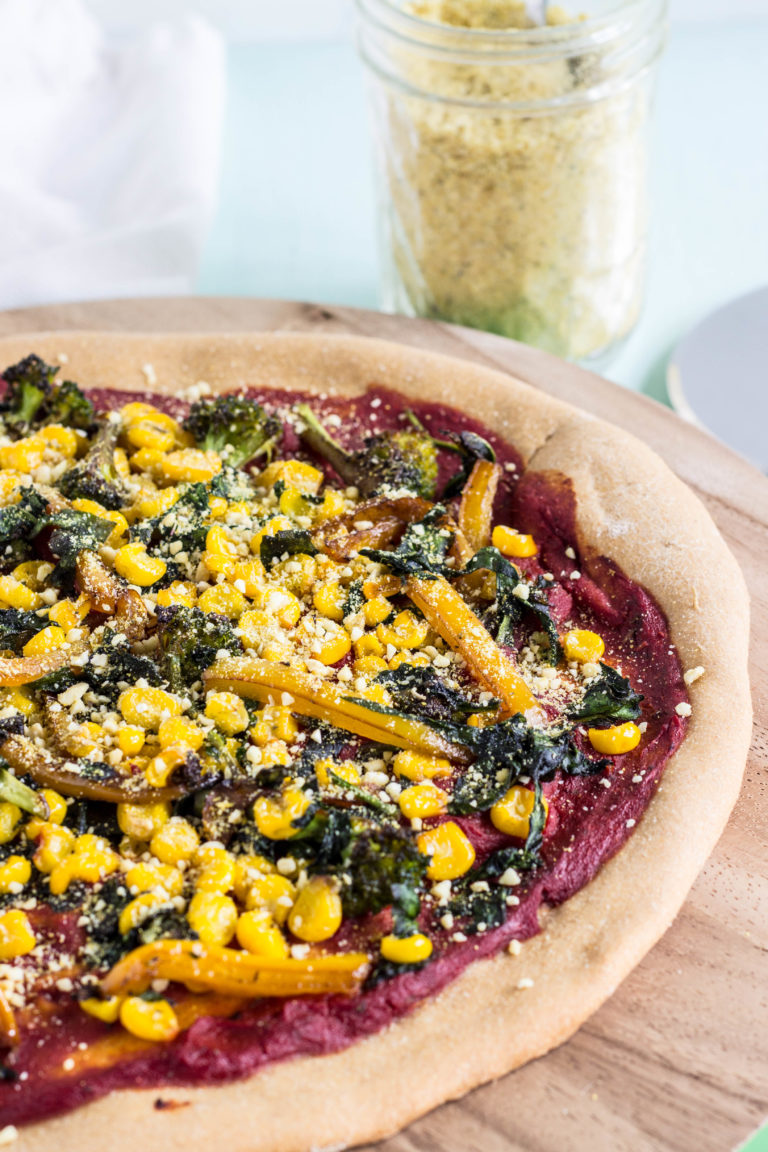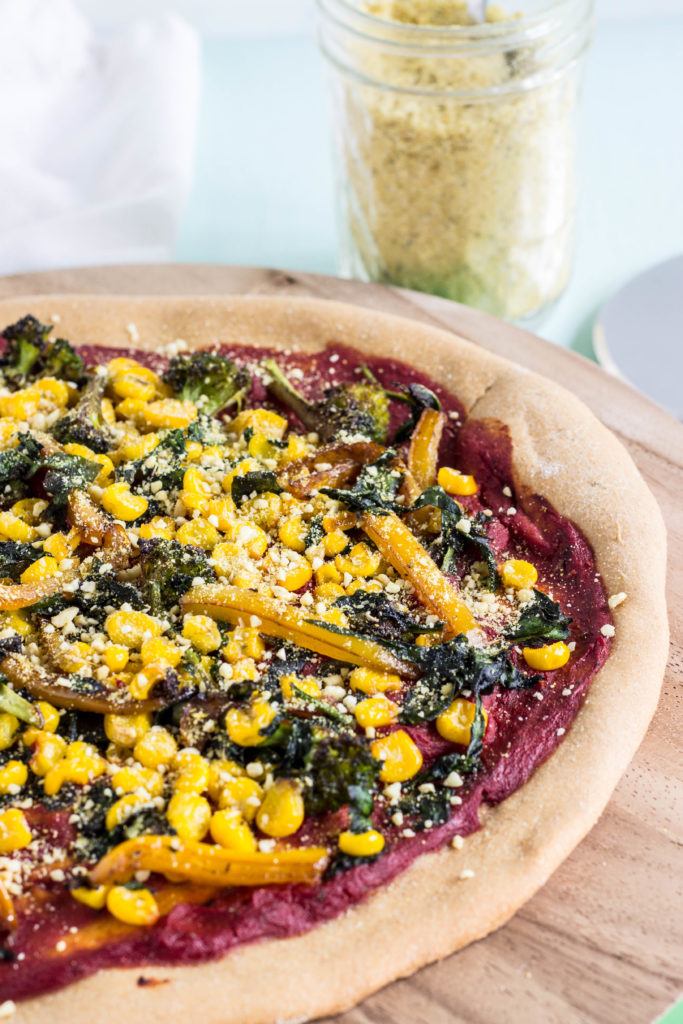 We love pizza around here, but then who doesn't, really? So, whenever the craving strikes and I don't have time or simply haven't planned ahead for a yeast crust this Whole Wheat Yeast Free Pizza Crust is my go to. It's simple requiring just a few ingredients I always have on hand and best of all it's quick.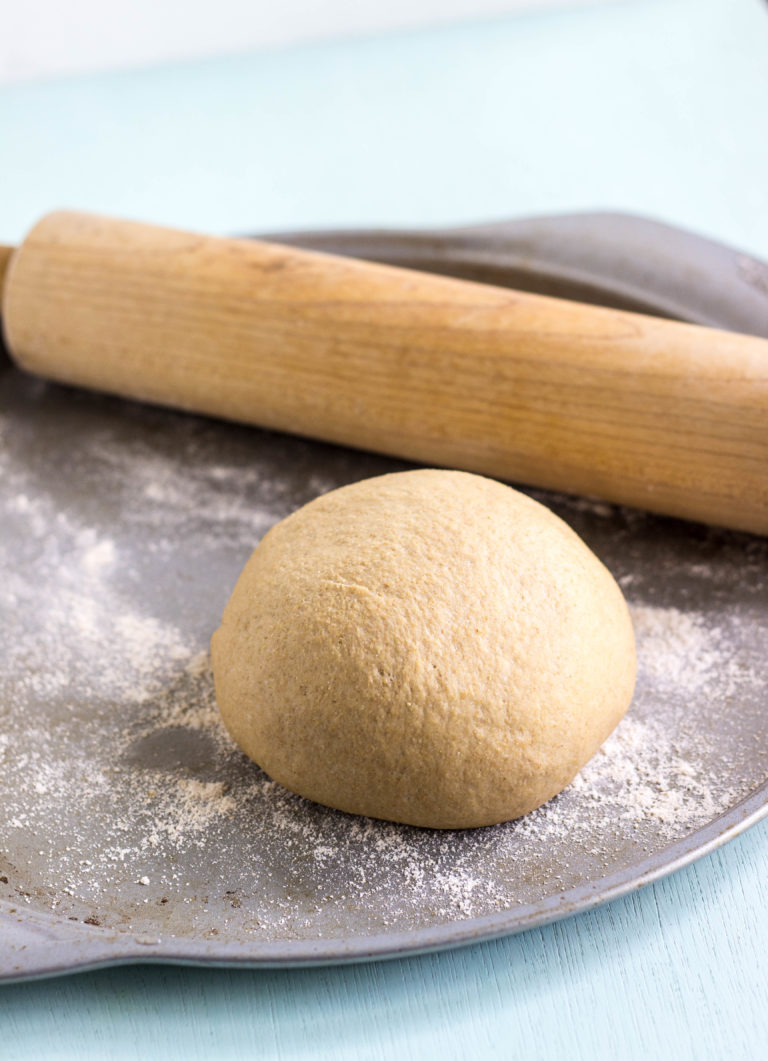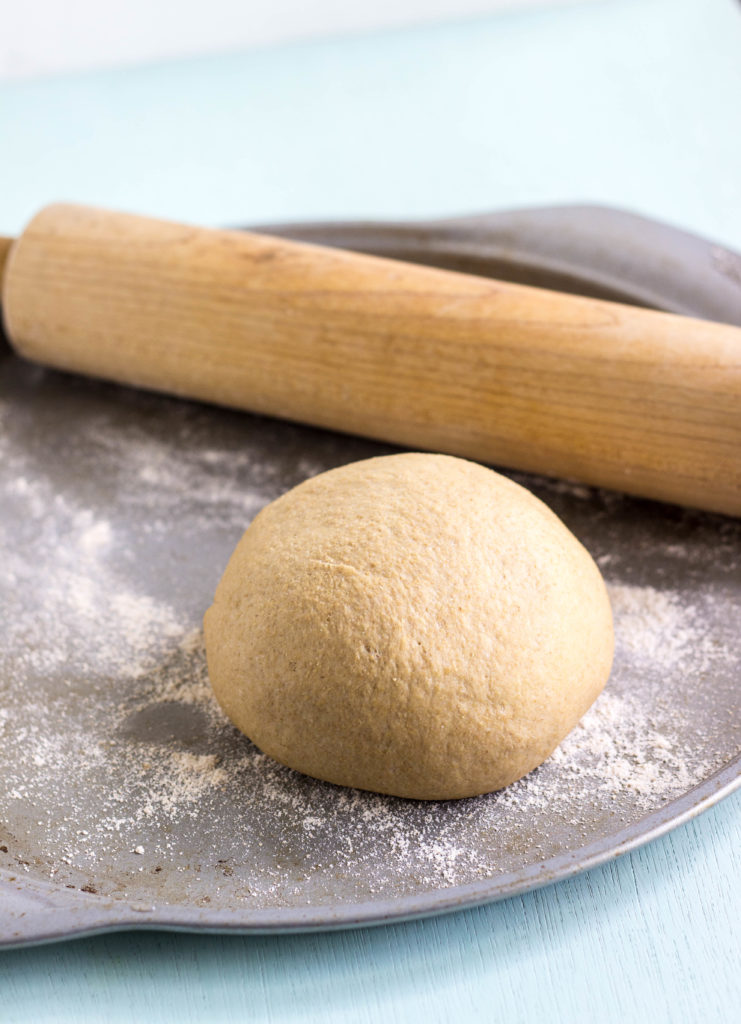 This dough starts with basic ingredients used in most pizza dough recipes (flour, water, oil, salt), but instead of yeast we're using baking powder for the rise. Simply combine all ingredients until a tacky ball forms and knead to build up the gluten. A stand mixer makes quick work of this, producing a smooth and springy dough in just a few minutes. If you don't have a stand mixer, you can knead by hand, it will just take a few minutes longer and bonus your arms will get a bit of a work out too 🙂
You'll need to let the dough rest for about 10 minutes before rolling out and baking. I use this time to make a quick sauce using tomato paste and start prepping veggies for topping.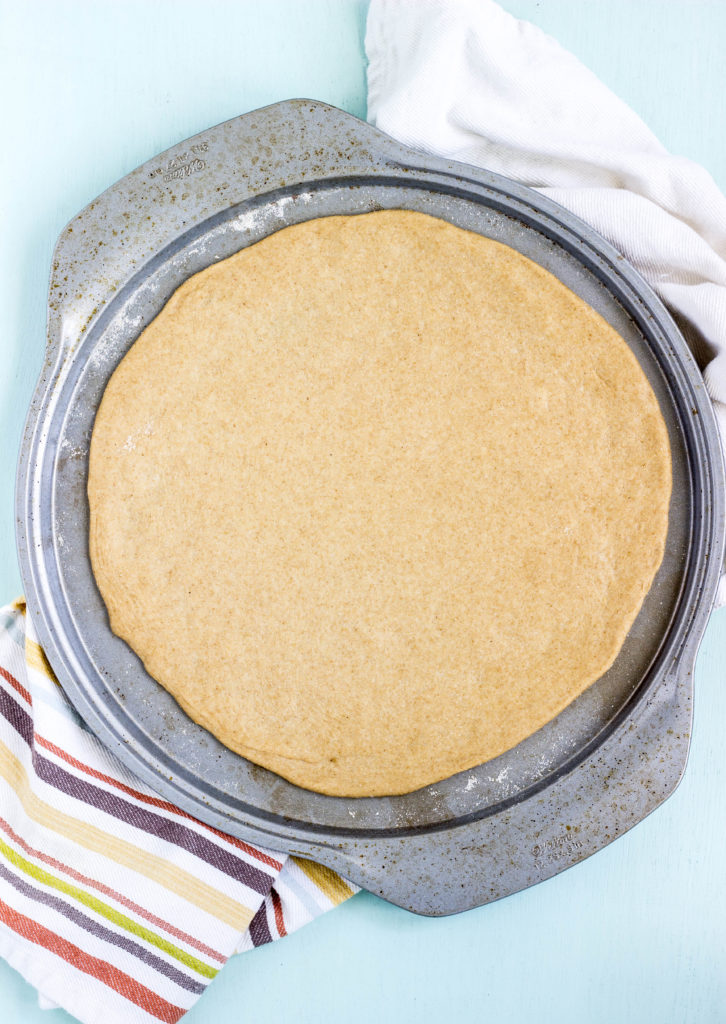 For the toppings, feel free to use anything you like - veggies, vegan cheese, vegan pepperoni or whatever you prefer on pizza. We went with bell pepper, spinach, corn, and broccoli for one of the pizzas and mushrooms, bell pepper, spinach, and fresh basil for the other one.
Since going vegan, pizza has become all about the veggie toppings for us and less about the cheese. Probably because so far we've not been too impressed by store bought vegan cheeses for pizza. Of the ones we've tried, we've found they either coat your teeth in a strange film or just melt into a goopy sauciness that doesn't work for us. So, we just skip it altogether and sprinkle on a generous amount of my Vegan Herbed Cashew Parmesan instead. Yum!
This crust bakes quickly so to ensure veggies are cooked through, its best to sauté them before adding to the crust. I do this while the crust is pre baking and then everything is ready for topping after the initial bake.
I won't say this is better than a yeast dough, but it is tasty and fills the need for pizza quite nicely especially if you prefer a thin and crispy crust.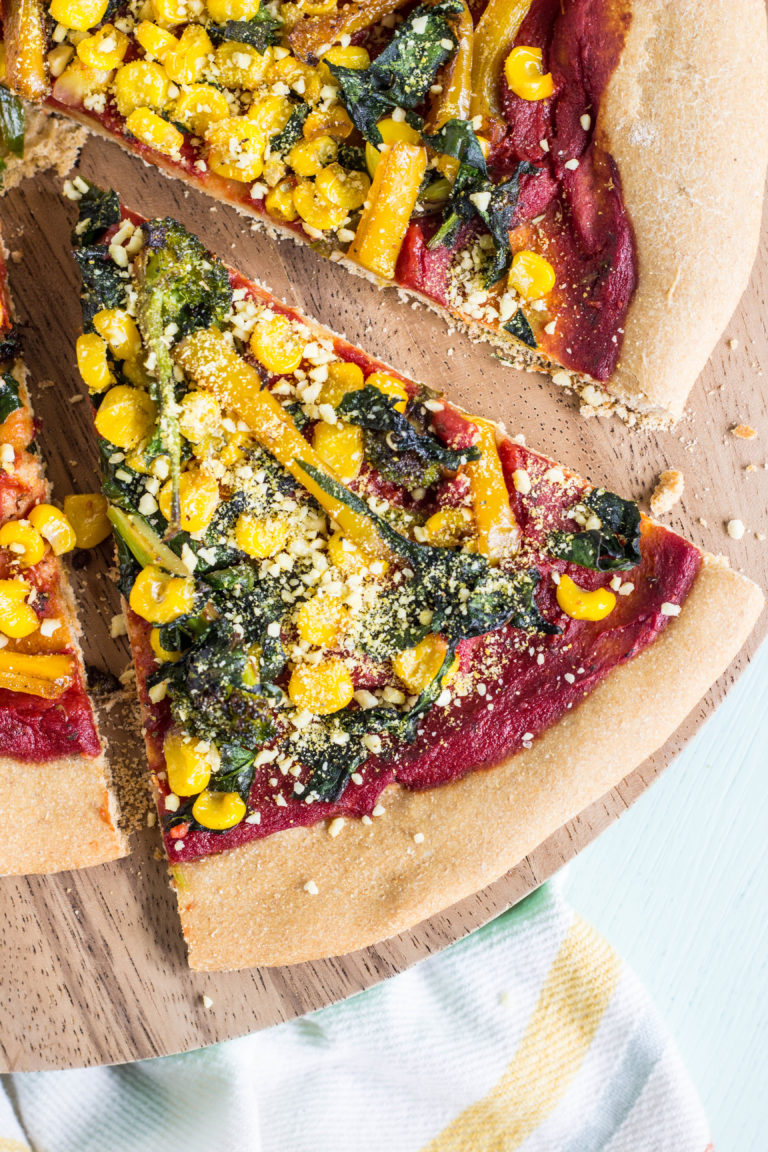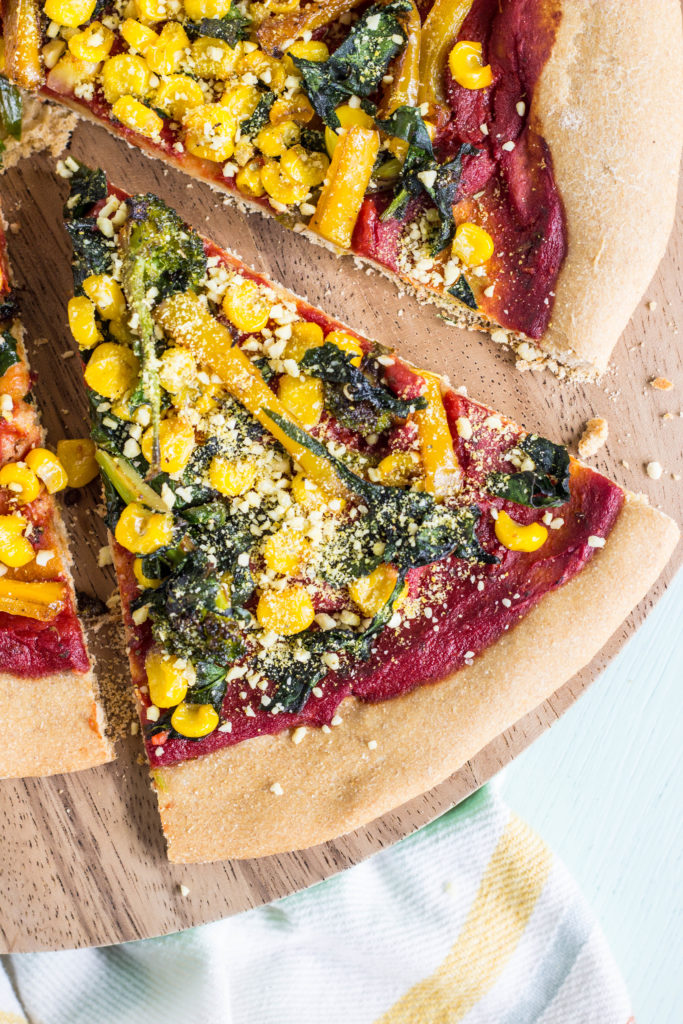 If you try this recipe, let me know how it turns out! Leave a comment below or snap a pic and tag it @weelittlevegans on Instagram so I'll be sure to see it!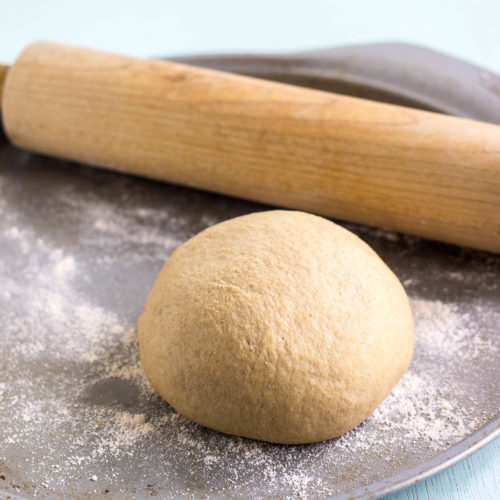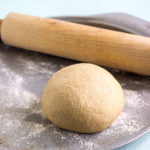 Whole Wheat Yeast Free Pizza Crust
Ingredients
2

cups

white whole wheat flour

2

teaspoon

baking powder

½

teaspoon

salt

3

tablespoon

olive oil

¾

cup

water
Instructions
Preheat oven to 400 degrees. Use non stick pans or lightly oil pizza pans or line with parchment paper. Set aside.

Combine flour, baking powder, and salt in a bowl. Whisk to thoroughly combine.

Add oil and water and stir to combine or use a stand mixer with dough hook attachment. Knead dough on a floured surface or use a stand mixer until a smooth dough ball has formed. Dough should spring back when pressed lightly with your finger.

Allow dough to rest for 10-15 minutes before baking. Prepare sauce and prep any veggies you plan to use during this time.

Knead dough a few more times and divide dough into 2 pieces. Roll out each piece to a thin round, and transfer to pans. Alternatively you can leave dough as one ball and roll out for a thicker crust.

Bake without toppings for 5 minutes.

Remove from oven and top with your favorite pizza sauce, vegan cheese if desired and toppings.

Return to oven and bake for 20 minutes longer or until edges are crisp and lightly browned.

Allow to cool slightly before cutting.