Light and fluffy Baked Cinnamon Sugar Doughnut Holes that are vegan and a bit healthier because they are baked and made with whole wheat.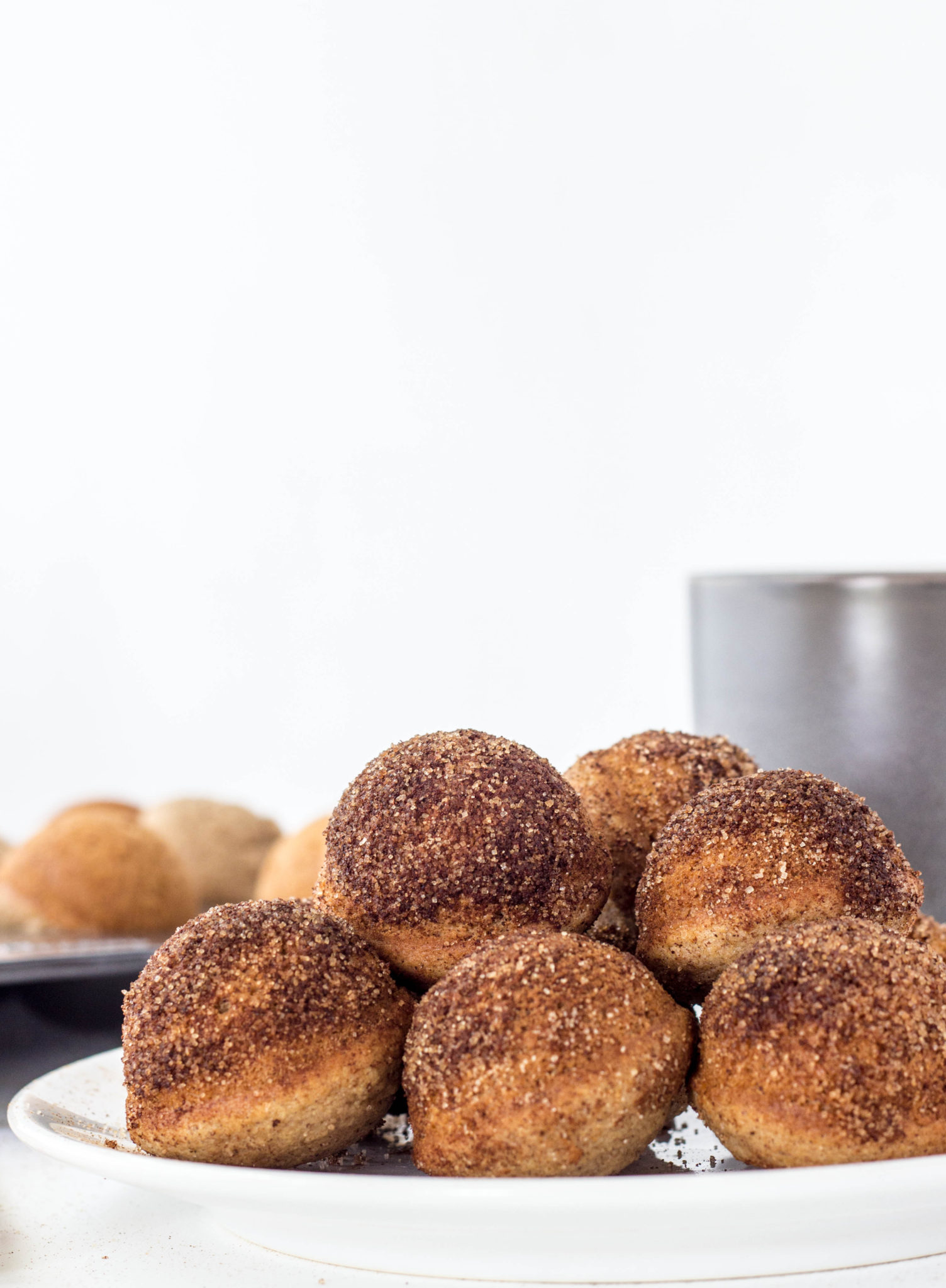 A few weeks ago while cleaning out the cabinets for a yard sale my sister found a doughnut hole pan. She couldn't say where it came from or when or if she'd ever even used it. I've been eyeing a doughnut pan for a while, but haven't felt inclined enough to actually purchase one because do I really need another pan taking up space? and would I really make doughnuts enough to justify the purchase?. But when a free one comes your way, you politely take your doughnut pan and get in the kitchen. So, that's just what I did and first up are these Baked Cinnamon Sugar Doughnut Holes.
These doughnut holes have a perfectly light and fluffy texture very similar to a traditional cake doughnut though they are made with whole wheat. Sometimes baking with whole wheat can produce a more dense and heavy final product, but I have figured out a few tricks to deal with this. Sifting the flour really helps to lighten things up so don't skip this step! Also when it comes to mixing the batter, only mix enough just to combine. Over-mixing causes more gluten formation resulting in tougher, more dense baked goods.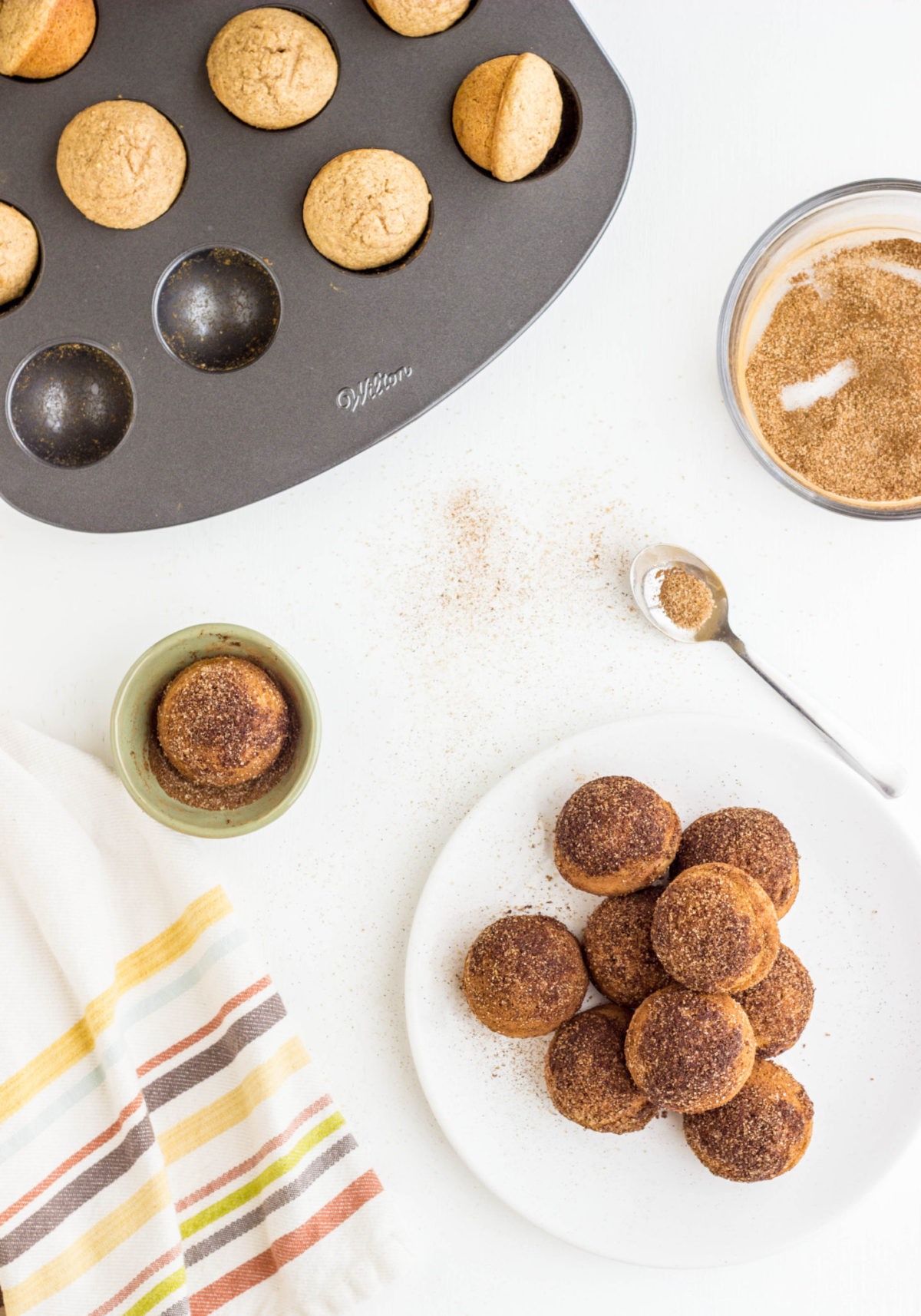 The pan I used doesn't have a top piece to form perfectly rounded doughnut holes. But in the instructions below, you'll see these holes bake at a higher temperature for the first half of the bake time. This is a trick I learned for baking muffins to help create the dome tops. Baking the doughnuts this way helps to puff up the middle to produce a more rounded shape. I didn't do this with the first batch I baked and the tops were more flat so it definitely helps. This is good enough for us, but if you're looking for completely round doughnut holes there are some pans available with a top piece to form balls.
I also tested this recipe using a mini muffin and it works just as well. So, even if you don't have a doughnut hole pan you can still make delicious little muffins.
The recipe as written will produce enough batter to fill a 20 cavity pan like I used with a small bit left over. Rather than make the recipe unnecessarily complicated with strange measurements to try to produce just enough batter to fill this particular pan I left it as written. I simply use a mini muffin pan for the leftover batter.
The cinnamon sugar dusting is what makes these truly like the doughnuts I used to get as a kid, but if you want to reduce the overall sugar the doughnut holes are tasty all on the their own. But, I don't recommend skipping the dusting if you want that true doughnut experience 🙂 Needless to say the kiddos loved these and I hope you will too.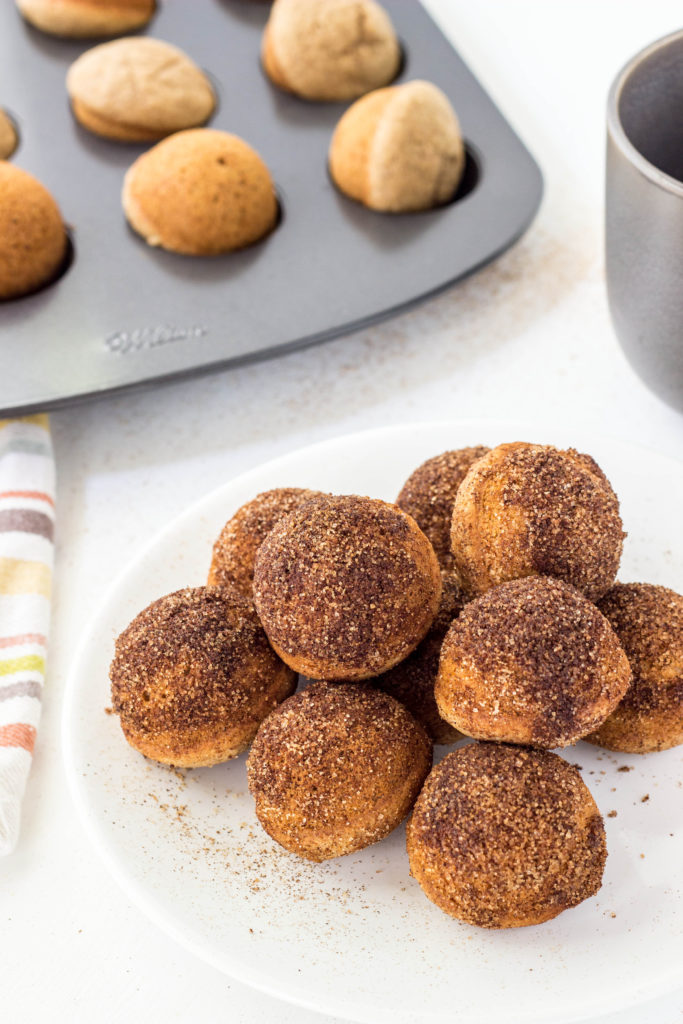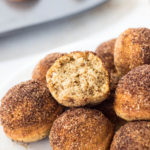 Baked Cinnamon Sugar Doughnuts
Ingredients
Doughnut holes:
1 ½

cup

white whole wheat flour

1 ½

teaspoon

baking powder

1

teaspoon

cinnamon

¼

teaspoon

salt

½

cup

non dairy milk, room temperature

I used almond milk

½

cup

raw cane sugar

¼

cup

applesauce

¼

cup

coconut oil, melted

1

tsp

vanilla
Cinnamon Sugar Mixture:
2 tablespoon

raw cane sugar

1 tbsp

cinnamon
Instructions
Preheat oven to 375 degrees. Lightly grease a doughnut hole or mini muffin pan and set aside.

In a bowl sift together flour, baking powder, cinnamon and salt. Stir to thoroughly incorporate.

In another bowl or large measuring cup combine non dairy milk, sugar, applesauce, oil and vanilla. Stir to thoroughly combine and dissolve sugar. Be sure non dairy milk and applesauce(if refrigerated) are warmed slightly to prevent coconut oil from hardening.

Pour wet ingredients into dry ingredients and stir just to combine. Avoid overmixing as this will cause the doughnut holes to be dense and tough.

Spoon the batter into wells of doughnut or muffin pan. Tap pan on the counter 2-3 times to release air bubbles in batter and level the tops.

Bake for 5 minutes at 375 degrees and then reduce heat to 350 degrees without opening the oven. Continue to bake for 3 -5 minutes longer or until browned and a toothpick inserted comes out clean.

While doughnut holes are baking stir together cinnamon and sugar in a small bowl and set aside.

After doughnut holes have baked, allow to cool briefly and then remove from the pan to finish cooling on a wire rack.
To coat in cinnamon sugar:
Lightly brush each cooled doughnut hole with melted coconut oil or vegan butter and roll in cinnamon sugar to coat.

Serve immediately or store in airtight container.
Recipe Notes
I use this pan to make these doughnut holes. Other doughnut pans or a mini muffin pan can be used also.
The recipe will be produce enough batter to fill a 20 cavity pan with a small bit left over. Use a second pan or mini muffin pan for any leftover batter. 
Don't skip the sifting step! This helps create a light and fluffy texture. 
Don't over mix the batter. This will cause the doughnut holes to be tough and dense.