Add flavor and protein to homemade pizzas, pasta sauces and salads with this delicious Herbed Tofu Crumble. 
It's been a tough week friends! The weest vegan has had a stomach bug and being just two means there's been a lot of clean up for this mama. Not fun. Also not fun, computer problems. Yeah, having those this week too so I'm presently pecking away on my tablet to write this post because of course the wireless keyboard I have for it decided to give up too. But, it's been too long without a new recipe here so peck away I must. (Thanfully the photos were taken and edited before the computer problems started.)
When life gets stressful, but dinner (or lunch) still has to be made I'm so happy to have simple, no fuss recipes up my sleeve like this Herbed Tofu Crumble. Seriously, this is so easy and adds flavor and of course protein to anything it's added to. Try it on your favorite pizza, tossed with pasta, or add it to salad.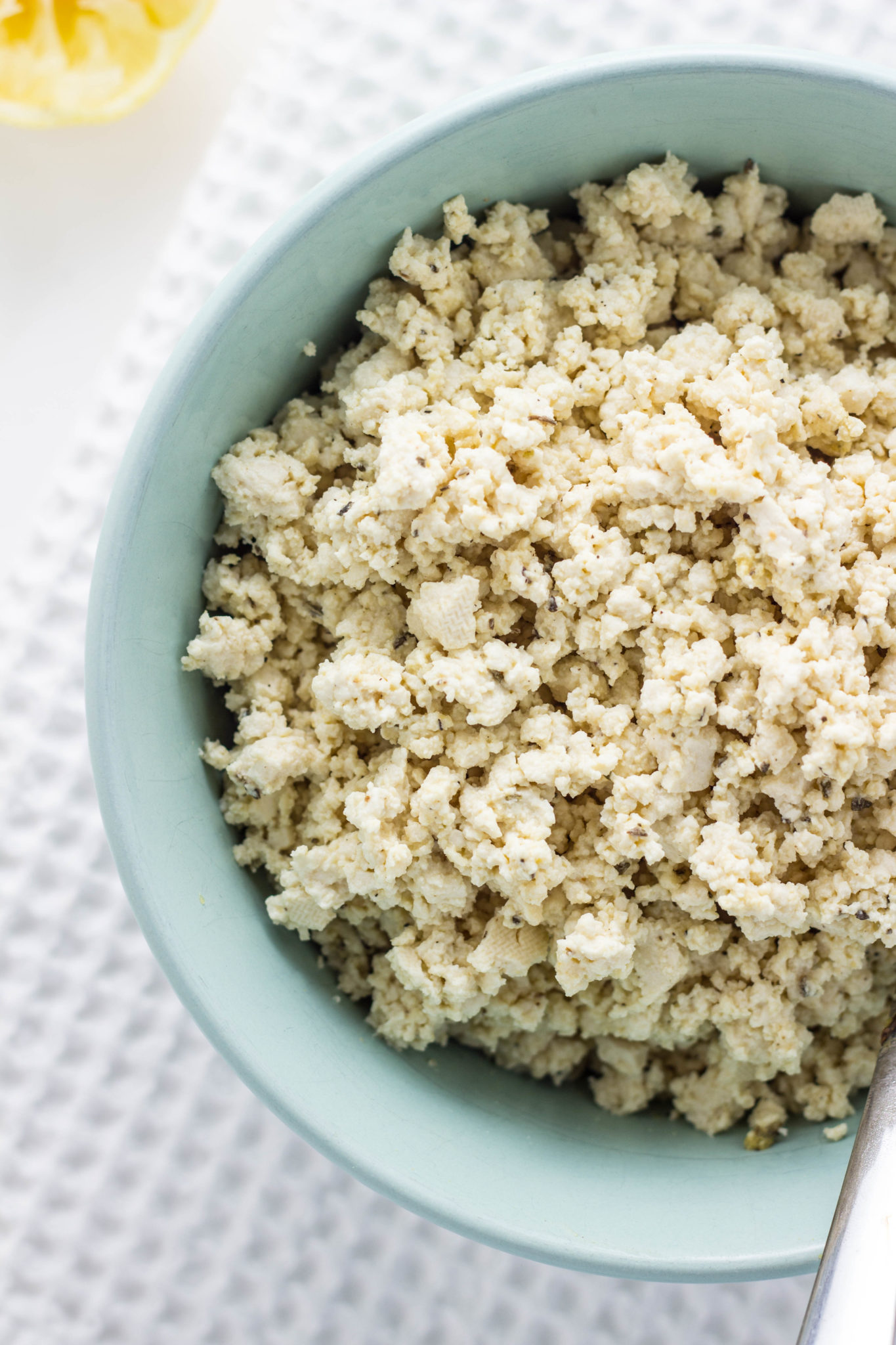 What makes this recipe so awesome is how little effort it takes and the fact that there is no cooking involved. The tofu can be eaten as is without ever turning on the stove. Of course, you can cook it depending on what you are adding it to.
The most important step to making this crumble is pressing the tofu to remove excess water because water logged tofu isn't going to soak up flavor. To press the tofu simply wrap it in a lint free towel and place something heavy like a cast iron skillet on top. Wait about 20 minutes and most of the water should be squeezed out. You can skip this step, if you're able to get the tofu that's pressed and ready to go.
Once your tofu is pressed, crumble with your hands and season adjusting amounts to your liking. That's it, use the herbed tofu anyway you like.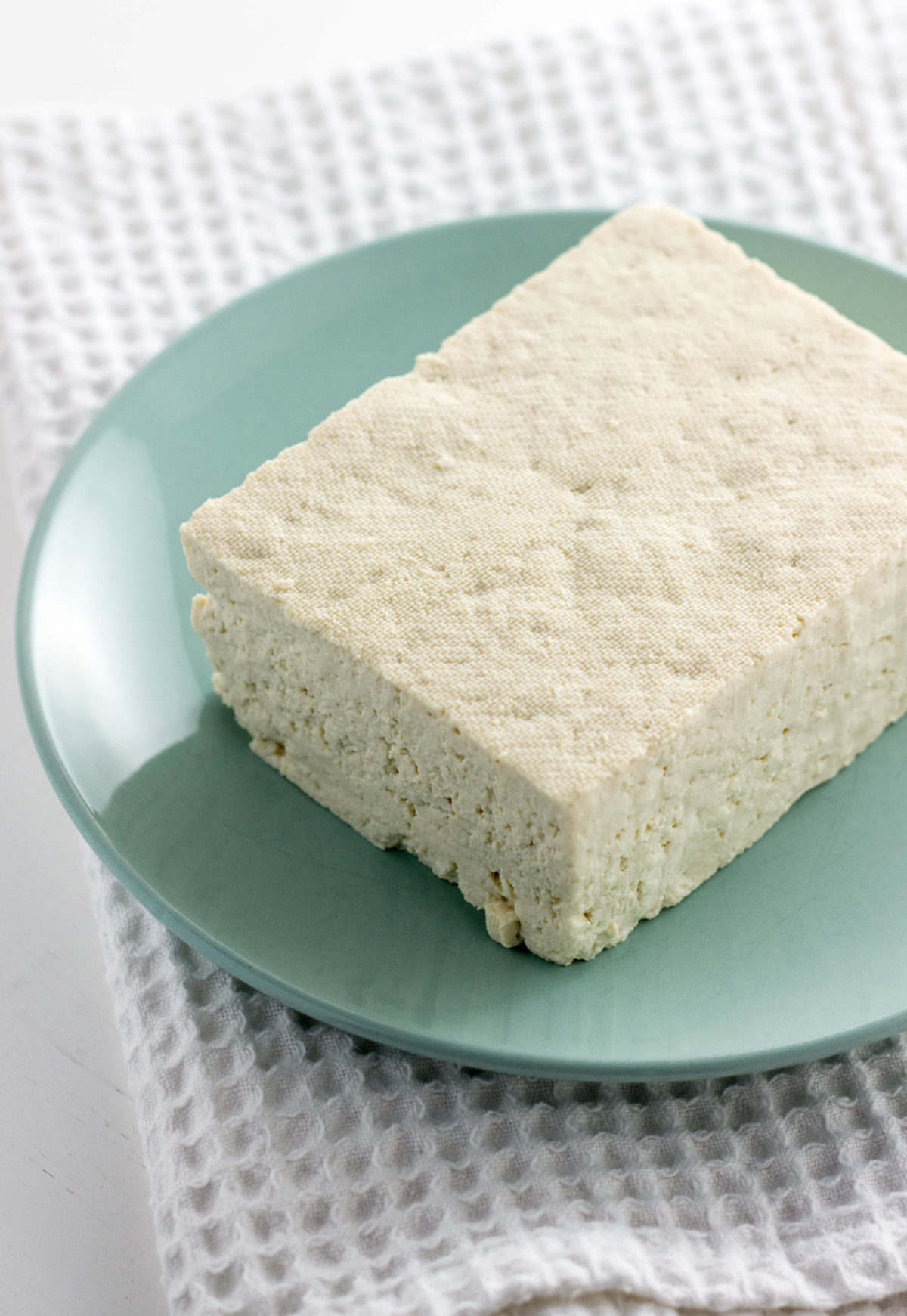 We enjoyed ours on homemade pizza because what's better than comfort food when it's be a rough week. Try my whole wheat pizza crust for a quick, comforting meal any day of the week.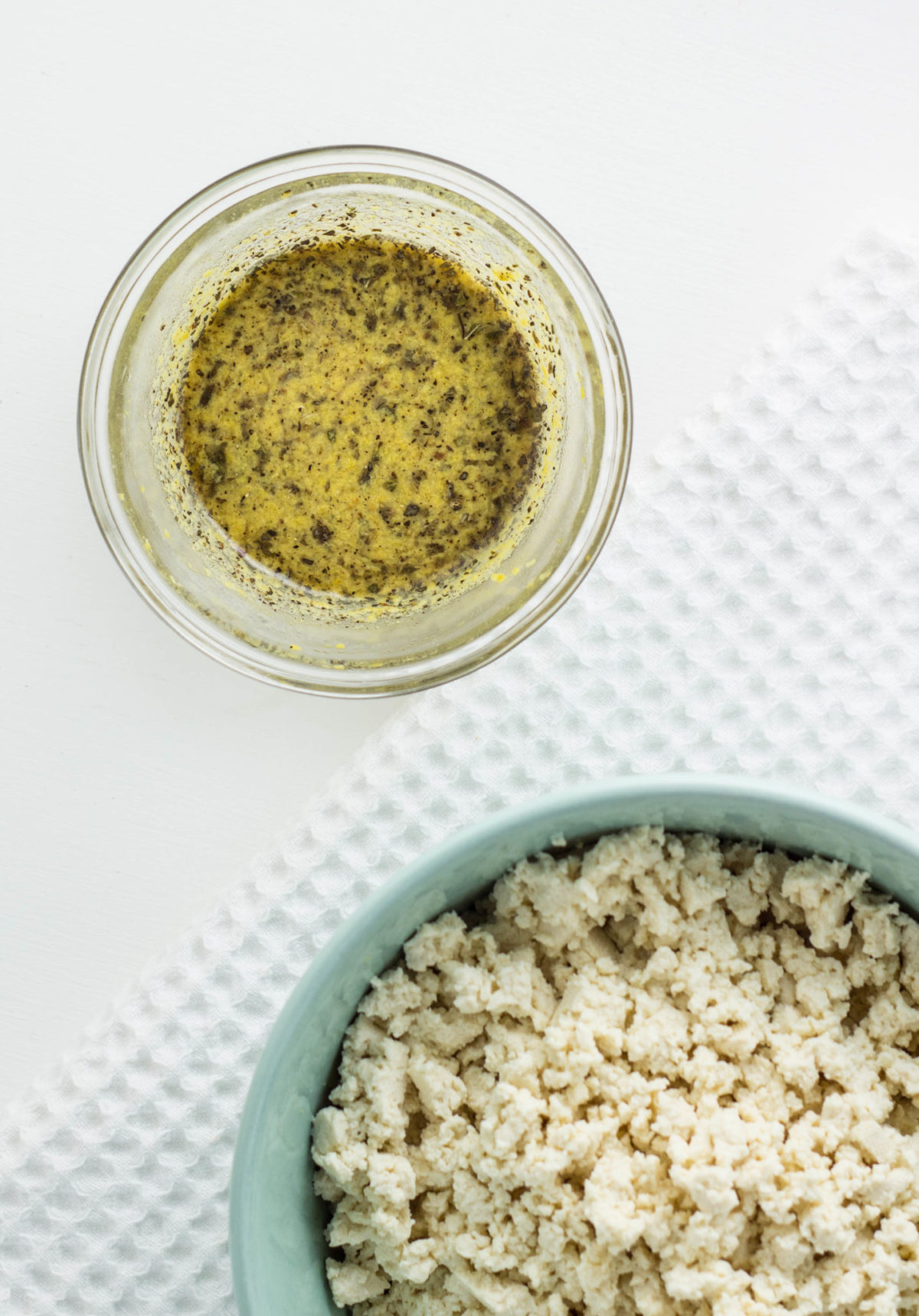 Once little one is back to feeling well, I'll be off to the computer repair shop. Fingers crossed it'll be a simple fix so we can get back to the yumminess around here.
If you try this recipe, let me know how it turns out! Leave a comment below or snap a pic and tag it @weelittlevegans on Instagram so I'll be sure to see it!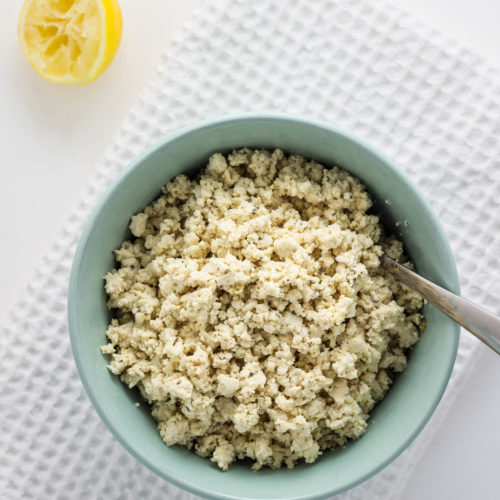 Herbed Tofu Crumble
Course:
Main Course, Side Dish
Ingredients
14 oz

firm tofu

1

tablespoon

olive oil

2

tablespoon

fresh squeezed lemon juice

2

tablespoon

nutritional yeast

¼

teaspoon

dried oregano

¼

teaspoon

dried basil

1

garlic clove or ¼ teaspoon garlic powder

½

teaspoon

salt

⅛

teaspoon

black pepper
Instructions
Drain water from tofu and wrap in paper towels or a lint free kitchen towel. Press as much water out of tofu as possible by placing a heavy skillet on top for about 20 minutes or use a tofu press.


Once tofu has been pressed, crumble into small pieces into a large bowl using your hands.

Whisk remaining ingredients together in a small bowl.

Pour mixture onto crumbled tofu and toss to thoroughly coat the tofu.

Taste and adjust seasonings to your liking.

Use to top homemade pizzas, add to pasta sauce or salads for added protein.