Delicious oven Roasted Broccoli with Vegan Cheese Sauce made with only simple, whole food ingredients and no oil.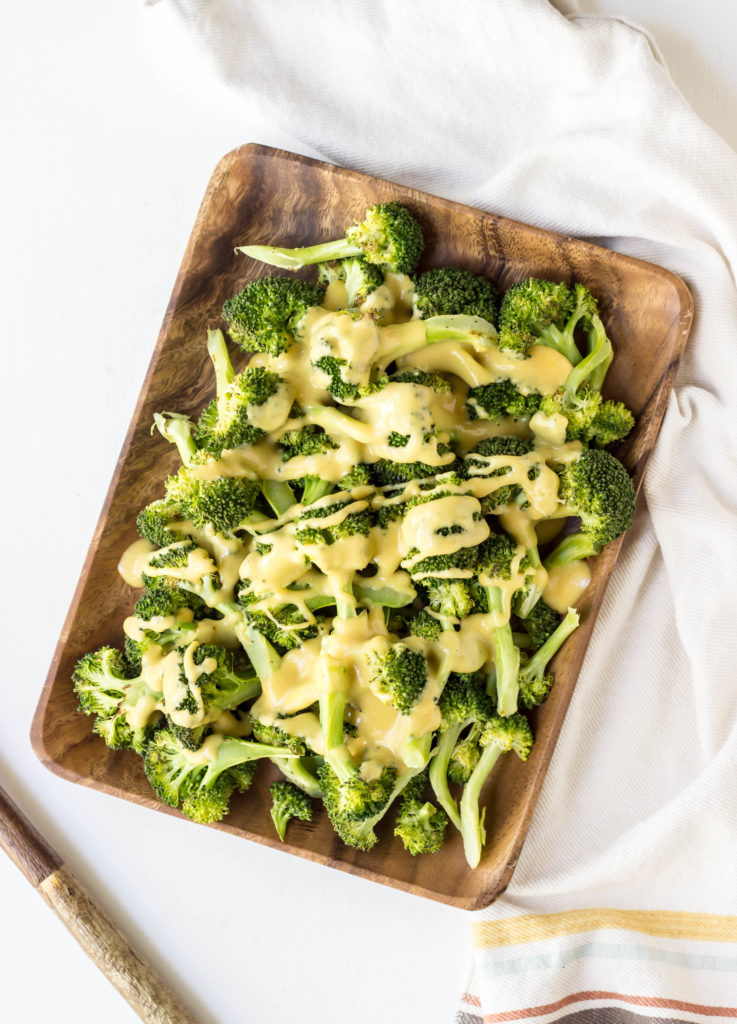 Sometimes no matter how we try, little ones get fussy about food and even the foods they once happily gobbled up become a no go. That is the situation with my littlest one right now and broccoli has become the enemy at dinnertime. This came as a total surprise to me since she loved it early on when introduced and often chewed lightly steamed florets to relieve her achy gums while teething. I know this is a phase and she'll come back around, but I'm all for helping the process by offering the offending veggie in a new way. So, the last time broccoli was on the menu, I whipped up this simple and oh so delicious oven Roasted Broccoli with Vegan Cheese Sauce.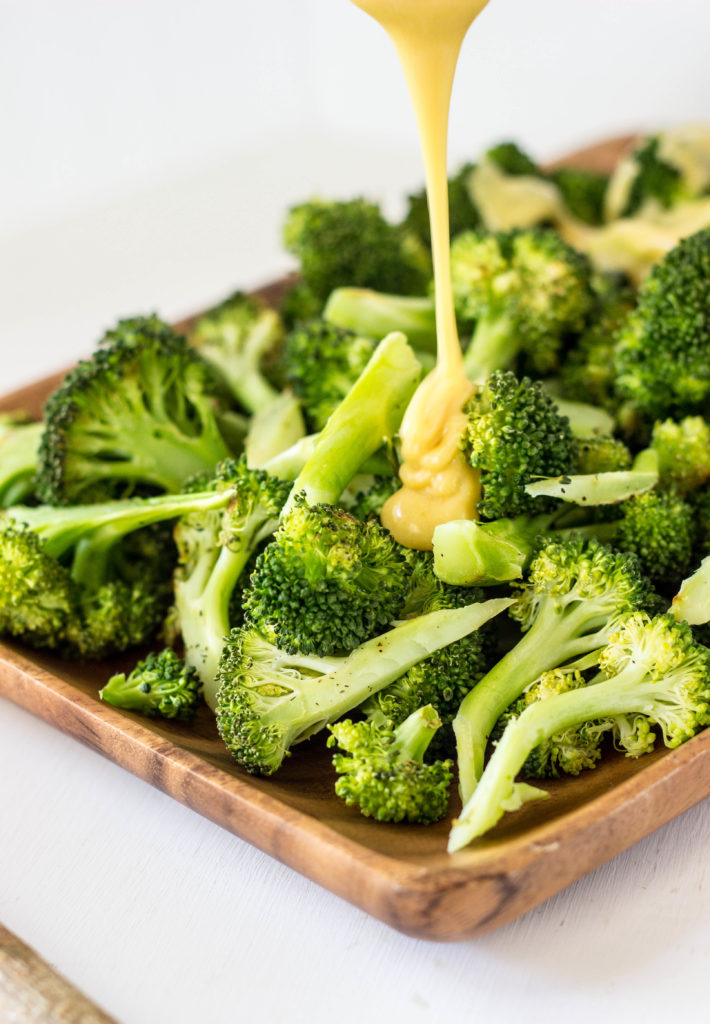 I continue to be amazed at all the awesome things that can be created with vegetables. Who would think that potatoes, carrots and a few other simple ingredients could create a delicious, creamy cheese sauce perfect for drizzling over more veggies?! I figured this out a while back when I came up with this soup and it was seriously a game changer. Everyone that has tried that soup, including many of you, has raved about it. So, it was the perfect jumping off point for creating this cheese sauce and after just a few adjustments it worked great.
A lot of vegan cheese recipes use a starch such as tapioca to produce the gooey texture of melted cheese, but these ingredients can be hard to find and expensive. Golden potatoes produce the same dreamy, gooey texture, are widely available and inexpensive.
Nutritional yeast gives the "cheesy" flavor and also provides B vitamins including B-12 as long as the particular brand is fortified. There is a bit of a love/ hate thing with nutritional yeast. Some people adore the nutty, cheesy flavor while others find it off putting. I find some brands better tasting than others, our favorite is Bob's Red Mill.
Recently, I've been roasting many of our veggies without any oil, which works quite well and is very simple. Simply wash and chop the broccoli, spread on a baking sheet, add a dash of salt and pepper if desired and into the oven it goes. Bake until tender and lightly browned and that's it. So easy! Of course, you can certainly use oil if you like too.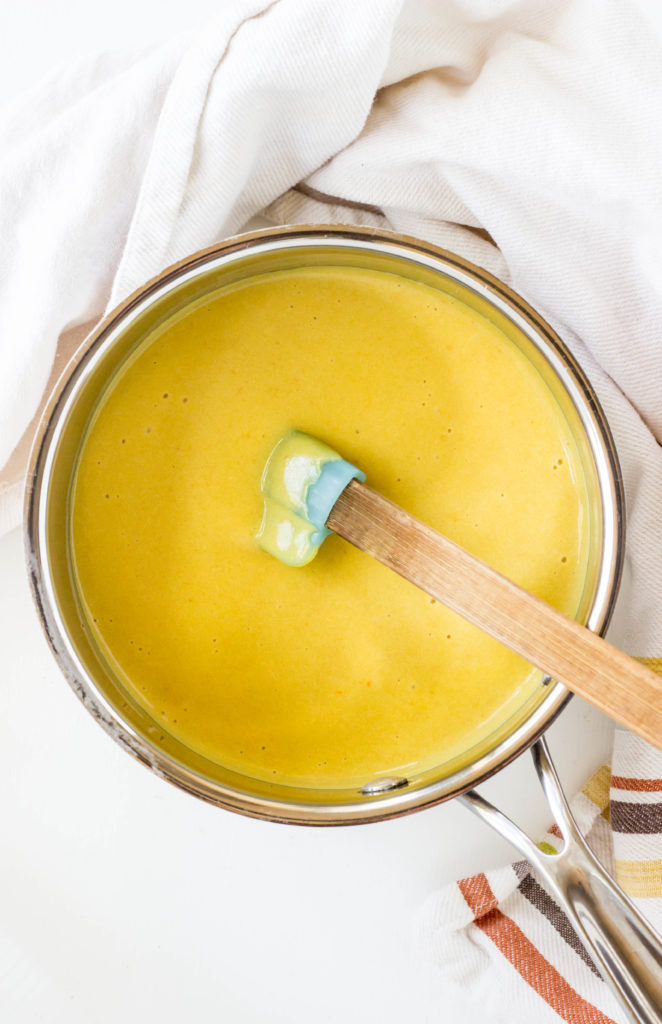 So, what did the littlest one think? She loves the sauce eating it by the spoonful and as for the broccoli, a few pieces did make it into her belly. Maybe not as many as I hoped for, but some is better than none so I'll take it.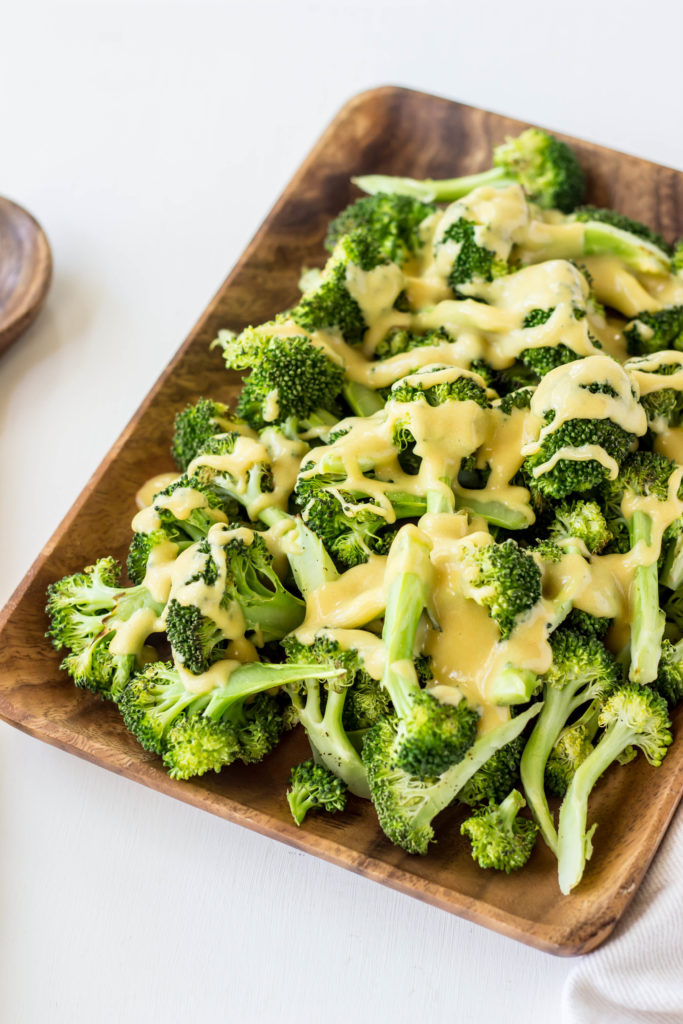 If you try this recipe, I'd love to know how it turns out! Leave a comment below or snap a pic and tag it @weelittlevegans on Instagram so I'll be sure to see it!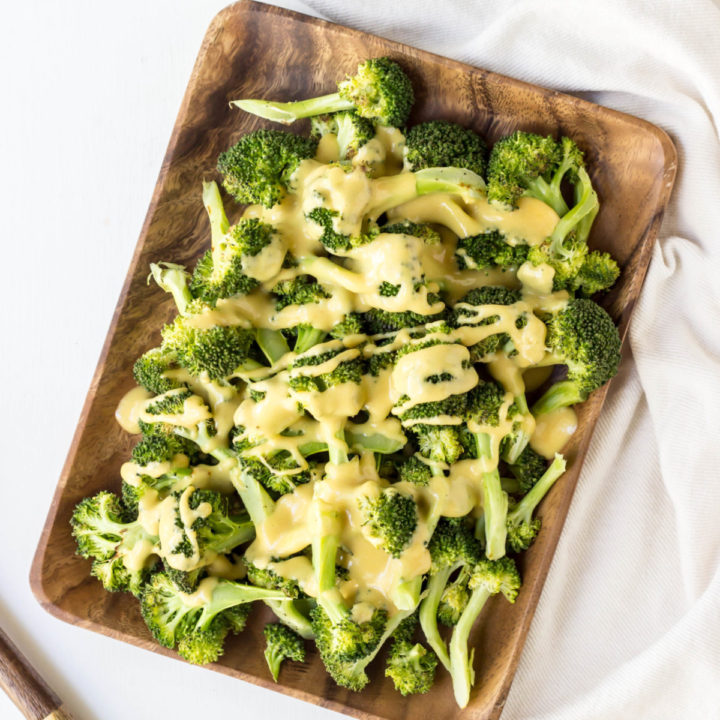 Roasted Broccoli with Vegan Cheese Sauce
Ingredients
1

broccoli bunch, chopped

2

medium

golden potatoes, peeled and cubed

1

carrot, sliced ~ ¼ cup

1

cup

plain unsweetened, non dairy milk

1

garlic clove

¼

cup

nutritional yeast

½

tablespoon

dijon mustard

½

teaspoon

salt
Instructions
Broccoli:
Preheat oven to 375 degrees. Line a baking sheet with parchment paper.

Spread broccoli in an even layer on a baking sheet and add a dash of salt and pepper, if desired.

Bake for 15-20 minutes until fork tender and lightly browned on edges.
Cheese Sauce:
While broccoli roasts prepare cheese sauce. Combine potatoes, carrots, garlic and non dairy milk in a small sauce pan. Bring to a boil, reduce heat and simmer until potatoes are easily pierced with fork.

Allow to cool a couple of minutes and carefully transfer to a blender. Add nutritional yeast, mustard and salt. Blend until smooth, stopping to scrape down sides with a rubber spatula as needed.

Taste and adjust seasonings to your liking. Return to pan to warm if needed.

Pour over roasted broccoli and serve immediately.
Recipe Notes
As the sauce cools, it will thicken. Simply warm on the stove and the sauce will thin and become more liquid. 
Leftover sauce be stored in the fridge. It will thicken considerable. Simply warm and sauce will thin.