Refreshing and simple, this Vegan Cucumber Salad is a perfect side dish or healthy snack. Made with just 6 ingredients and kid approved.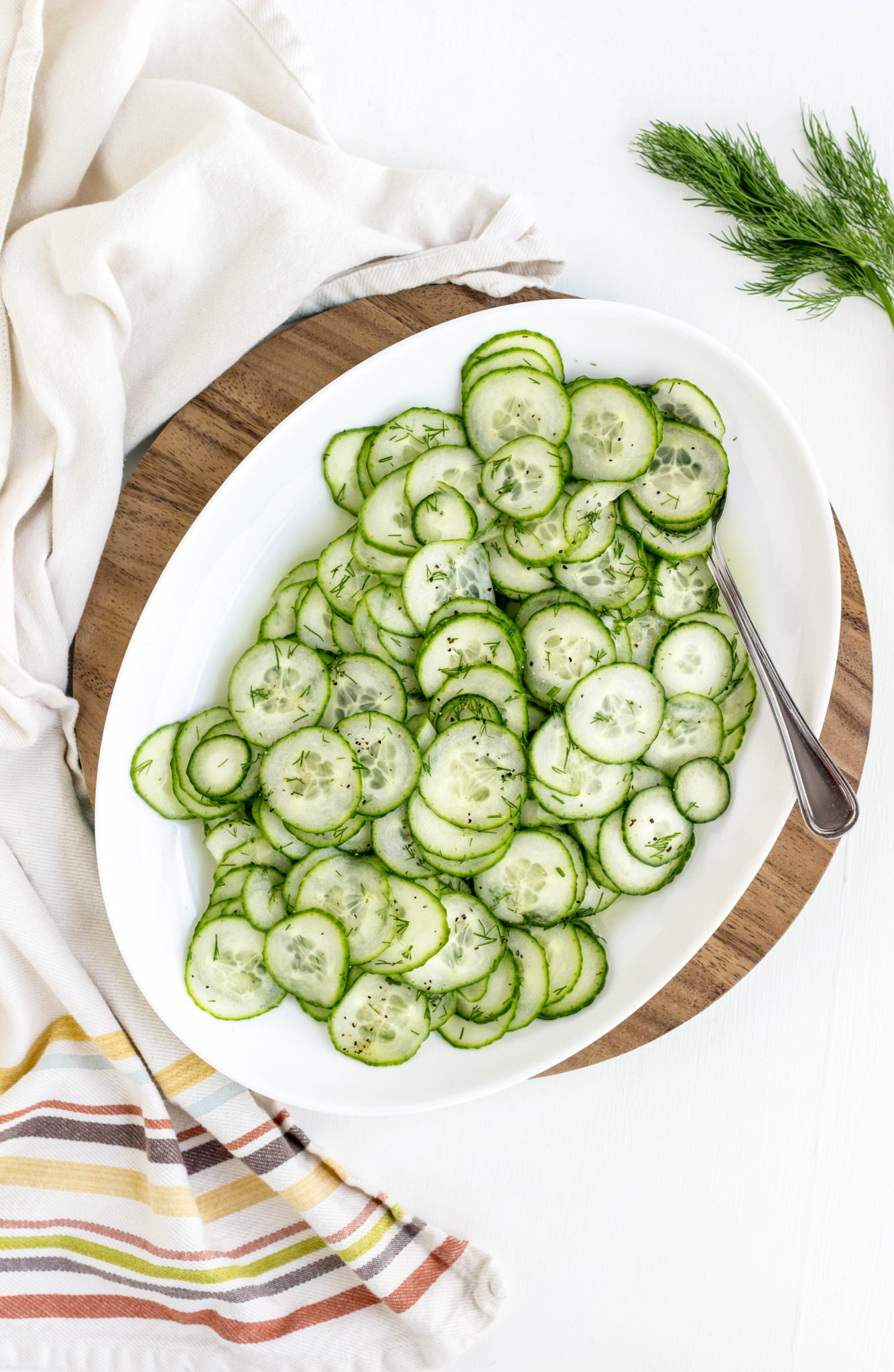 Temperatures are warming up and light, simple refreshing dishes are what we're craving. Cucumbers are one of our favorite fruits - botanically speaking cucumbers are fruits, although we tend to think of it more as a vegetable because of the way it is typically used. It's great on sandwiches, in salads and of course pickled, but it's not usually the star of the dish. Today we're making it front and center with this delicious and super Simple Vegan Cucumber Salad.
Jump to:
what's in it
There are a variety of ways to prepare cucumber salad, many of which involve a creamy base, but we find those to be a bit heavy. So for this version we use rice vinegar, salt, pepper, a little maple syrup for a touch of sweetness and fresh dill. The result is a light, slightly tangy, fresh dish perfect for spring and summer. Enjoy if as a side for picnic lunches, pot lucks and barbecues, on sandwiches and wraps or as a simple snack delicious all on it's own.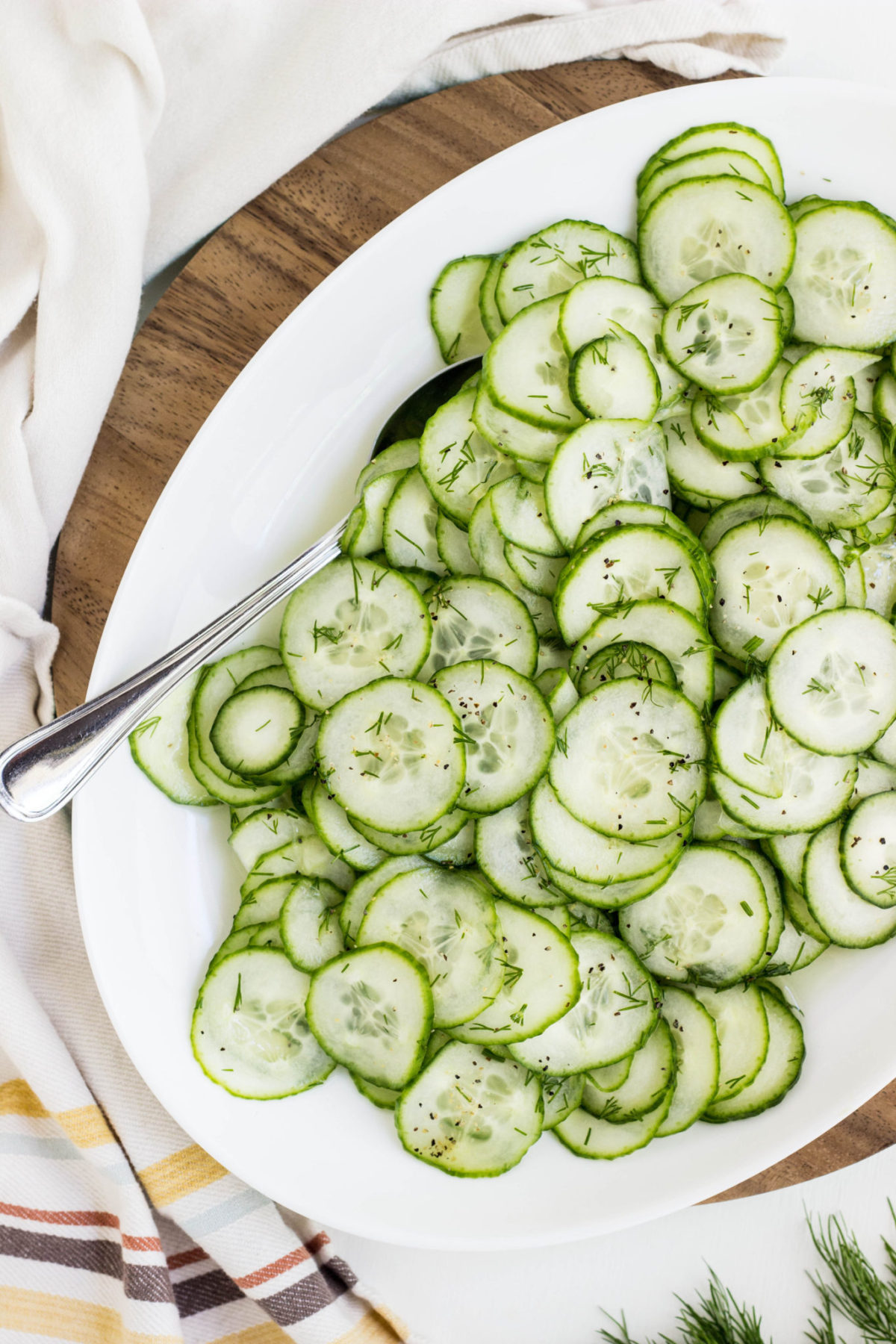 what type of cucumber should you use?
We like to use seedless English cucumbers over slicing cucumbers for the lack of seeds, flavor and thinner skin. Slicing cucumbers, the most common variety in the grocery store tend to have tougher skin and seeds that can be large and bitter. You can use slicing cucumbers if that is what you have available. We recommend removing the seeds and peeling the skin either fully or at least partially.
Whether to peel the cucumbers you choose for this salad comes down to preference. We don't mind the skin of English cucumbers, but if you find it unpleasant simply peel the cucumbers before slicing.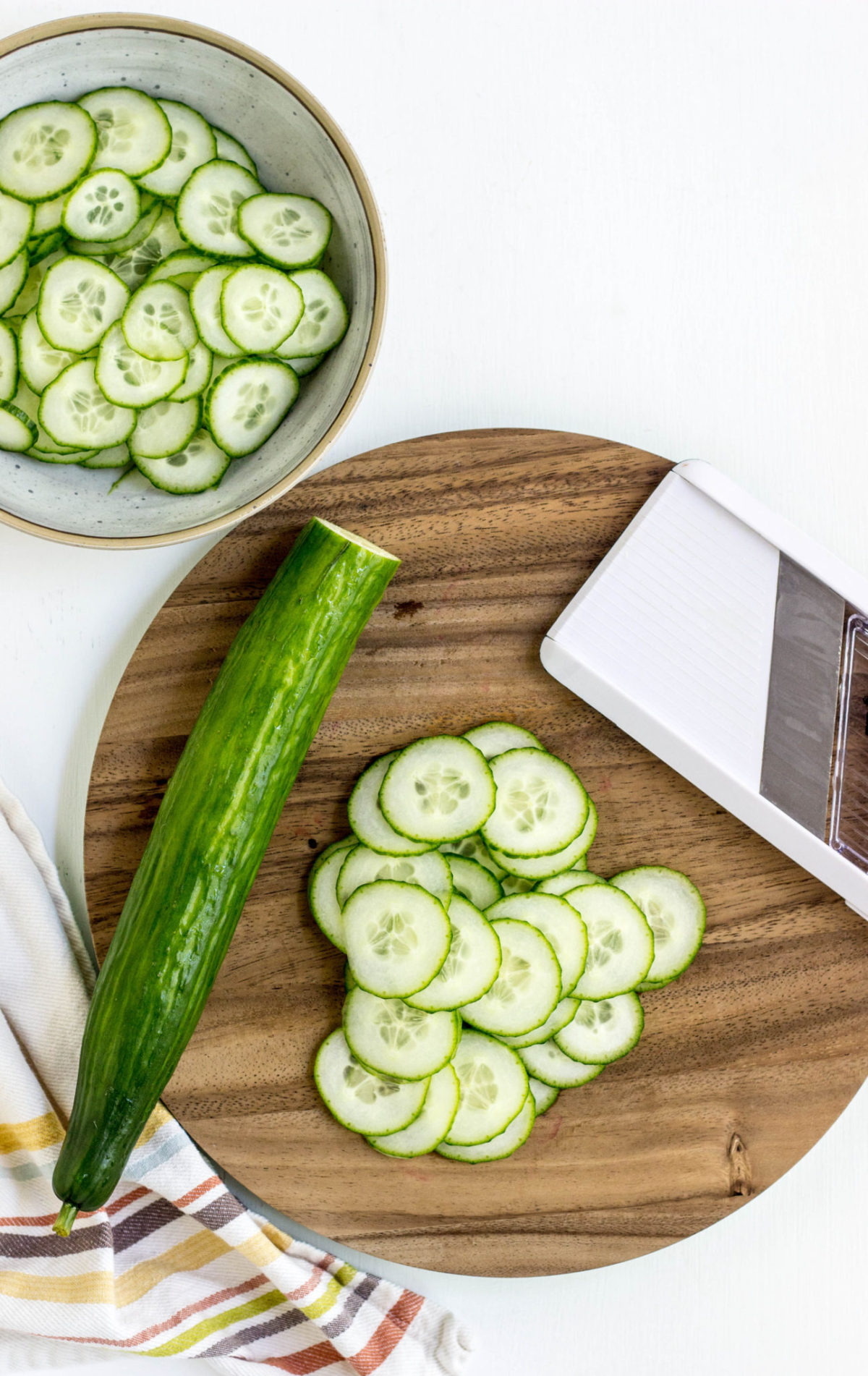 methods for slicing
I use a mandolin slicer since it is faster and helps to ensure uniform thickness of slices. Just be very careful using this type of slicer as you can really injure yourself if you are not. A chef's knife will also work, of course. Always use a sharp knife because you are more likely to cut yourself if it is dull.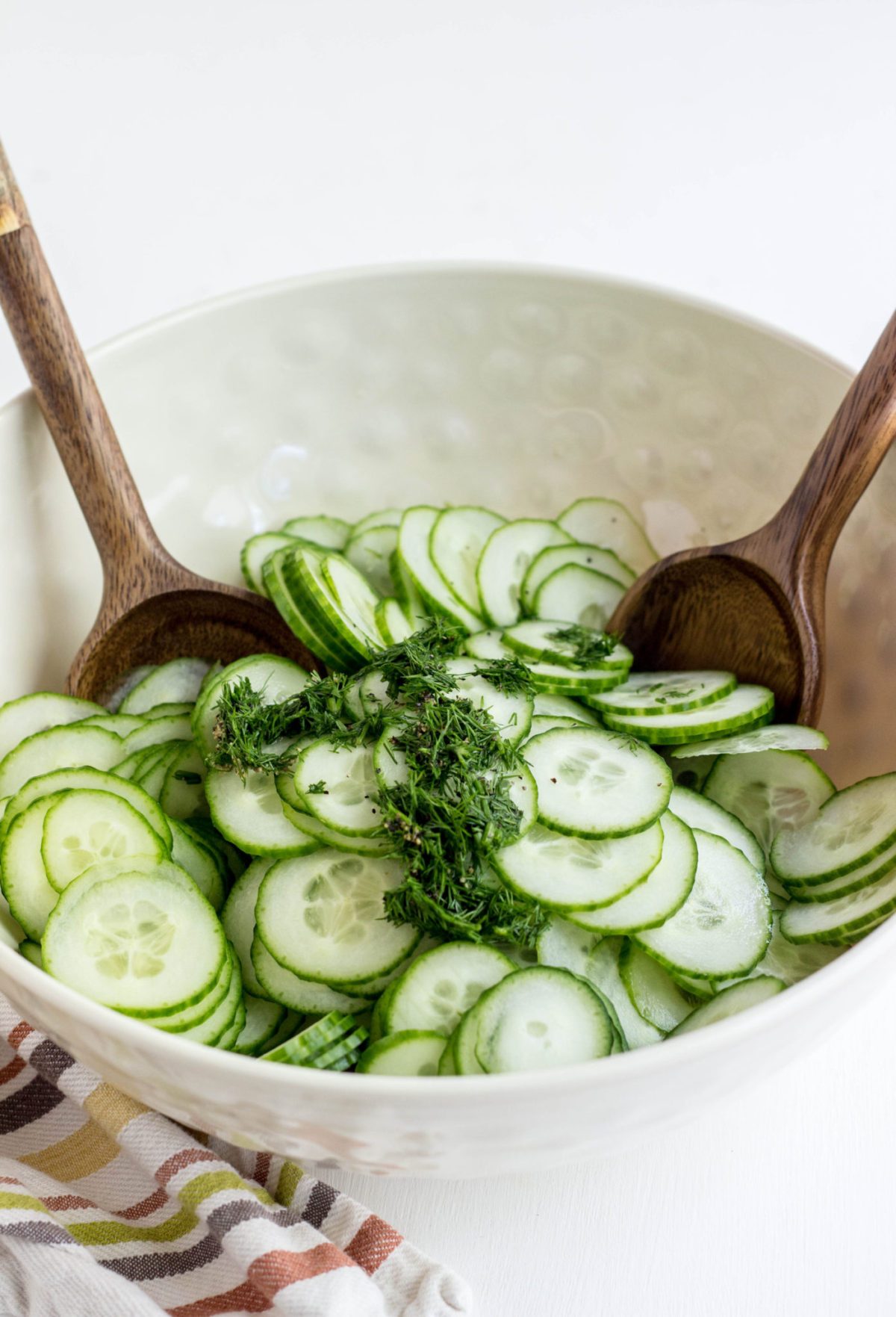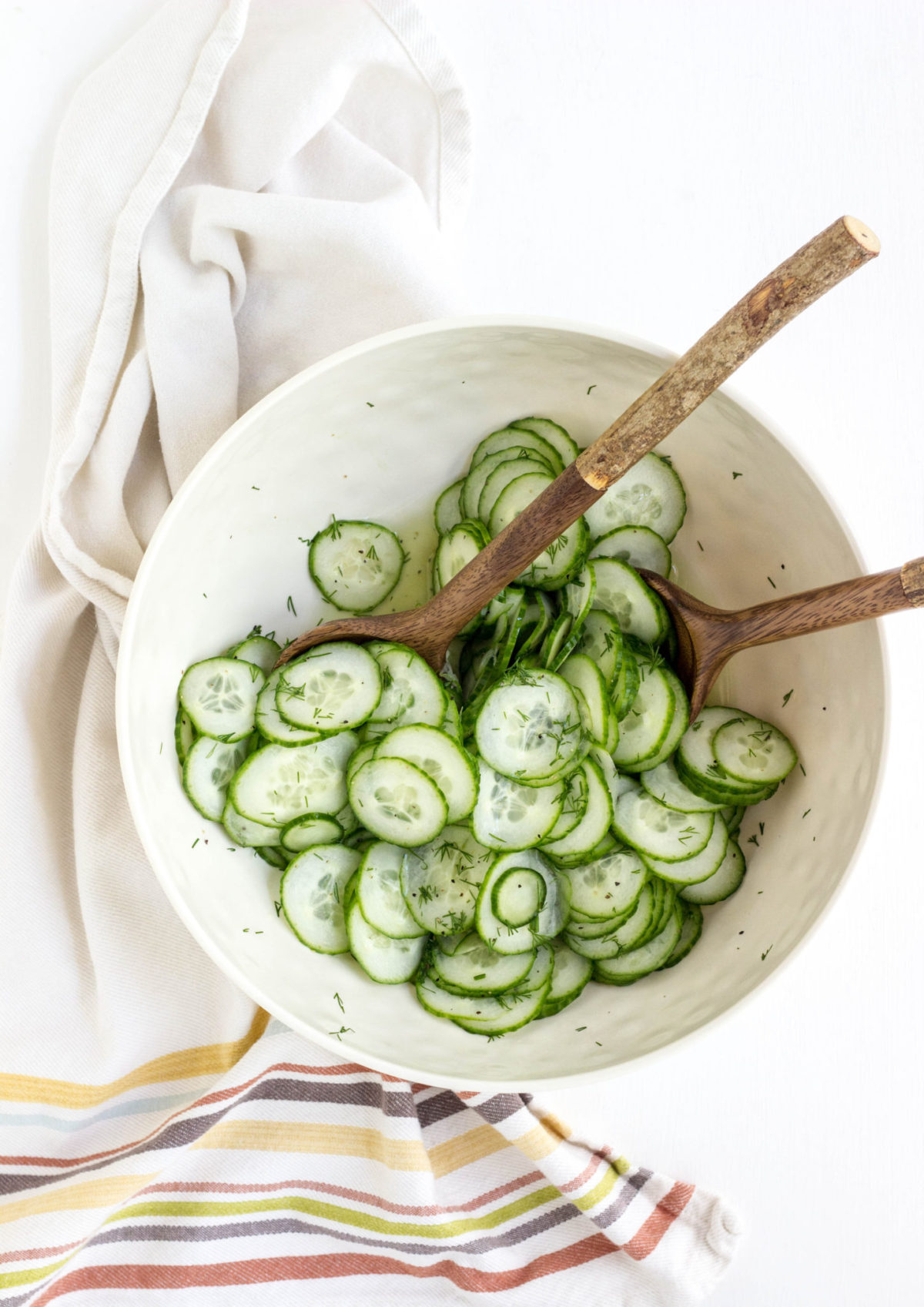 We hope you enjoy this Simple Cucumber Salad! And if you're like us and looking for refreshing dishes for warmer temperatures here's a few more salads to try:
Fresh 'n Fruity Balsamic Tofu Salad
Grilled Tofu Summer Veggie Salad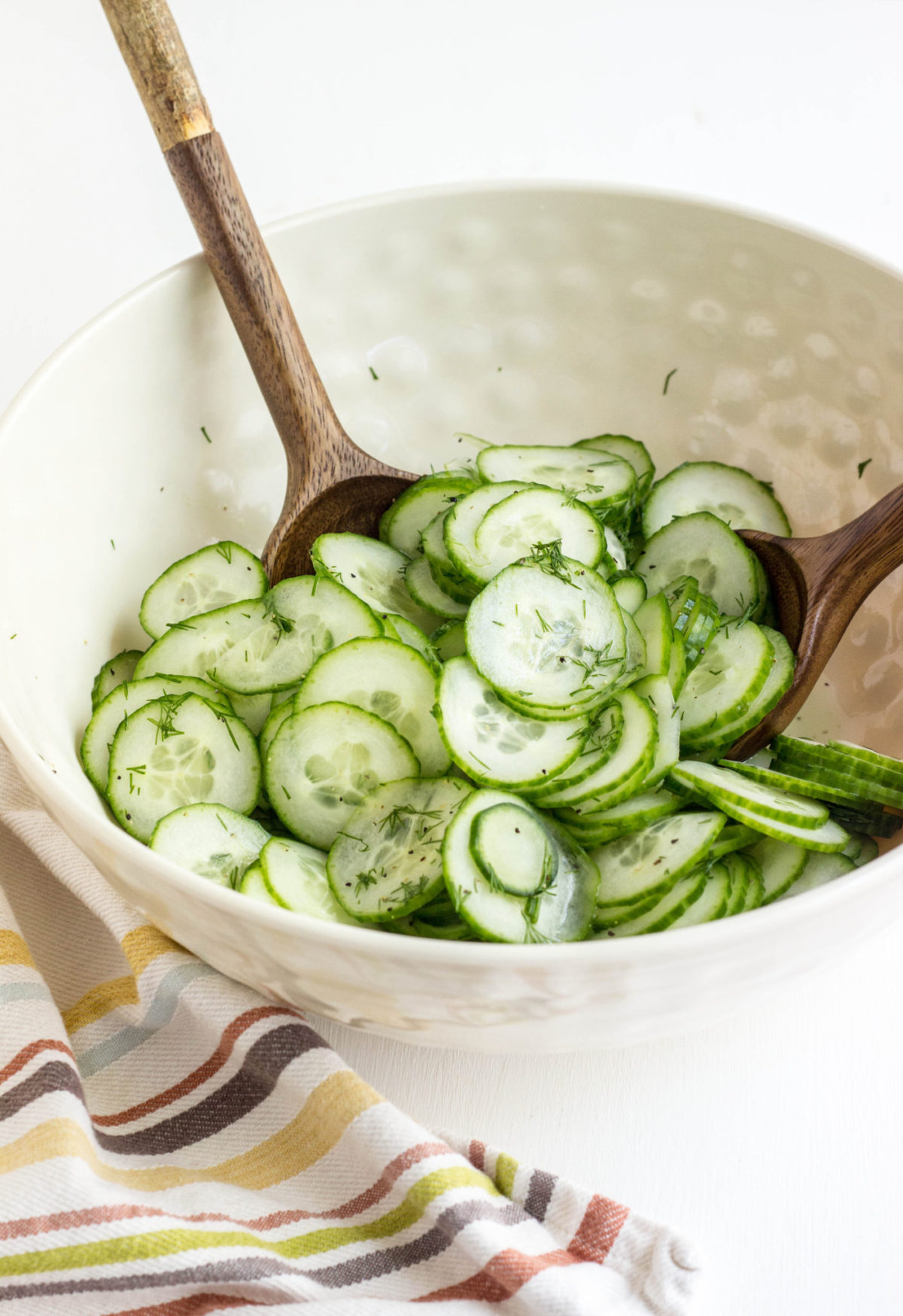 If you make a recipe, I would love to know how it turns out! You can leave a comment and rating below or snap a pic and tag it @weelittlevegans on Instagram so I'll be sure to see it!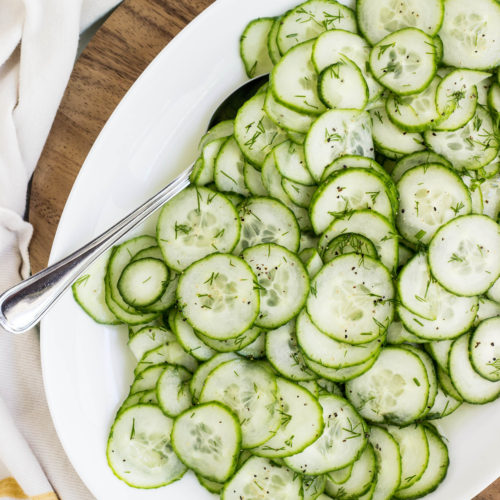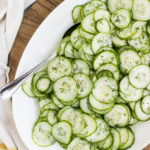 Simple Vegan Cucumber Salad
Ingredients
2

English cucumbers, thinly sliced

3-4

tablespoon

rice vinegar

2-3

tablespoon

fresh dill, chopped

1

tbsp

maple syrup

½

tsp

salt + more to taste

¼

teaspoon

pepper
Instructions
Place sliced cucumber in a large bowl.

Combine vinegar, dill, maple syrup, salt and pepper in a small bowl. Whisk to thoroughly combine.

Pour vinegar mix over cucumbers and toss to coat. Taste and add more salt if needed.

Serve immediately or refrigerate for 1-2 hours.