This Fresh 'n Fruity Balsamic Tofu Salad made with Nasoya Toss'ables and a simple strawberry dressing is the perfect way to enjoy summer berries.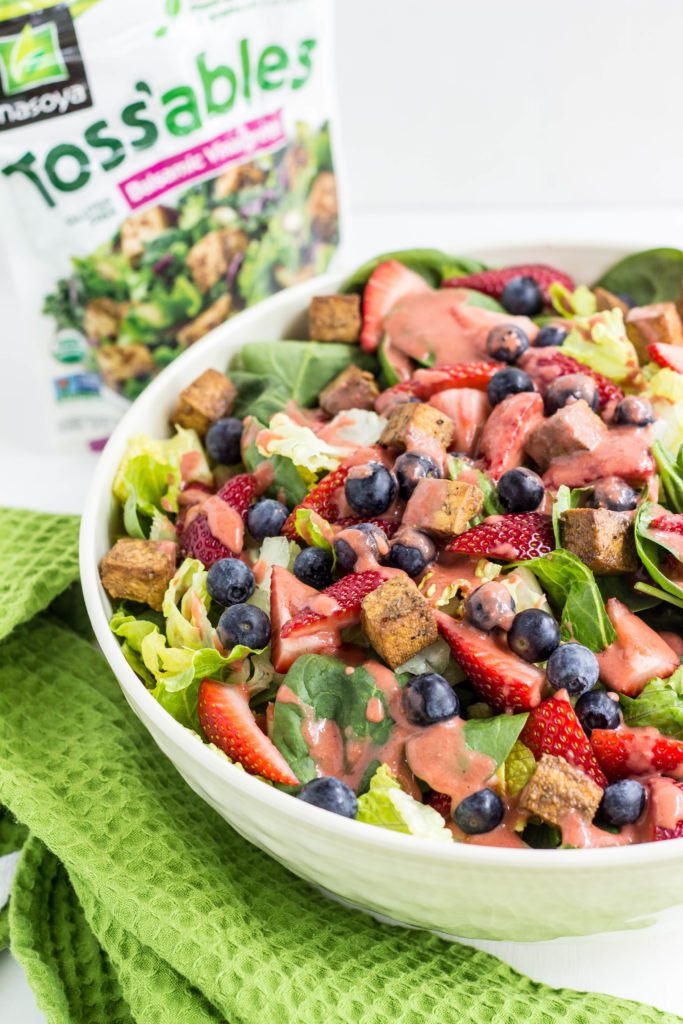 Turns outs May is National Salad month. I had no idea, did you? Fortunately, I know now and this month won't get away without a least one delicious and simple salad to celebrate. I'm calling this my Fresh 'n Fruity Balsamic Tofu Salad because it's filled with seasonal berries, Nasoya Toss'ables, and drizzled with a yummy homemade strawberry balsamic dressing.
Our family recently tried this newest tofu product from Nasoya and we really enjoyed it. So, what is it exactly? This prepackaged tofu has been seasoned, baked, and is ready to eat so there's no mess or prep involved. Just toss in your favorite salad or any dish really or nibble straight from the package as we did, for a boost of protein anytime.
Disclosure: This salad is my entry for a chance to win a contest Nasoya is running to launch this newest product. I have received products coupons for my participation. All opinions are my own.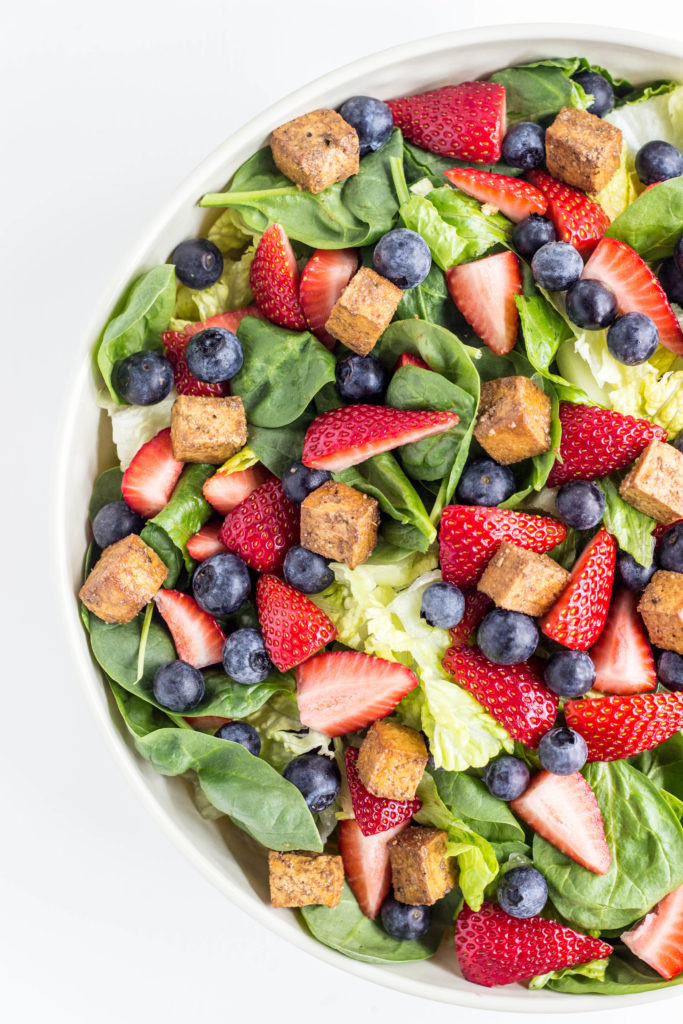 When I started thinking about the type of salad I wanted to create to celebrate this month, berries immediately came to mind. Strawberries and blueberries are in season where we live and the whole family loves them so it seemed like the perfect way to entice the little ones to eat their greens. I love incorporating a protein source in salads to make a more substantial meal out of it. Toss'ables are the perfect way get in that serving of protein and also add lots of great flavor and texture.
I also love that Toss'ables are vegan( of course), non gmo, organic, and the ingredients are simple and easily recognizable. Currently, they are available in two flavors, Balsamic Vinaigrette and Garlic and Herb. I used the Balsamic Vinaigrette flavor for this salad, which paired perfectly with the berries and really made the salad more satisfying.
In keeping with the balsamic theme I whipped up a simple, flavorful strawberry balsamic dressing that really put this salad over the top. All three of the kids loved everything about this salad and completely devoured it, even my spinach hater!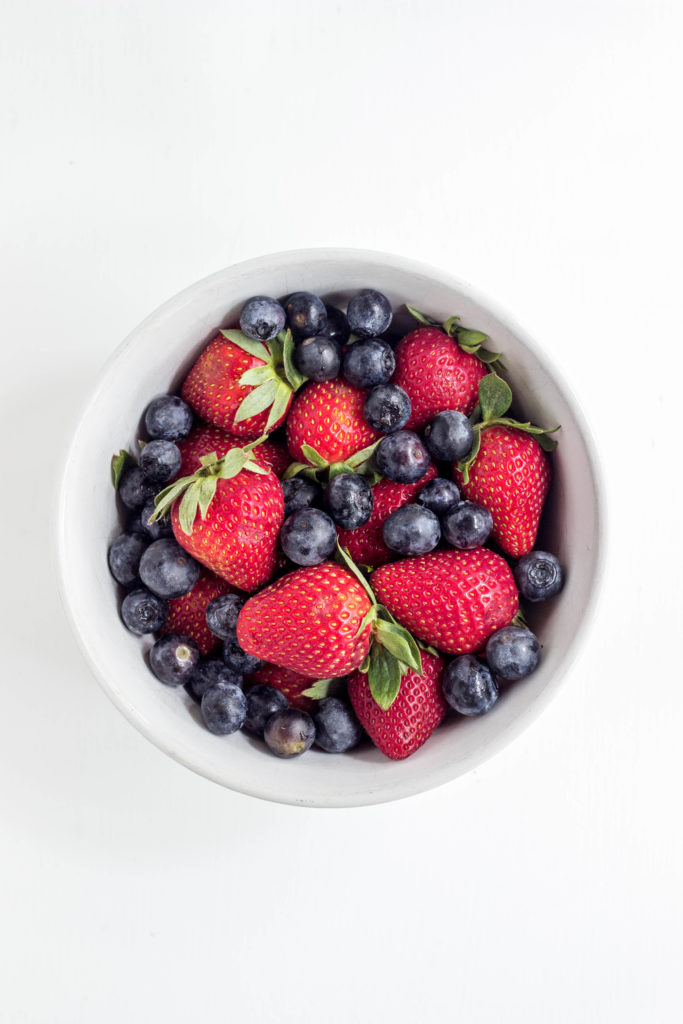 My tip for picky eaters: Try mixing veggies the kids are not too fond of with ones they really like. My oldest hates spinach so when I make salads I use a lettuce she likes, in this case romaine, with a lesser amount of the spinach mixed in. This works for her because she really likes the crunch of romaine so by mixing the two the spinach is minimized and she hardly even notices it. Of course, this tip won't work for all kids, but it just may so it's worth a try. Worst case scenario the offending veggie gets picked around and left behind.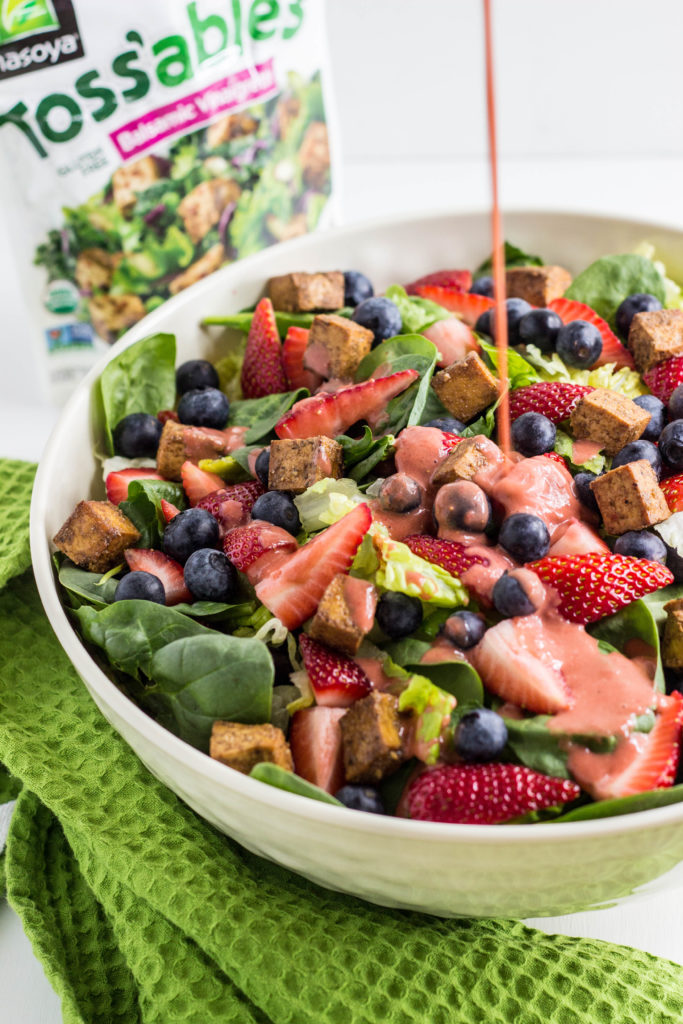 The dressing for this salad is super simple requiring just 6 ingredients and less the 5 minutes to make. Just throw everything into the blender and combine until smooth and fully incorporated. It's that easy! For the best flavor, make the dressing ahead of time and refrigerate for a couple hours to really let everything meld and become yummy.
If you try this recipe, let me know how it turns out! Leave a comment below or snap a pic and tag it @weelittlevegans on Instagram so I'll be sure to see it!
Fresh 'n Fruity Balsamic Tofu Salad
Ingredients
For the Dressing:
1

heaping cup

fresh strawberries, trimmed and chopped

2

tablespoon

balsamic vinegar

3

tbsp

olive oil

1-2

tbsp

maple syrup

Depending on the sweetness of strawberries.

¼

teaspoon

salt

⅛

teaspoon

black pepper
For the Salad:
3-4

cups

romaine lettuce, chopped

2

cups

spinach

1

cup

fresh strawberries, trimmed and quartered

½

cup

blueberries

1

package

Nasyoa Toss'ables Balsamic Vinaigrette Tofu

¼

cup

slivered almonds or sunflower seeds

optional
Instructions
For the Dressing:
Combine all ingredients in blender smooth and well incorporate.

For best results, prepare dressing and refrigerate for a couple of hours before needed to allow flavors to really meld.

For the Salad:
Add salad ingredients to a large bowl and toss to mix.

Drizzle salad with desired amount of dressing and toss again.

Sprinkle with slivered almonds or sunflower seeds, if desired and serve.