A light and healthy salad, this Vegan Broccoli Grape Salad is dressed in a sweet and tangy yogurt dressing and topped with coconut bacon for a delicious crunch!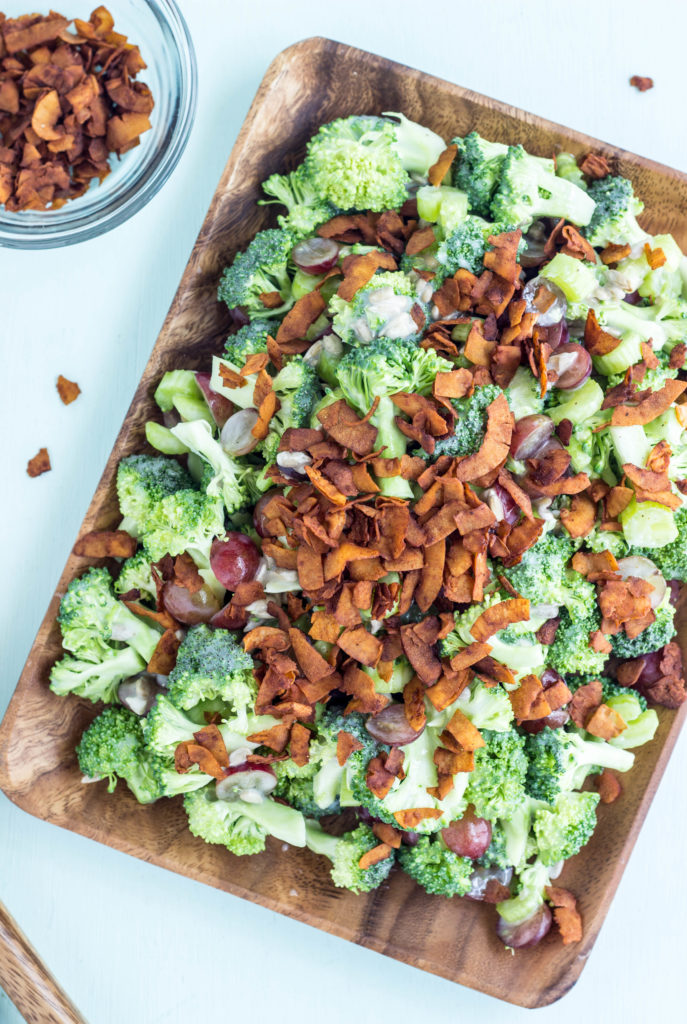 Ok, so confession...we're not too big on eating salads normally. But when the temperatures start heating up here in Florida, we crave fresh simple veggies with minimal prep and little to no cooking involved so salads happen a lot more. Lately, we've been enjoying this Vegan Broccoli Grape Salad and it is definitely one of our new favorites.
Broccoli salad is common at family get togethers and barbecues, but usually has bacon and a mayo based dressing, definitely not vegan friendly. With summer in full swing, I naturally wanted to come up with a veg friendly version that everyone could enjoy.
This salad was a huge hit with the whole family, even with my almost 2 year old who has a had a bit of an aversion to broccoli recently. She woke from her nap while I was finishing up these photos and proceeded to hover around repeating "broccoli" until I let her go in for a bite. She devoured a small bowl of it in no time at all and even had a second helping. That's a huge win in my book!
I started with many of the same ingredients as the non vegan version, broccoli, grapes, celery, and sunflower seeds, but left out the raw onion because my little ones really don't like it. If yours do, you could certainly add it.
We don't care much for mayo vegan or not, it's just not our thing. So, when I started thinking of ways to make the dressing for this salad, yogurt came to mind. It's creamy, a little tangy, and we like it. I used a plain unsweetened coconut yogurt and added a little maple syrup, apple cider vinegar, and salt and pepper. Simple and worked perfectly to lightly coat the broccoli without being too heavy like a mayo based dressing.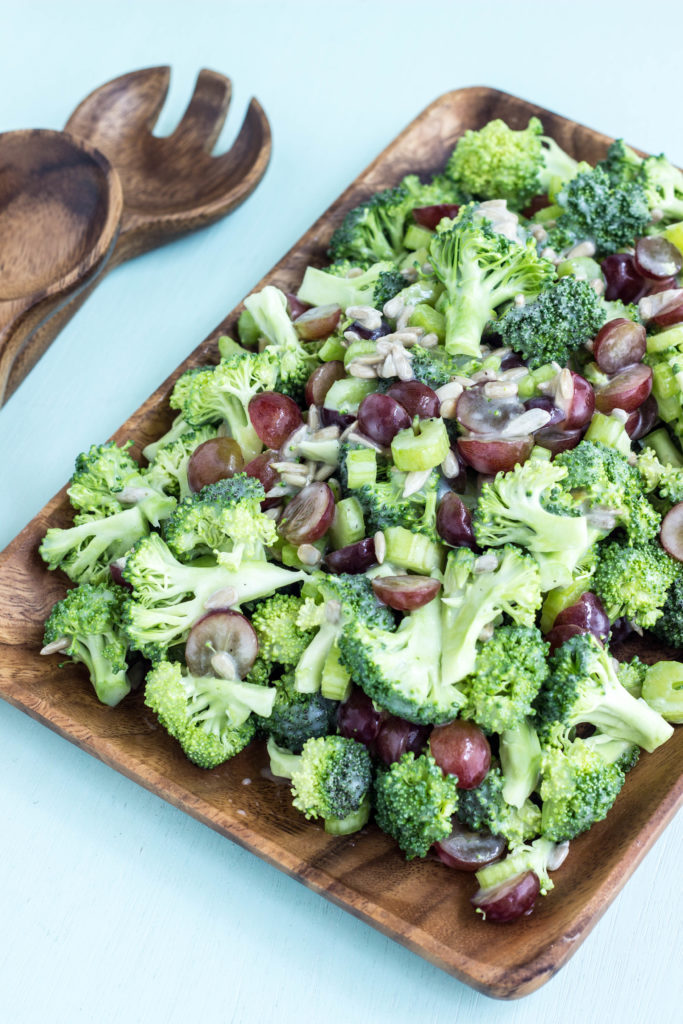 As you can see above, the dressing lightly coats the veggies which it what we prefer, but if you want a more dressed salad simply double up the dressing recipe and use as much as you like.
To replace the bacon typically in this salad I baked up a batch of my simple coconut bacon and it did the trick adding a touch of smoky deliciousness.
Give this salad a try at your next get together and if do, let me know how it turns out! Leave a comment below or snap a pic and tag it @weelittlevegans on Instagram so I'll be sure to see it!
Vegan Broccoli Grape Salad
A light and healthy salad, this Vegan Broccoli Grape Salad is dressed in a sweet and tangy yogurt dressing and topped with coconut bacon for a delicious crunch!
Ingredients
Dressing:
1

5.3 oz

container plain unsweetened coconut yogurt

I used So Delicious brand.

1

tablespoon

apple cider vinegar

1 ½

tbsp

maple syrup

pinch of salt and pepper
Salad:
2

medium heads of broccoli

approx. 4.5 cups

1

cup

read grapes, halved

2

ribs celery, chopped

¼

cup

raw sunflower seeds

½

cup

coconut bacon

link below
Instructions
Dressing:
Combine all ingredients in a small bowl and whisk to thoroughly incorporate. Set aside while you prepare salad.
Salad:
Chop broccoli into bite size pieces and transfer to a large bowl.

Add halved grapes, chopped celery, and sunflower seeds.

Pour dressing over broccoli and toss to evenly coat.

Sprinkle coconut bacon over top of salad and serve.
Recipe Notes
Coconut bacon recipe. 
This salad can be prepared ahead of time and tastes even better if it is. Prepare according to directions without adding coconut bacon. Add coconut bacon just before serving.