A kid friendly recipe for Soothing Ginger Lemon Tea that's great for upset tummies and easing cold symptoms.
I had origianlly planned to post this Soothing Ginger Lemon Tea before the holidays, but you know how it can get around that time of year. Too much to do and not enough time to do it all. So, I shared the basic recipe on Instagram, but I really feel like it should have a proper home here on the site. Why? Because ginger is great for upset tummies, digestion, and easing cold symptoms among many other things. Plus we love it!
I started making this drink a while back when my husband was having some stomach issues and it really helped so it has become the method we go to first whenever upset tummies strike. Now, I really didn't expect the kids to like this tea, but much to my surprise they do! Even our toddler, which I found out one day while drinking my own. She really likes mugs and thinks they're fun to drink from so whenever I'm using one she has to sample what's in it. On this particular day, I was having this ginger lemon tea so I let her sip thinking she would not be impressed and move on. Well, I was so wrong! She loved it and continued to ask for more and make the sweetest little "mmmm" sounds after each sip. It really was adorable.
Jump to:
health benefits of ginger
So, besides the delicious taste, there are some pretty widely known health benefits of ginger:
it reduces inflammation
relieves nausea including morning sickness caused by pregnancy and motion sickness
help calm coughs, sooth sore throats, and may shorten the duration of a cold especially when combined with lemon
aids in digestion and much more
I can't say for certain that ginger is effective for everyone, but our experience has been positive for relieving the above mentioned symptoms so we choose this tea as a first defense whenever possible.
how to make it
This tea is super simple to make and you can really change it up to suit your tastes just by using more or less ginger or lemon, simmering for a longer time, and adding extras like sweeteners, cinnamon, or even cayenne. My husband prefers it with a lot of ginger flavor and no sweetener so when I make it for him I always add extra ginger and simmer for a little longer to really bring out that flavor. It's really up to you!
Just add desired amount of sliced ginger and lemon along with any extras you like with water in a sauce pan and simmer. After five to ten minutes strain the tea and add a sweetener if you like. We use a teaspoon or two of maple syrup.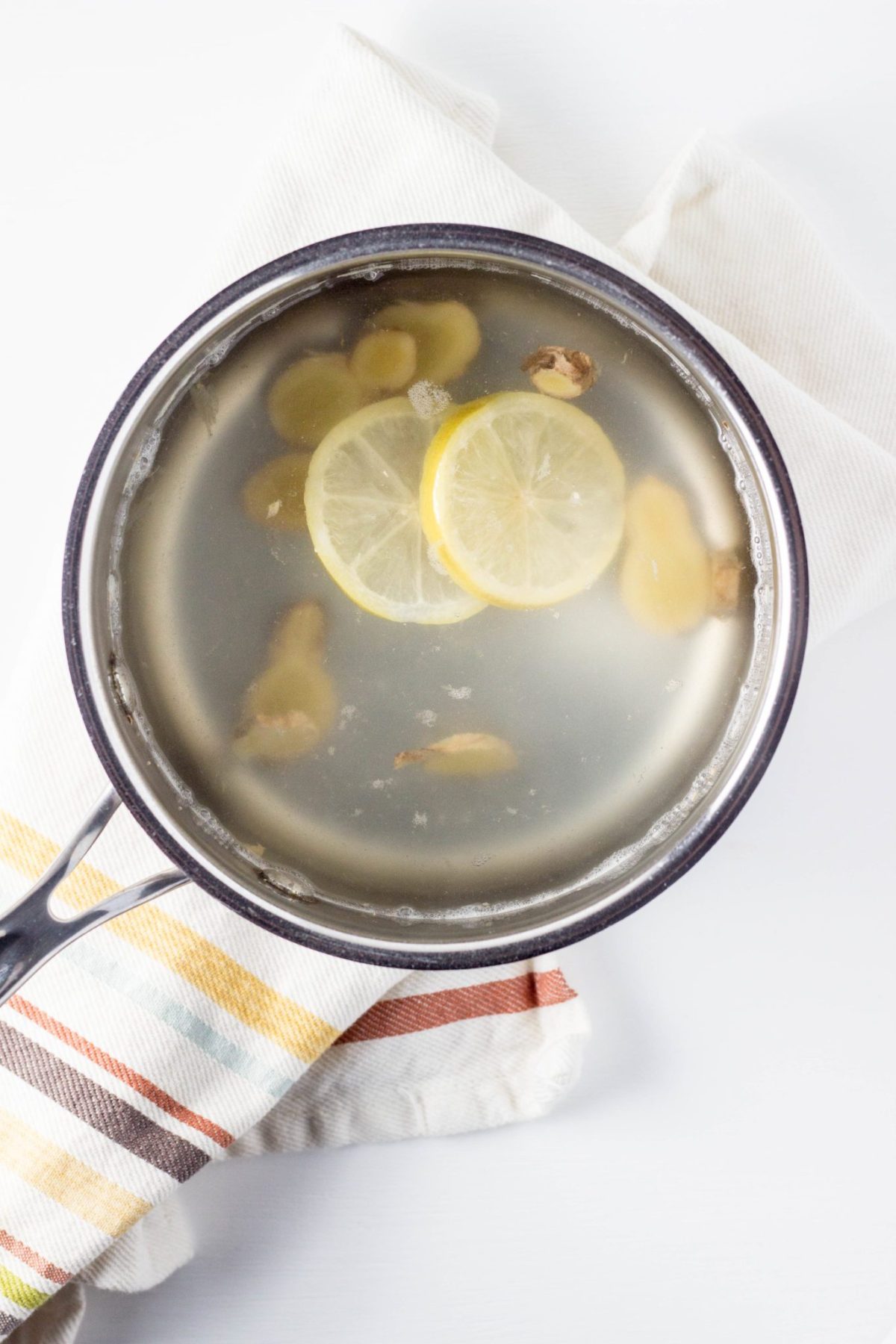 pro tip
Did you know you can freeze fresh ginger? And you don't need to do anything special to prepare it. No need to peel or even slice it, simply store in a freezer safe container. When you're ready to use it simply thaw a few minutes and use a sharp knife to slice or use a grater. You can always slice it before freezing if you prefer too. I always make sure to have fresh ginger available in the freezer so it's there whenever we need it.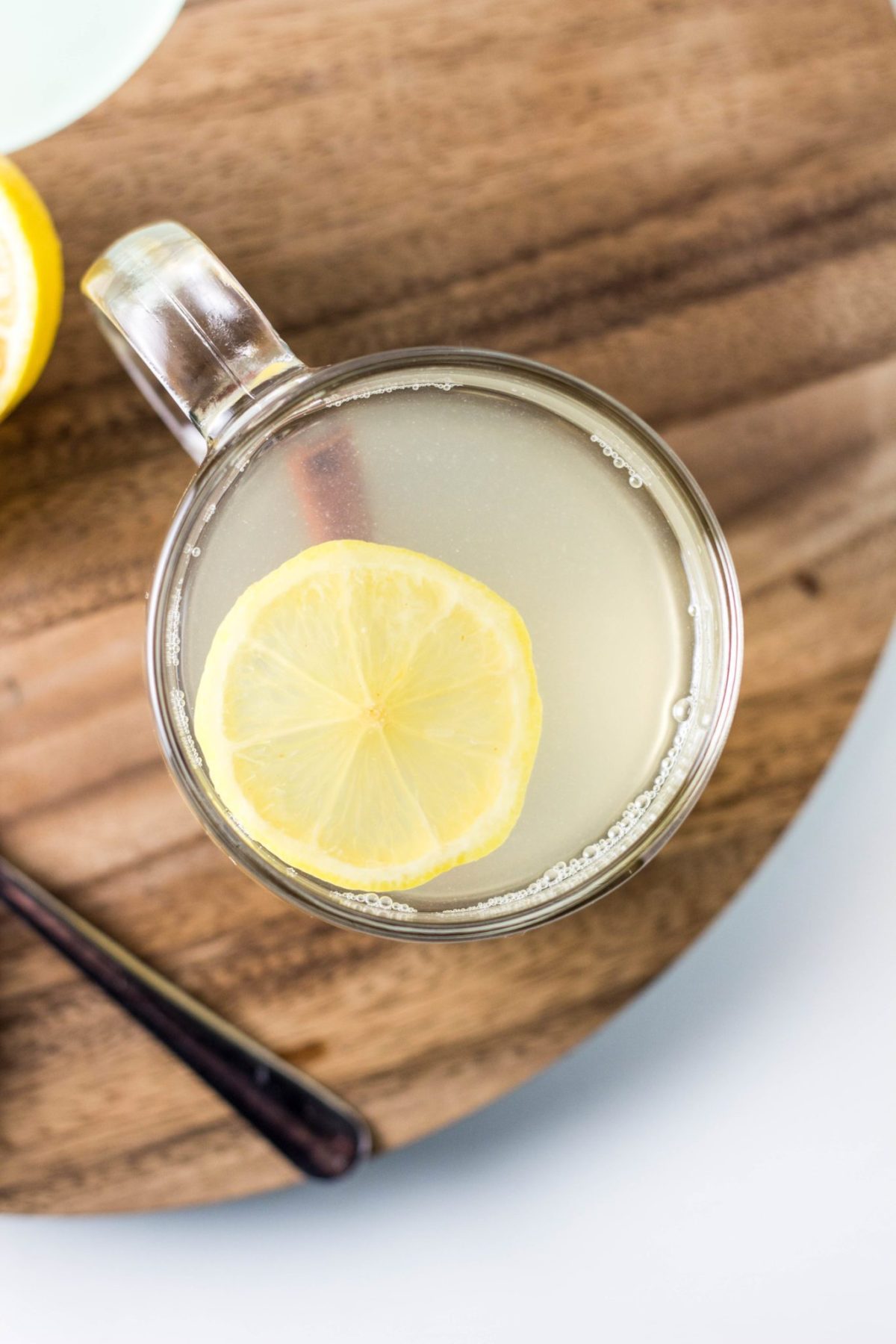 If you try this recipe, let me know how it turns out! Leave a comment below or snap a pic and tag it @weelittlevegans on Instagram so I'll be sure to see it!
Soothing Ginger Lemon Tea
A kid friendly recipe for Soothing Ginger Lemon Tea that's great for upset tummies and easing cold symptoms.
Ingredients
3

cups

water

1-2

inches

fresh ginger, sliced

2-3

fresh lemon slices

maple syrup to taste

cinnamon, cayenne to taste

optional
Instructions
Add water, ginger, lemon, and cinnamon or cayenne if using to a small sauce pan.

Heat until just simmering, not boiling.

Continue to simmer for 5-10 minutes depending on desired strength.

Pour tea through fine mesh strainer and divide between mugs.

Add additional lemon and/or a cinnamon stick, if desired.

May be served warm or chilled.
CLICK BELOW TO PIN FOR LATER