Vegan Asparagus Quiche made with chickpea flour so it's egg free, soy free and gluten free. Perfect for breakfast, brunch or dinner!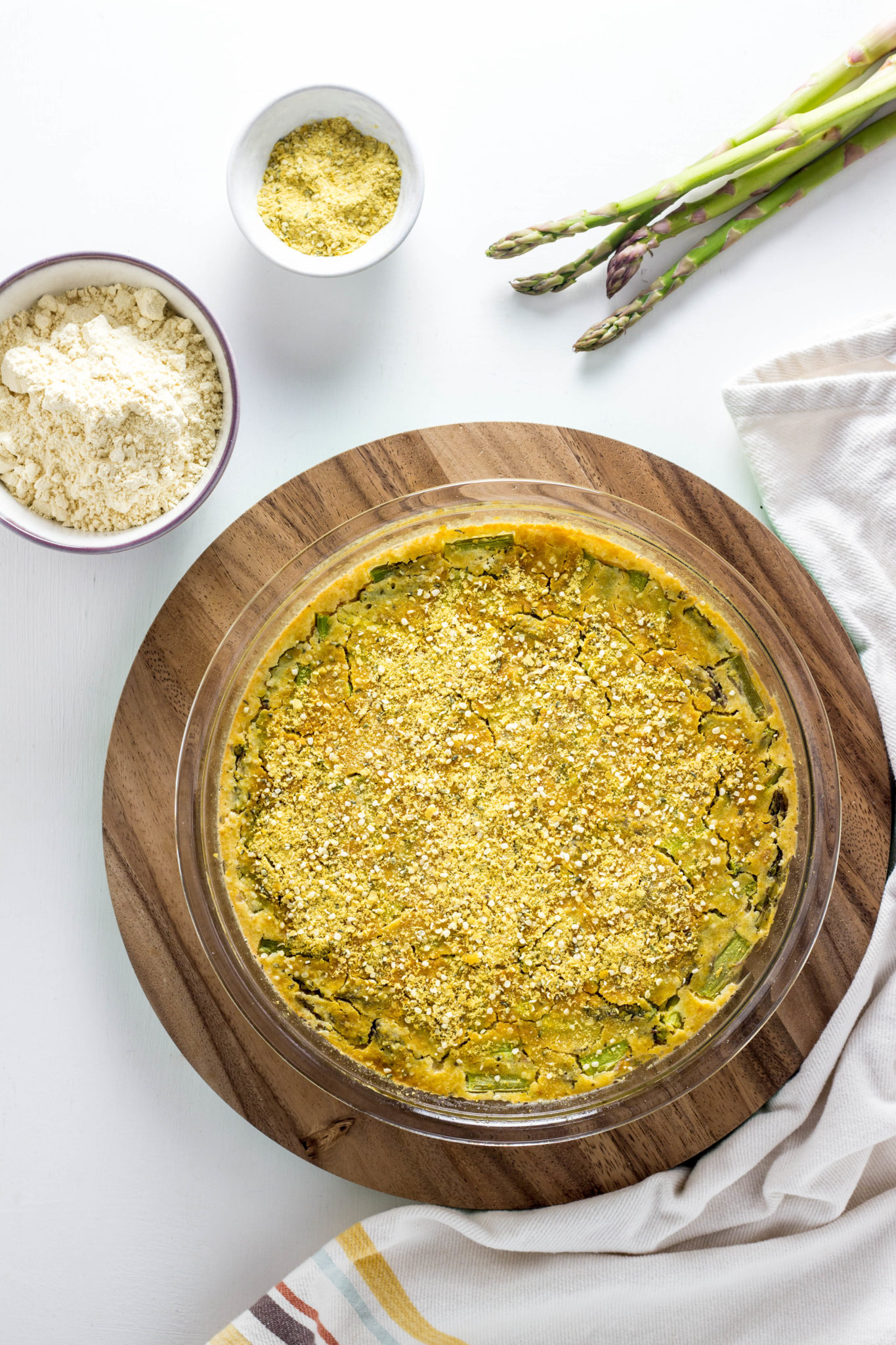 The kids are out of school for spring break this week so we're been enjoying plenty of lazy mornings, relaxing and enjoying the beautiful weather we're having. The weather this time of year is just so perfect. Crisp, cool mornings that warm to a comfortable heat by mid day and stay that way so it's not unbearable to be outdoors. It's a nice reprieve from the usual blazing hot days of summer that will soon be upon us, here in Florida.
Normally, we take a family vacation during the kid's spring break, but things didn't work out like that this year. We're not complaining though, we're having a nice time hanging out and catching up on some much needed rest. Seriously, all the kids have been sleeping until at least eight in the morning! That also means we're having leisurely, late breakfasts like this Vegan Asparagus Quiche.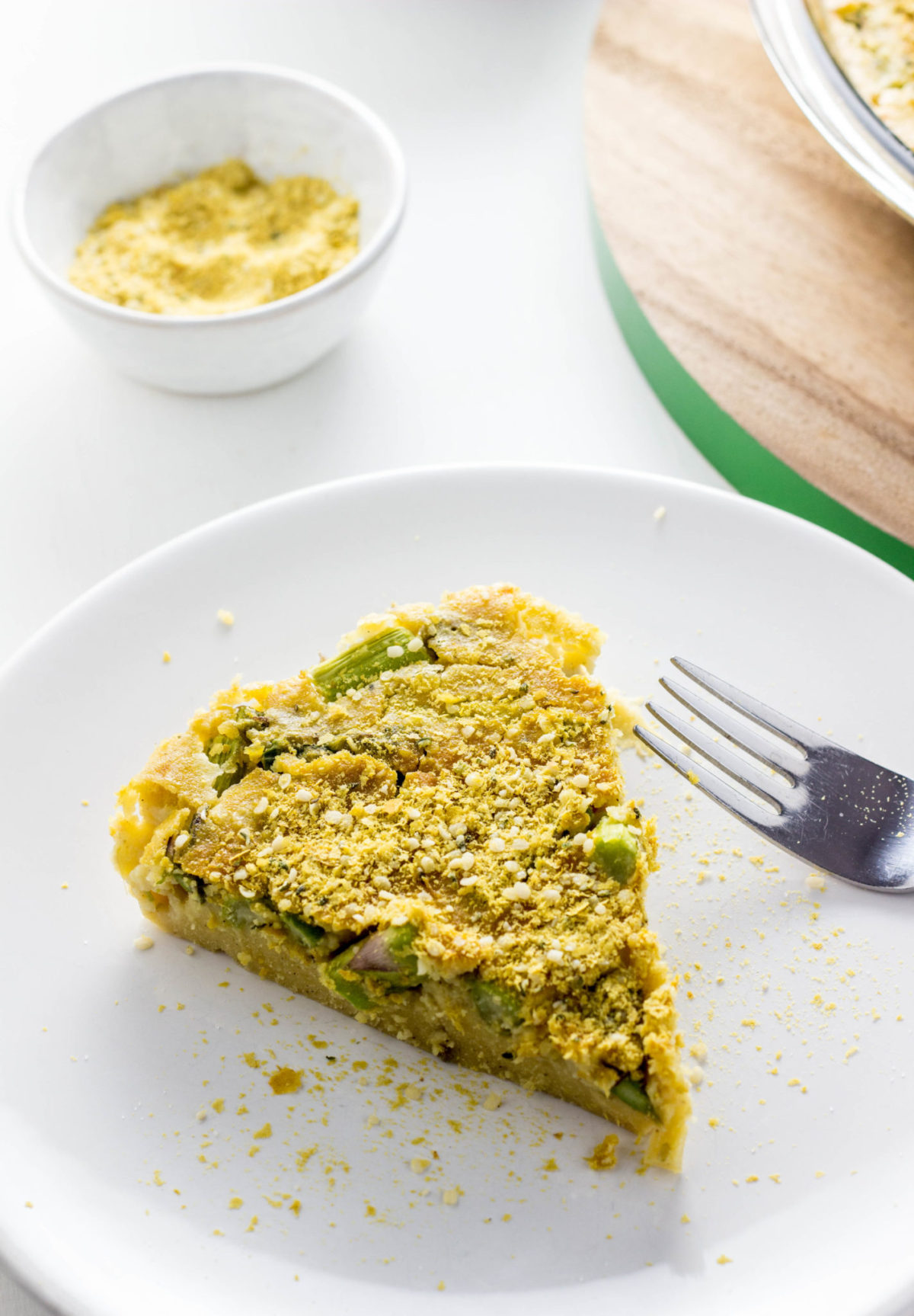 Asparagus is easily one of my favorite vegetables. So, when it starts appearing in the stores I take full advantage and eat it as often as possible during the short season it's available. Unfortunately, only one of my kiddos shares in my love of this spring veggie. It's not surprising though, since she is basically a mini version of me. She and I happily nosh on asparagus in a variety of ways from roasted in the oven to grilled or our new favorite quiche. This quiche is so delicious and very simple to make. As for the other two kiddos, they like the quiche filling itself so they have this zucchini version instead. Chopped broccoli would be a great swap for the asparagus as well.
This quiche is flavorful and delicious on its own, but a generous sprinkle of vegan parmesan really kicks the flavor up even more. Recently, I've started making the parmesan with hemp seeds rather than cashews. It's great because there is no equipment needed this way. I don't even measure anything. Just a bit of hemp seeds, plenty of nutritional yeast and a pinch of salt. Super simple, healthy and delicious.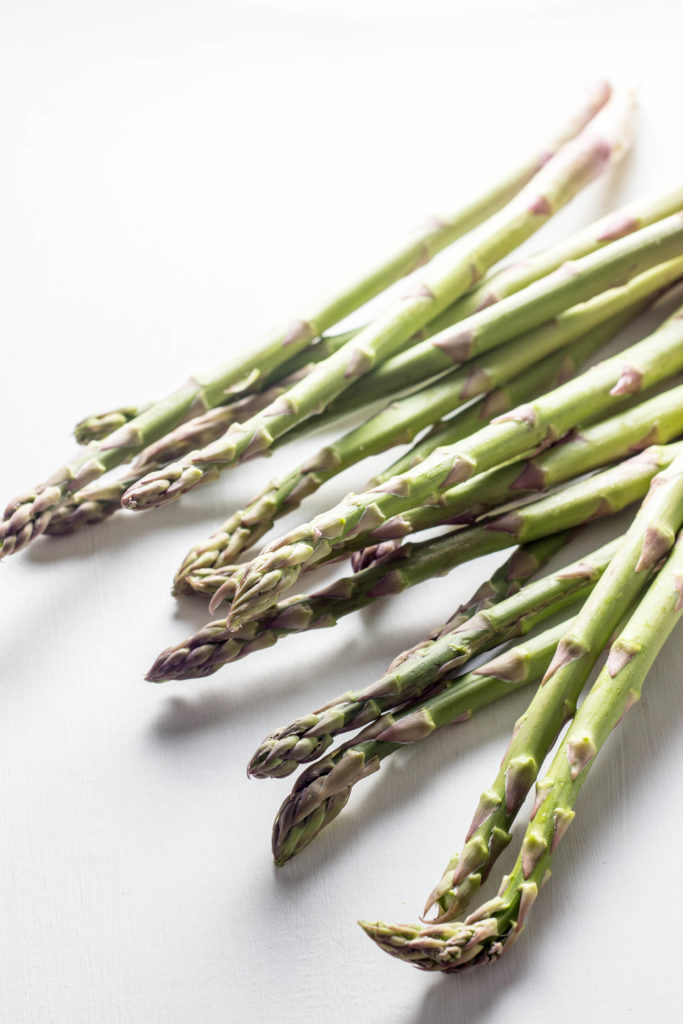 Isn't asparagus just so pretty and spring-y?! It's also quite healthy too. Since it's loaded with fiber, rich in folic acid and plenty of vitamins and minerals like vitamin K, B6, E and calcium and iron.
Garbanzo flour also known as chickpea flour takes the place of eggs in this quiche. If you're not familiar with this flour, it is simply dried garbanzo beans that have been ground finely into a flour. It is naturally gluten free and can be used to make a variety of delicious dishes. We enjoy these omelettes, this zucchini quiche and even cookies.
You can find garbanzo flour in most health food stores and it's becoming more common in everyday grocery stores as well. It can also be ordered from various websites.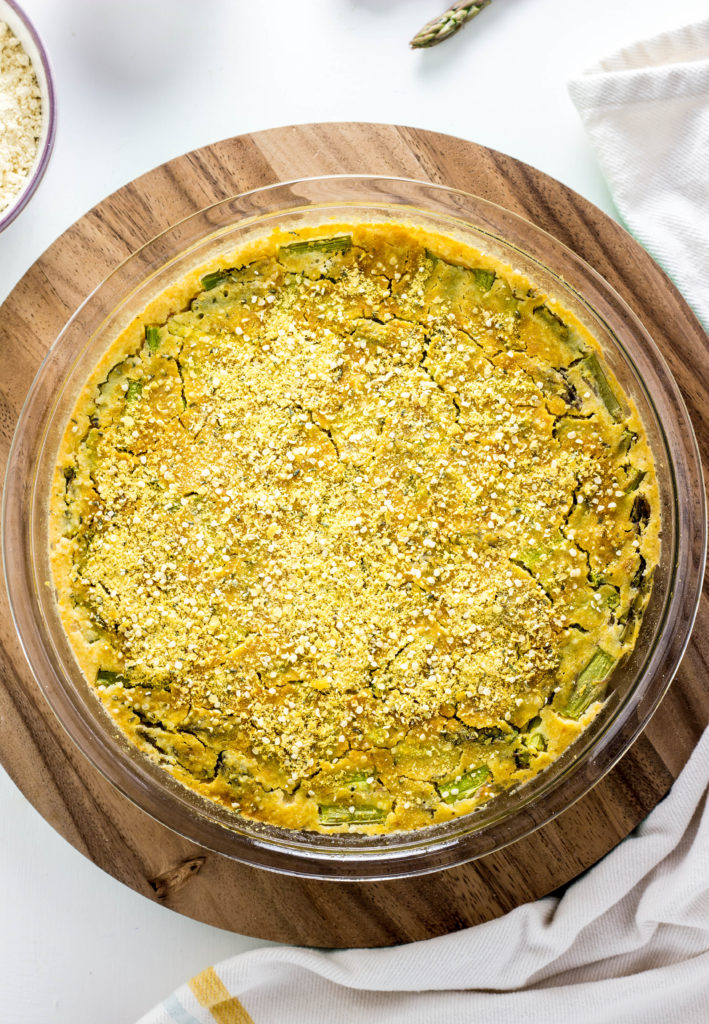 If you try this Vegan Asparagus Quiche, let me know how it turns out! Leave a comment below or snap a pic and tag it @weelittlevegans on Instagram so I'll be sure to see it!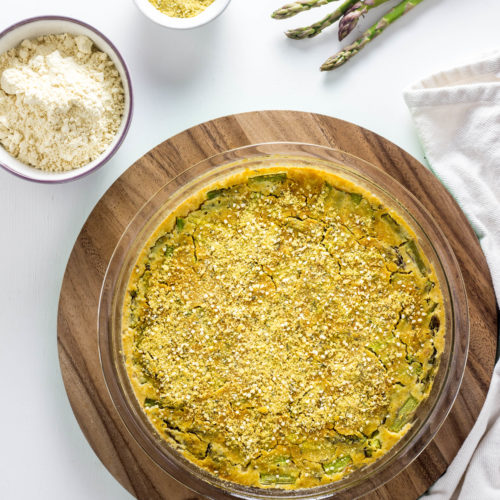 Vegan Asparagus Quiche - Crustless
Ingredients
1 ½

cups

garbanzo flour

2

tablespoon

nutritional yeast

1

teaspoon

salt

3

tbsp

olive oil

1 ½

cup

water

15-20

asparagus spears

Thin spears are best.

2

garlic cloves, minced

2-3

tablespoon

vegan parmesan, link below
Instructions
Pre heat oven to 350 degrees and lightly grease a 9 inch pie plate. Set aside.

Sift garbanzo flour into a bowl. Add nutritional yeast, salt and pepper. Whisk to incorporate.


Add oil, water and garlic, whisking to remove lumps. Set batter aside.


Prepare asparagus by washing and removing the woody ends. Chop into bite sized pieces. 



Transfer asparagus to prepared pie plate and spread in an even layer.


Whisk batter again and pour over asparagus in an even layer. Jiggle the plate to even it out. Sprinkle with vegan parmesan.



Bake for 30-35 minutes or until middle is set and no longer liquid. Broil for a few minutes to brown top, if desired.


8. Allow to cool briefly and serve.
Notes