Vegan Gingerbread French Toast with Maple Cardamom Syrup made with 12 ingredients in about 30 minutes.
* I received product from Little Northern Bakehouse. All opinions are my own.
As a busy mom, I know how hard it can be to take some "me time". This is even more true during the holiday season with the endless errands and ever growing to do lists. With all this hustle and bustle, finding time for a delicious AND healthy meal can be a real challenge too. That's why I'm partnering with Little Northern Bakehouse to "Eat for Me" with this Vegan Gingerbread French Toast.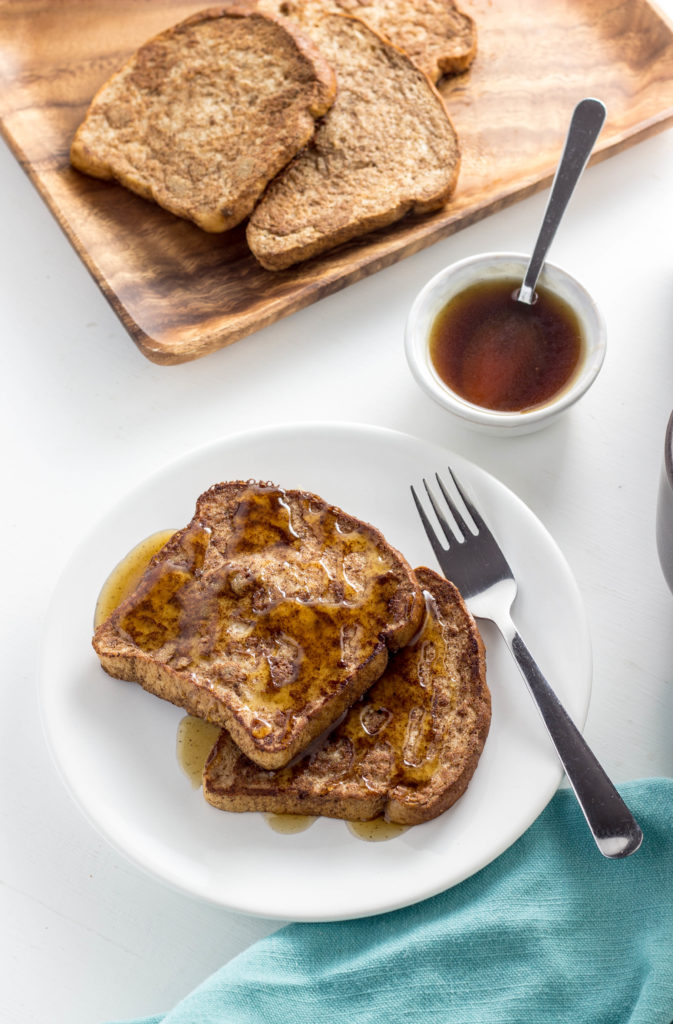 Anyone that knows me, knows how much I love breakfast foods. French toast is my absolute favorite so when I was invited by Little Northern Bakehouse to share my "Eat for Me" experience, naturally I had to whip up a batch. And since we're knee deep into the holiday season, it had to be a festive flavor. I don't think it gets more festive than gingerbread, am I right?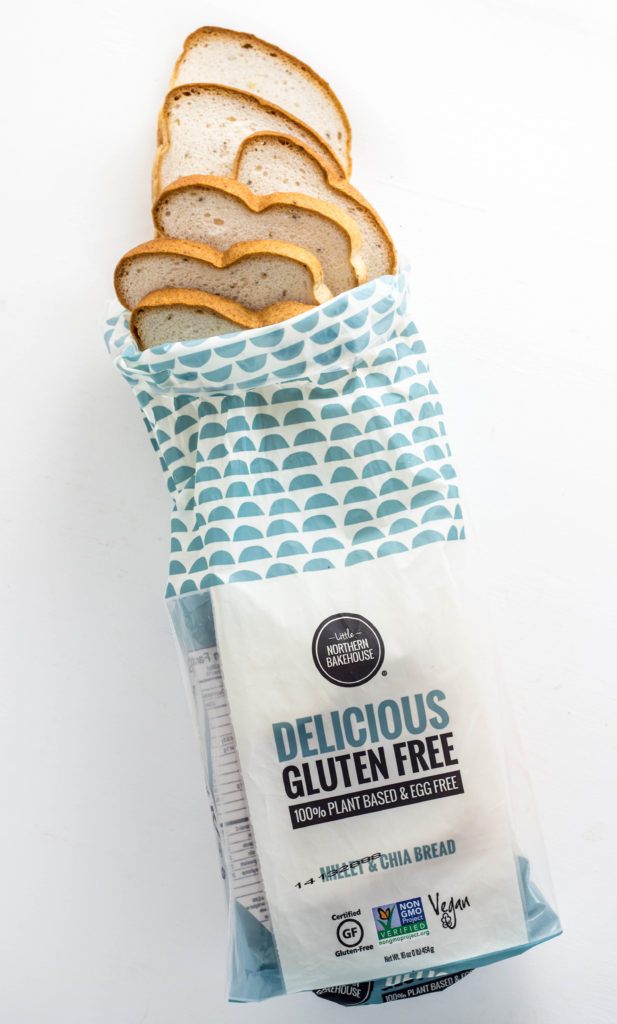 About the bread
Little Northern Bakehouse is dedicated to making healthier, gluten free breads that sacrifice nothing in taste. The breads are sourced from gluten free, non-GMO, and whole food ingredients and most are 100% plant based and vegan. There are many varieties to choose from including Millet & Chia Buns, Millet & Chia Hot Dog Buns, Seeds & Grain Loaf, Whole Grain Wide Slice Loaf, White Wide Slice Loaf, Cinnamon & Raisin Loaf and Millet & Chia Loaf. The company also recently introduced a new variety of breads featuring hearty sprouted grains and seeds. Sprouted grains offer enhanced nutrition and easier digestion.
Something that really appealed to me is the fact that Little Northern Bakehouse Breads are certified glyphosate residue free and display the Bio-Checked Non Glyphosate Certified seal. This chemical has been classified by The World Health Organization as a "probable carcinogen" so knowing third party testing is performed to ensure the absence of it, really gives me peace of mind.
You can find these breads in the freezer section of most natural food stores. I found them in a refrigerated section of the bakery.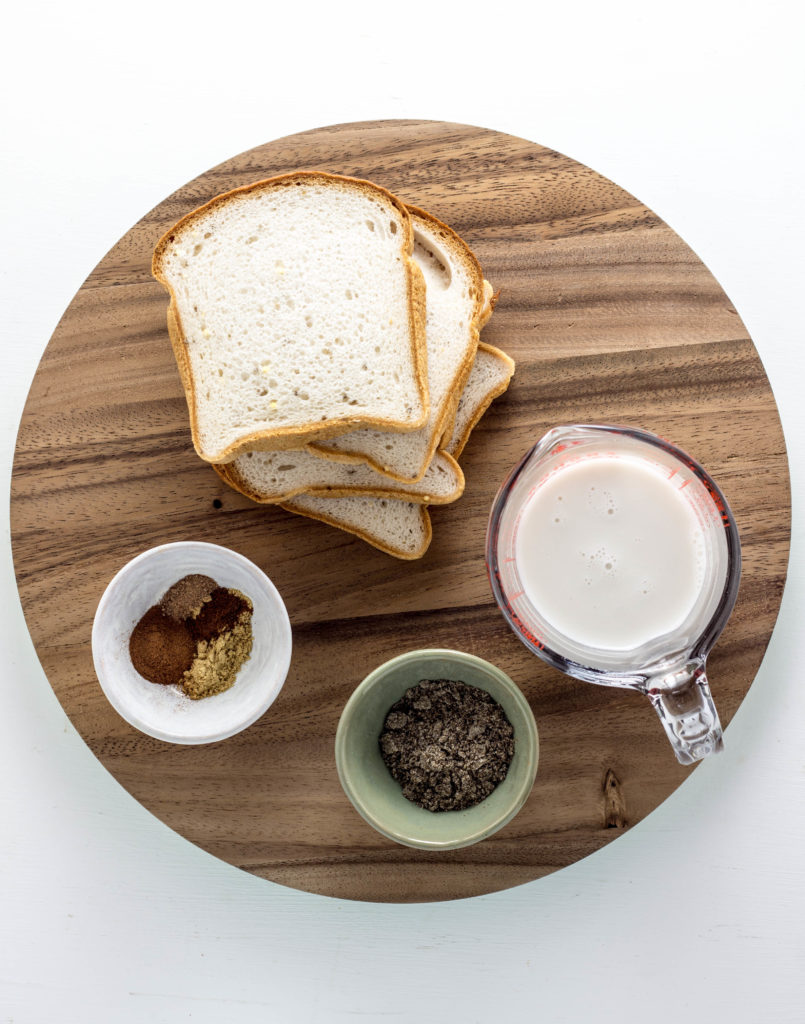 So, what did the family think about the taste of these gluten free and vegan breads?
Finding gluten free bread that is also vegan is not the easiest so I was excited to discover this bread. But, to be honest since we are not a gluten free family I was worried what the kids would think. We tried the Millet Chia Loaf and the Whole Grain Wide Slice Loaf and to my surprise the kids and I enjoyed them. The texture and taste of both varieties is very pleasant. We made homemade hummus and veggie sandwiches with the whole grain loaf, which were delicious. And for this Vegan Gingerbread French toast, I really couldn't tell a difference between this bread and a traditional gluten bread. The edges crisp nicely and the inside is soft as it should be.
Now, French toast isn't complete without a drizzle of real maple syrup for me. To make the syrup extra special, I warmed it with a dash of cardamom because I'm pretty much obsessed with this spice at the moment. My goodness, so good! Add a small bit of vegan butter or coconut oil and vanilla and it's pure bliss. Cardamom pairs really well with warm spices like cinnamon and ginger so this syrup compliments the gingerbread flavor nicely.
Note: you likely won't need all of the syrup for a small batch like this. Just store the extra in a jar in the fridge and use with 1-2 weeks.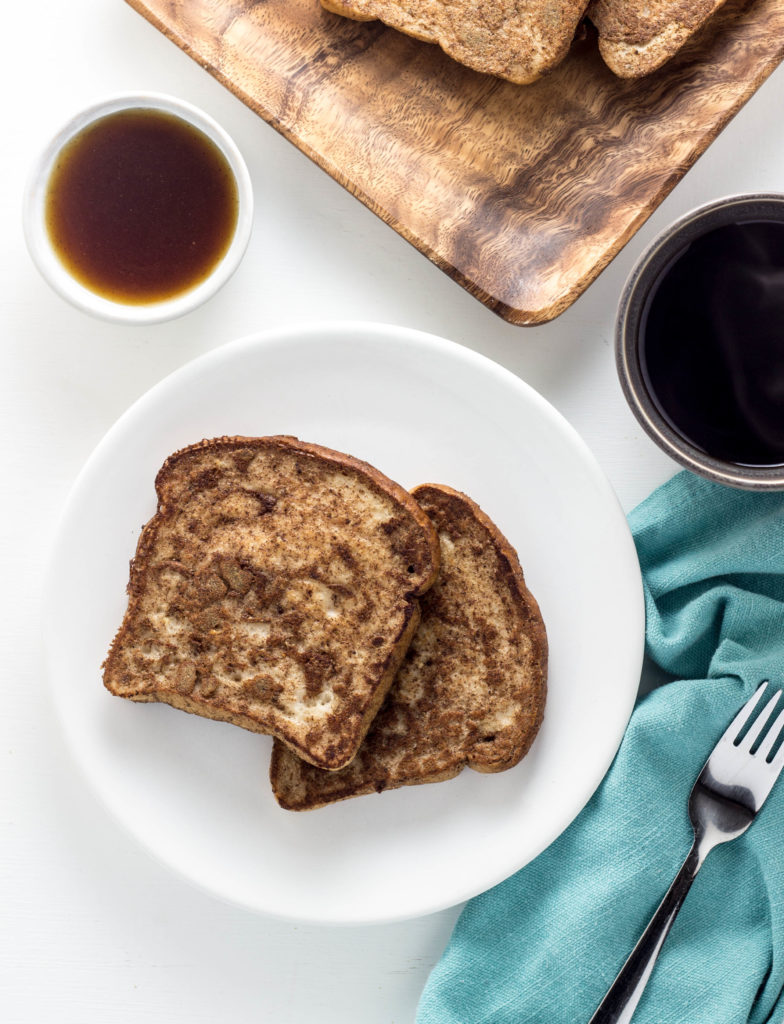 If you try this Vegan Gingerbread French Toast, let me know how it turns out! Leave a comment below or snap a pic and tag it @weelittlevegans on Instagram so I'll be sure to see it!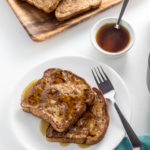 Vegan Gingerbread French Toast - Gluten Free
Ingredients
French toast:
½

cup

non dairy milk, unsweetened.

I used unsweetened vanilla.

1

tbsp

maple syrup

optional

1

tablespoon

ground chia seeds

½

teaspoon

cinnamon

½

teaspoon

ground ginger

⅛

teaspoon

ground nutmeg

⅛

teaspoon

ground cloves

pinch of salt

4-5

slices

Little Northern Bakehouse Millet & Chia Bread
Maple cardamom syrup:
¼

cup

real maple syrup

⅛

teaspoon

ground cardamom

¼

teaspoon

vanilla

1

tablespoon

vegan butter or coconut oil

optional
Instructions
In a shallow dish combine non dairy milk, syrup, spices and chia seeds. Whisk to thoroughly combine. Set aside to thicken for 5-10 minutes.

Heat a bit of vegan butter or oil in a skillet or griddle over medium heat.

Dip slices of bread in chia mixture coating both sides and place in skillet.

Cook until browned, about 4-5 minutes. Flip and cook the other side until browned, another 4-5 minutes.

Continue until all slices have been prepared. Keep finished French toast warm until serving by placing on a baking sheet in an oven set to 200 degrees.

While toast cooks, combine maple syrup and cardamom in a small sauce pan and heat over medium low heat for 5-7 minutes. Remove from heat, add vanilla and butter or oil, if using, stirring to combine as it melts. The syrup will thicken slightly as it cools.

Serve with a drizzle of the maple cardamom syrup.
Recipe Notes
You will likely have leftover syrup. Store in the air tight container in the fridge for 1-2 weeks. Stir and warm before serving. 
Recipe can easily be doubled, if needed.