Tender, moist, and packed with flavor these Vegan Lime Avocado Muffins are made with just 8 ingredients and ready in about 30 minutes. Kid tested and approved!
I should probably be sharing pumpkin-y recipes or something for Thanksgiving right now, but these Vegan Lime Avocado Muffins happened and they just couldn't wait. But, don't worry I have some very yummy Thanksgiving dishes coming up.
These muffins are the result of having a bag of limes and an avocado in the veggie drawer and not much else and the need for a quick, kid friendly snack. That bag of limes had been staring at me for a week or so begging to be turned in to something delicious, but I just couldn't decide on what to do. I kicked around a few ideas like making cookies or smoothies or cheesecake, but I wasn't feeling any of those. So, there the limes sat while I pondered it until I had no choice, the kids needed snacks. And it had to be something healthy and portable so cookies and cheesecake were definitely out. Muffins are portable and can be made healthier so they were the perfect solution.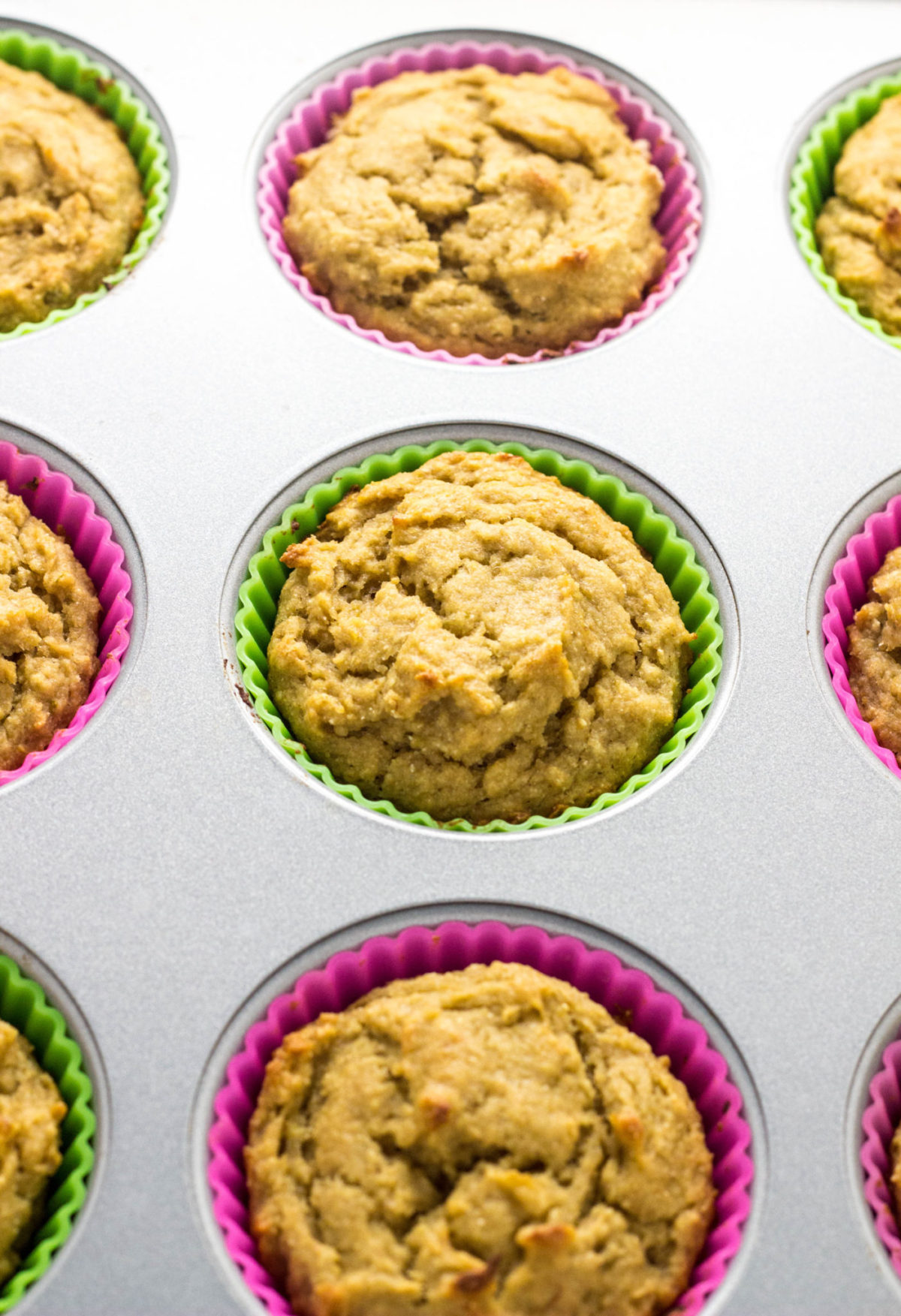 Ok, confession time...I am not a big avocado fan and neither is anyone else in our family. I know, I know what kind of vegans are we?! But, since avocados are super healthy, I'm always looking for ways to incorporate this fruit into our meals without it being too obvious. I've made puddings and popsicles before and while super tasty I felt like having something different. So, I thought I'd try muffins and it worked very well. I replaced the oil in my go to recipe with the avocado and the result was still a moist, tender muffin with no detectable avocado flavor. Win!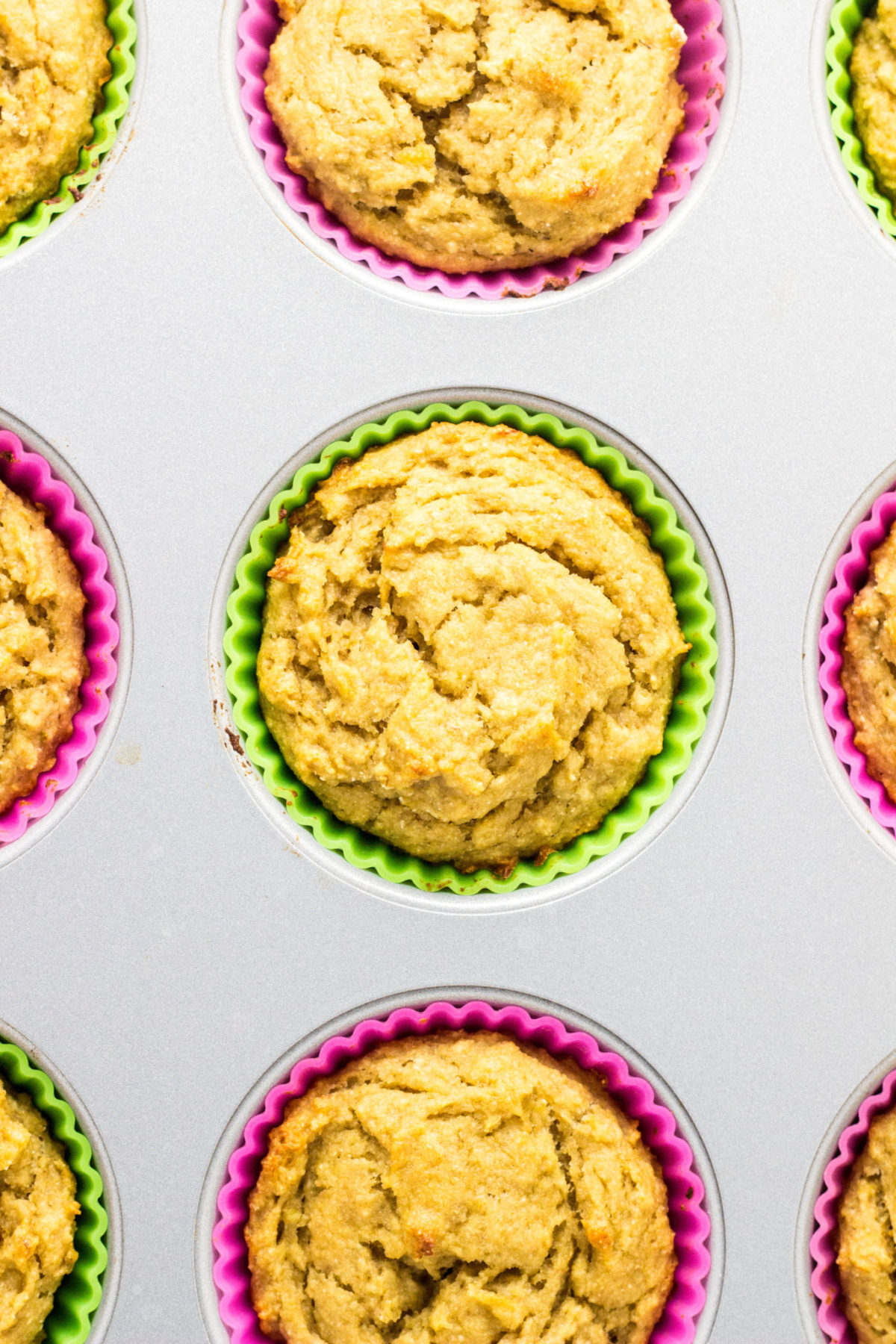 These muffins are so simple, have only 8 ingredients and none of them are refined sugar. I used banana and maple syrup to naturally sweeten these, but there's not a banana-y flavor. The lime juice and zest is the prominent flavor without it being overbearing. Now you might be concerned the little ones won't go for the lime flavor, but my taste testers loved it!
All three of my little vegans gobbled these muffins right up and asked for more without having any idea they were eating avocado. They were surprised when I told them, but it didn't deter them from packing one in their lunchbox for school the next day.
Honestly, I wasn't sure how my littlest one would feel about these since she's going through a bit of a picky stage (it's mostly a texture thing) at the moment, but she absolutely loves them! She makes little "mmm" sounds the whole time she's eating one and it is about the cutest thing ever.
I've been experimenting with varying the oven temperatures lately after reading more about the science behind baking temps so you'll notice these muffins start at a higher temperature before being lowered to finish up. The higher temperature helps to lift the muffin quickly creating a more doomed top and the lower temp ensures the muffins bake through without burning the outside. I tested this out first baking at batch at the usual 350 degrees and then baking a second batch at 425 degrees for 5 minutes before lowering to 375 degrees and it really does make a difference.
Although I haven't tried it, I'm sure an all purpose 1:1 gluten free flour blend would work just fine to make these muffins gluten free.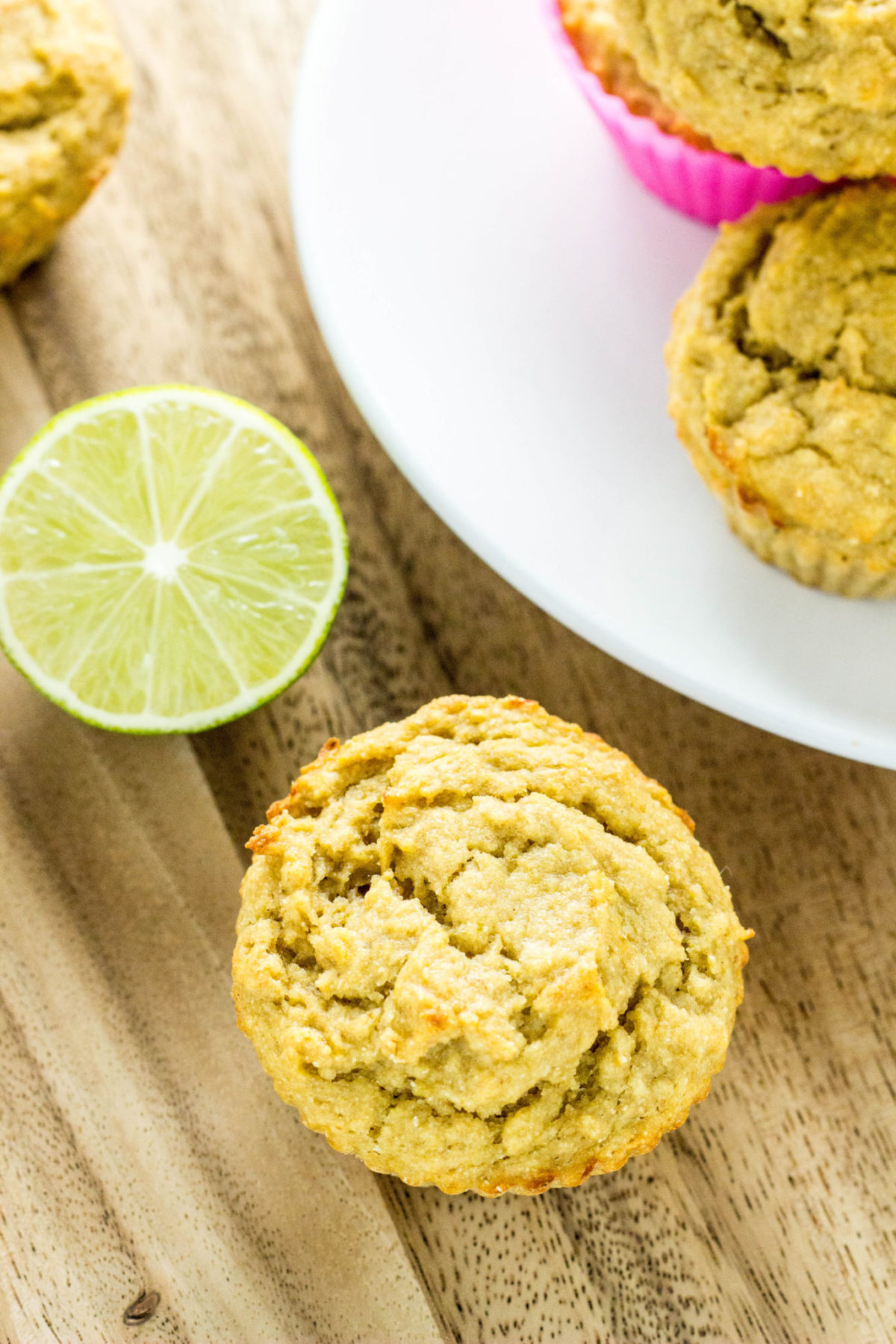 If you try this recipe or any others, I'd love to know how it turns out! Leave me a comment below or snap a pic and tag it @weelittlevegans on Instagram so I'll be sure to see it!
Vegan Lime Avocado Muffins
Ingredients
1

large

avocado

juice of 3 limes, about ¼ cup

1

teaspoon

lime zest

¼

cup

maple syrup

2

ripe bananas

1 ½

cuP

white whole wheat flour, sifted

2

tsp

baking powder

¼

teaspoon

salt
Instructions
Preheat oven to 425 degrees. Prepare a muffin pan with liners and set aside.

Combine avocado flesh, lime juice, lime zest, maple syrup, and bananas in the bowl of food processor and blend until smooth.

In a large bowl combine sifted flour, baking powder, and salt.

Pour avocado mixture into the flour bowl and stir just to combine.

Scoop batter into wells of muffin pan.

Bake for 5 minutes at 425 degrees.

Then lower temperature to 375 degrees and continue to bake for 20-22 minutes longer or until toothpick inserted comes out clean.

Allow to cool for 10 minutes before removing from pan to continue cooling on a wire rack.
CLICK BELOW TO PIN FOR LATER