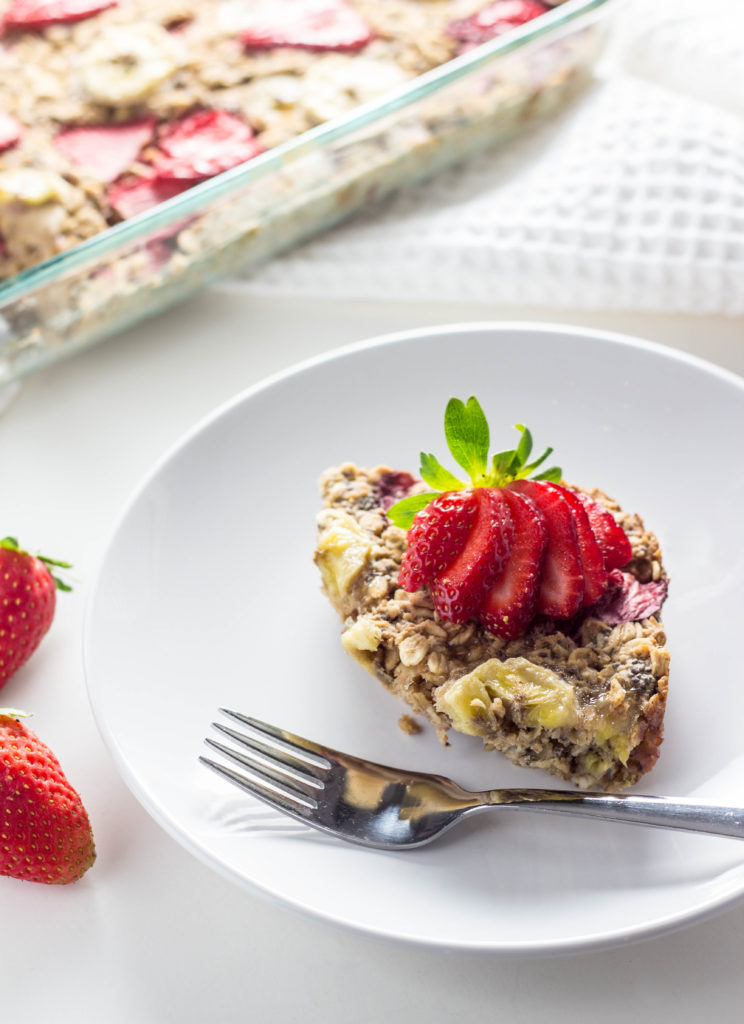 The kids have been back in school for nearly 2 weeks now, and we haven't quite perfected the morning time routine. We're still figuring out just the right time to get out the door to make it through car line so the girl's get to class on time. They have been late a few times, but the teachers are understanding because they know what it is like out there. My daughter's teacher refers to it as "crazy car line" and she is not exaggerating. It is madness this year, I mean it usually is for the first few days every year, but this year it is something else. I truly hope is calms down and thins out soon or we may have to start getting up even earlier!
With all the hustle and bustle in the mornings, I need breakfasts that will keep the girls full until lunchtime and can be made ahead of time. That is why I love baked oatmeals. You can make one before the week begins and warm up a serving each morning for a satisfying, hearty breakfast that lasts. The current flavor I'm making is this Strawberry Banana Baked Oatmeal and my girls love it.
I don't think there are too many kiddos( or adults) who don't like strawberries and bananas together. It's such a classic flavor combo and just look at how those bananas cook down and get a bit gooey. Yum!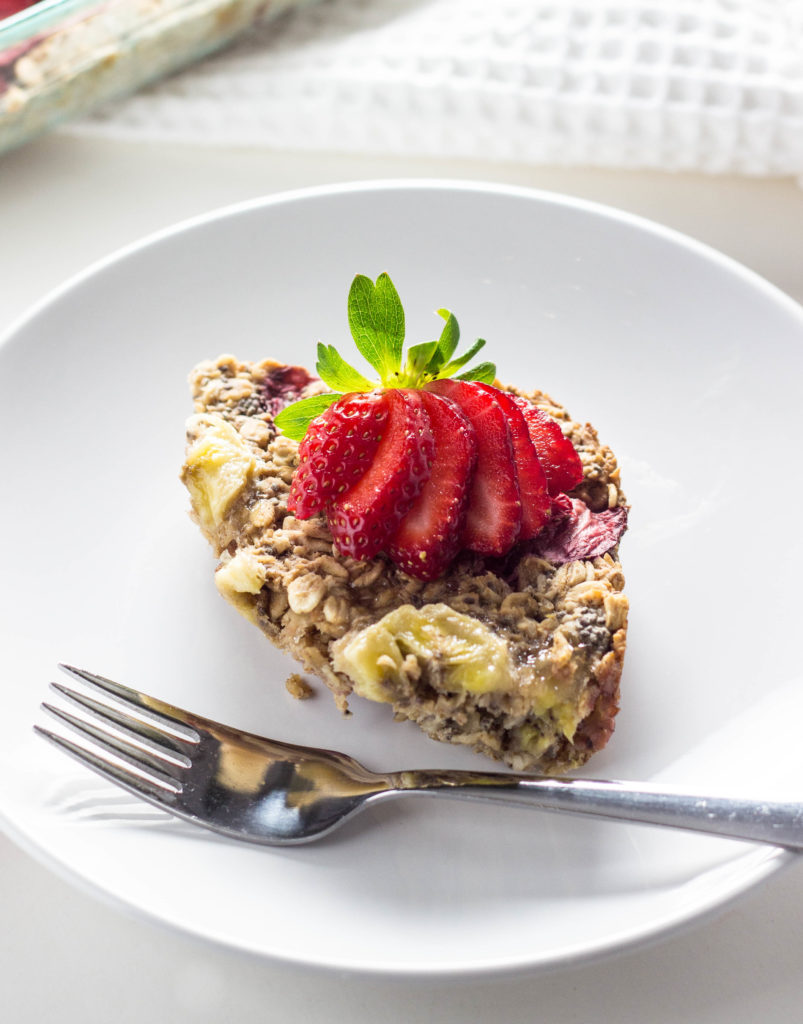 I like to add chia seeds to the baked oatmeals I make not only to help hold everything together, but to also to get in some extra nutrition. Chia seeds are a pretty good source of omega-3, fiber, protein, and nutrients like magnesium and calcium.  So, the kids and I are getting a tasty and nutritious start to the day.
Since this baked oatmeal holds together so well and can even be sliced into bars, it's great for a grab and go meal on those mornings when there just isn't time for breakfast. No reason to skip breakfast when you have this waiting for you!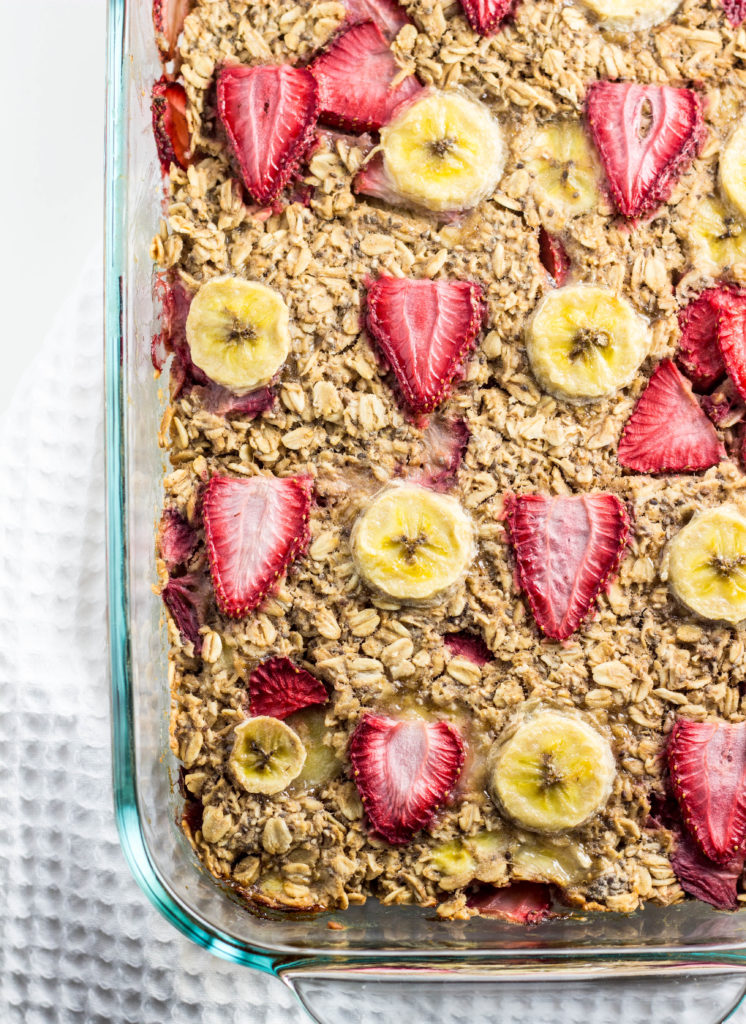 If you try this recipe, let me know how it turns out! Leave a comment below or snap a pic and tag it @weelittlevegans on Instagram so I'll be sure to see it!
Have your little one's gone back to school yet? If so, do you do car line drop off and is it crazy long like ours?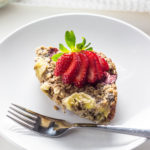 Strawberry Banana Baked Oatmeal
Ingredients
2

tbsp

chia seeds

1 ⅓

cup

non dairy milk, slightly warmed

3

cups

old fashioned oats

Gluten free if needed.

2

teaspoon

baking powder

1

teaspoon

cinnamon

¼

tsp

salt

⅓

cup

coconut sugar

3

tablespoon

coconut oil, melted

2

tsp

vanilla extract

1

banana, sliced

1

cup

strawberries, sliced
Instructions
Preheat oven to 350 degrees and lightly oil a 7 x 11 baking dish. You could also use a 9 X 13 dish just reduce baking time a few minutes.

In a small bowl combine chia seeds and milk. Set aside for 3-4 minutes to thicken a bit.

In a large bowl combine oats, baking powder, cinnamon, salt, and coconut sugar.

Add coconut oil and vanilla to milk and stir to combine.

Pour wet ingredients over dry and combine.

Add bananas and strawberries and fold in to combine.

Transfer oat mixture to prepared baking dish and bake for 30 - 40 minutes.