Buffalo Potato Wedges with Vegan Blue Cheese Dip, delicious and fun to eat!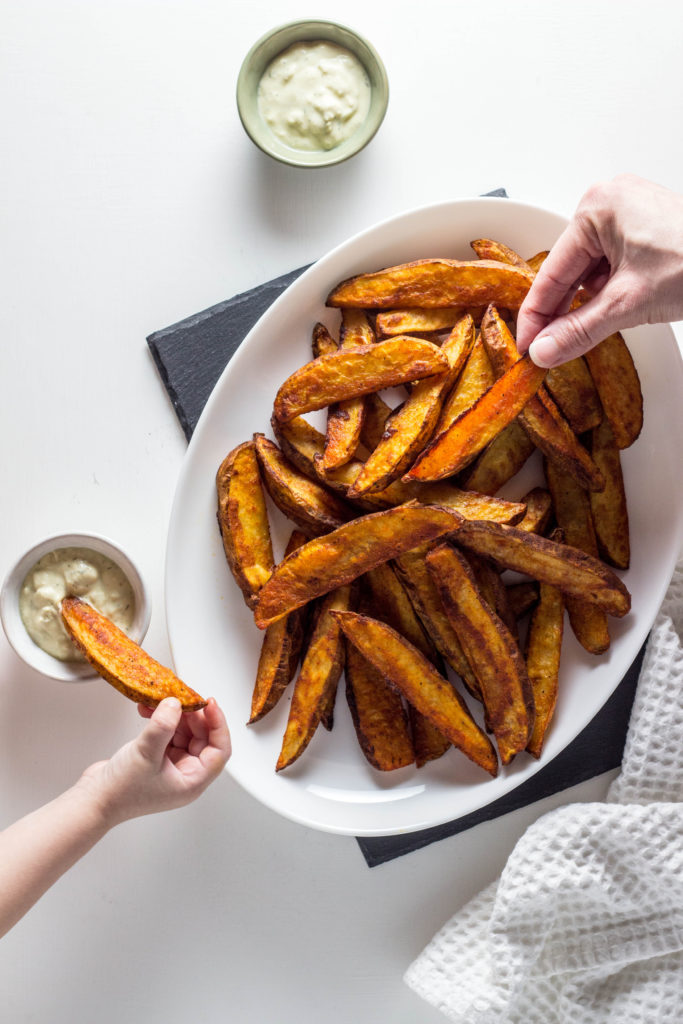 Hi friends, I've got a fun one for you today. These Vegan Buffalo Potato Wedges with Vegan Blue Cheese Dip are super simple and completely delicious. They are perfect for parties and get togethers or just for snacking. We like to enjoy them as an after school snack.
The vegan blue cheese dip was a total hit with everyone, it is so good! As a kid, I thought blue cheese was gross, but this vegan version I could eat by the spoonful. And I wouldn't feel guilty about it one bit. The base of this version is made with nondairy yogurt so there are lots of good for your gut probiotics and the "blue cheese" chunks are crumbled tofu, hello protein. Add a bit of seasoning and good bit of lemon juice and vinegar for tanginess and this dip is pretty dang delicious and healthy too.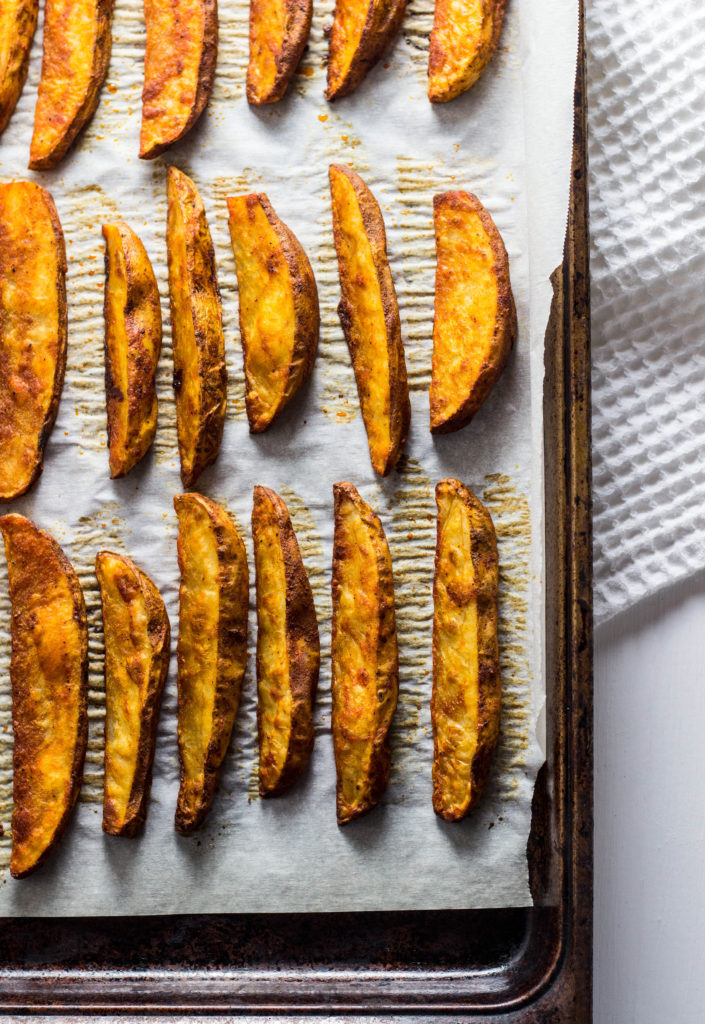 A few tips for making the perfect wedges:
To cut the potatoes:
Start by cutting each potato in half lengthwise, cut the halves in half again and finally cut the the quarters in half again for a total of 8 wedges per potato. Use a sharp knife, to avoid cuts, which are more likely to happen with a dull knife.
Baking:
Once you have your wedges cut and coated in the buffalo sauce, it's time to bake! To get that crispy texture on the outside, don't crowd the pan. Leave some space around each wedge and use a second pan if needed. Also, be sure your oven is fully preheated. You want the potatoes to go in a hot oven to really crisp the outside.
Adjusting the spiciness:
The amount of hot sauce called for in this recipe is, for us, just the right amount of heat, but if your little ones are sensitive you can always use less. The dip is cool and creamy and really balances the heat quite nicely. Try these cheesy wedges if you're really averse to spicy food.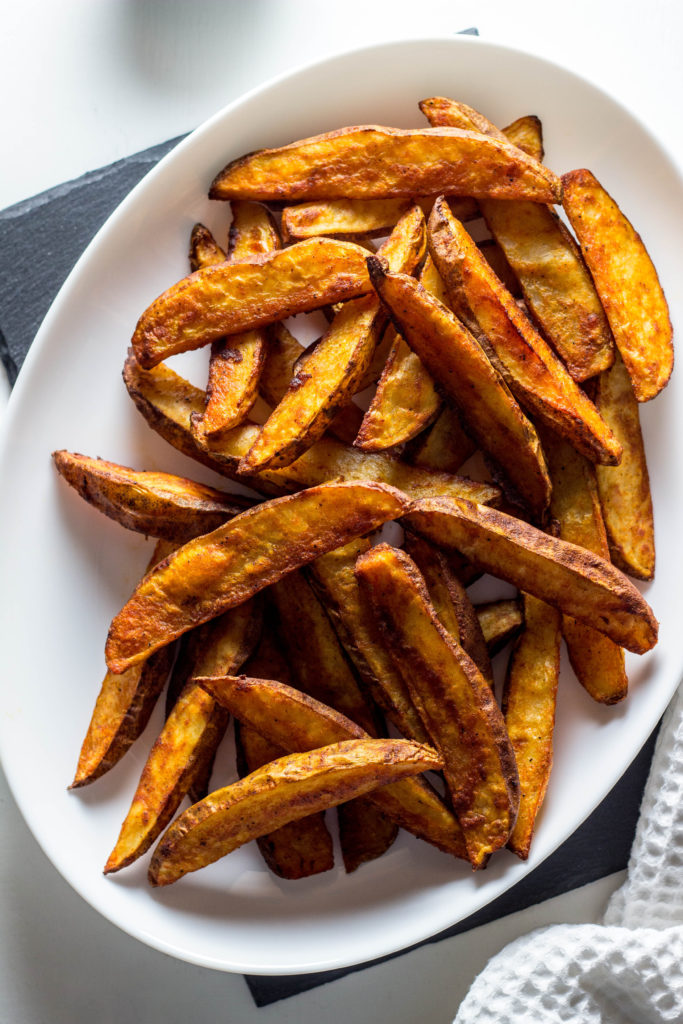 Buffalo Potato Wedges with Vegan Blue Cheese Dip
Ingredients
Buffalo Potato Wedges
4 -5

large

russet potatoes

3

tbsp

hot sauce

Like Crystal's or Frank's Red Hot

2

tablespoon

olive oil

2

teaspoon

smoked paprika

½-3/4

teaspoon

salt

¼

teaspoon

black pepper
Vegan Blue Cheese Dip
1

cup

non dairy yogurt, plain and unsweetened

I use Kitehill almond milk yogurt.

2

tablespoon

nutritional yeast

2

tablespoon

lemon juice, fresh squeezed

1

tablespoon

white vinegar

2

teaspoon

dijon mustard

¼

teaspoon

dried dill

½

teaspoon

onion powder

½

teaspoon

garlic powder

½

teaspoon

salt

½

cup

crumbled super firm tofu
Instructions
Preheat oven to 400 degrees and line a large baking sheet with parchment paper.

Slice potatoes into wedges and place in a large bowl.

Combine hot sauce, oil, paprika, salt and pepper in a small bowl and whisk well to combine.

Pour hot sauce mixture over potato wedges and toss to coat.

Arrange wedges in a single layer on prepared baking sheet. Do not overcrowd pan. Use a second pan if necessary.

Bake for 25 minutes. Flip and continue to bake for another 20-25 minutes or until crisp and slightly browned.
Vegan Blue Cheese Dip
Drain tofu and press, if needed to remove as much water as possible. Do this by wrapping tofu in a lint free towel and placing something heavy on top. Skip this step and use a pre pressed tofu, if available.

Combine all ingredients except tofu in a bowl, whisking to thoroughly combine.

Add tofu crumbles and stir to incorporate.

Store in the fridge until ready to serve.
Recipe Notes
The vegan blue cheese dip can be made several hours ahead of time and in fact tastes better as the flavors have time to meld. Simply whip up and store in an air tight container in the fridge until ready to serve.