Crispy and full of flavor, these Vegan Cheesy Herb Potato Wedges are sure to be a big hit with the little ones! They're made with only 9 ingredients ready in about an hour.
Potatoes in all of their many forms will forever be a favorite around our house. No fear of carbs here 😉 But seriously, what's not to love about potatoes? Mash 'em, roast 'em, bake 'em whole, no matter what you do with them it's nearly guaranteed to be delicious.
Our current favorite way to enjoy potatoes is in the form of these Vegan Cheesy Herb Roasted Potato Wedges and oh my are they delicious. They're crispy on the outside, soft and fluffy on the inside, and full of delicious flavor.
How to make it:
To get the best results, the type of potato you use matters. Starchy varieties are best for baking so go with Russet or Idaho potatoes to make your wedges. Selecting potatoes around the same size is ideal to ensure even baking time. I prefer long wedges so I select potatoes accordingly.
After you gather and clean your potatoes, it's time to cut your wedges. Start by cutting each potato in half lengthwise, cut the halves in half again and finally cut the the quarters in half again for a total of 8 wedges per potato. Be sure to use a sharp knife, as you're more like to cut yourself with a dull one.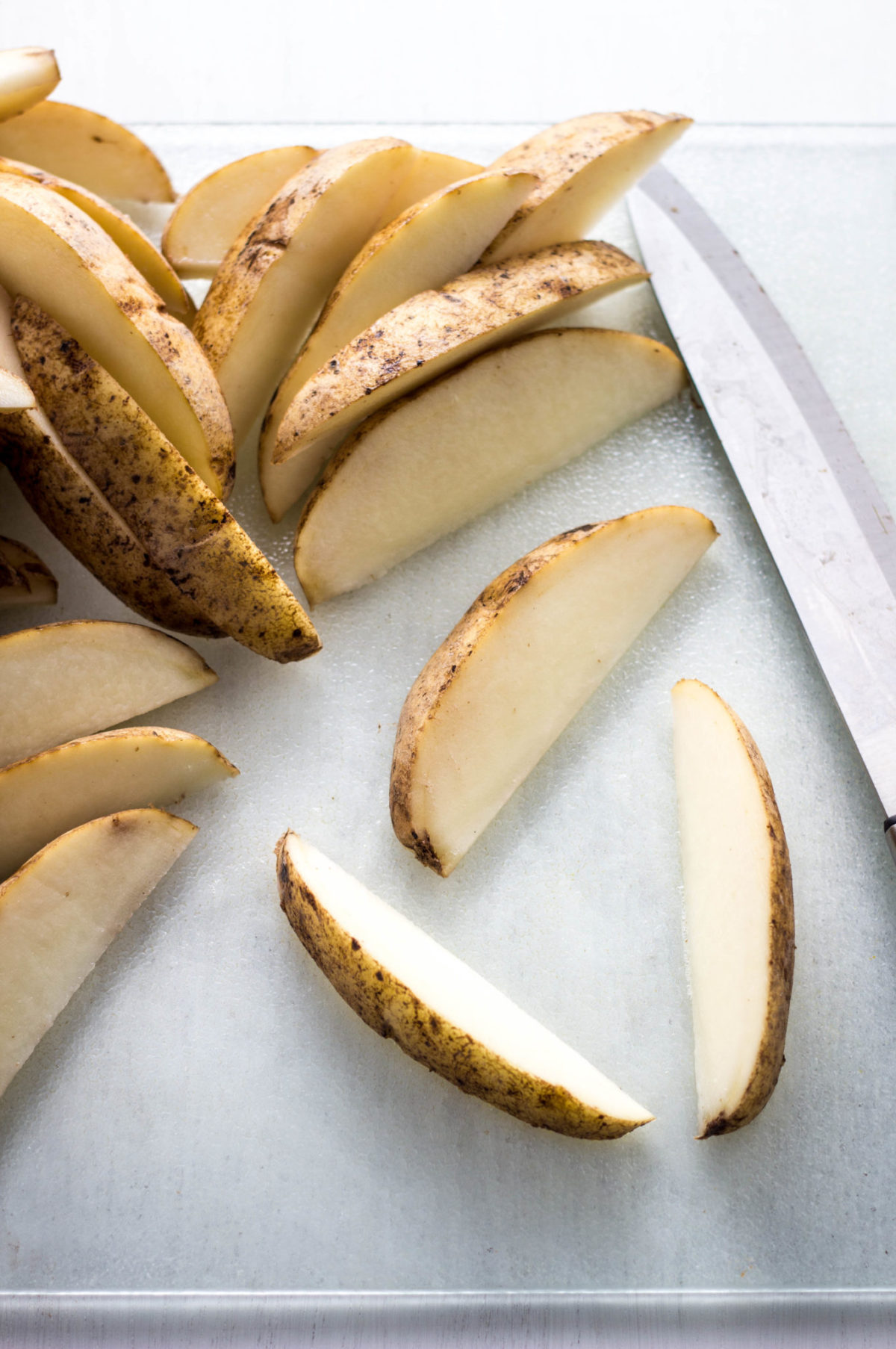 The next step is to coat the wedges with the cheesy herb flavoring made with olive oil, nutritional yeast, fresh herbs, and a few other seasonings. The herb mixture is thick, more like a paste so the best way to coat the wedges is to use your hands. Sometimes you just have to get a little messy in the kitchen!
To get that yummy crispy texture on the outside, it's important to not crowd the pan so leave a bit of space around each wedge and use a second pan if needed. Also, be sure your oven is fully preheated. You want the potatoes to go in a hot oven to really crisp the outside.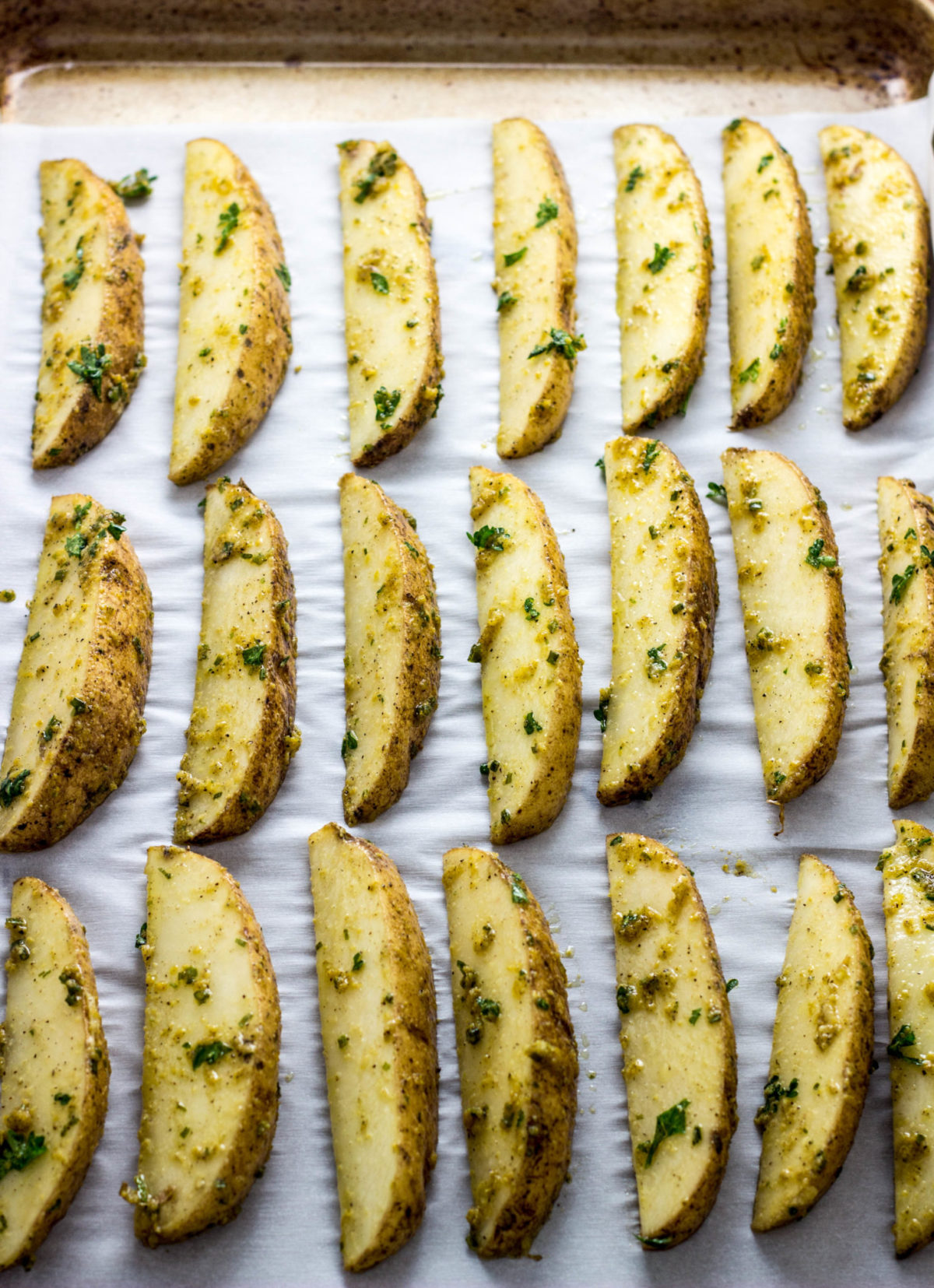 Check out that lovely color and crisp. Is your mouth watering yet? I know mine is.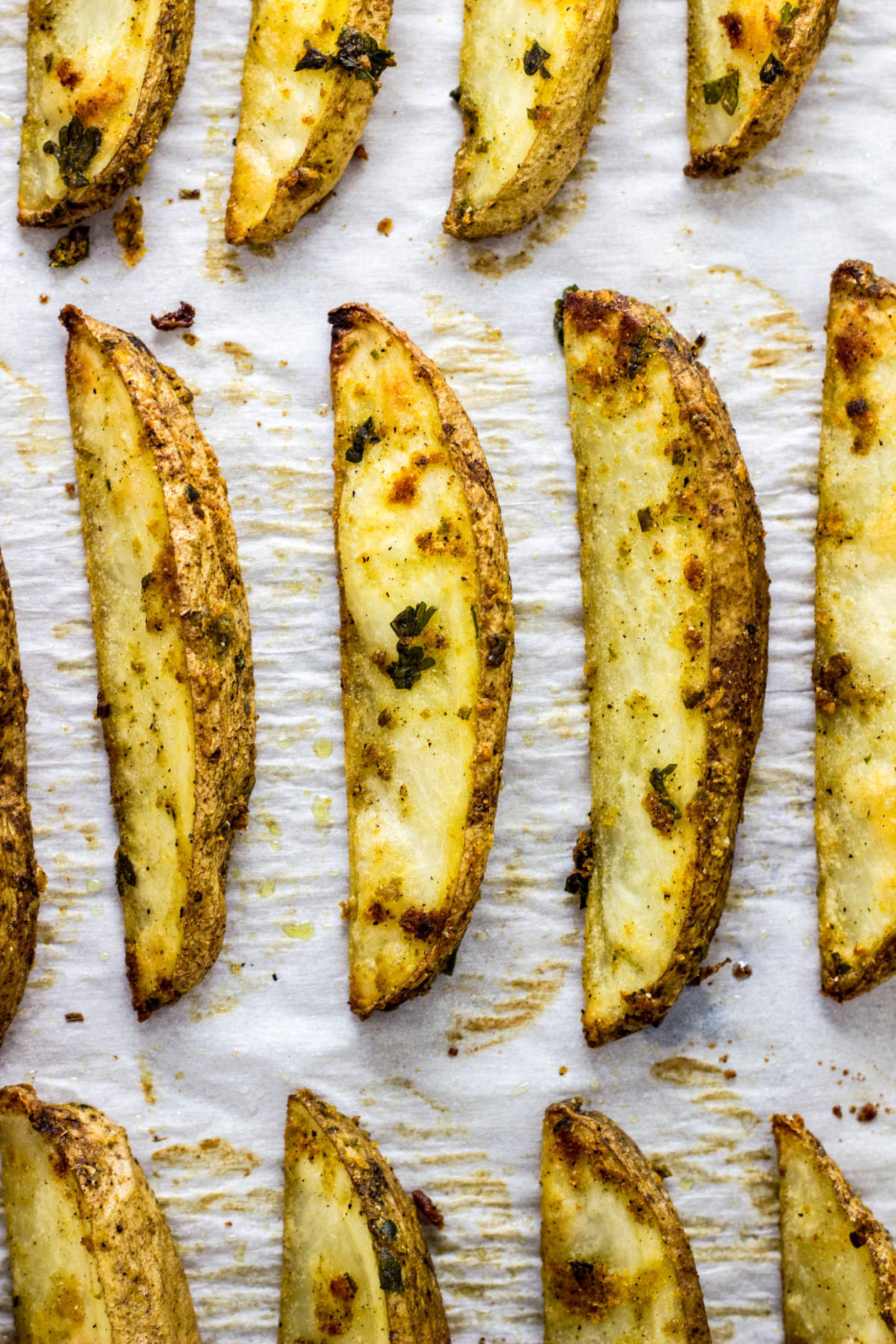 Once baked top with additional chopped herbs and an extra sprinkle of nutritional yeast and dig in!
These wedges are a great side dish for burgers, sandwiches and sliders, or just on their own whenever a french fry craving strikes. I think they would make a great kid friendly addition to the Thanksgiving table too.
If you try this recipe, let me know how it turns out! Leave a comment below or snap a pic and tag it @weelittlevegans on Instagram so I'll be sure to see it!
Vegan Cheesy Herb Potato Wedges
Ingredients
4

russet potatoes, washed and sliced into wedges

3

tablespoon

olive oil

2

tablespoon

nutritional yeast

2

large garlic cloves, minced

¾

teaspoon

salt

½

teaspoon

black pepper

1

tsp

dried chives

½

tsp

dried parsley or 2-3 sprigs fresh, leaves only, roughly chopped

1

teaspoon

onion powder
Instructions
Preheat oven to 425 degrees and line a large baking sheet or two with parchment paper. Set aside.

In a large bowl combine olive oil, nutritional yeast, and seasonings.

Add sliced potatoes to bowl and use hands to gently toss and coat with mixture.

Place wedges on parchment lined baking sheet. Be sure not to over crowd the pan and leave a bit of space around each wedge to ensure even browning.

Bake for 40-45 minutes flipping halfway until wedges are cooked through and lightly browned.

Top with additional chopped herbs and a sprinkle of nutritional yeast if desired and serve warm.