Easy Flatbread, made with 4 simple ingredients and no yeast! Add your favorite toppings for a delicious simple pizza.
This Easy Flatbread is super quick to make and can be used in a variety of delicious ways. Add your favorite toppings to make a simple pizza, or use it as the bread in a sandwich or serve it with your favorite dips.
Try my perfect for summer tomato flatbread with tofu ricotta or pair it with this delicious dip.
Jump to:
Ingredients
These flatbreads are really easy to make with just four basic ingredients needed. And no yeast!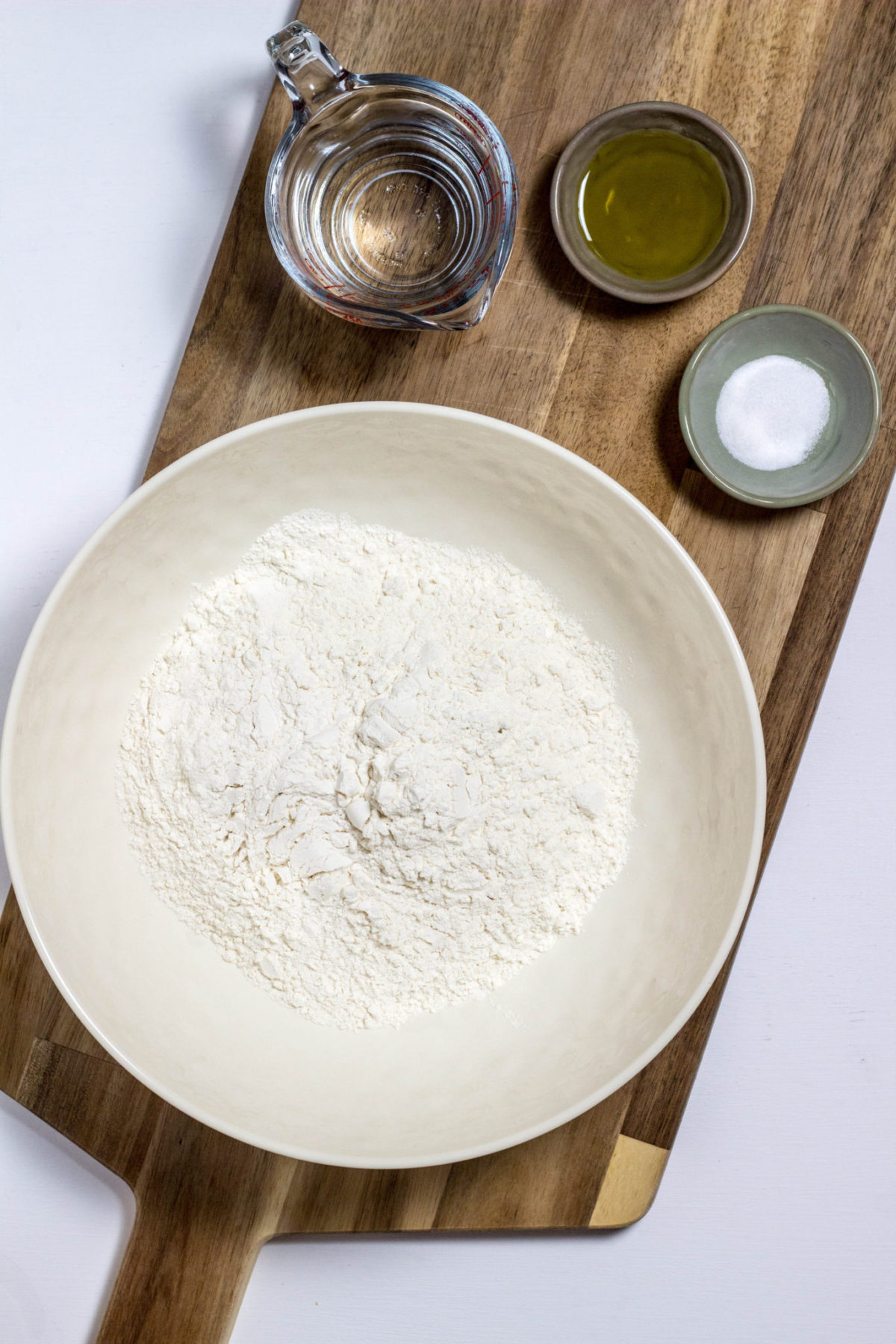 all purpose flour
salt
olive oil
water
See recipe card for quantities.
Instructions
Making these flatbreads is easier than you'd think. There's no yeast involved so there's no waiting for the dough to rise. Making the dough takes about 10 minutes of hands on time and 20 minutes of rest time to let the dough relax before rolling out.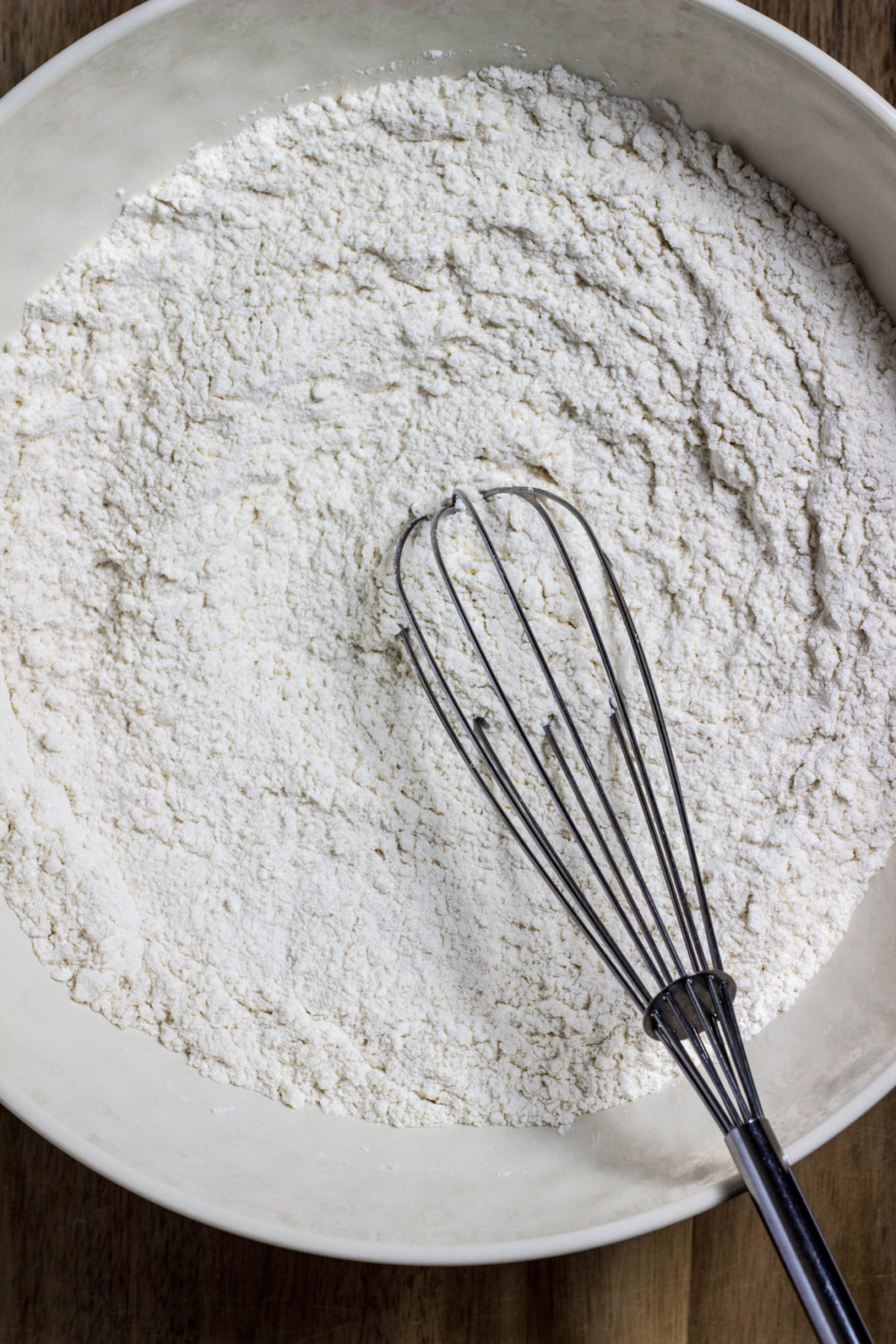 In a large bowl, whisk together flour and salt. Form a well in the middle of flour and pour oil and water into it.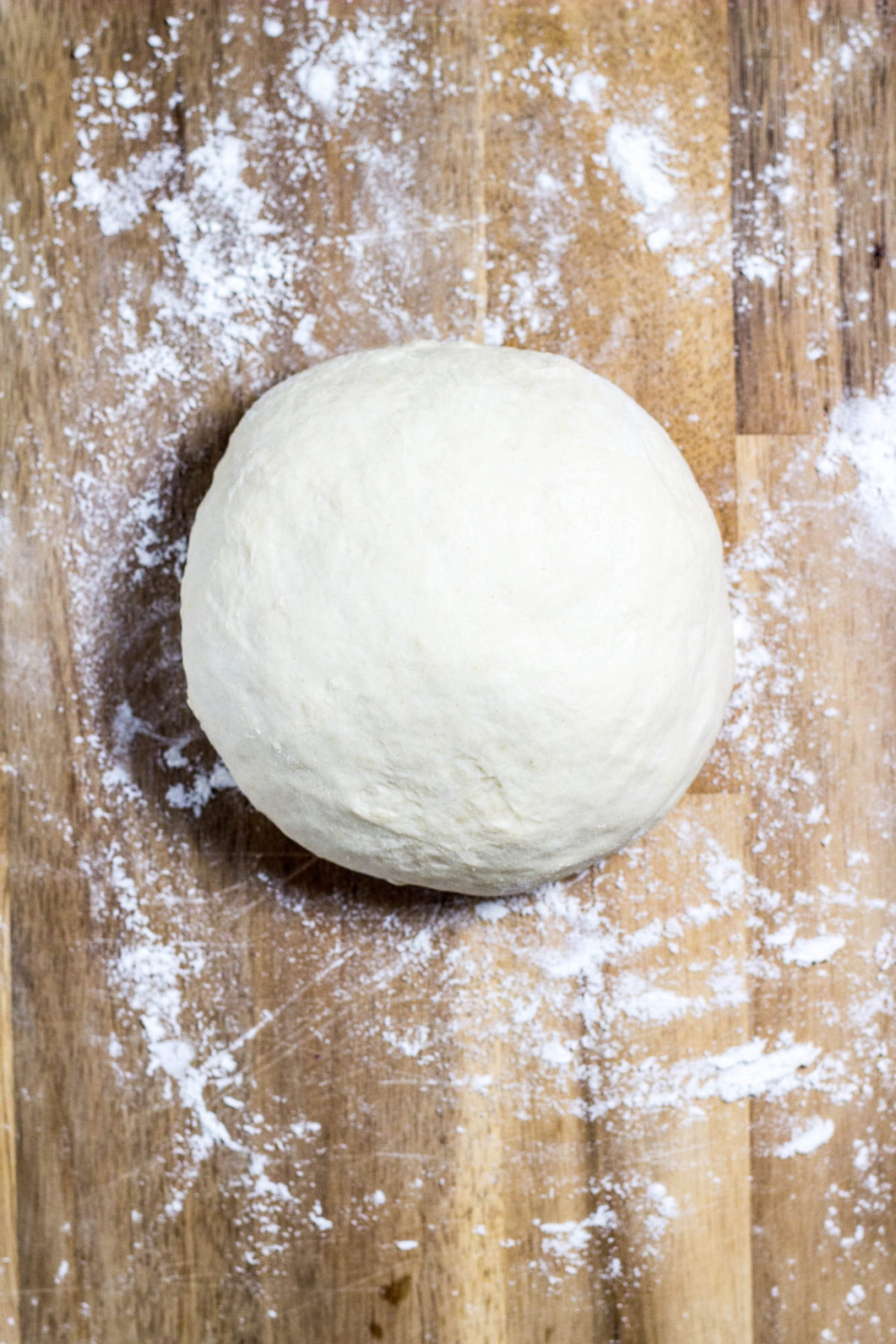 Stir to incorporate water with flour until you can no longer stir. Then knead to bring the dough together into a ball.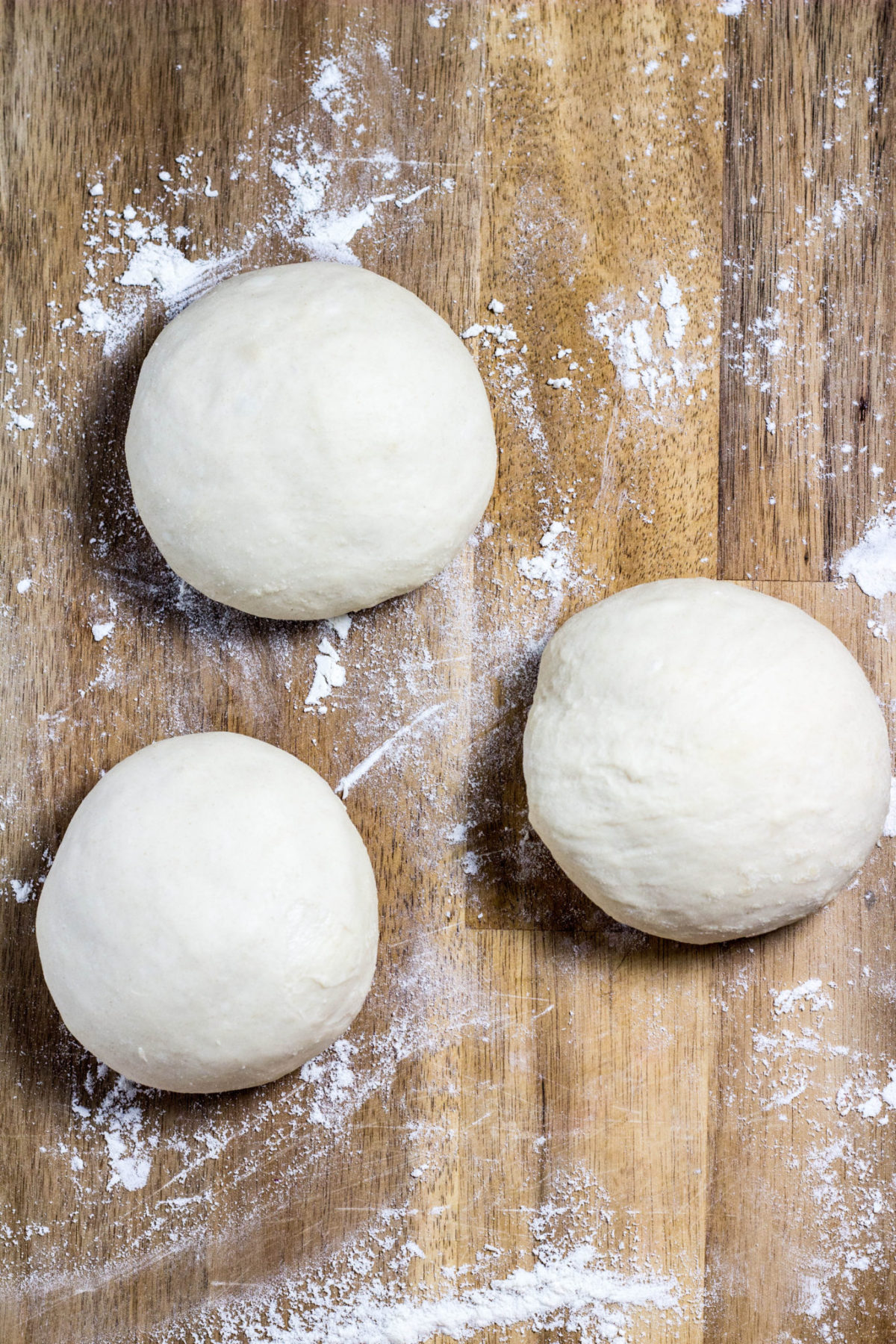 Rest the dough for 15-20 minutes to allow dough to relax. Then divide the dough into 3 roughly even pieces and roll each one out into a ¼- ½ inch thick round or oblong shape.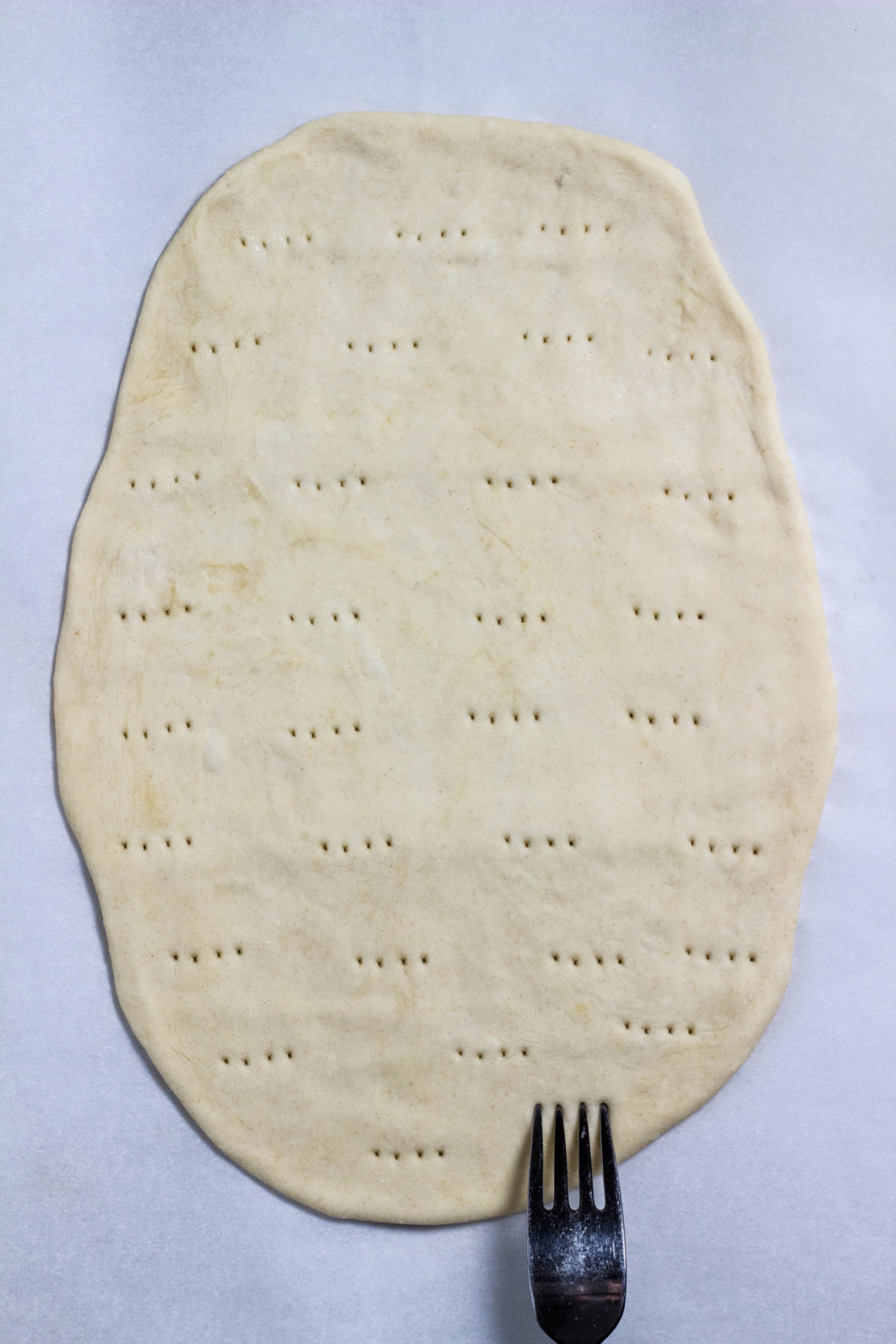 Use a fork to prick holes across the surface of the flatbread to allow steam to escape as the bread bakes. Bake for 5-6 minutes, add toppings if desired and bake for 5-6 minutes longer. If you are not adding toppings, rotate pans and continue baking for 5 minutes longer.
Hint: For a crisper bread, roll out thinner and bake for 1-2 minutes longer.
Substitutions
Flour - use an all purpose gluten free flour blend instead of wheat flour to make this gluten free.
Water- non dairy milk can be used in place of water, if desired.
Variations
Flavor - add chili pepper flakes while mixing the flour to give the bread with a little heat or add finely chopped herbs such as basil, chives, oregano, etc.
Deluxe - add tofu ricotta, blistered tomatoes and spinach as toppings.
Kid friendly - top with your favorite vegan cheese.
See this super delicious Tomato Flatbread on my website!
Equipment
You'll need a rolling pin for this recipe. Nothing fancy, just a basic one will do.
Storage
Store cooled flatbread in an air tight container or bag at room temperature for 2 days.
The bread can also be frozen once cooled completely. Store in a freezer bag for up to one month. When ready to use, wrap in a dam towel and reheat in the microwave for soft bread or heat in the oven(without towel) for a crisper bread.
Top tip
If using flatbread for pizza don't add too many toppings. Flatbread is thin and not intended to be loaded with an overabundance of toppings.
If you try this recipe, I'd love to know how it turns out! Leave a comment below or snap a pic and tag it @weelittlevegans on Instagram so I'll be sure to see it!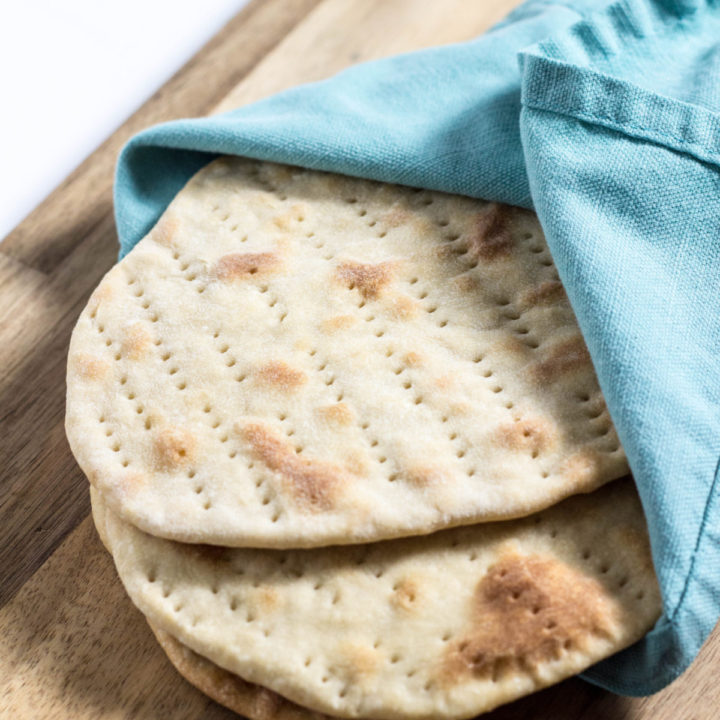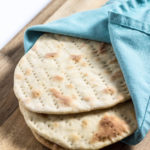 Easy Flatbread - No Yeast
Keyword:
flatbread recipe
Ingredients
3

cups

flour

1

tsp

salt

1

cup

lukewarm water

2

tablespoon

olive oil
Instructions
Preheat oven to 450 degrees. Line 2 large baking sheets with parchment paper. Set aside.

In a large bowl, whisk flour and salt together.

Create a well in the middle of flour mixture and add oil and water.

Use a spoon to begin mixing together until dough begins to come together. When you can longer stir the dough, transfer to a floured surface and knead for 1-2 minutes until dough is smooth.

Cover with a clean kitchen towel and allow dough to rest for about 20 minutes.

After dough has rested divide into 3 pieces and form into balls.

Roll out into a thin round or oblong shape. Use a fork to prick the dough all over to prevent too much puffing while it bakes. Transfer to a baking sheet.

If you plan to add toppings to the bread, bake for 5-6 minutes. Remove from oven and top as desired. Return to the oven and bake for additional 5-6 minutes. If not planning to add toppings then rotate pans after the first 5 minutes and continue to bake for 5-6 minutes longer until bread is baked through and small browning spots form.