Need some lunch time inspiration? Try this Roasted Carrot Garlic White Bean Dip made with just 8 ingredients in about 45 minutes. So full of flavor and kids loves it!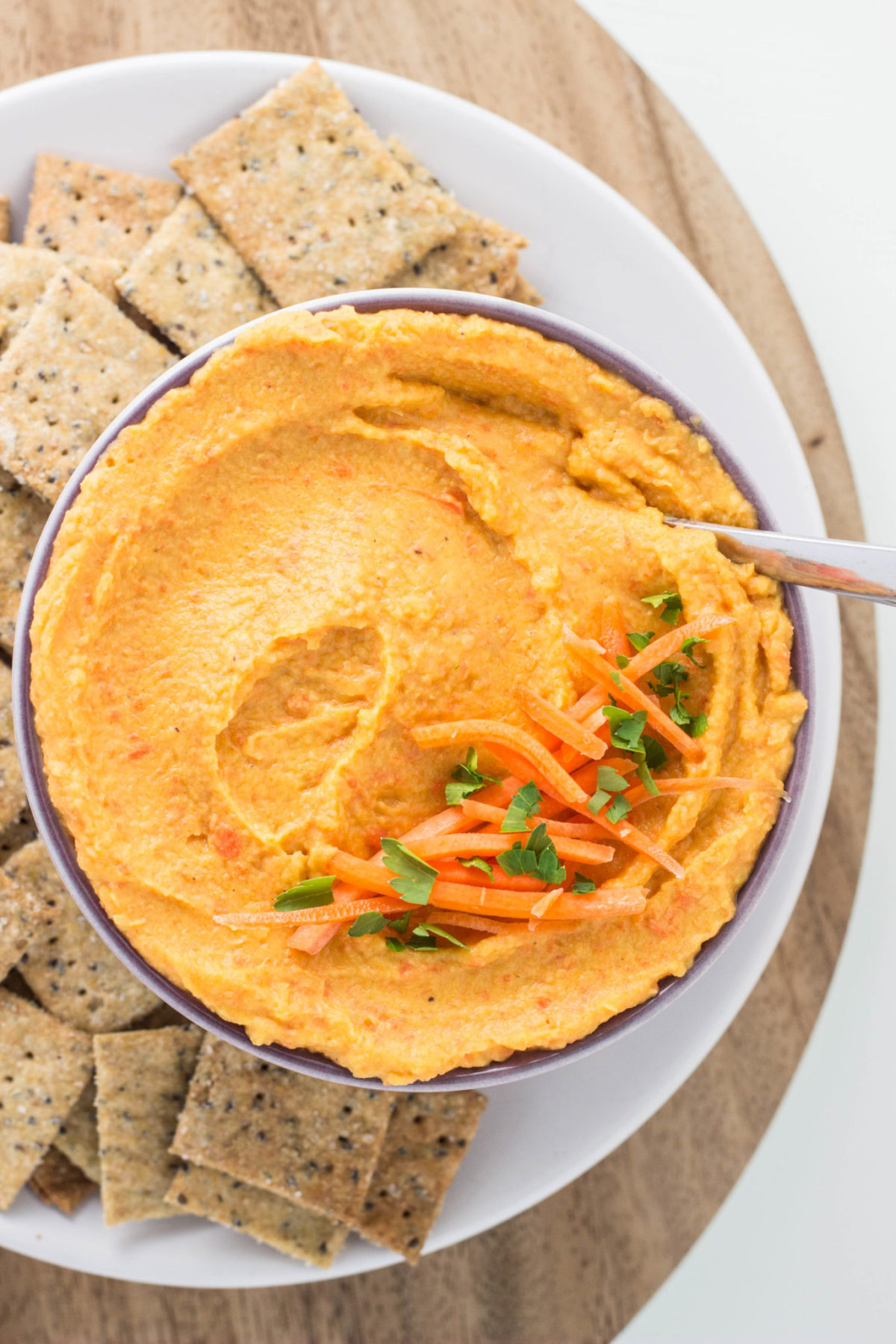 We're halfway through the school year and it's always about this point that my kiddos start getting the lunchbox blues. We've cycled through PB&J sandwiches, leftovers, and several options from this list and also this one, but now they're looking for something new. So, in an effort to keep the girls' lunch boxes interesting I came up with this new Roasted Carrot Garlic White Bean Dip. And oh man is it yummy!
The kids loved it and even my skeptical hubby was pleasantly surprised. He assumed it would taste too much like carrot or too much like beans so after I assured him it didn't, he gave it a taste and really enjoyed it.
The key is roasting the carrots and garlic which adds some much flavor and really takes this dip from ho-hum to absolutely delicious!
This dip is also super simple to make as most of the recipes I share are. You'll only need 8 ingredients and about 45 minutes to whip up a batch.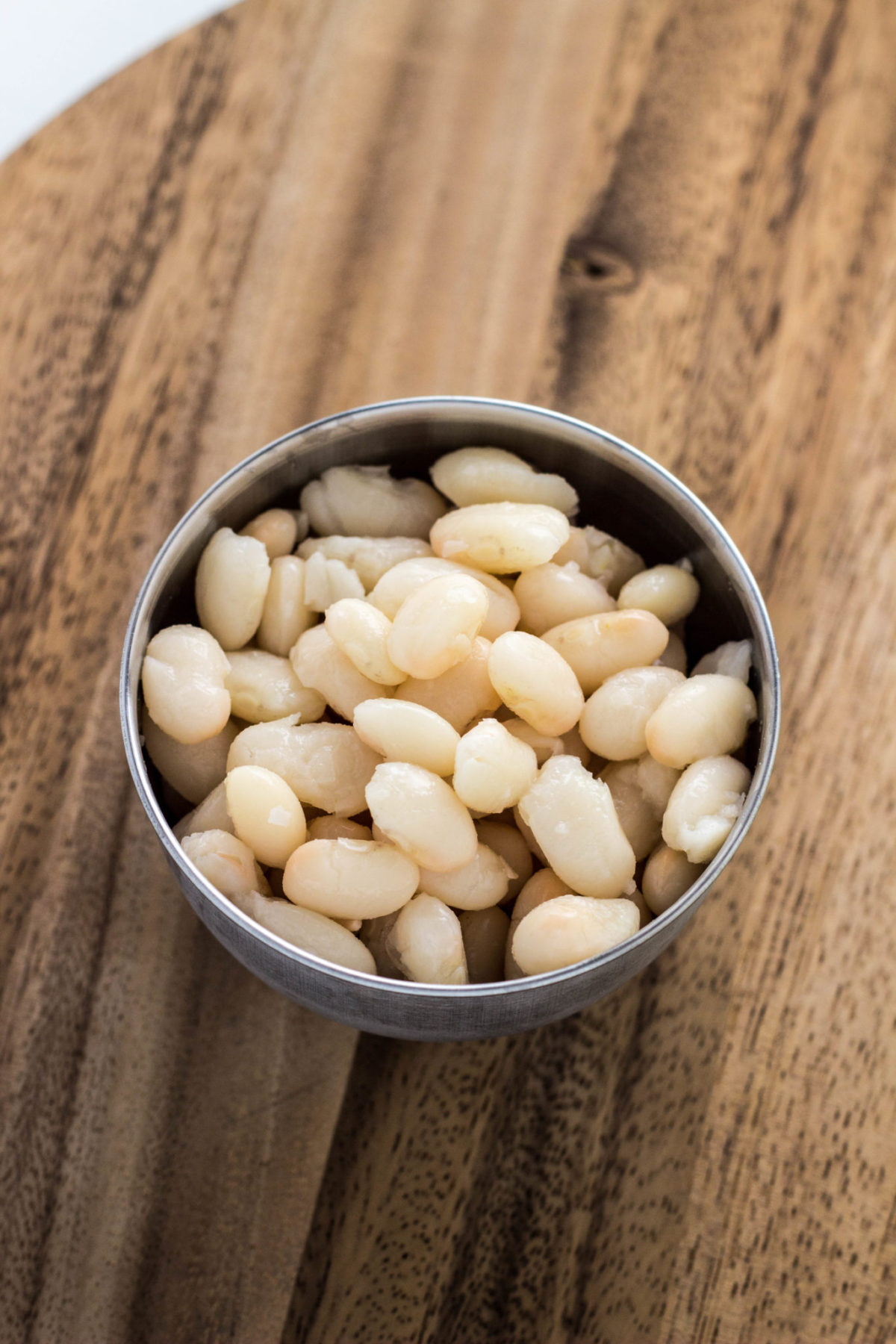 As for what bean to use, I went with great northern, but I think nearly any white bean would work. I like to use dry beans and cook them myself because it's more economical than canned and we think they just taste better this way. I happened to overcook this particular batch of beans (whoops), but it didn't matter too much since I would be blending them up anyway!
Of course, dried beans are more time consuming and you can definitely use canned if time is short. I sure have from time to time!
My little ones prefer some texture from the carrots so I blend enough to make it creamy, but keep some little bits. Just blend a little longer if you prefer it smoother with no bits. We enjoyed our dip with these crackers and veggies and I think it would also be great as a spread on sandwiches or veggie burgers.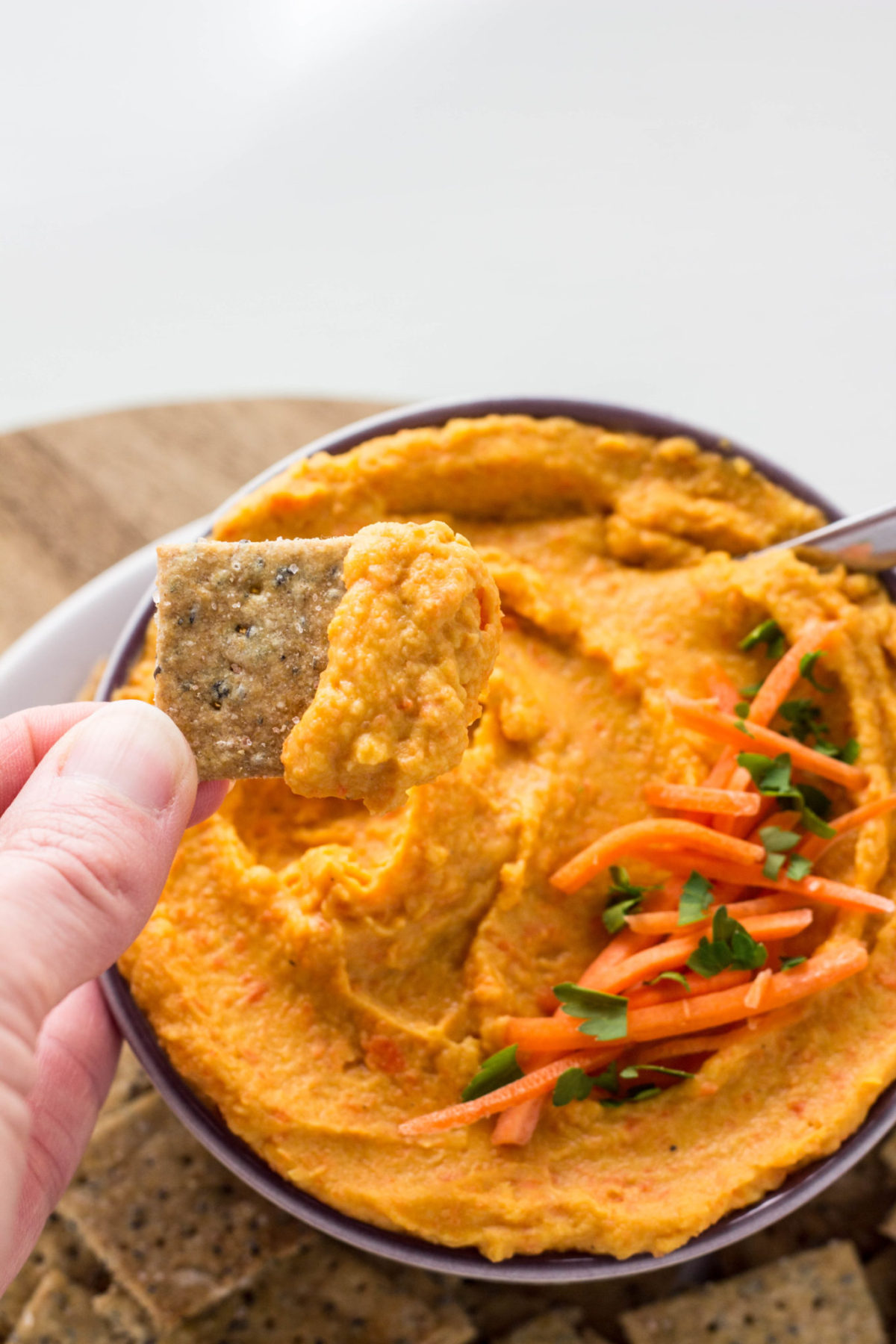 If you try this recipe, let me know how it turns out! Leave a comment below or snap a pic and tag it @weelittlevegans on Instagram so I'll be sure to see it!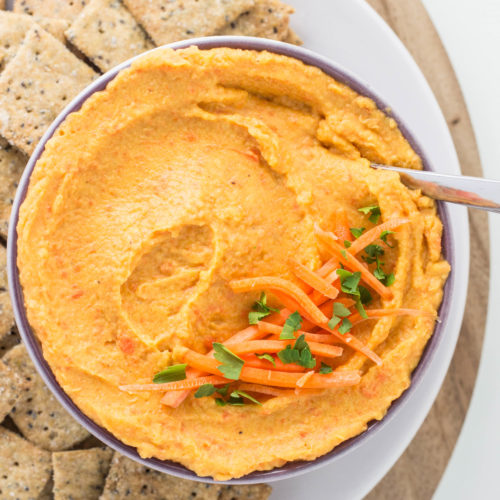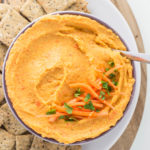 Roasted Carrot Garlic White Bean Dip
Ingredients
1

cup

carrots, sliced

4-5

garlic cloves, peeled

2

tablespoon

olive oil + more for drizzling on carrots

1 ½

cups or 1 15 oz can

white beans like great northern or cannellini

¼

cup

water + more , if needed.

½

teaspoon

salt

¼

teaspoon

cumin

1

tbsp

lemon juice
Instructions
Preheat oven to 400 degrees and line a baking sheet with parchment paper.

Arrange carrots and garlic in a single layer on baking sheet. Drizzle with a little olive oil and sprinkle with a dash of salt and pepper. Bake for 20-30 minutes or until carrots are tender and browned a bit around the edges.

Allow to cool then transfer carrots to the bowl of a food processor.

Add remaining ingredients and blend until smooth and creamy.

Add additional water to thin to desired consistency, if too thick.

Serve with crackers, veggies, or even as a spread on sandwiches and burgers.