25 Kid Friendly Back to School Vegan Lunches and Snacks to make packing lunches a breeze!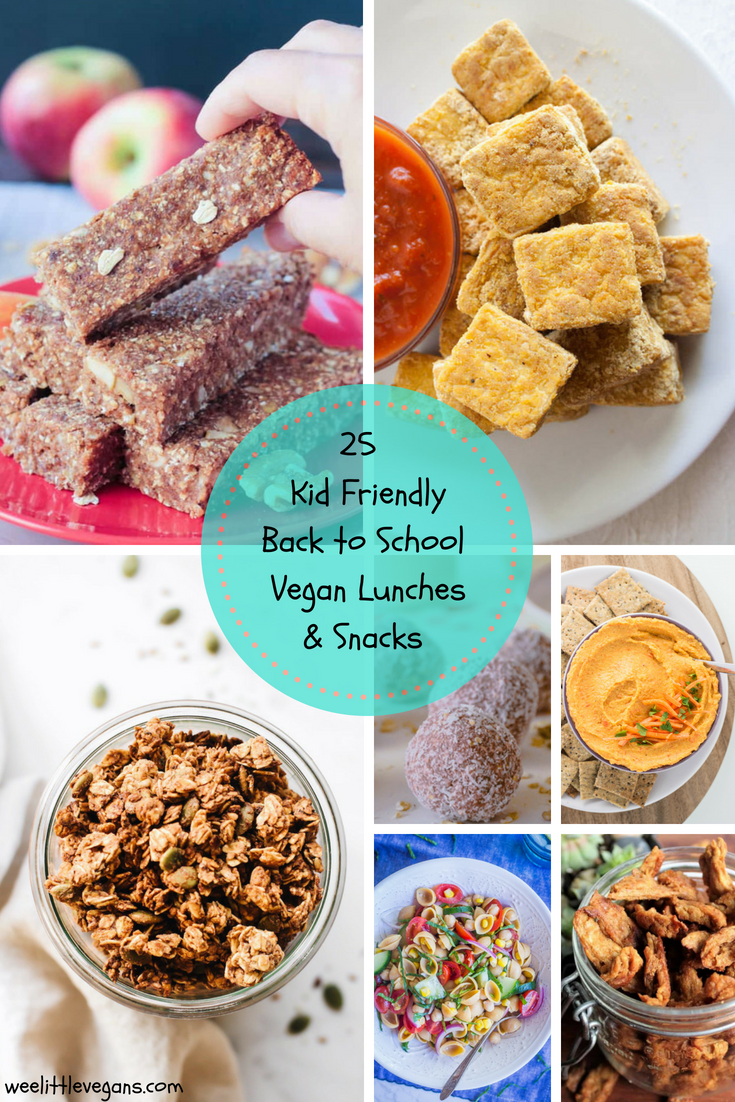 Today I'm sharing a great list of kid friendly vegan lunches and snacks to send the kids off with as they begin heading back to school. This has become sort of an annual project of mine (see previous lists here and here) so I'm excited to share my newest finds that are sure to make packing lunches simple and keep the kids satisfied. 
Lunches
Summer Vegetable Pasta Salad with Chickpeas - She Likes Food
Spinach Tortillas - Ela Vegan
Vegan Jerky - The Hidden Veggies
Extra-Creamy No-Oil Hummus - Hello Nutritarian
Vegan Chickpea Taco Salad - Wee Little Vegans
Vegan Vanilla Waffle Sticks - Where You Get Your Protein
Baked Tofu Nuggets - Create Mindfully
Quick & Easy Homemade Pita Bread - A Virtual Vegan
Roasted Carrot Garlic White Bean Dip - Wee Little Vegans
Sprouted Sunflower Cheese Recipe - Nest and Glow
Black Bean Wrap - Veggie Primer
Easy Savory Carrot Balls  - Green Evi
Spinach Falafel - Elephantastic Vegan
Snacks and Healthy Treats
Healthy Banana Split Trail Mix Veggie Balance
Vegan Everything Crackers - Elephantastic Vegan
Healthy Gummy Fruit Snacks - Fork and Beans
Banana Nut Cookies  - Feasting on Fruit
Sugar Free Apple Pie Bars - Veggie Inspired
Strawberry and Coconut Crispy Rice Treats - The Nourished Seedling
Sweet and Spicy Roasted Pumpkin Seeds - Abbey's Kitchen
5 Ingredient Dark Chocolate Almond & Coconut Homemade KIND Bars - Beaming Baker
Date-Sweetened 3 Seed Granola - Feasting on Fruit
Hummus Oat Crackers Two Ingredient Recipe - My Kids Lick The Bowl
Baked Plantain Chips and Guacamole - Celiac Mama
Strawberry Breakfast Bites - My Kids Lick The Bowl
I hope you enjoy this newest collection of awesome ideas for kid friendly back to school vegan lunches and snacks. Be sure to check out the previous collections here and here.