Taco Salads were one of those meals that were always in the dinner rotation for me as a kid. We must have eaten them on a near weekly basis. It didn't matter how often we had it, we always loved it because we got to top it anyway we wanted. For me, this always meant less meat, plenty of cheese and lots of lettuce, tomatoes, and black olives. I know black olives are not really traditional in Mexican cuisine, but I'm pretty sure a taco salad isn't very traditional either so I'm going to go with what I like on this one. (The only reason there are no olives in the photos is because I forgot them!)
Although a lot has changed about what goes into a taco salad for me now, it still has that familiarity that reminds me of those childhood family meals. There's also something just really fun about crunchy chips piled high with all sorts of toppings, my girls are big fans for this reason. Every time we have them no matter what day of the week it is, my littlest one proclaims it's "Taco Tuesday" because a character in one of the newer My Little Pony movies says it. And she does it in the same shrill, excited way and it is just about the cutest thing ever.
The chickpeas are really the star of this dish, providing that quintessential taco-y flavor through a blend of spices and seasonings. You get a mild spiciness with a touch of sweetness from the corn that we love. Another important component of this dish are the chips and these semi homemade ones are perfect. Just start with your favorite vegan tortilla(I used Mission brand, which are vegan and also gluten free), slice into fourths and bake until crispy. Then load up on whatever toppings you like. I went with a bit of tomato and avocado for that creaminess you usually get with sour cream.
I love simple, quick healthy meals like this chickpea taco salad because with all we have to do in a day, sometimes there just isn't time to spend preparing an elaborate meal. In 30 minutes or less you can have this completely customizable taco salad on the table for your family.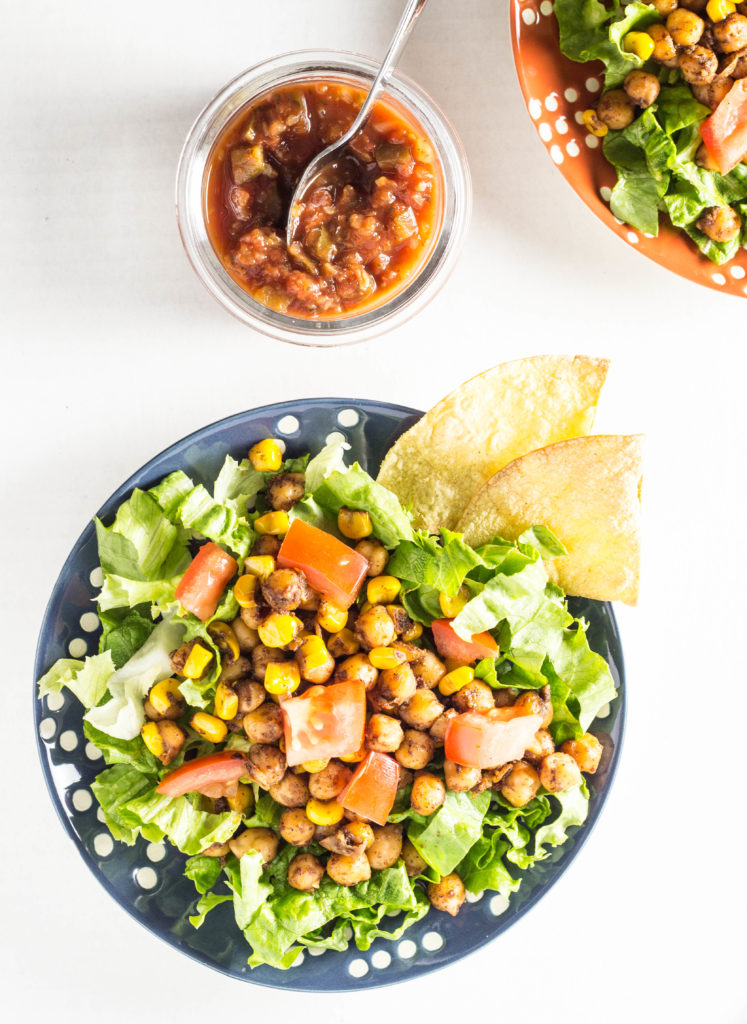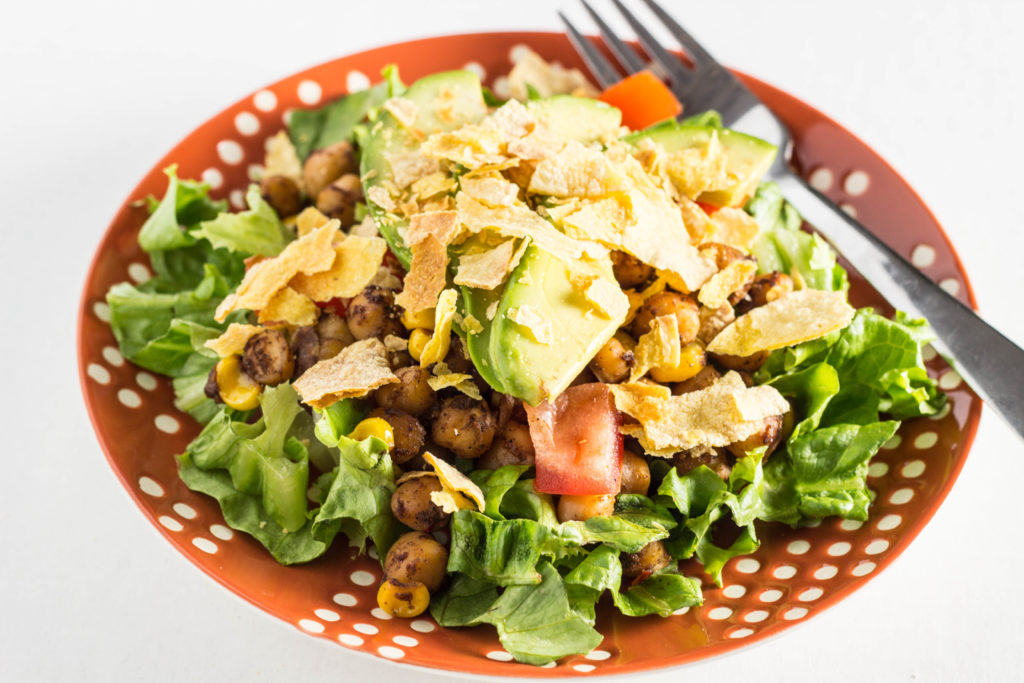 Was there a meal when you were a kid that you could always count on being on the dinner table?
If you try this chickpea taco salad, let me know how it turns out! Leave a comment below or snap a pic and tag it @weelittlevegans on Instagram so I'll be sure to see it!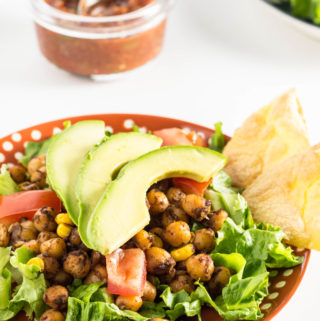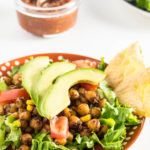 Vegan Chickpea Taco Salad
Ingredients
1

can

chickpeas, drained and rinsed or 1 ½ cups cooked dry chickpeas

½

cup

sweet corn

I used frozen.

2

teaspoon

olive oil

1

large garlic clove, minced

2-3

corn tortillas

See note
Taco Seasoning:
1

tablespoon

chili powder

1

teaspoon

ground cumin

¾

teaspoon

salt

½

teaspoon

paprika

½

tsp

garlic powder

¼

teaspoon

crushed red pepper

optional
Toppings:
lettuce

tomato

salsa

guacamole

vegan sour cream

black olives
Instructions
Semi homemade tortilla chips:
Preheat oven to 400 degrees. Stack tortillas and cut into quarters using a pizza cutter. Arrange on baking sheet leaving a little space around each and cook for 8-12 minutes until crisp and edges have browned just slightly. Watch closely to prevent burning. Remove from oven and allow to cool a few minutes to further crisp.
Taco seasoning:
Combine chili, cumin, salt, paprika, garlic powder, onion powder, and red pepper in a small bowl. I used a bowl with a lid and gave it a good shake.
Taco filling:
Heat olive oil in a pan or skillet and add garlic. Cook for 1-2 minutes stirring frequently. Add chickpeas and stir. Add 1-2 tablespoon of taco seasoning and stir to coat chickpeas. I used 2 tbsp. Add corn and cook until warmed, about 5-7 minutes.

Assemble your taco salad how ever you like. I started with a bed of chopped lettuce and topped with chickpeas, tomatoes, avocado, and crushed chips.
Recipe Notes
I used Mission brand extra thin yellow corn tortillas. They are vegan and also gluten free.