A spooky fun treat perfect for Halloween, these Boo Berry Hand Pies are made with a delicious homemade blueberry filling and puff pastry. So simple to make, great for baking with kids.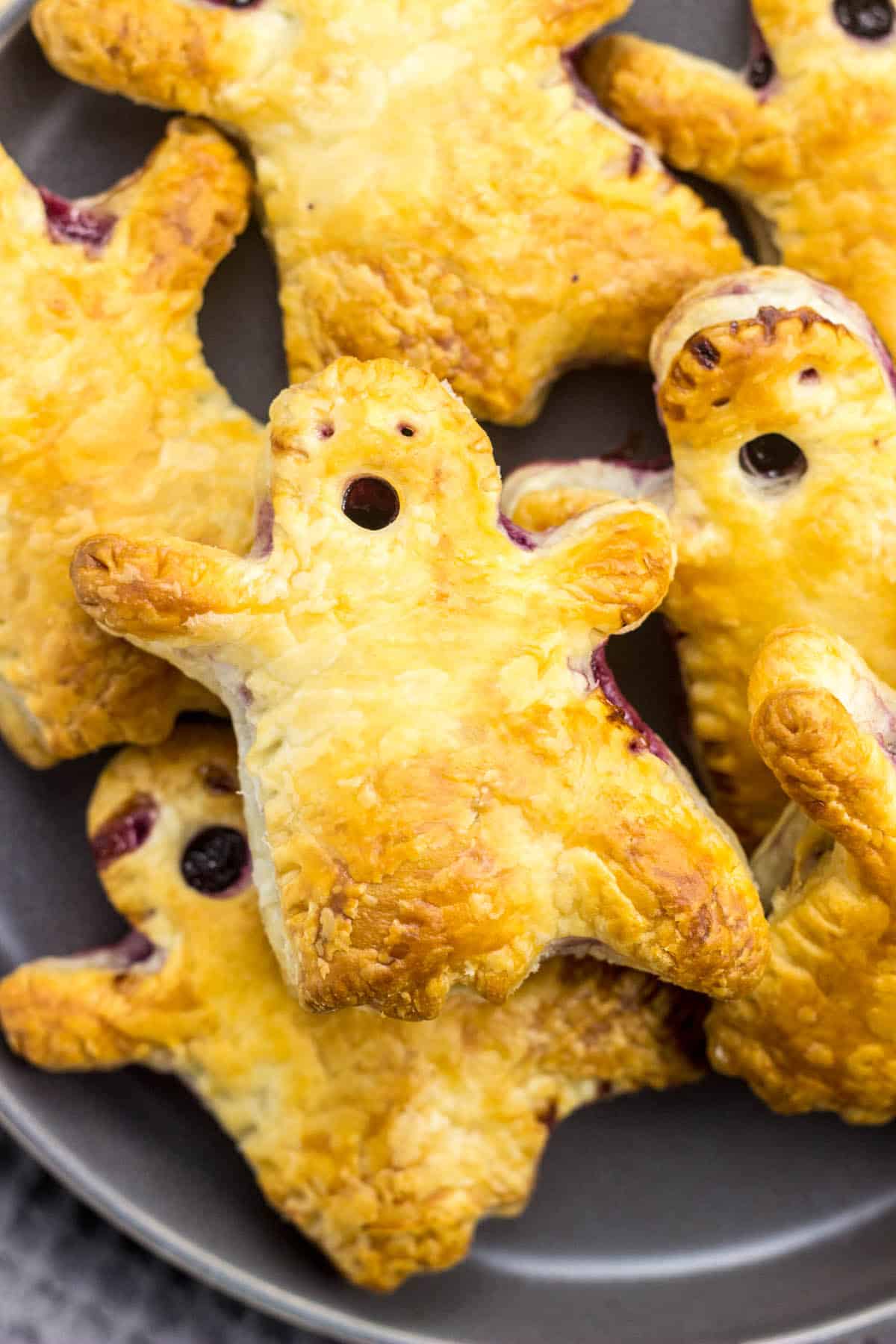 These Boo Berry Hand Pies are a great super simple to make treat for a kid friendly Halloween. Just spooky enough and oh so cute! These little ghosts are made with just a few ingredients and are not difficult to make at all. So, it's a great baking project to get the kids involved with.
This puff pastry dessert was inspired by my Strawberry Cream Cheese Breakfast Pastry on this site.
Jump to:
Ingredients
This recipe requires simple ingredients found in most grocery stores. There are a few brands of ready made puff pastry that are vegan such as Jus-Rol or Pepperidge Farm.
blueberries
cane sugar
lemon juice and zest
salt
cornstarch
non dairy milk
puff pasty
See recipe card for quantities.
Instructions
These pies start will a super easy blueberry jam filling that can be made ahead. From there it is cutting out the shapes, filling with jam, chilling and then baking until golden and flaky.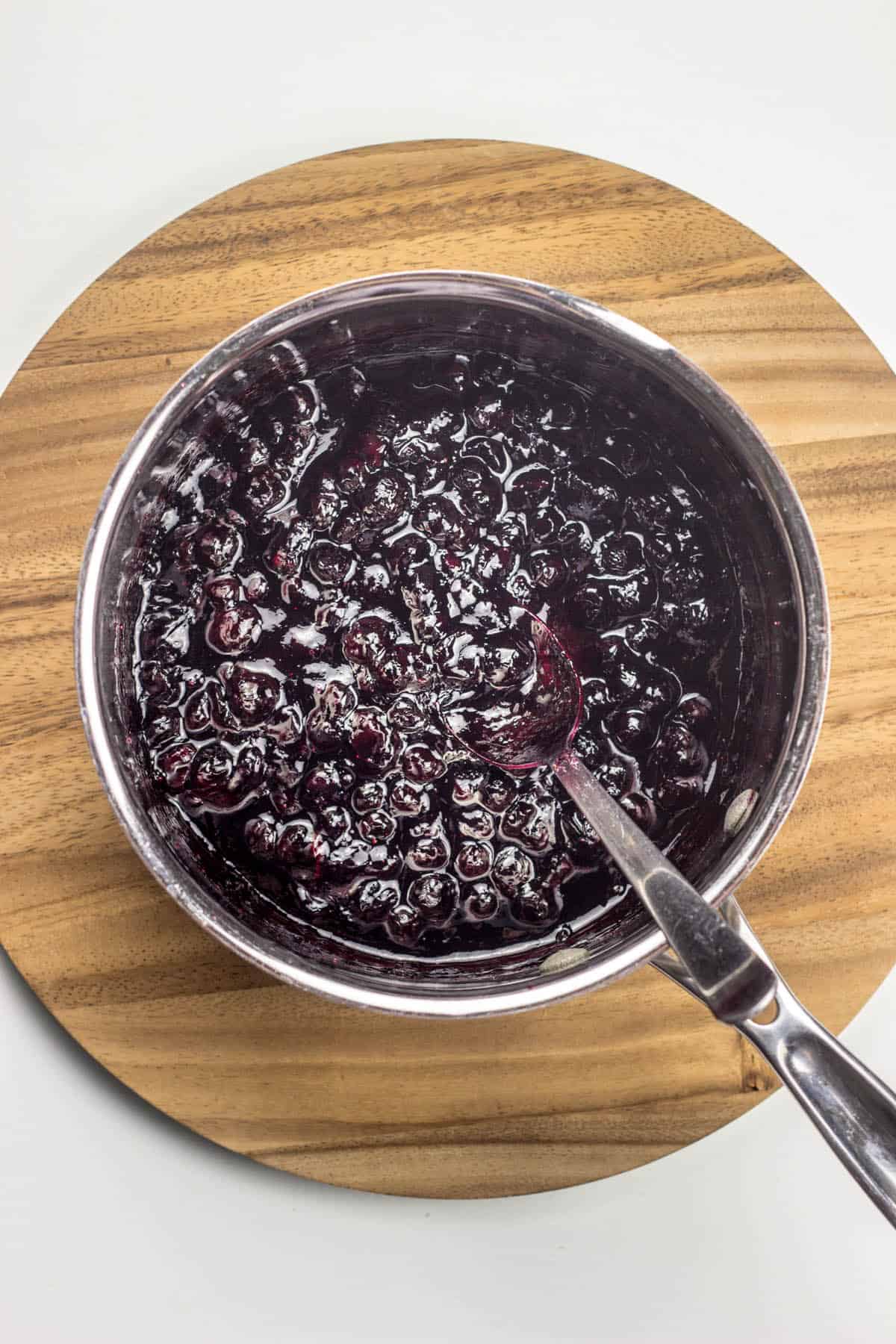 Combine blueberries, sugar, juice, zest and salt in a medium sauce pan. Cook over medium until berries release juices, Stir in cornstarch mixture. Bring to a boil until thickened, stir often. Remove from heat and cool completely.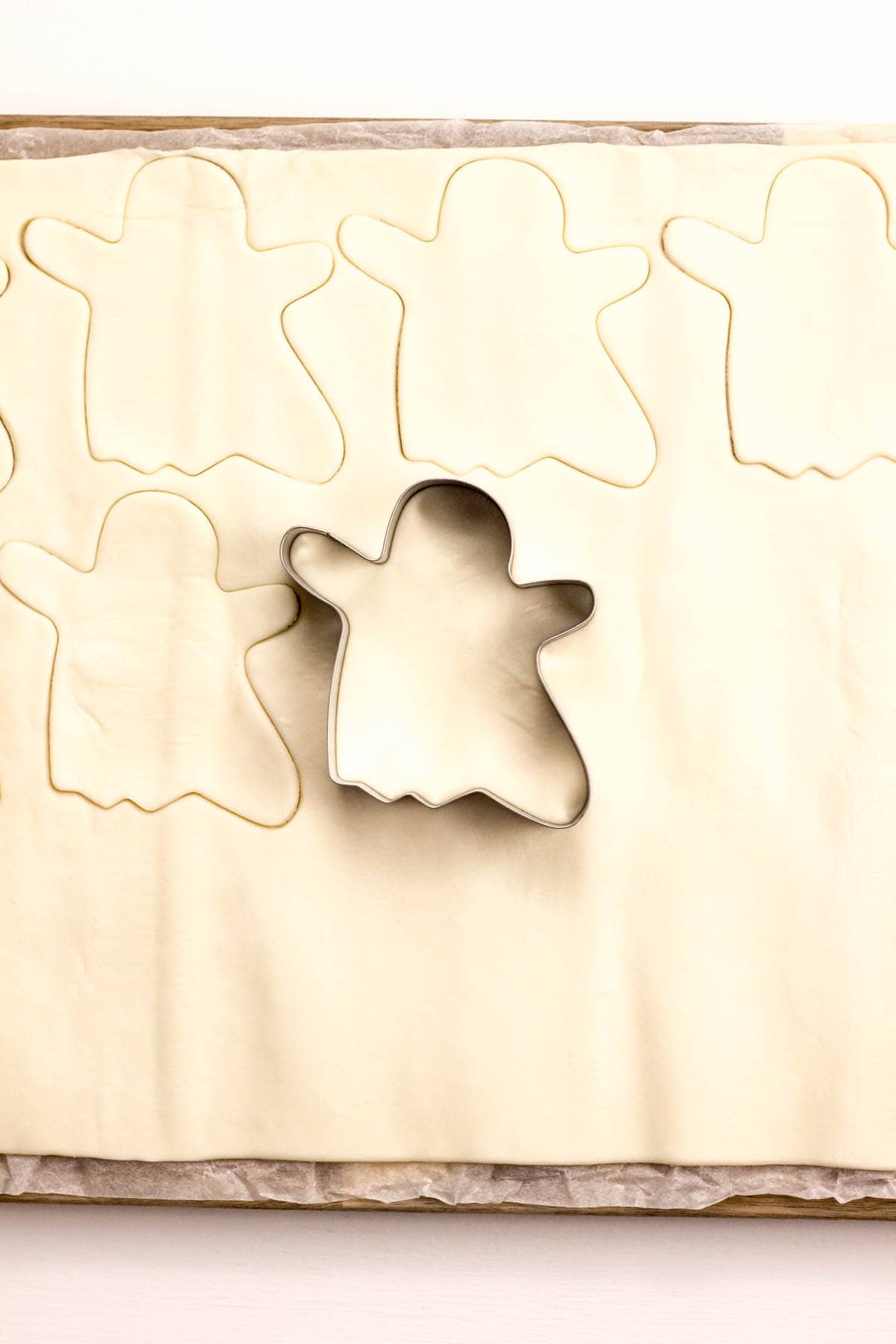 Line baking sheets with parchment paper or baking mat. Set aside. Lightly flour surface and roll out pastry. Use cookie cutter to cut out ghost. Use a chopstick and straw to cut eyes and mouth on half of the ghosts.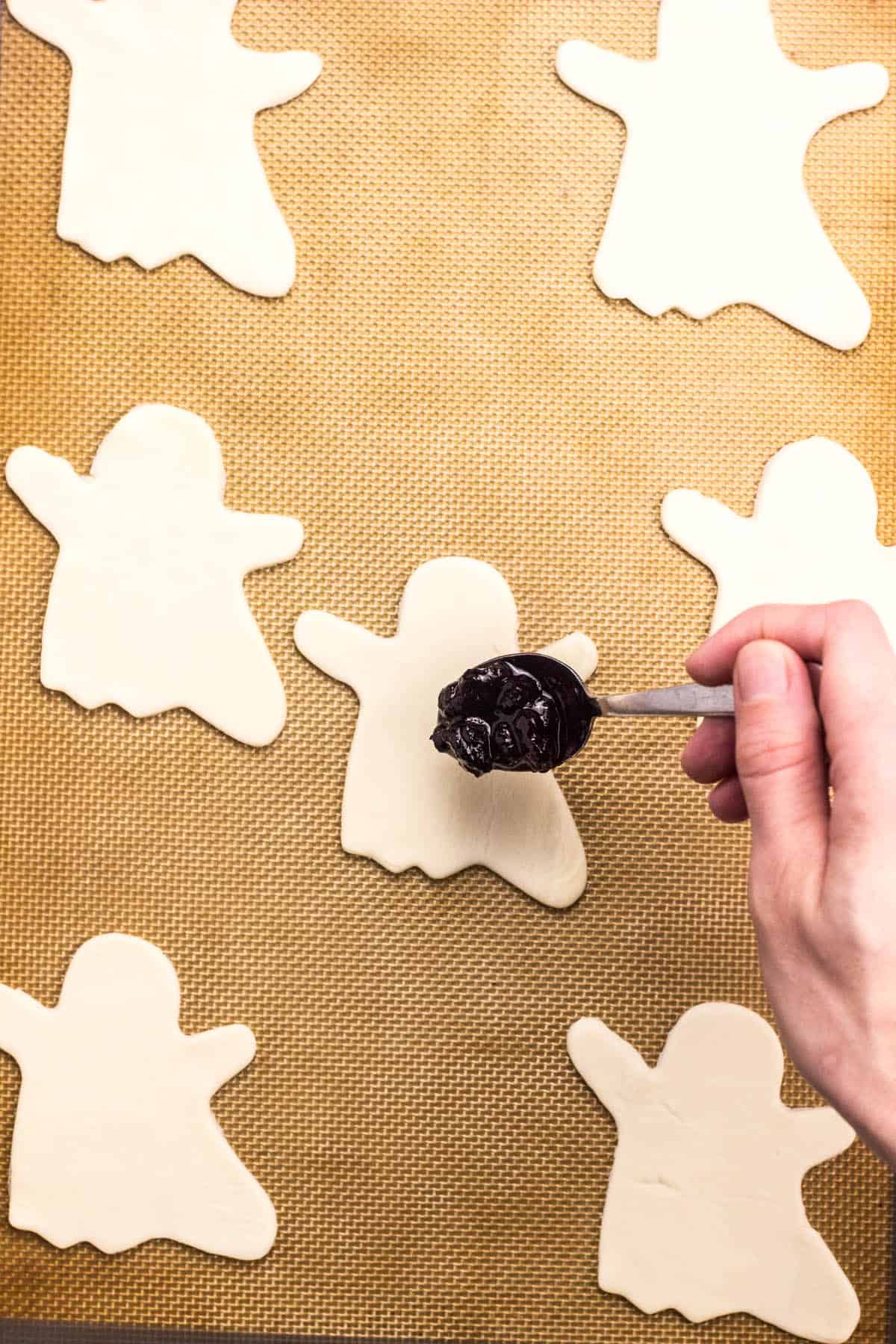 Transfer the ghosts without cut outs to a baking sheet. Spoon a small amount of filing on to center of ghosts. Brush a little non dairy milk around the edges and place the ghosts with faces over the bottoms.
Use a fork to crimp edges to seal. Brush with non dairy milk. Refrigerate for 30 minutes to 1 hour. Bake for 15-20 minutes, rotating pans halfway, until browned and flaky. Remove from oven and cool before serving.
Hint: Don't skip cooling the filling! You want the puff pastry to stay as cold as possible for best results. You can make the filling up to 3 days in advance of assembling. Store in the fridge until ready to use.
Puff Pastry - instead of puff pastry you can also use your favorite pie dough.
Gluten Free - use gluten free puff pastry such as Schar Puff Pastry or gluten free pie dough.
Fruit - instead of blueberries use any kind of berry you like.
Variations
Deluxe - sprinkle with course sugar before baking or make a powder sugar glaze by mixing powder sugar with a tiny bit of milk. Drizzle over the ghosts after baked and cooled.
Kid friendly - serve with a scoop of vegan ice cream!
See this Strawberry Cream Cheese Breakfast Pastry on my website!
Equipment
For this recipe, a ghost shaped cookie cutter is very helpful. You can also draw a ghost on parchment paper, cut it out and use it a template to cut out around on the puff pastry. This way is more time consuming and more difficult so I highly recommend a cookie cutter.
If you're getting a new cutter look for one with symmetry rather than any with thin or long tails to prevent over baking on these thin spots. Something similar to this one will work the best.
Storage
While these hand pies are best eaten within a day you can store any leftovers in an air tight container in the fridge. Good for 2-3 days. Reheat in toaster or oven for best taste.
To Freeze: Assemble the hand pies, but don't bake. Place baking sheet in freezer for 1 hour. After frozen, transfer pies to a freezer bag or container. When ready to use bake from frozen adding a few minutes to bake time.
Top tip
It is really important to chill the hand pies after assembling and before baking. This will allow the fats in the puff pastry to firm back up after being handled which will ensure proper baking and no sogginess.
FAQ
What is the difference between a turnover and a hand pie?
A turnover is made from a folded piece of dough and hand pies are made from 2 pieces and pressed to close edges on all sides.
How do I stop my hand pies from leaking?
Make sure edges are sealed properly. Use enough non dairy milk and press firmly with a fork to crimp and seal edges.
Can you eat hand pies cold?
Yes! Hand pies can be eaten warm or cold.
Related
Looking for other recipes like this? Try these:
Pairing
These are my favorite dishes to serve with these Boo Berry Hand Pies:
Boo Berry Hand Pies
A spooky fun treat perfect for Halloween, these Boo Berry Hand Pies are made with a delicious homemade blueberry filling and puff pastry. So simple to make, great for baking with kids.
Ingredients
2

cups

fresh or frozen blueberries

⅓

cup

cane sugar

1

tablespoon

fresh lemon juice

1

teaspoon

lemon zest

pinch of salt

1

tablespoon

corn strach + 1 tablespoon room temperature water

2

sheets

vegan puff pastry

1-2

tbsp

non dairy milk

course sugar, optional

vegan ice cream for serving, optional
Instructions
Blueberry filling:
Combine blueberries, sugar, juice, zest and salt in a medium sauce pan. Cook over medium until berries release juices, Stir in cornstarch mixture. Bring to a boil until thickened, stir often. The jam should coat the back of a spoon. Remove from heat and cool completely.

2 cups fresh or frozen blueberries,

⅓ cup cane sugar,

1 tablespoon fresh lemon juice,

1 teaspoon lemon zest,

pinch of salt,

1 tablespoon corn strach + 1 tablespoon room temperature water
Assembly:
Line baking sheets with parchment paper or baking mat. Set aside. Be sure baking sheets fit in your refrigerator.

Lightly flour work surface and roll out pastry. Use cookie cutter to cut out ghosts. Use the small end of chopstick to poke holes for eyes and a straw to cut out a mouth on half of the ghosts. These holes will also allow steam to escape so pastry puffs.

2 sheets vegan puff pastry

Transfer the ghosts without cut outs to a baking sheet leaving about 2 inches around all sides. Spoon a 1-2 teaspoon of filing on to center of ghosts. Brush a little non dairy milk around the edges and place the ghosts with faces over the bottoms and line up.

1-2 tablespoon non dairy milk

Use a fork to crimp edges to seal. Refrigerate for 30 minutes to 1 hour.

Brush tops with additional non dairy milk and sprinkle with course sugar if using.

Bake for 15-20 minutes, rotating pans halfway, until browned and flaky. Remove from oven and cool before serving.

Serve with vegan ice cream if desired.

vegan ice cream for serving, optional
Food safety
Cook to a minimum temperature of 165 °F (74 °C)
Don't leave food sitting out at room temperature for extended periods
Never leave cooking food unattended
Always have good ventilation when using a gas stove