A how to guide for making a simple Coconut Oil Pie Crust perfect for anyone who is vegan or dairy free. Made in just minutes with only 4 ingredients.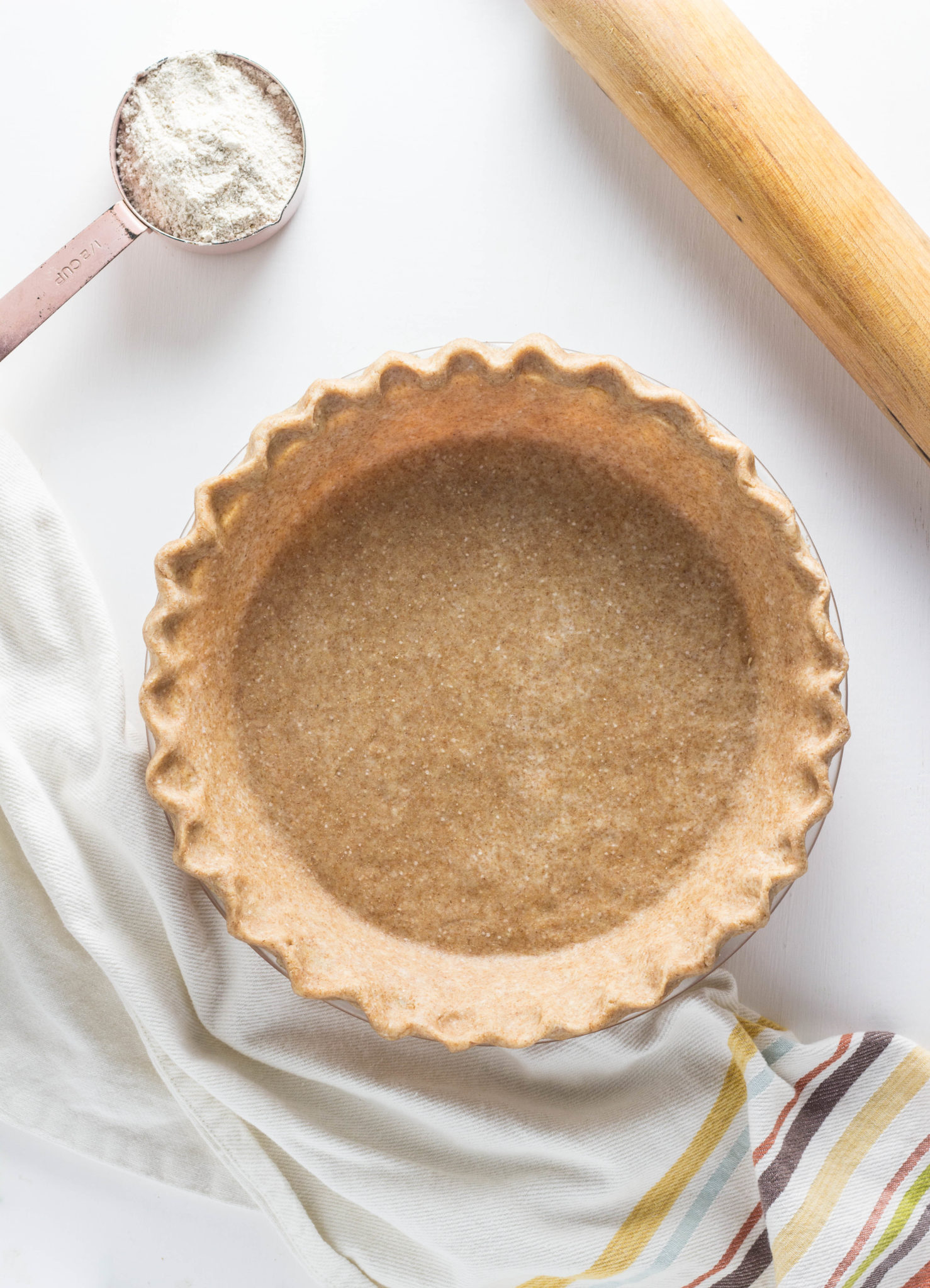 It's been a little while since my last how to guide and with the holidays just around the corner, it's the perfect time to share this simple Coconut Oil Pie Crust made with spelt flour. This is a great all purpose crust perfect for a variety of fillings plus it's super simple. You'll only need 4 ingredients and about 10 minutes of active time to make.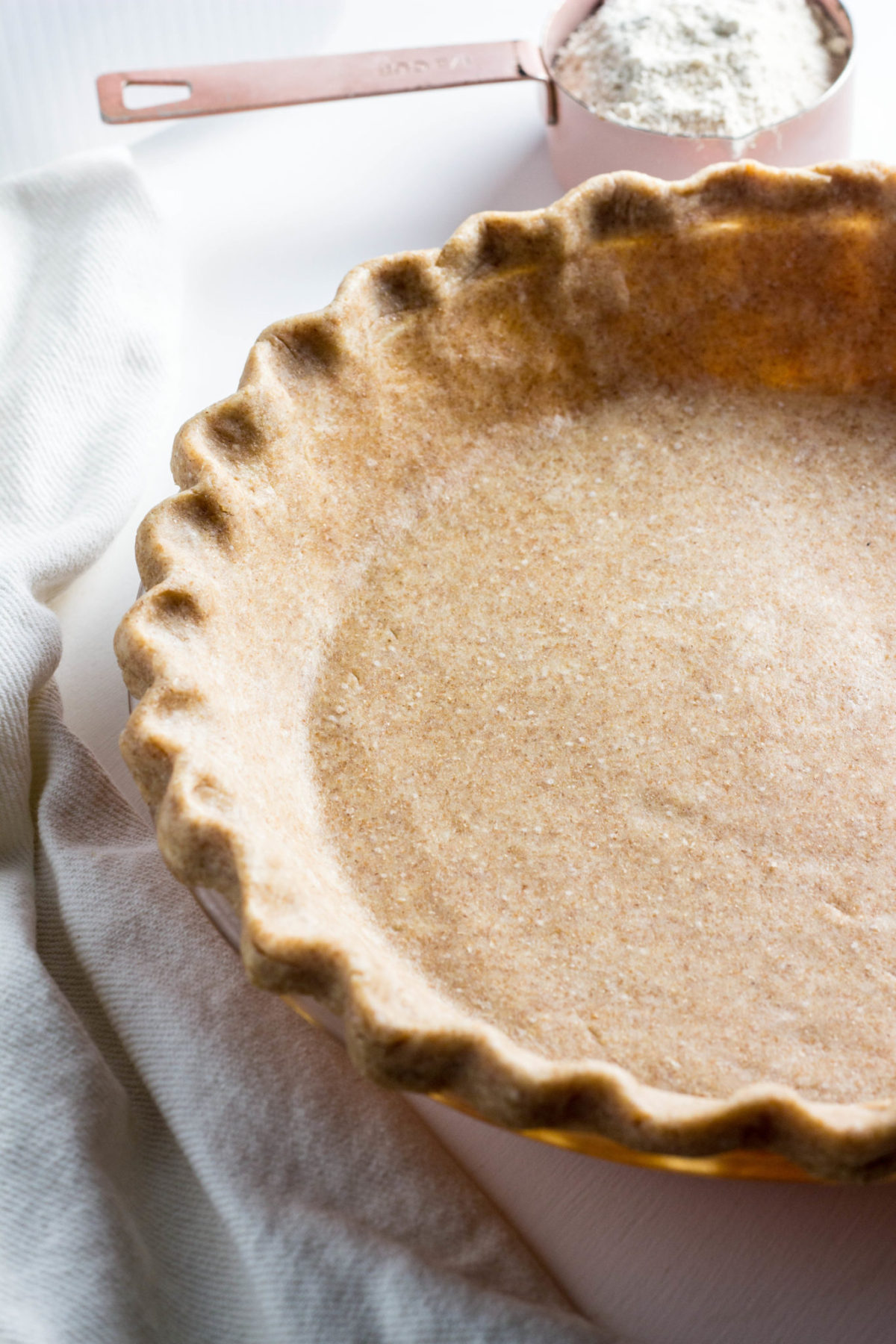 Why spelt flour?
Spelt flour is an ancient grain in the wheat family, that is high in fiber and minerals. The slightly nutty, sweet flavor and lighter texture produces less dense baked goods than whole wheat. I seldom use white flour anymore these days so having a whole grain flour that also produces a delicious final product is important. While testing this recipe I found my usual whole wheat flour produced a bitter flavor and tougher crust. Spelt provides a pleasing flavor, great texture and nutrition too!
Like wheat flour, spelt also contains gluten so anyone with celiac disease should avoid it. However some people with sensitivities or allergies do find spelt easier to digest and can consume with little to no adverse effect.
This crust can also be made with whole wheat pastry flour and all purpose flour if spelt is not readily available.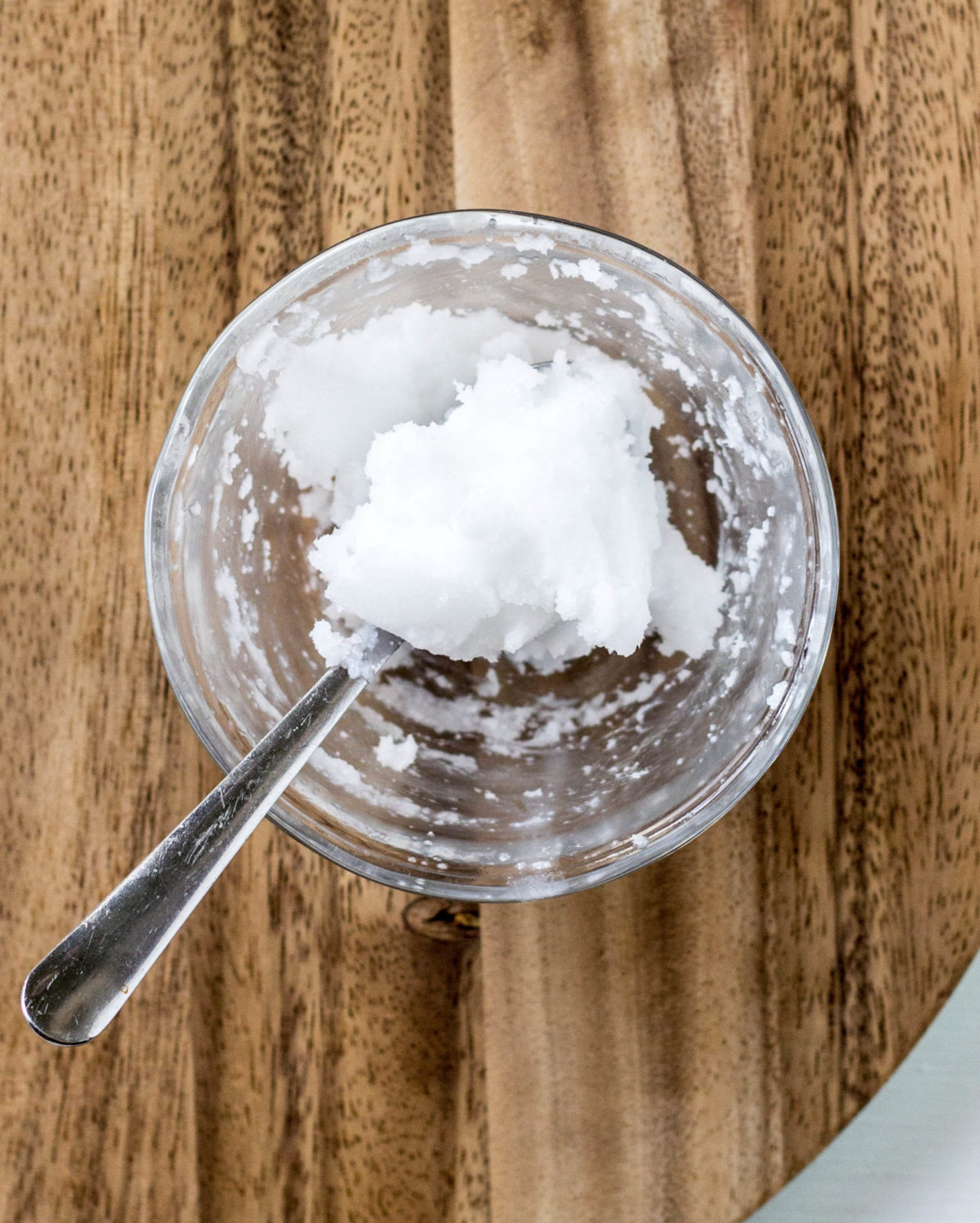 The coconut oil should have a scoop able texture like the picture above. This is typically the state it is in when purchased. If you live in a warmer climate like me and your oil has liquified, place the jar in the refrigerator stirring every 5 minutes or so until it firms up to the required texture. If it gets too solid simply let sit at room temperature to warm up until scoop able.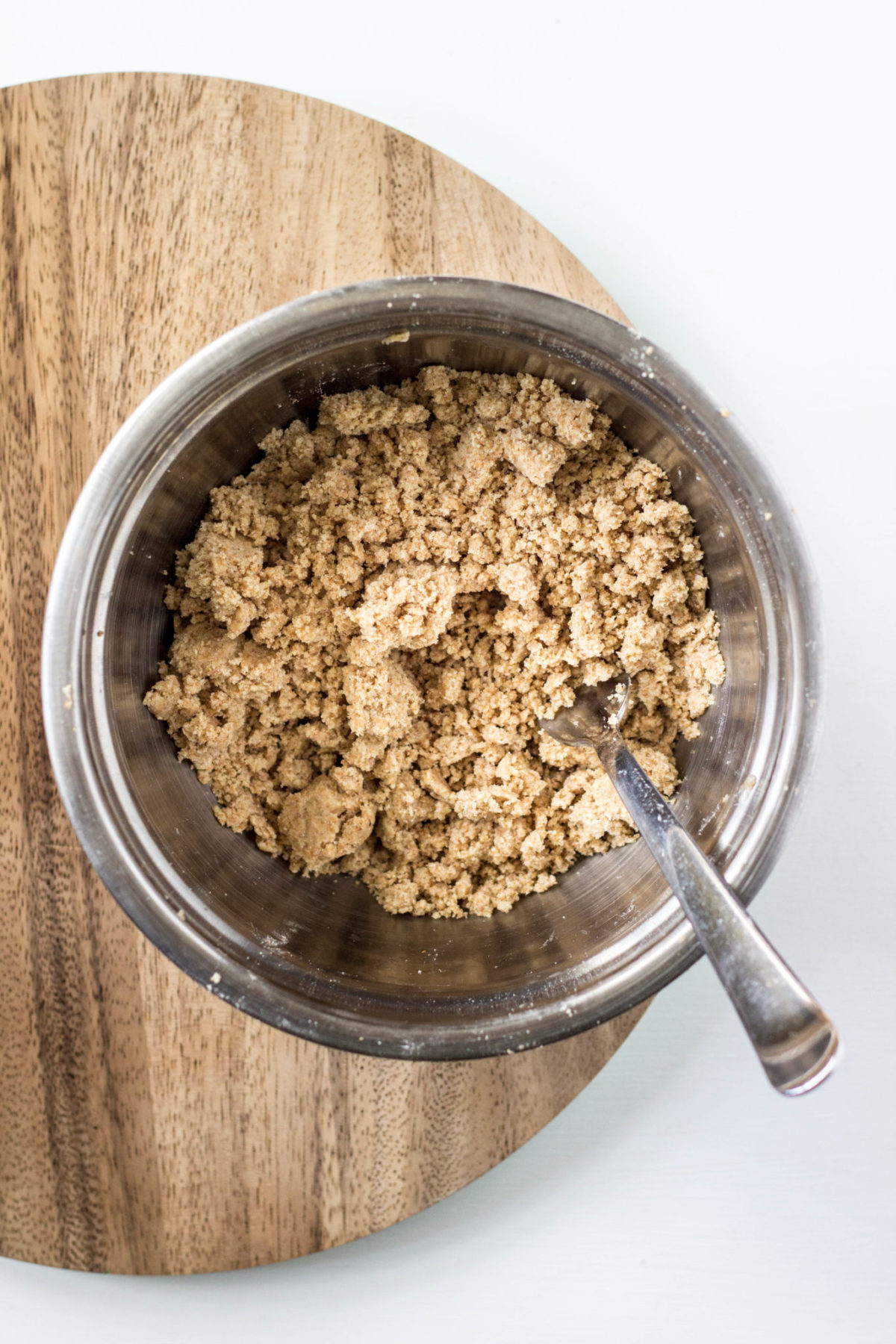 When making conventional pie crusts the instructions usually say to leave pea size amounts of the fat. That won't work with coconut oil. You'll just end up with pockets of liquid oil and soggy crust. So, really rub the oil into the flour. You can use a pastry blender or fork if you like, but I prefer to just use my hands. This way I can be sure the oil has been worked into the flour well.
Like other recipes, it is important to use ice water to bring the dough together. Start with a tablespoon at a time and only use what is needed. You're looking for the flour to hold together when pressed in your hand. Take care though, not to handle too much or the oil with melt.
Once the dough has been formed, press into a disc shape and refrigerate for 15-20 minutes just to firm a bit if needed. Any longer than this and the dough will be too hard and crack when rolled. If this happens, let the dough warm up a bit before preceding. The dough should have a soft, somewhat pliable texture.
To roll out, lightly flour your work surface and roll to about 12 inches. This will fit a 9 inch pie plate with enough extra dough for a decorative edge. I find the easiest way to transfer the crust is to roll it up on the rolling pin and then carefully unroll it over the pie plate pressing into place. This recipe yields a single 9 inch crust.
How you bake this crust, will depend on the type of pie you are making. You can blind bake or fully bake as needed. No matter how you bake, you'll want to prick it all over with a fork, also called docking. This allows steam to escape and prevents bubbles and pockets from forming in the dough, which result in uneven baking. Alternatively, you can use pie weights to achieve the same effect. This is a great choice if the filling is quite liquid and you are worried about it seeping through the holes, creating a soggy bottom.
The length of the bake will again depend on your choice of filling. For a full bake, it will take 30-40 minutes for the crust to bake through. For a blind bake, it's usually about 20 minutes. The recipe you are using should state the necessary bake times.
To freeze the pie crust, roll out, press into pie plate crimping the edges as desired. Then place the whole pie plate into a freezer safe bag and place in the freezer. When ready to use, thaw by moving pie plate to the fridge for a few hours before you plan to use.
If you try this Coconut Oil Pie Crust, let me know how it turns out! Leave a comment below or snap a pic and tag it @weelittlevegans on Instagram so I'll be sure to see it!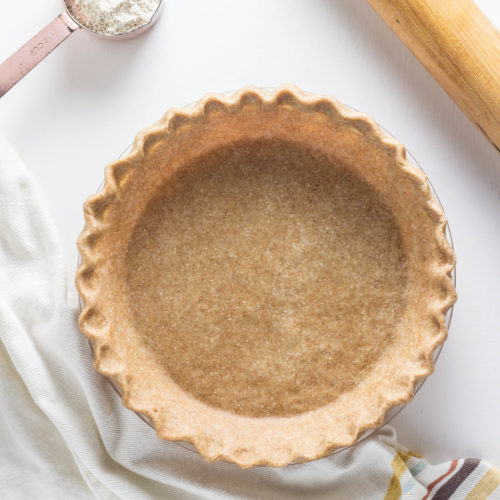 Coconut Oil Pie Crust
Ingredients
1 ¼

cup

spelt flour.

Whole wheat pastry & all purpose also work.

¼

teaspoon

salt

1 /4

cup

coconut oil, scoop able.

See photo above for reference

4-6

tablespoon

ice cold water
Instructions
In a bowl combine flour and salt, thoroughly mixing together.

Add scoop able coconut oil and work into flour using a pastry blender or your hands. Be sure to rub the oil into the flour well so that no pieces remain.

Add cold water 1 tablespoon at time stirring it into the flour mixture. Add additional tablespoons as needed until mixture holds together when pressed in you hand. Gently form the dough into a disk and refrigerate for 15-20 minutes. Do not refrigerate for any longer or the coconut oil will become too hard and rolling the dough out will be difficult.

After the dough is chilled, lightly flour the work surface and rolling pin, and roll dough out into about a 12 inch circle. This will fit a 9 inch pie plate with enough dough for a decorative edge.

Before baking prick the crust with a fork to allow steam to escape and prevent bubbling as the crusts bakes or use pie weights to achieve the same effect.

To blind bake preheat the oven to 425 degrees and bake for 15-20 minutes. Add desired filling and continue to bake according to recipe instructions.

To fully bake leave the crust in the oven for 35- 45 minutes. If the edges begin to brown too much cover with foil or a pie shield to prevent burning. Fill as desired.
Notes
To freeze: Follow instructions up to the point of baking. Instead of baking place the entire pie plate in a large freezer safe bag and place in the freezer. When ready to use, transfer from the freezer to the fridge removing the bag and allow to thaw for a a few hours before baking. 
CLICK BELOW TO PIN FOR LATER