Learn how to make a basic Tofu Scramble with this helpful guide. Just add your favorite cooked veggies and spices for a delicious, cruelty free way to start the day.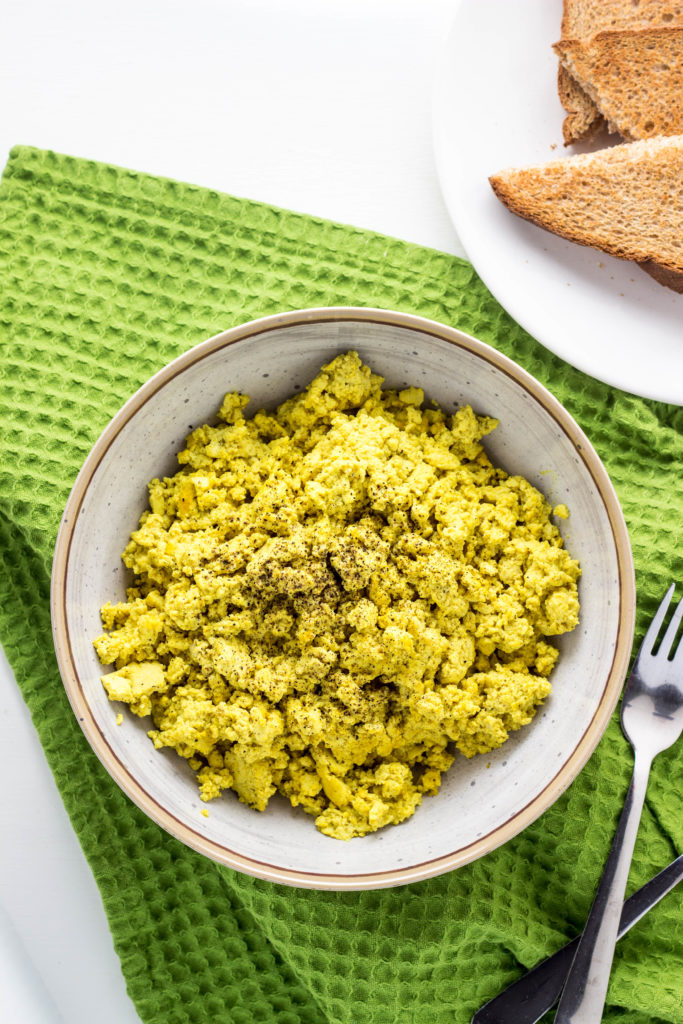 We love breakfast foods around our house...well most of us anyway. My husband is not such of fan of breakfast foods in general, but especially sweet dishes like pancakes and french toast, which is a bit strange to me since he has quite the sweet tooth. Eggs were the one breakfast type food he did like so naturally when we decided to go vegan those were out and I was at a bit of a loss for what to make for him. That is until I discovered just how versatile tofu is! It's pretty much a blank canvas that can be flavored how ever you like and can be prepared in a variety of ways including scrambled to resembled eggs. So, now whenever a craving for pancakes strikes, I whip up this basic Tofu Scramble with his favorite veggies and everyone is happy.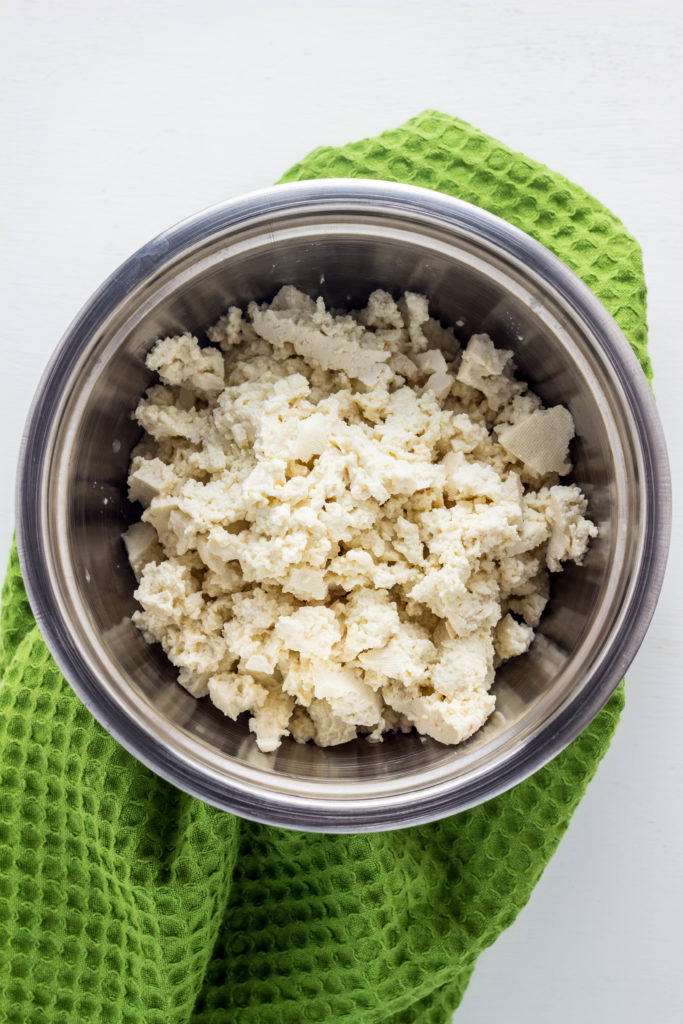 Tofu Tips:
There are several types of tofu available and each is great for many uses. For scramble, you really want to go with firm or extra firm to get that eggy texture.
Tofu is also available in sprouted and non sprouted. The difference here is non sprouted tofu is made from whole soybeans and sprouted is made from sprouted soybeans. For some, sprouted tofu may be easier to digest so you may prefer to use sprouted for this reason, but either will work just fine.
I recommend using ONLY organic tofu for any dish. Non organic tofu is practically guaranteed to be genetically modified and to have been sprayed with toxic chemicals so choosing organic is super important.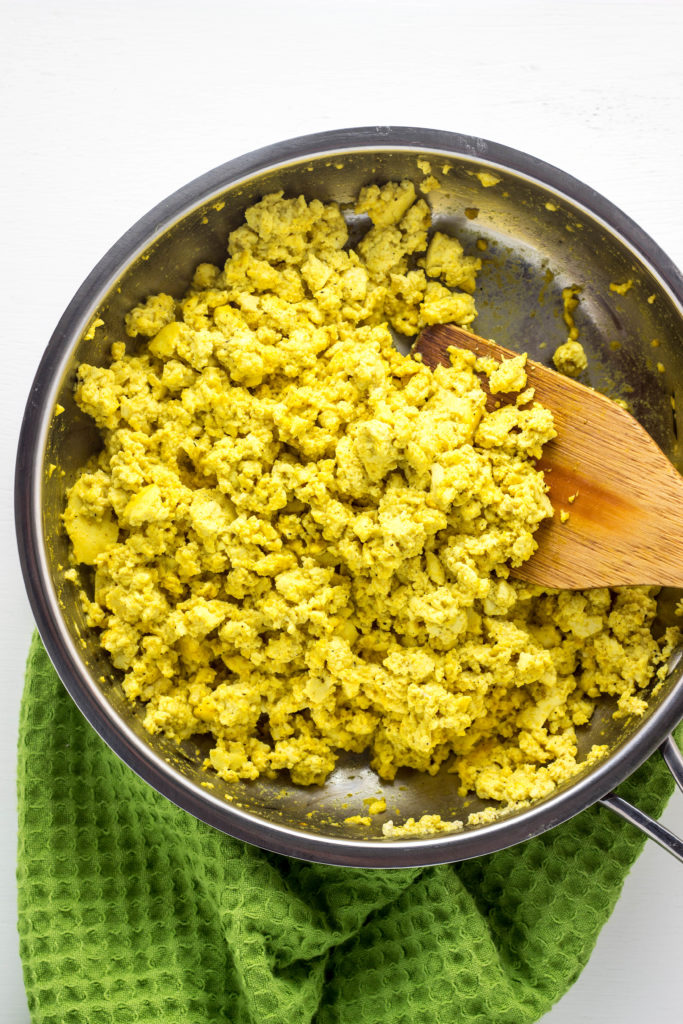 This scramble is a great starting point and can be customized to suit your individual tastes by adding your favorite cooked veggies and/or spices. I love to add sautéed spinach and mushrooms to mine, but nearly any veggies would be delicious.
Serve with your favorite sides such as potatoes, fruit, or try a breakfast sandwich with this coconut bacon. Yum!
If tofu is not your thing , this chickpea flour omelette is just as delicious with as many flavor combinations .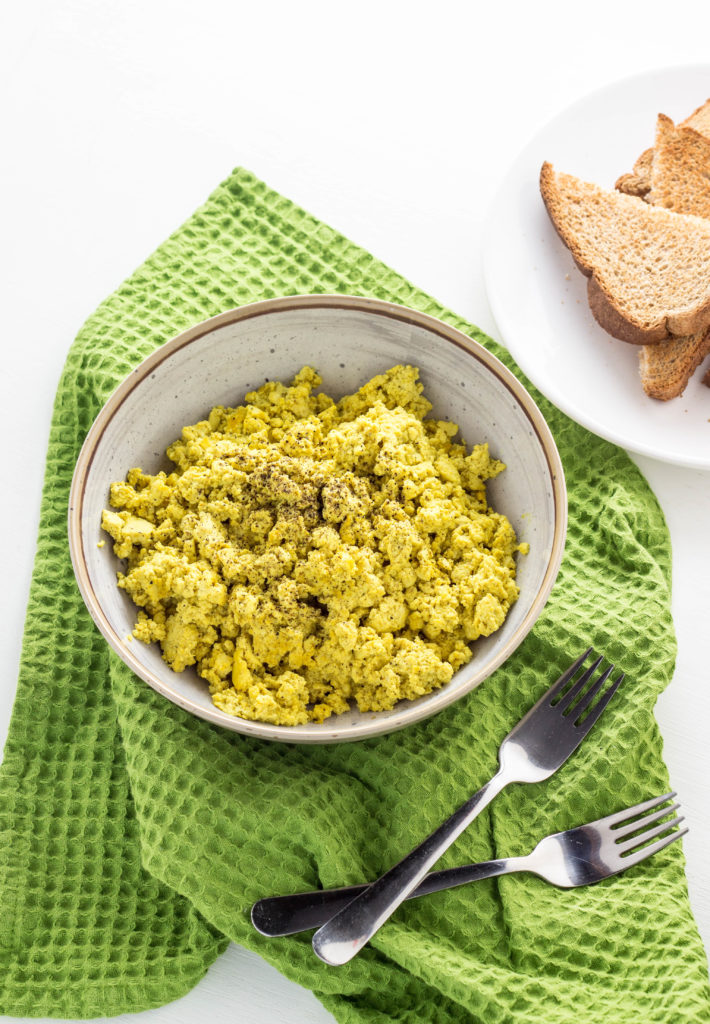 If you try this recipe, let me know how it turns out! Leave a comment below or snap a pic and tag it @weelittlevegans on Instagram so I'll be sure to see it!
Basic Tofu Scramble
Ingredients
14

oz

firm or extra firm tofu

I use firm.

1

tablespoon

olive oil

½

teaspoon

salt

¼

teaspoon

pepper

½

teaspoon

ground turmeric

2

tablespoon

nutritional yeast
Instructions
Drain water from tofu, wrap in a kitchen towel, and gently squeeze to remove more water.

Heat oil in skillet over medium heat.

Use your hands to crumble tofu into smallish pieces right into the heated pan.


Cook for 5 minutes stirring occasionally to cook away and remaining water in tofu.

Add salt, pepper, turmeric, and nutritional yeast. Stir to thoroughly incorporate and color tofu.

Continue to cook for 5 to 10 mins longer until heated throughout.

Serve with your favorite sides such as potatoes, toast, and fruit.