Thick and fudgy with crinkly tops these Vegan Rye Crinkle Brownies are a brownie lover's treat!
These are not healthy brownies. A lot of vegan brownie recipes are healthy-ed up with ingredients like black beans, dates and fruit purees. These are not those brownies. It's not that I don't like a healthier brownie, I do and there are a few recipes around here that prove it. But sometimes you just want a good ol' sugar laden, crinkly topped, thick and rich chocolatey brownie. These Vegan Rye Crinkle Brownies are totally that brownie.
There are a couple of things that make this brownie different than the typical, the first thing being the flour used. I opted for rye flour because it's a favorite of mine and it pairs really well with chocolate. It lends a nutty, slightly earthy flavor that really enhances the overall taste.
The second difference is that this recipe uses aquafaba. That's right, the leftover water from a can of chickpeas. I read about the technique of whipping eggs with sugar in other brownie recipes and was curious if aquafaba would produce the same results. After a couple of tests to get the amounts just right, it worked well to give the batter some extra lift while baking to produce a thick brownie.
Crinkly tops are a deal breaker for a lot of people when it comes to brownies. The key to achieve those sought after crinkly tops is in the sugar, specifically white sugar. It's not negotiable. I've tried to produce that same effect with my preferred sweetener coconut sugar, but it doesn't work. There is too much moisture in coconut sugar to allow the tops to dry out and develop the crinkle. So, for this recipe we're using raw cane sugar and a lot of it. Remember, I told you above these are not healthy brownies.
Don't worry though, these brownies are not over the top sweet if you use a good dark chocolate. The combination of rye and dark chocolate really balances all the sugar nicely for just the right amount of sweetness.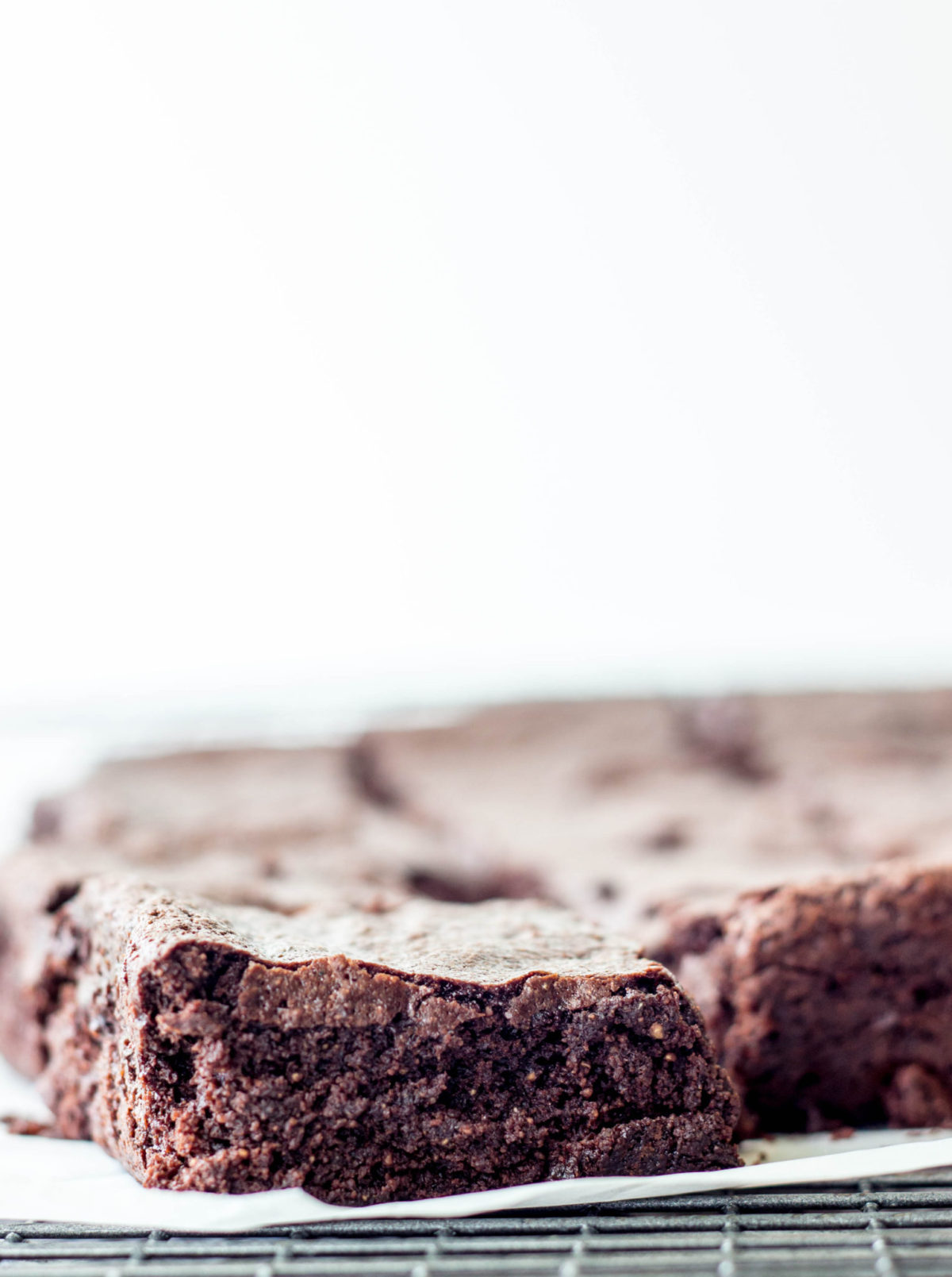 Needless to say, these brownies were a total hit with the kiddos. Each one gleefully devoured theirs in not time at all.
If crinkly top, sugary brownies aren't your thing that's ok 😉 Try one of these healthier options instead:
Healthy Peanut Butter Brownies
Cherry Chocolate Chip Brownies
If you try a recipe, let me know how it turns out! Leave a comment below or snap a pic and tag it @weelittlevegans on Instagram so I'll be sure to see it!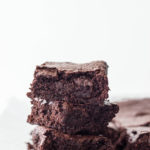 Vegan Rye Crinkle Brownies
Ingredients
1

cup

rye flour

½

cup

cocoa powder

scant ½

tsp

salt

½

tsp

baking powder

1

flax egg - 1 tablespoon ground flax seed + 2 tablespoon water

see note below

½

cup

aquafaba

1 ¼

cup

raw cane sugar

Florida Crystals is vegan.

1

teaspoon

vanilla

¼

cup

oil - coconut, olive, etc.

100 g

vegan chocolate bar

I use 90% cocoa solids.
Instructions
Preheat oven to 350 degrees. Grease an 8 x 8 baking pan or line with parchment paper. Set aside.

In a bowl sift the flour, cocoa powder, salt and baking powder. Whisk to thoroughly incorporate and set aside.

Heat chocolate in the microwave in 20 second intervals stirring between each until just melted. Set aside to cool briefly.

In the bowl of a stand mixer, a hand mixer works as well, combine aquafaba and sugar. Whip until mixture reaches the ribbon stage. It will be white, fluffy and when you lift the whisk it should leave a ribbon that holds it shape on the surface for a moment.

Add oil, flax egg and vanilla to melted chocolate and stir to combine.

With the mixer running, drizzle chocolte mixture into whipped aquafaba until thoroughly combined.

Switch to a spatula and add dry ingredients to aquafaba mixture and fold in until just combined.

Spread batter in an even layer in the prepared baking pan.

Bake for 25- 30 minutes or until tops are dry and a toothpick inserted comes out with only moist crumbs.

Allow to cool completely before slicing. You can cut 16 small brownies as I do or 9 larger ones.
Recipe Notes
For more instruction on making a flax egg see here.