If you've done any kind of vegan baking, chances are you're familiar with flax eggs. If not, flax eggs are made by whisking together the ground seed and water to thicken into an eggy consistency and then be used as a replacement for eggs. This well known trick works well in many recipes in place of chicken eggs and over time I have found a few adjustments that I think produce the best result. So, here are my tips:
Always start with whole seeds and grind them as needed using a coffee or spice grinder. The milled seeds tend to go rancid rather quickly and give off an unpleasant smell and flavor. Yuck! Store the whole seeds in the refrigerator to maintain freshness.
I like a ratio of 1 tablespoon flax seed to 2 tablespoon water for a thicker consistency. I also like to refrigerate the mixture for 10-15 minutes to really mimic the texture of an egg.
For chia eggs, I use 1 tablespoon seed to 3 tablespoon water without refrigeration because the mixture quickly gels up much more than flax.
Flax and chia eggs work well for things like breads, muffins, pancakes and some cakes, but won't work in every recipe. You may need to experiment to find what works.
Some of the recipes I use flax or chia egg in:
Vegan Cinnamon Pear Mini Muffins
Blackstrap Molasses Ginger Cookies
Gluten Free Cherry Vanilla Mini Loaves
Cinnamon Raisin Butternut Squash Squares
Vegan Chocolate Cupcakes with Buttercream
Oil Free killed Cornbread Southern Style
Gluten Free Oil Free Mini Banana Muffins
Chia egg after a few minutes:
Flax egg after 15 minutes in the refrigerator: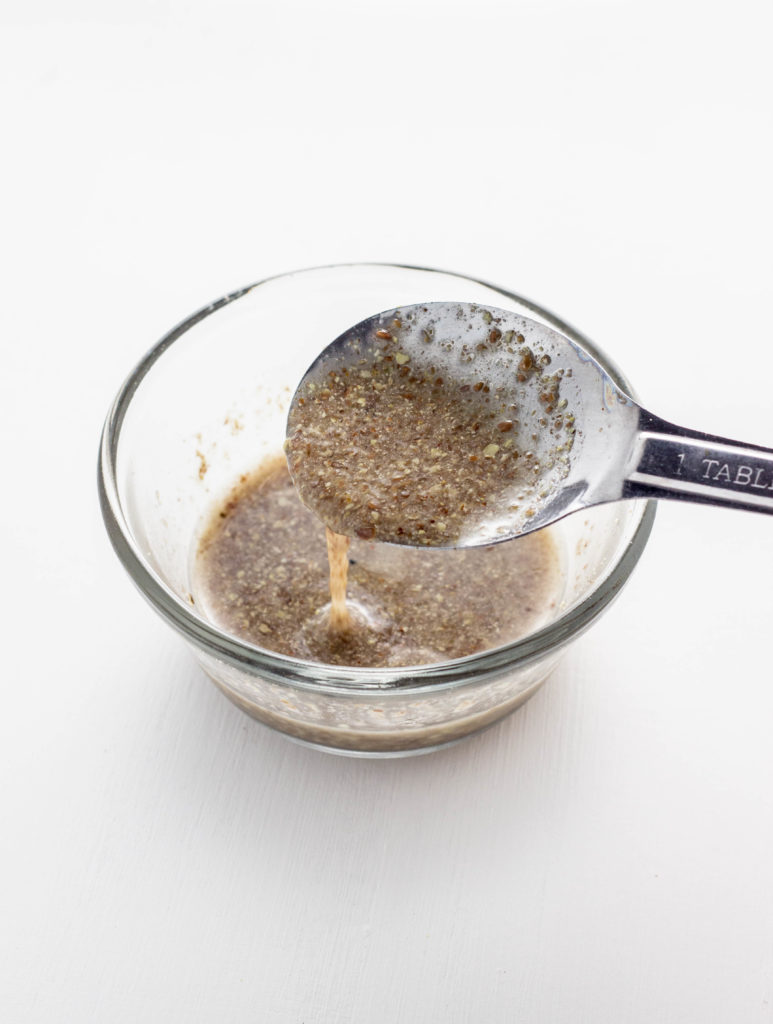 What recipe will you use your flax or chia egg for? Leave a comment below or snap a pic and tag it @weelittlevegans on Instagram so I'll be sure to see it!
Flax and Chia Eggs
Ingredients
Flax Egg:
1

tablespoon

ground flax seeds

2

tablespoon

water
Chia Egg:
1

tablespoon

ground chia seeds

3

tablespoon

water
Instructions
Flax Egg:
Whisk ground seed and water together in a small dish. I have found to achieve the best result, refrigerating the mixture for 10- 15 minutes is key. It thickens and takes on a more egg like texture this way.
Chia Egg:
Whisk ground seed and water together in a small dish. Set aside for 3-5 minutes to thicken. No need to refrigerate chia, it gels up nicely without.
Notes
This is not my original recipe and is well known in the vegan community. I've made adjustments to suit my needs.