Vegan Cheesy Polenta Bites, a simple and kid friendly snack you can customize to suit everyone.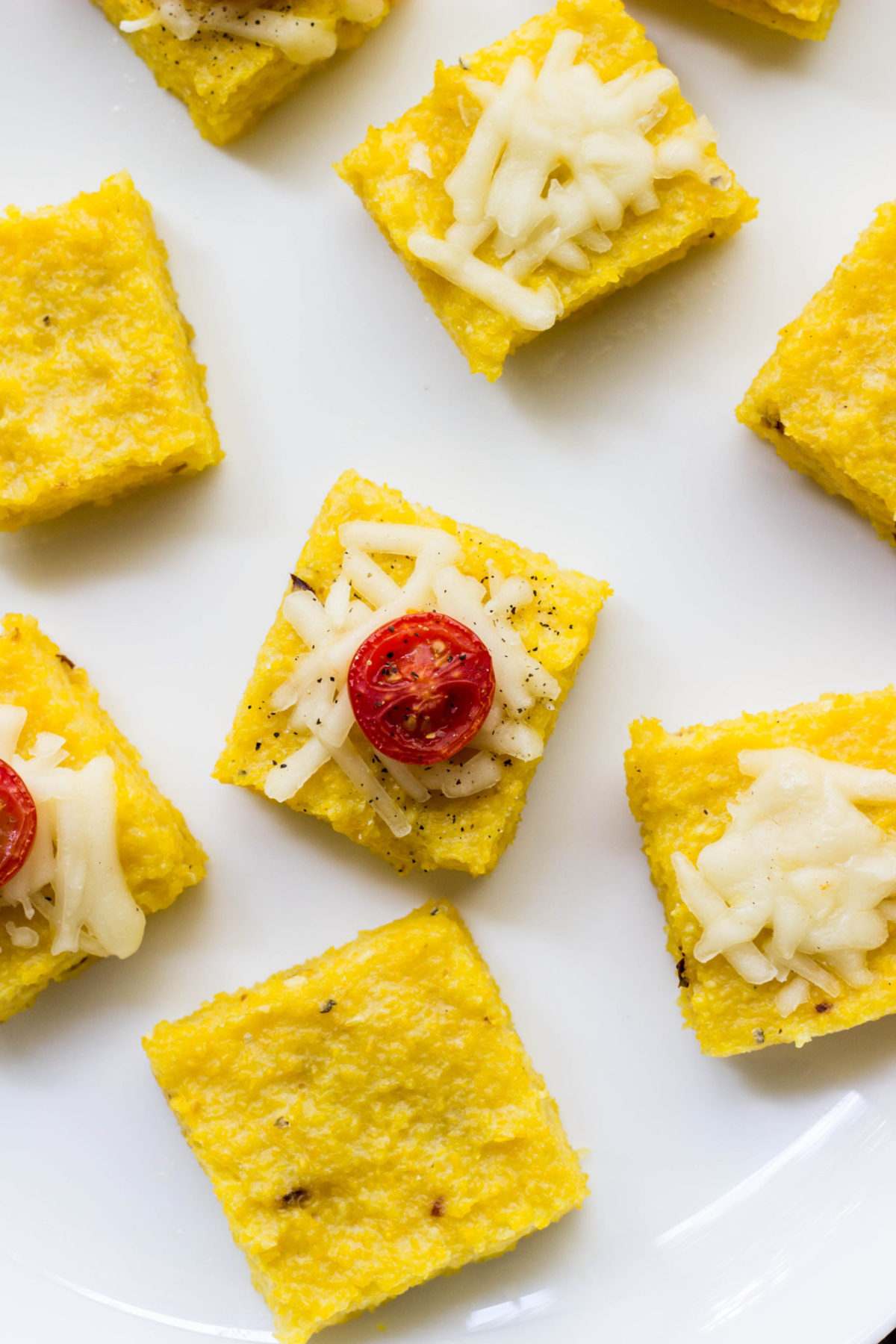 I don't know about your kids, but after school mine are a couple of ravenous little monsters ready to devour any and everything in sight. No matter how much they eat at lunch, when they walk through the door in the afternoon, the first thing they want to do is get a snack. I can't say I blame them though. Lunch time is quite early in the day and they are expected to go another 4-5 hours before eating again. So, in an effort to have something healthy on hand and ready to go when the little monsters get home I make these Vegan Cheesy Polenta Bites.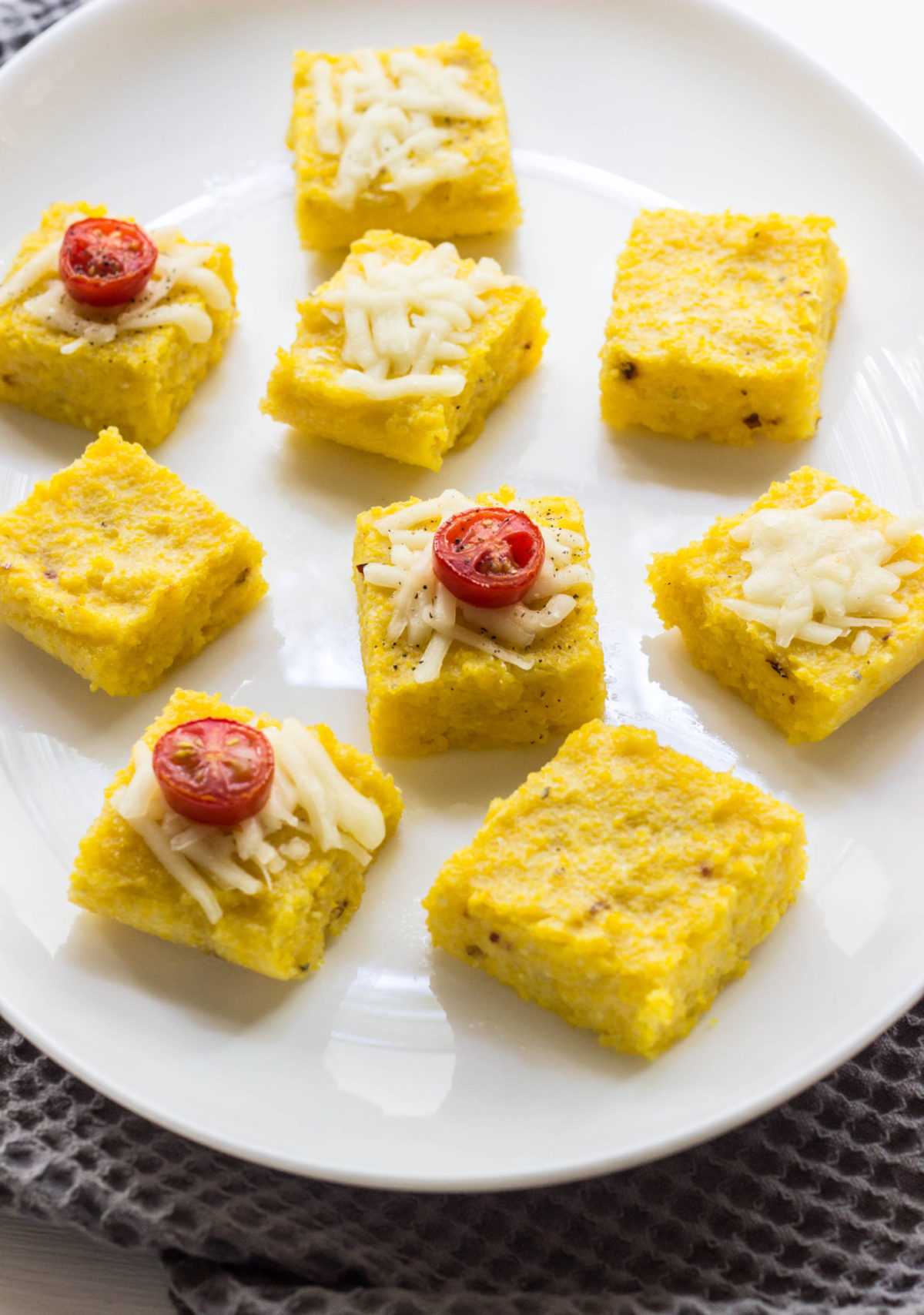 These polenta bites start with a very basic recipe for making polenta which is just corn grits and water. Add a few seasonings and nutritional yeast and then all that's left to do it let the mixture set. Very little effort is needed, but you do need to plan for an hour or so to allow the mixture to set up.
Once the mixture is set simply cut into squares. I cut it into 16 squares about two inches in size, but you could cut even smaller squares for a truly bite sized piece.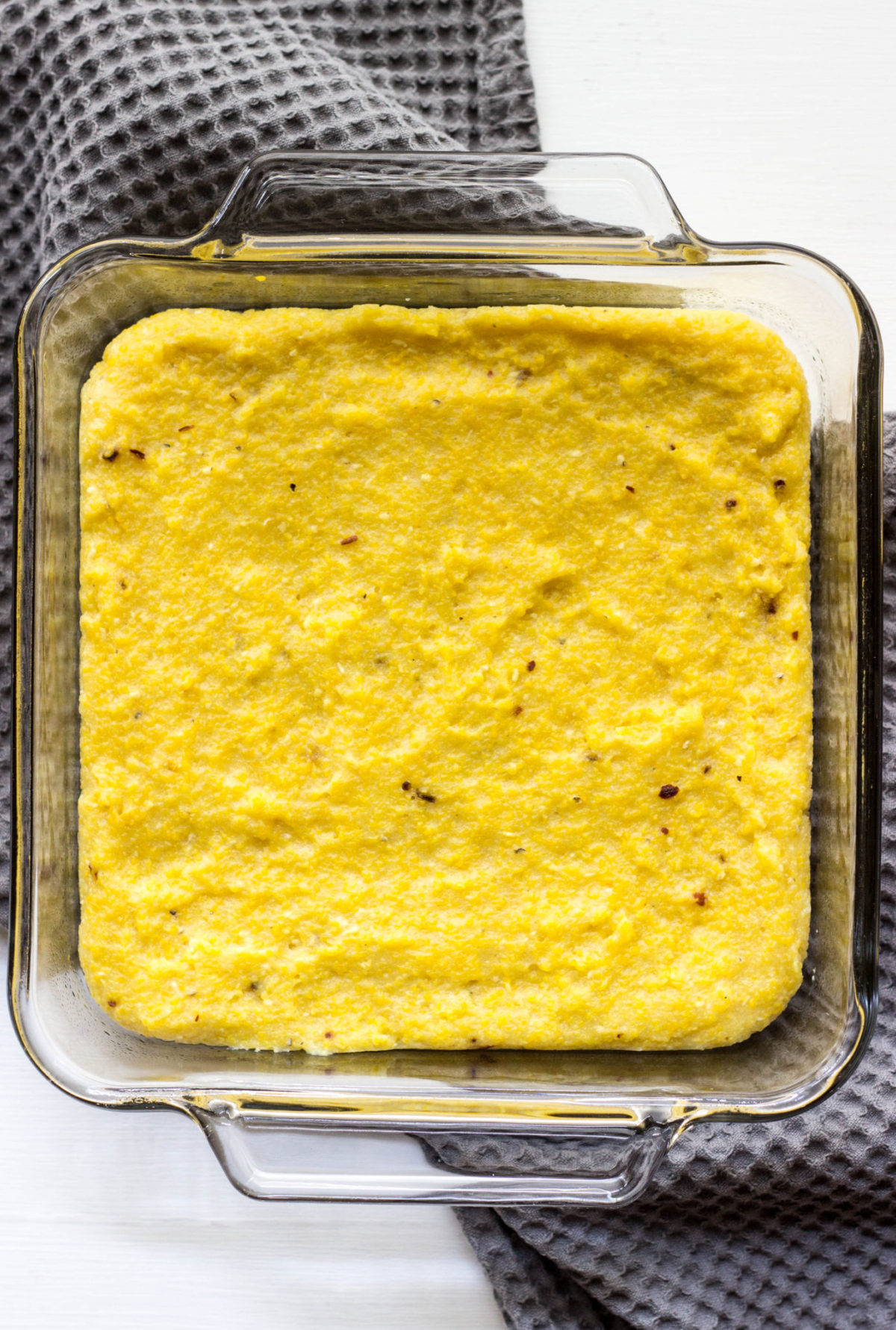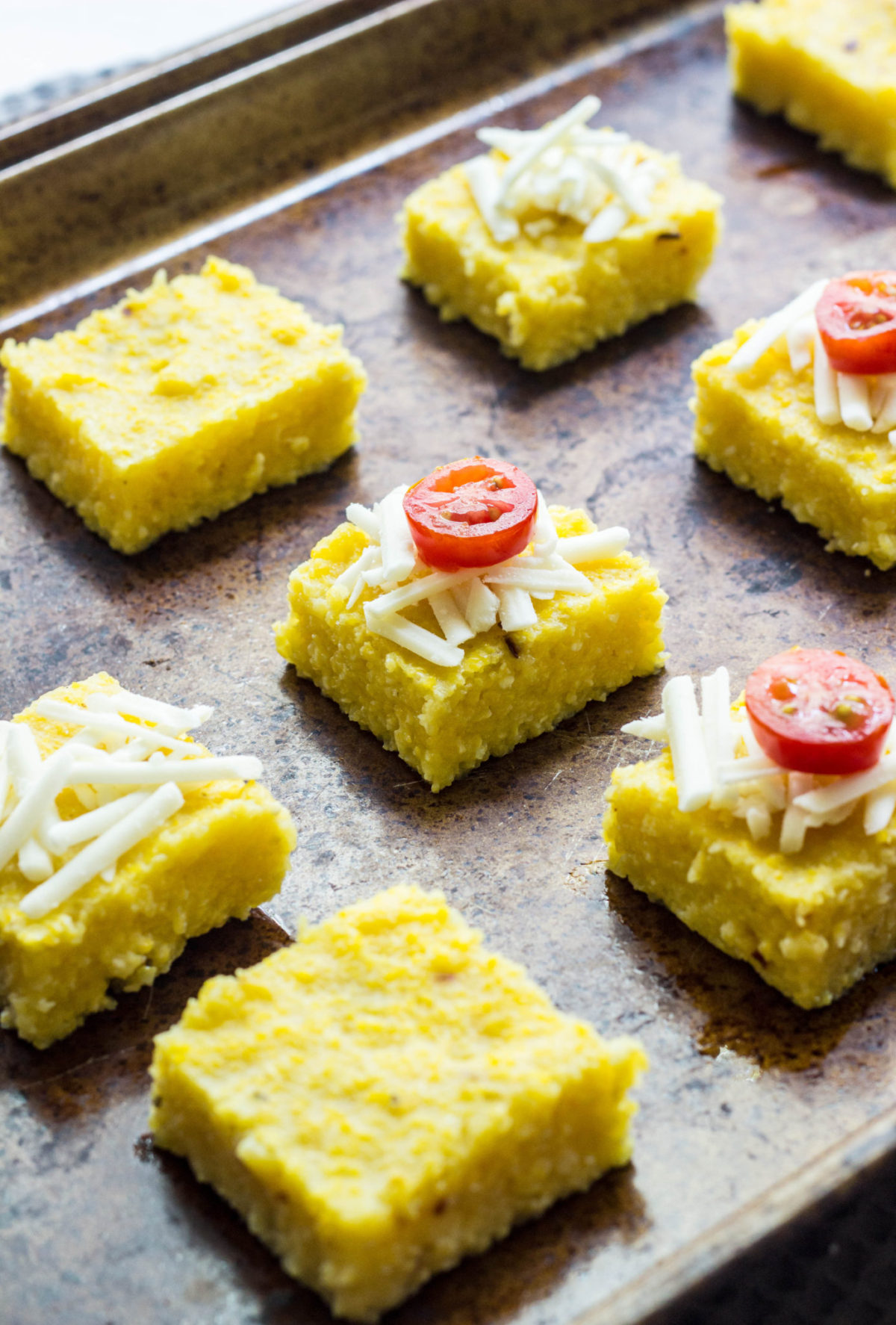 topping ideas and tips
You can dress these up anyway you like really. Sautéed mushrooms, sliced olives, jalapeños, add fresh basil leaves with the tomato. So many different ways to suit everyone's taste. A great idea would be to have the polenta prepared up to the baking step before the kids get home from school. Then let them top how they like and bake. Super simple and healthy snack to tide them over until dinner time!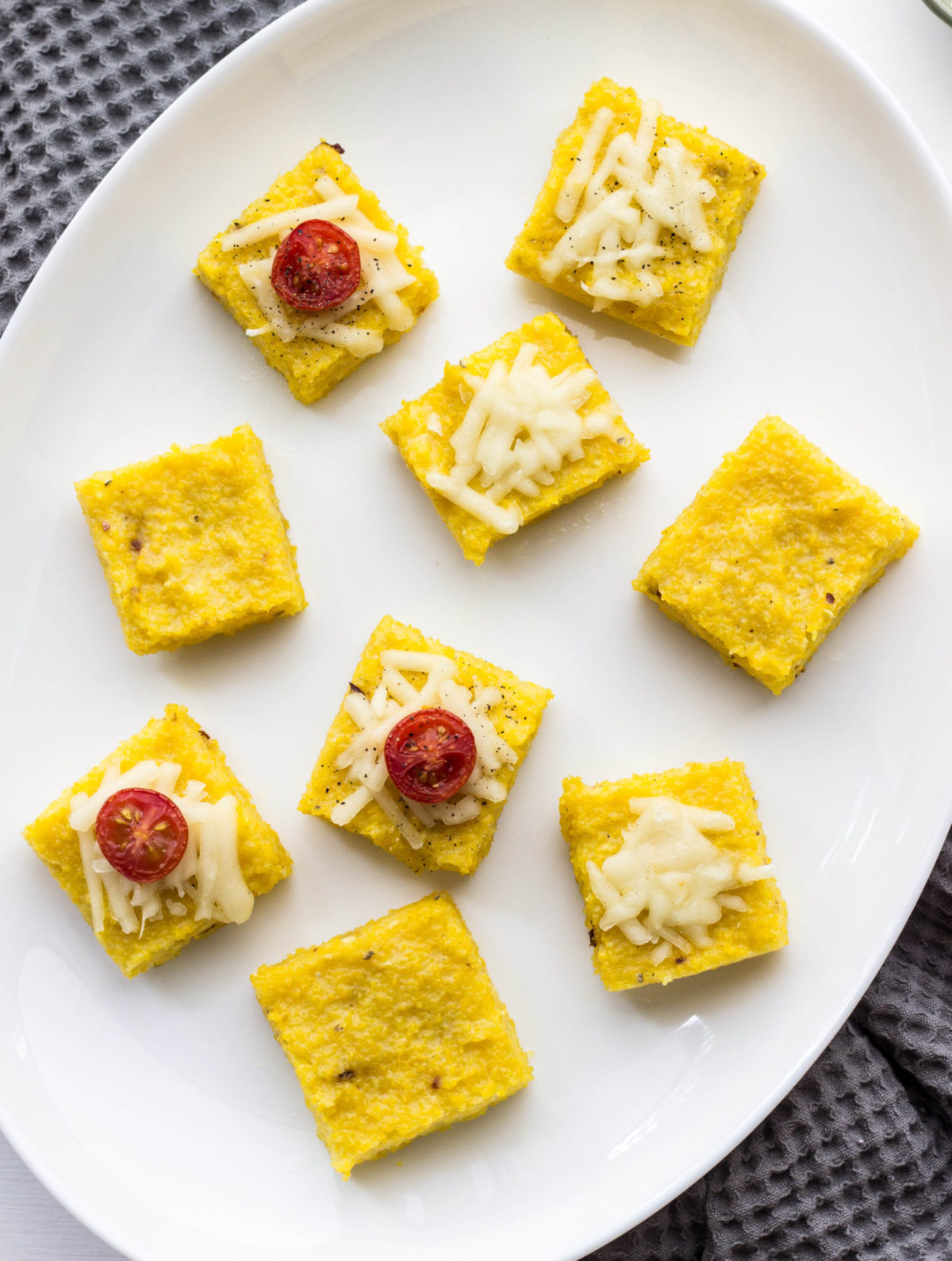 If you make a recipe, I would love to know how it turns out! You can leave a comment and rating below or snap a pic and tag it @weelittlevegans on Instagram so I'll be sure to see it!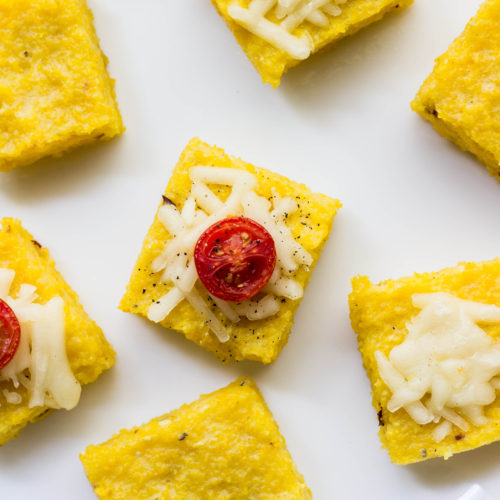 Vegan Cheesy Polenta Bites
Ingredients
3

cups

water

1

cup

polenta or corn grits

3

tablespoon

nutritional yeast

½

teaspoon

salt

¼

teaspoon

garlic powder

¼

teaspoon

onion powder

⅛ - ¼

teaspoon

red pepper flakes

optional

¼ -½

cup

vegan cheese

optional

sliced tomatoes, olives, spinach, etc.
Instructions
Lightly grease an 8 inch square baking dish and set aside.

Bring water to boil in a large sauce pan.

Slowly add polenta, stirring constantly.

Reduce heat to low and cover. Cook, stirring often until polenta is tender and water has been absorbed, 5-10 minutes.

Stir in nutritional yeast, salt, garlic powder, onion powder and red pepper flakes, if using. Taste and adjust seasonings to your liking.

Pour polenta into prepared baking dish and spread in an even layer. Allow. to cool and firm, about 1 hour.

Cut polenta into 16 squares and transfer to a baking sheet. Heat broiler.

Sprinke with cheese and add tomatoes, olives, or any other garnishments.

Broil until cheese is melted, cool briefly and serve.