Keep lunch interesting with this Vegan Cranberry Apple Chickpea Salad Sandwich. Made with just 12 simple ingredients.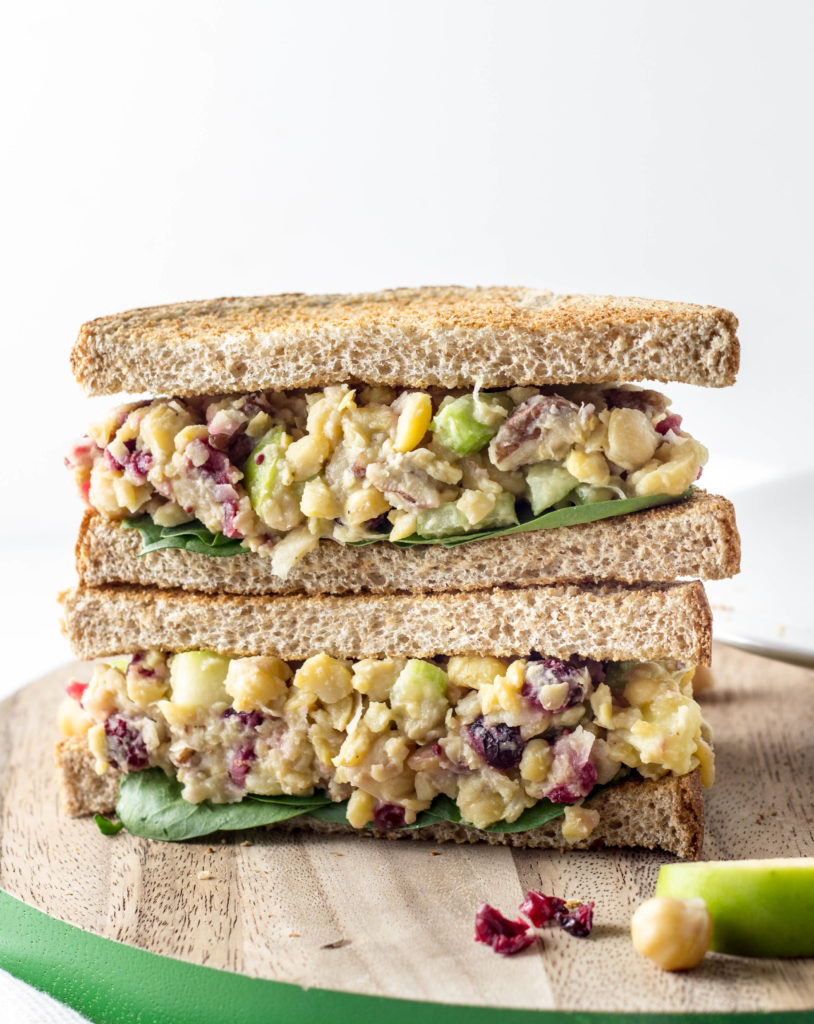 We're almost there, school starts later this week and the kids can't wait! To be honest, I'm looking forward to it too. I think we all enjoy the structure that comes with the more regular routine during the school year even if the kiddos don't realize it. Also, it's really hard to keep three kids entertained all summer! So, while I love the extra time we get to spend together it will be nice to get back to that more regular schedule. In addition to getting all the new school supplies they need, we've been busy coming up with new ideas for their packed lunches like this super yummy Vegan Cranberry Apple Chickpea Salad Sandwich.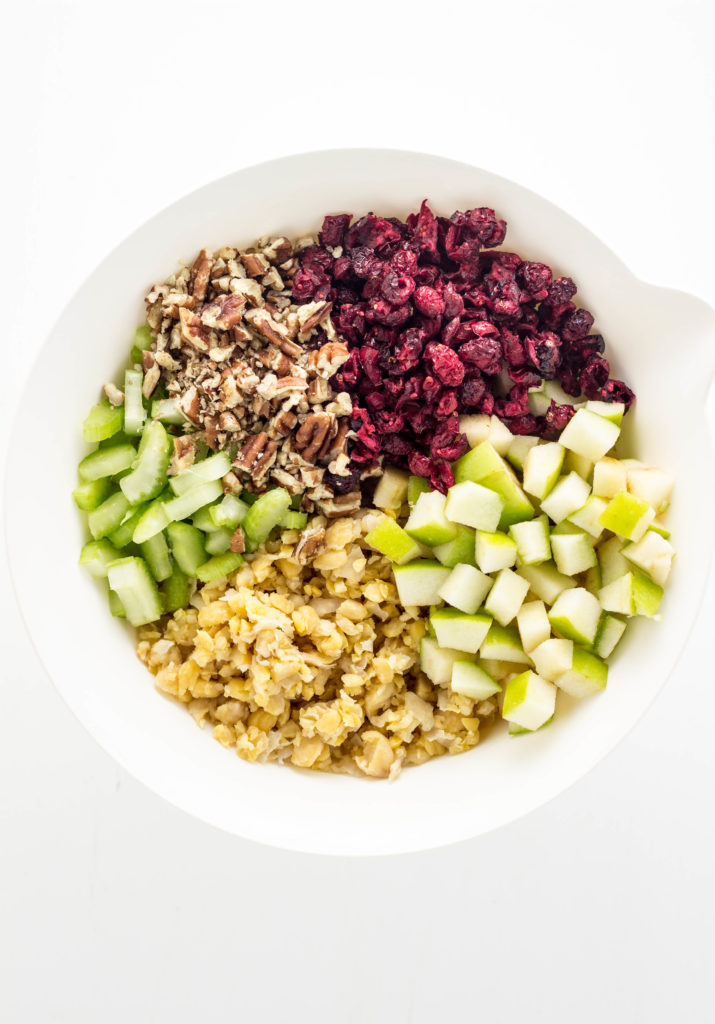 This sandwich salad consists of simple ingredients including chickpeas, celery, apples, nuts/seeds, and cranberries (learn how to make your own here) and a simple dressing to hold it all together. It's perfect for piling high on your favorite vegan bread, stuffing in a pita, or topping a basic salad. Plus it's high in protein and fiber for a satisfying lunch that'll get you through the afternoon.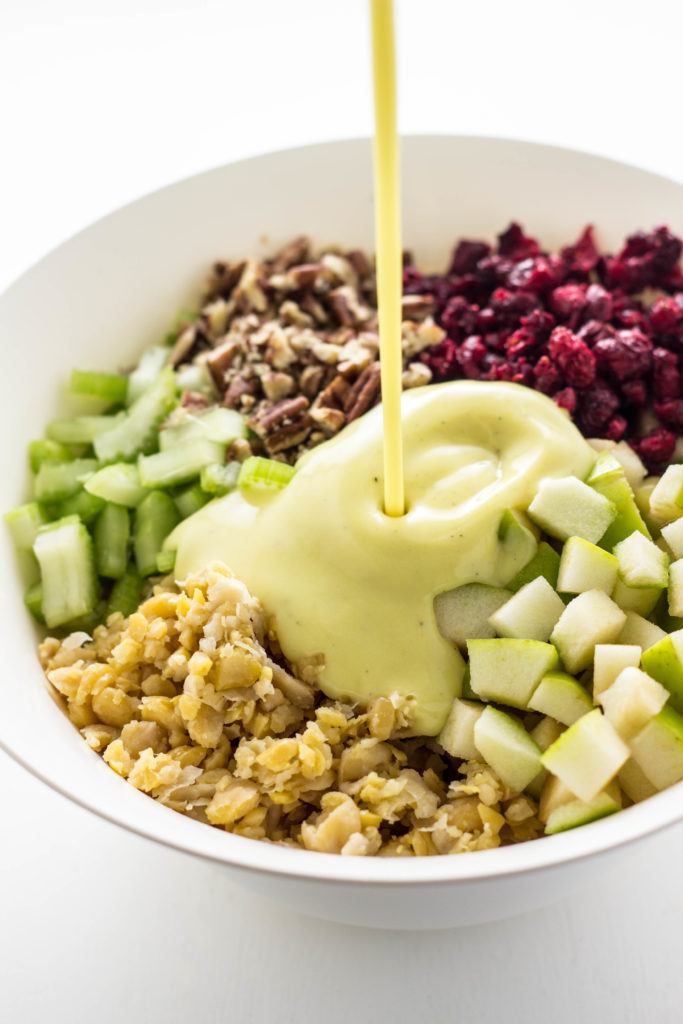 I went with my usual go to for making the dressing, non dairy yogurt. The yogurt gives the perfect creamy texture without the vegan mayo, which we're not big on around here. Add a bit of mustard and seasonings and you've got a delicious slightly tangy sauce for coating and holding together the chickpeas, veggies and fruits.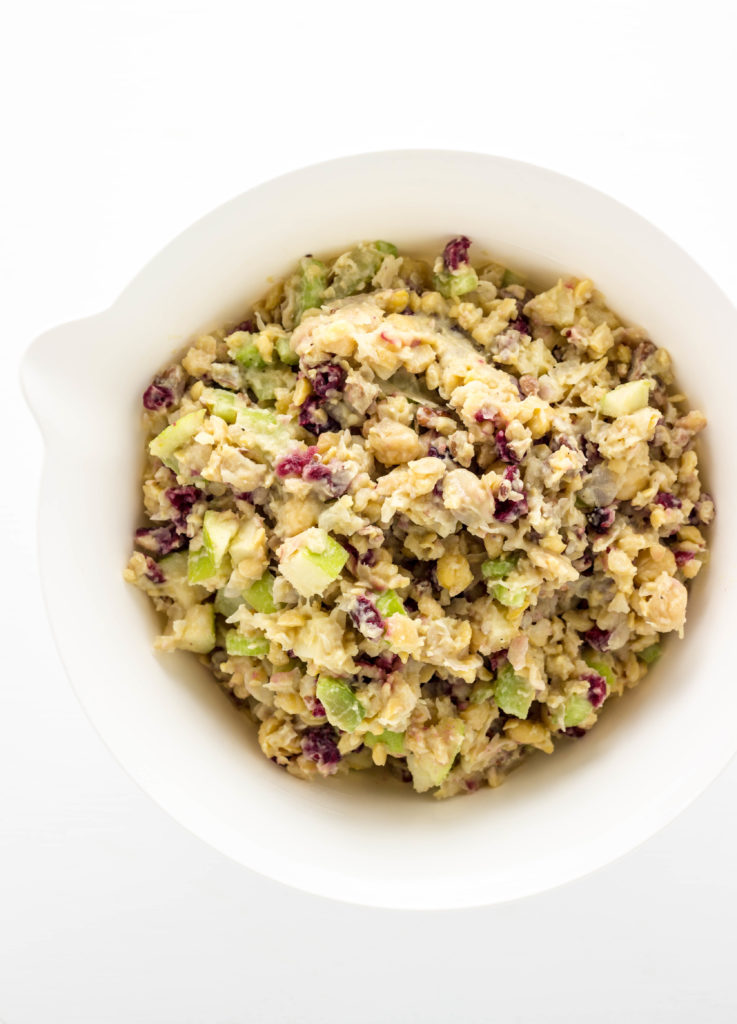 The great thing about this salad is that it's flexible so you can really adjust it to suit your tastes. For instance, I made this batch with pecans, but you can use any kind of nut you'd like or to keep it nut free use sunflower seeds instead. Try different varieties of apple to change the overall flavor. I've used pink lady apples for a sweeter flavor and granny smith for more tartness.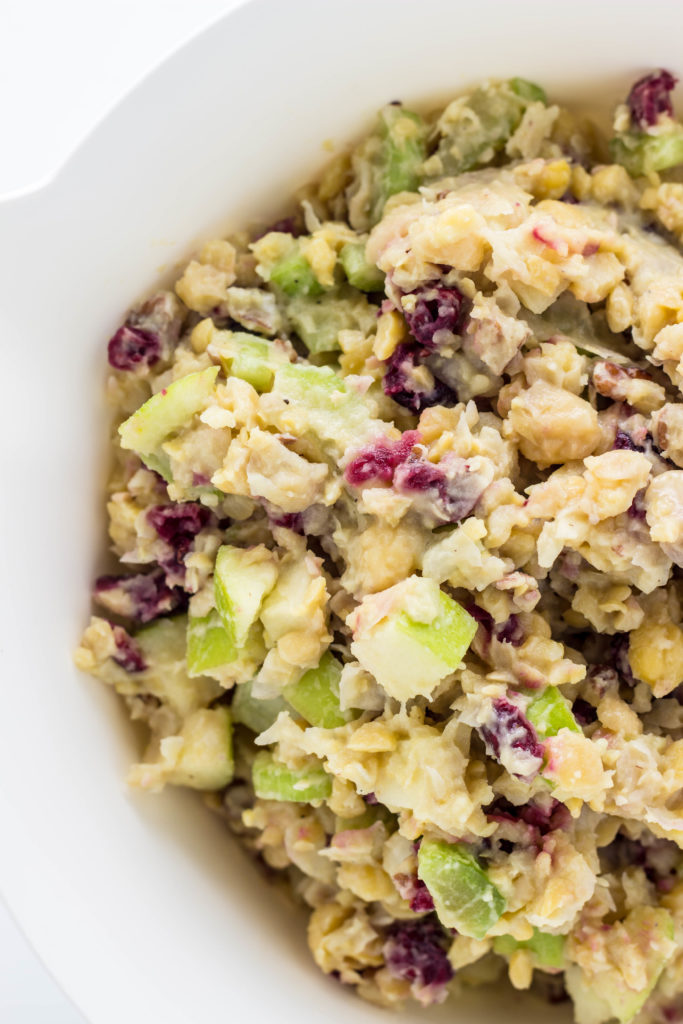 We really like that this sandwich is loaded with different flavors and a variety of textures so every bite is interesting. Even my husband, who I didn't think would go for all the fruit in his sandwich, really liked it!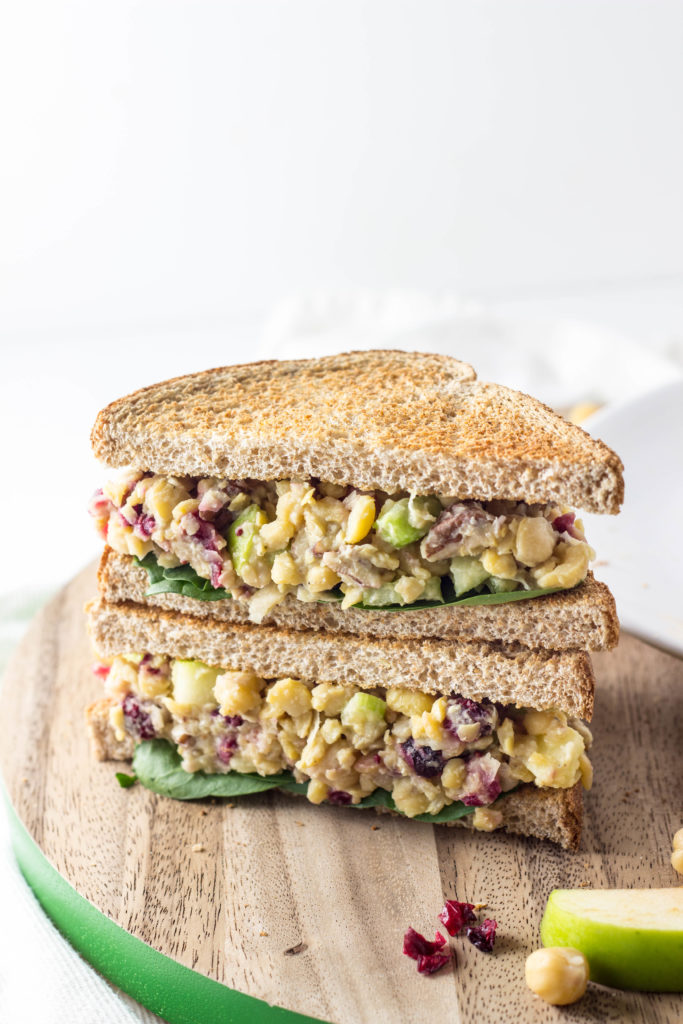 I hope you like this sandwich as much as we do and if you do try it, I'd love know what you think! Leave a comment below or you can snap a pic and tag it @weelittlevegans on Instagram so I'll be sure to see it!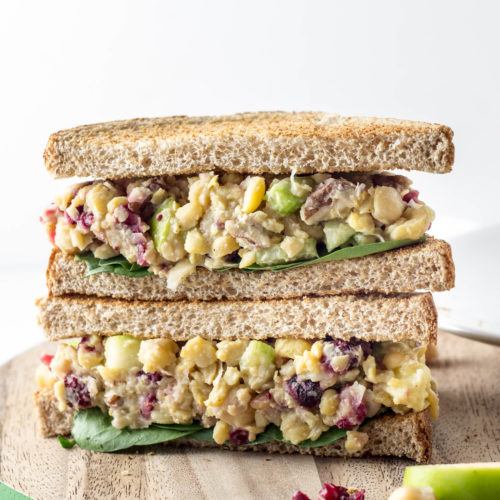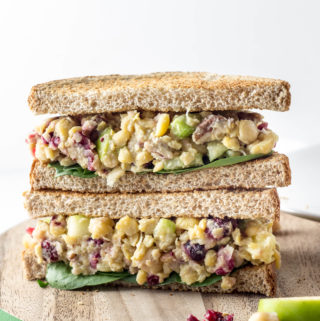 Vegan Cranberry Apple Chickpea Salad Sandwich
Ingredients
3

cups

chickpeas

1

large celery rib, chopped

½

cup

diced apple

I use granny smith.

½

cup

dried cranberries

⅓

cup

chopped peans, chopped walnuts, or sunflower seeds

5.3

oz

container plain, unsweetened non dairy yogurt

I use So Delicious

1-2

teaspoon

mustard

2

teaspoon

fresh lemon juice

⅛

teaspoon

onion powder

¼

teaspoon

salt + a pinch more for chickpeas

dash of black pepper

bread, pita, and additional toppings if desired
Instructions
In a small bowl whisk together non dairy yogurt, mustard, lemon juice, onion powder, salt and dash of pepper. Set aside.

Roughly smash chickpeas using a fork or pulse in a food processor a few times until most of the chickpeas are broken up. Sprinkle with a pinch of salt and stir.

In a large bowl combine chickpeas, celery, apple, cranberries, nuts/seeds and toss to incorporate.

Pour yogurt mixture over chickpeas and gently mix to thoroughly coat.

Cover and refrigerate for at least 30 minutes before serving.

To assemble sandwiches scoop desired amount of filling onto bread and add any additional toppings desired such as spinach or lettuce.
Notes
Check out this how to guide for making your own dried cranberries.