This 5 Minute Vegan Beetroot Bean Dip is kid friendly and perfect for a quick, healthy snack.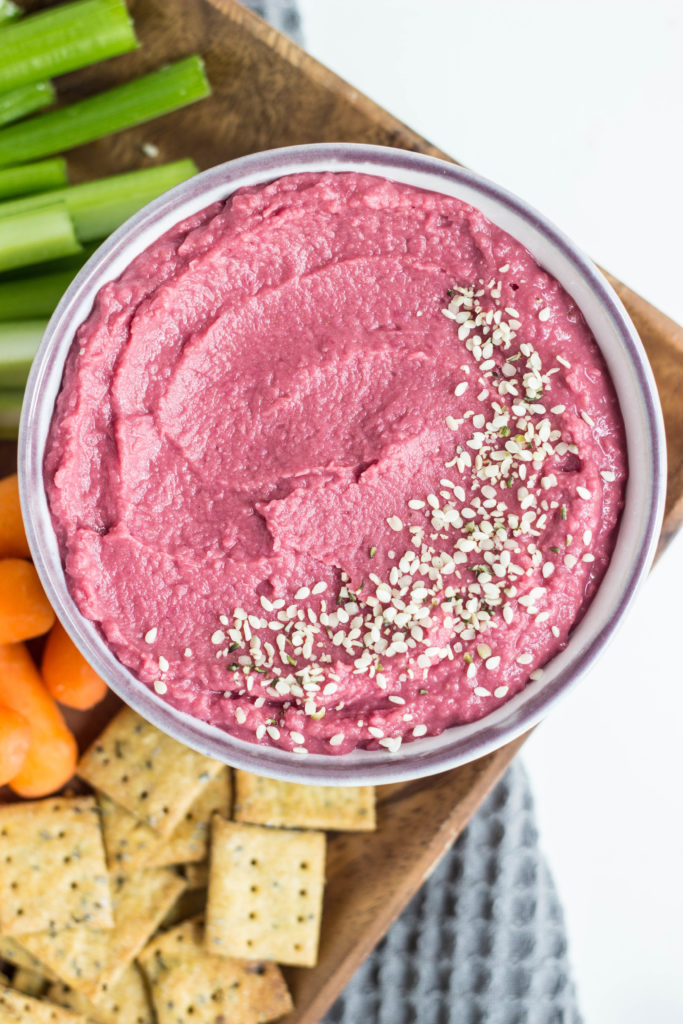 We're still on a pink food theme over here. Hope you don't mind 🙂
A few days ago, I made up this 5 Minute Vegan Beetroot Bean Dip for the kids to snack on and it was a total hit. That's right, all 3 liked it and happily snacked away. Major win! So of course, any recipe that is super quick and has the approval of all the kiddos has to be shared as soon as possible.
Normally, prepping beets is a bit of a messy job. Your hands are pink, the cutting board is pink, and if you are like me some of that juice finds its way off the board and on to the counter turning that a lovely hue as well. Clean up takes as long as prepping and then you still have to cook the beets. Roasted beets are delicious, of course, but sometimes I don't have the time or I just didn't think far enough ahead. That's where beetroot powder comes in.
Add just a bit of beetroot powder along with a can of creamy white beans and some seasonings to a food processor and in just a few minutes you have this super quick, flavorful dip!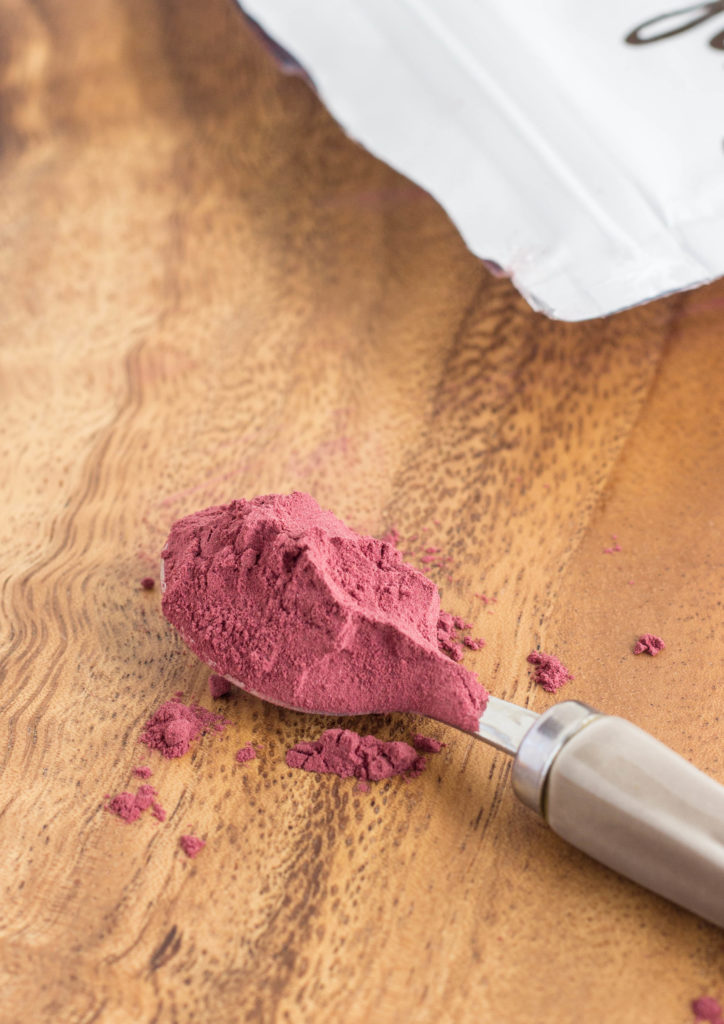 But, what is beetroot powder?
Simply put, it's beets that have been dried and ground into powder form. It can then be added to various foods and drinks making it easier for those who don't like beets to consume. My youngest will not eat beets, but this powder is no problem. In fact, this dip was a total win with her as she won't eat beans at the moment either. This dip though, she happily gobbles up.
As for nutrition, beets and beetroot powder are full of vitamins A and C and minerals like iron, magnesium and calcium among others. Beets are may help lower blood pressure and improve liver function too. Maybe not things the little ones need to worry about at this age, but it's so important to teach them healthy eating habits early on so they may avoid some of these ailments later in life.
So know that you know what beetroot powder is, where do you get it? You can order it online or find it in many health food and supplement stores.
We enjoyed our dip with carrots, celery and my Whole Wheat "Cheesy" Herb Chia Crackers.  This is a perfect afternoon snack to hold everyone over until dinner.
If you're a football fan, this dip would make a great healthy addition to the Super Bowl spread this weekend too. And if you like a little more variety on the table I've got a few more dips to try:
Roasted Carrot Garlic White Bean Dip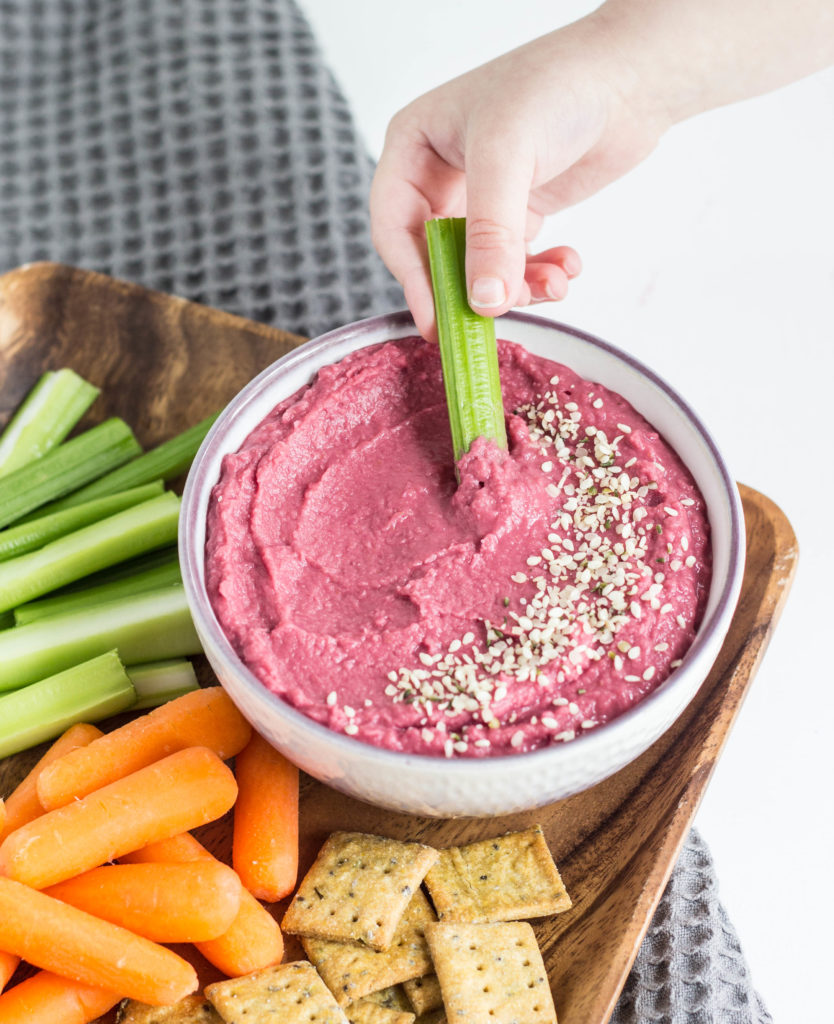 Cute story. When it was time to take the photos, my youngest who helps in the kitchen often, was eager to help out there too. She was so proud of her hard work, she had to tell her big sisters about it as soon as they were home from school. It really was adorable how excited she was and her big sisters were awesome and so supportive.
If you do try this 5 Minute Vegan Beetroot Bean Dip or any others, let me know how it turns out! Leave a comment below or snap a pic and tag it @weelittlevegans on Instagram so I'll be sure to see it!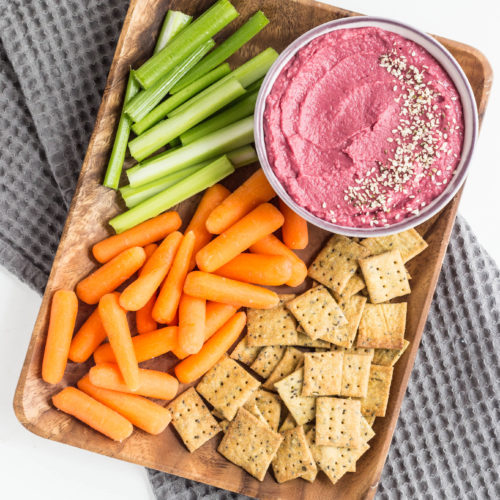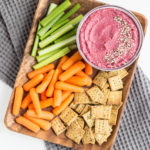 5 Minute Beetroot Bean Dip
Ingredients
1

15 oz

great northern or cannellini beans or 1 ½ cups cooked dry beans

1-2

teaspoon

beetroot powder

I use 2 tsp.

¼

cup

water

1

tablespoon

olive oil

1

tbsp

lemon juice

¼

teaspoon

salt

¼

teaspoon

cumin
Instructions
Combine all ingredients in the bowl of food processor. Blend until smooth and creamy. Taste and adjust seasonings to your liking. Serve immediately or refrigerate until needed.

Serve with carrots, celery, peppers, crackers, etc.