Reap all the health benefits of beets with this heart healthy, delicious Beet Citrus Smoothie. A blend of beet root, pear, spinach, and citrus with just a hint of ginger to naturally boost energy and have you feeling great.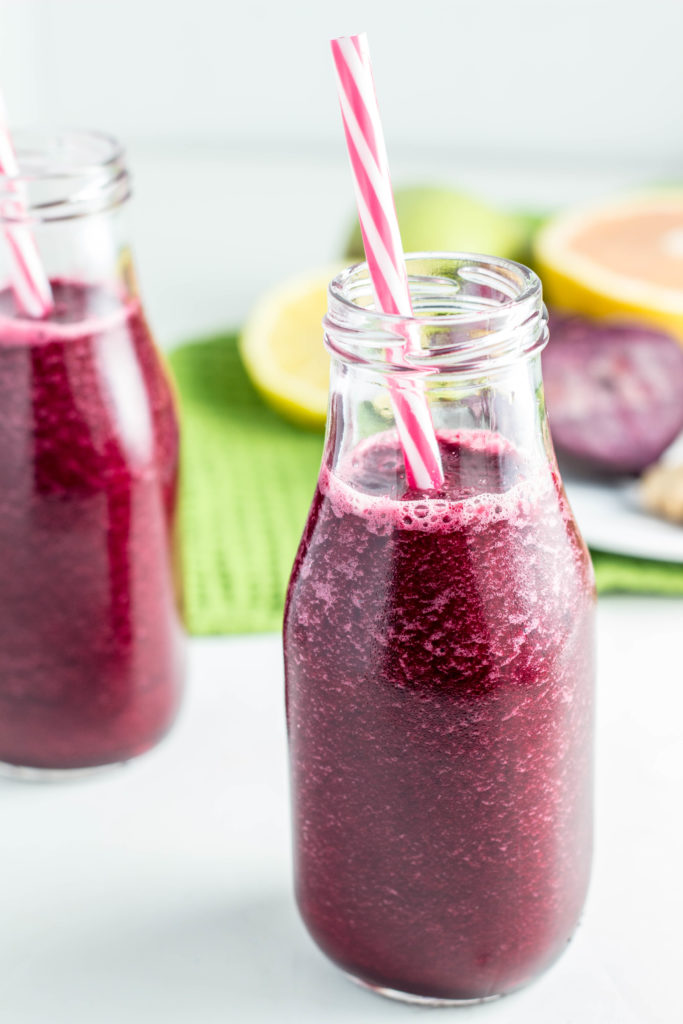 I'm continuing the theme of the week today, showing the humble beet a bit more love. You see, I've been crushing on beets pretty hard lately. I've roasted them, juiced them and baked muffins with the pulp, grated them on salad, and doughnut-fied them all in the the last week. Obsessed? Maybe, but there is good reason to be. Beets have got it going on. Their earthy flavor, that fantastic deep red color, and they're nutritional powerhouses. Here are just some of the nutrition highlights:
• High in iron, fiber, folic acid, potassium, manganese and lots more.
• Help lower blood pressure due to the high levels of nitrates that help widen arteries reducing blood pressure. Nitrates help with oxygenating the blood, which boost energy levels as well.
• Excellent for those who are pregnant (me) or thinking about becoming pregnant. Folic acid is vitally important to the development of a fetus' spinal cord. The high fiber content also eases the constipation that often comes along with pregnancy.
• The high iron content of beets help to fight anemia.
• Beets have also been shown to fight cancer and reduce the size of tumors.
• If you're an athlete, beets have also been shown to increase endurance and stamina.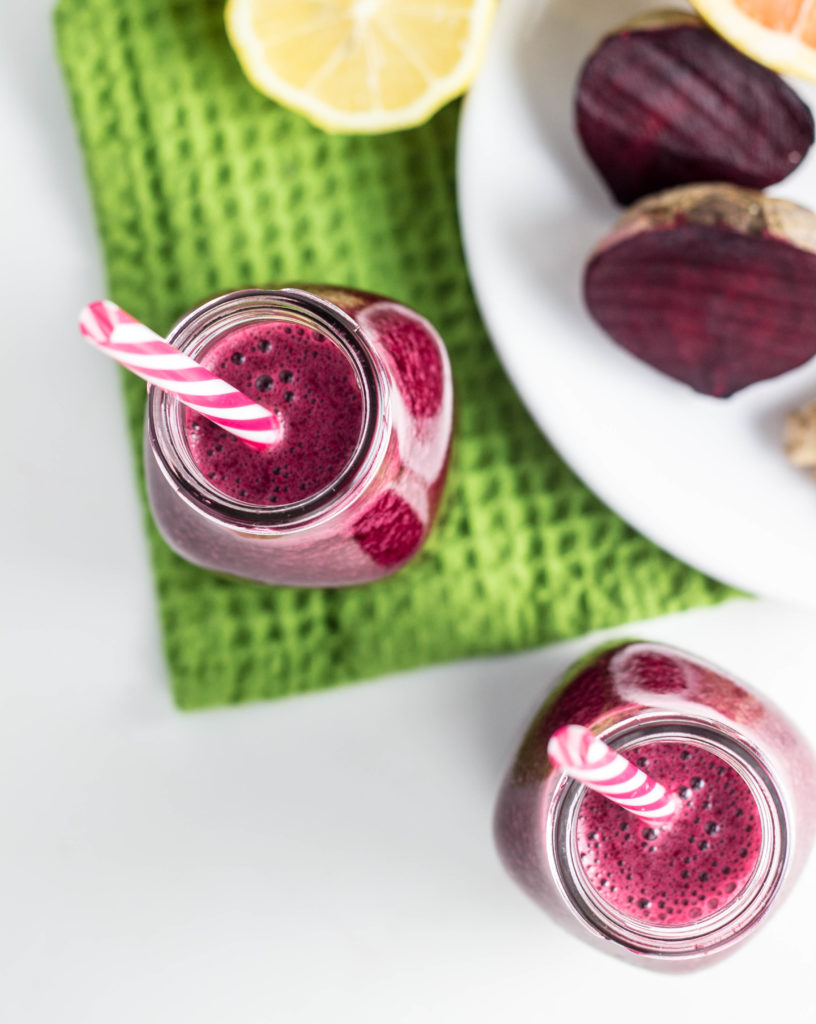 Ok, now that you can see why beets are so awesome, lets talk about this smoothie. Isn't it just a gorgeous color?! It's also super healthy and tastes pretty darn yummy. Beets are the super star, but the supporting players are pretty amazing too. Grapefruits are rich in vitamin C, which aids in the absorption of iron, making it a great addition to the beet. There's also nutrient dense spinach in there and ginger to fight inflammation and soothe tummies. Another benefit to pregnant women struggling with morning sickness. Pear (or apple) rounds out the flavors and sweetens things up a bit more making this a tasty way to show your body some love.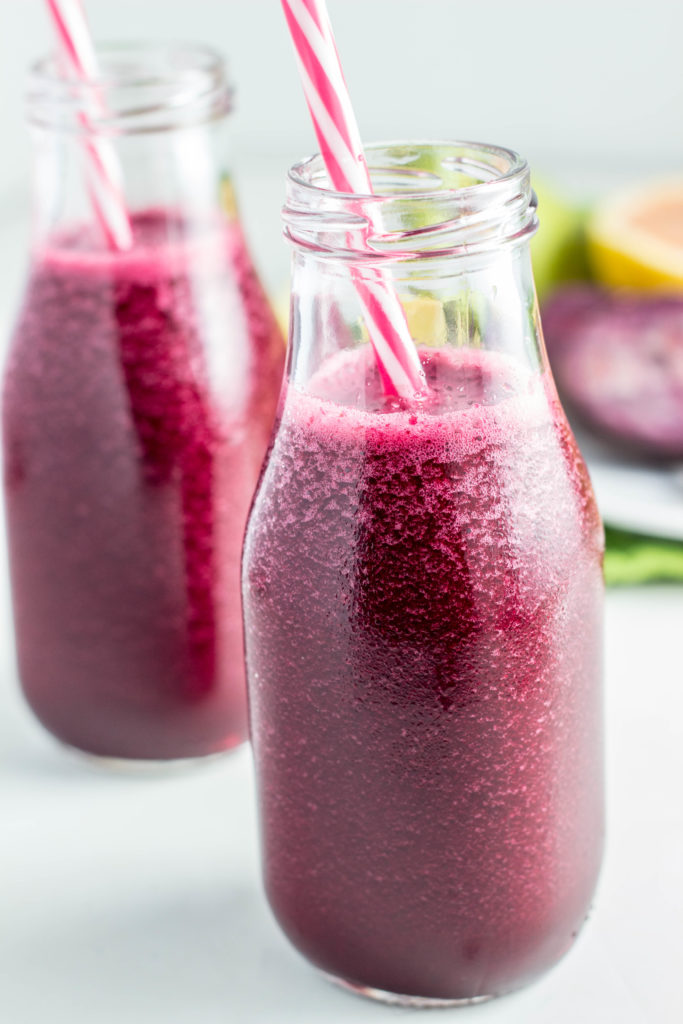 Since Valentine's Day is just around the corner and it's all about love, why not share this heart healthy smoothie with someone you love! And if you still need a sweet treat for the occasion here's a few more ideas:
Raw Vegan Doughnuts
Cherry Chocolate Chip Crisp
Cherry Maple-Vanilla Pudding Parfaits
Chocolate Coconut Butter Truffles
Cherry Chocolate Chip Brownies
Fruit 'n' Cream Oat Smoothie
Dried Cherry and Pistachio Chocolate Bark
Cherry Vanilla Mini Loaves
Chocolate Chip Oatmeal Skillet Cookie
Whole Wheat  Vegan Chocolate Chip Pancakes
If you try this recipe, let me know how it turns out! Leave a comment below or take a picture and tag it @weelittlevegans on Instagram so I'll be sure to see it!
Beet Citrus Smoothie
Ingredients
1

cup

beet - peeled, chopped and frozen if desired.

1

pear or apple - peeled, cored, chopped and frozen if desired.

1

cup

spinach. loosely packed

1

cup

coconut water or plain water

juice of 1 lemon

juice of 1 grapefruit or 2 oranges

small piece of ginger, peeled

chia seeds

optional

hemp seeds

optional

turmeric

optional

cinnamon

optional
Instructions
Add all ingredients to blender.