Fluffy Vegan Oil Free Biscuits made with just 6 ingredients in one bowl and in less than 30 minutes.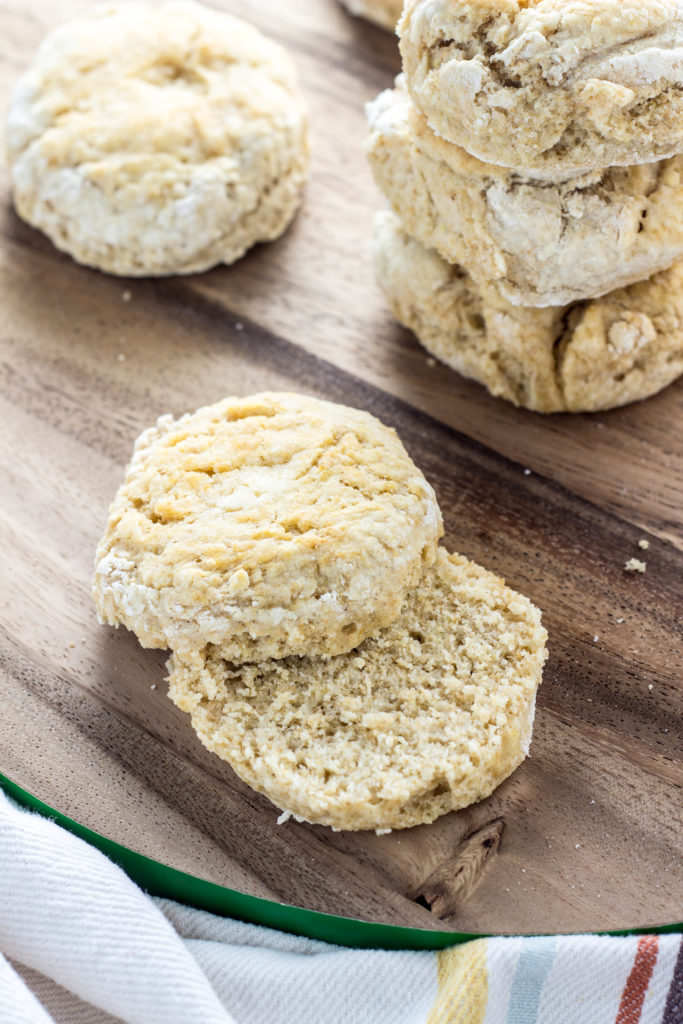 Typically biscuits are made with a significant amount of butter so how do you make a biscuit without it? You could use firm coconut oil, but there's no need for that either. Non dairy yogurt is my secret ingredient. These Fluffy Vegan Oil Free Biscuits are soft and delicious without the extra step of cutting in butter or oil. One bowl and super simple so you can have warm from scratch biscuits on the table in under 30 minutes!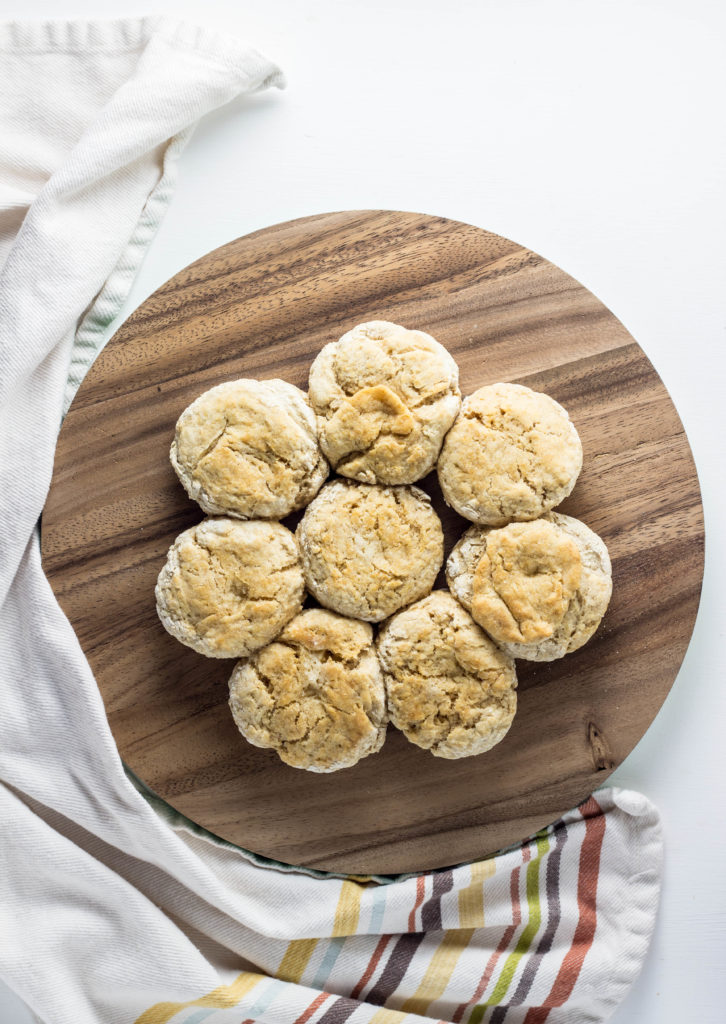 I got the idea to try using non dairy yogurt in place of the coconut oil I usually use for biscuits after baking a cake with it. The cake was moist and delicious without any oil, so I wondered if it would work for biscuits too. Well, obviously it did! And these biscuits are delicious and totally satisfy the craving.
I've used yogurt for many things like creamy dressings, in place of mayo, and another fun recipe coming up soon. It's definitely one of my secret weapons in kitchen.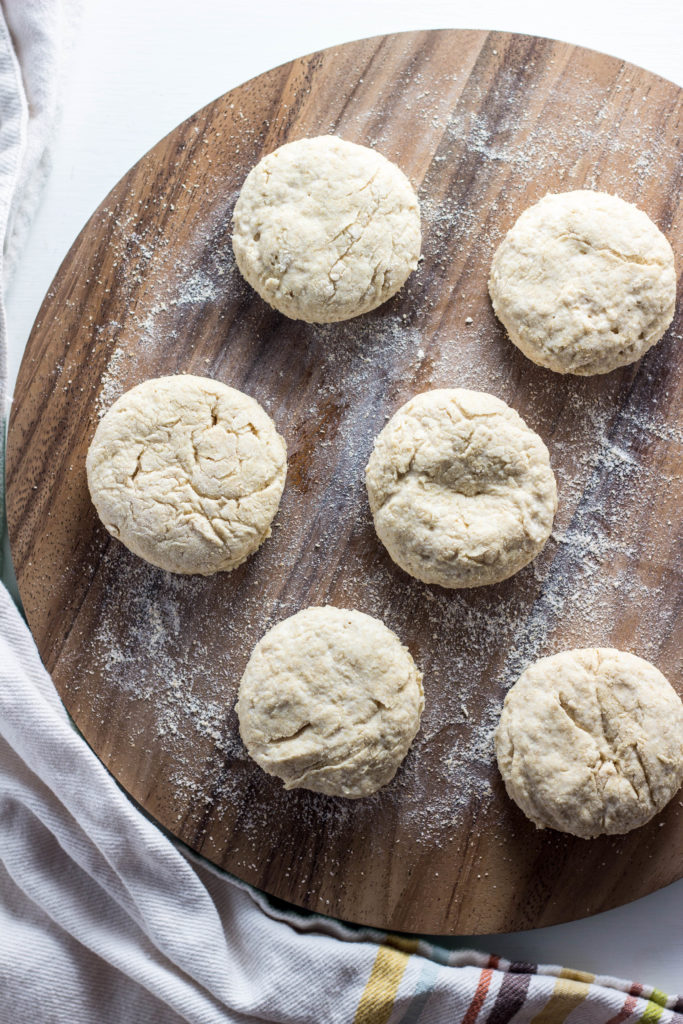 This process for making these biscuits is simple and very similar to making any other biscuit with the exception of having to cut in a fat. So, this recipe is even simpler. Just combine a few dry ingredients and add the yogurt and milk.
You can use white whole wheat flour or all purpose flour to make these biscuits. The white whole wheat produces a slightly denser biscuit so I prefer to use a combination of the two. This way the biscuits are softer, but still somewhat healthy.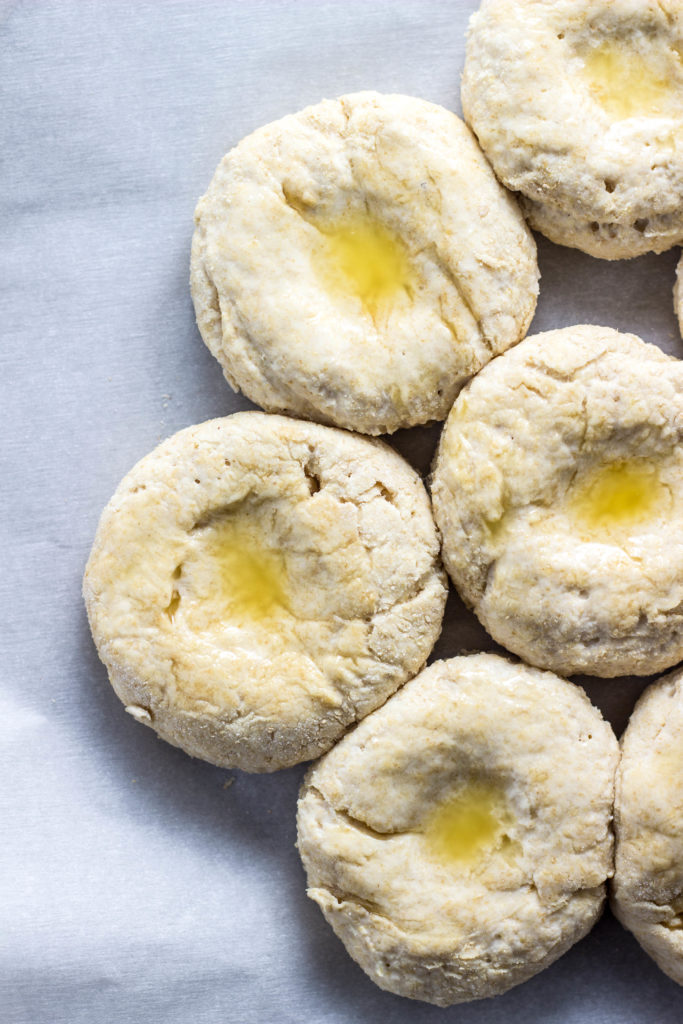 I also like to brush on a bit of melted vegan butter to help brown the tops a bit, but this is optional. These biscuits will not brown as much as a conventional biscuits without it, but will still be delicious.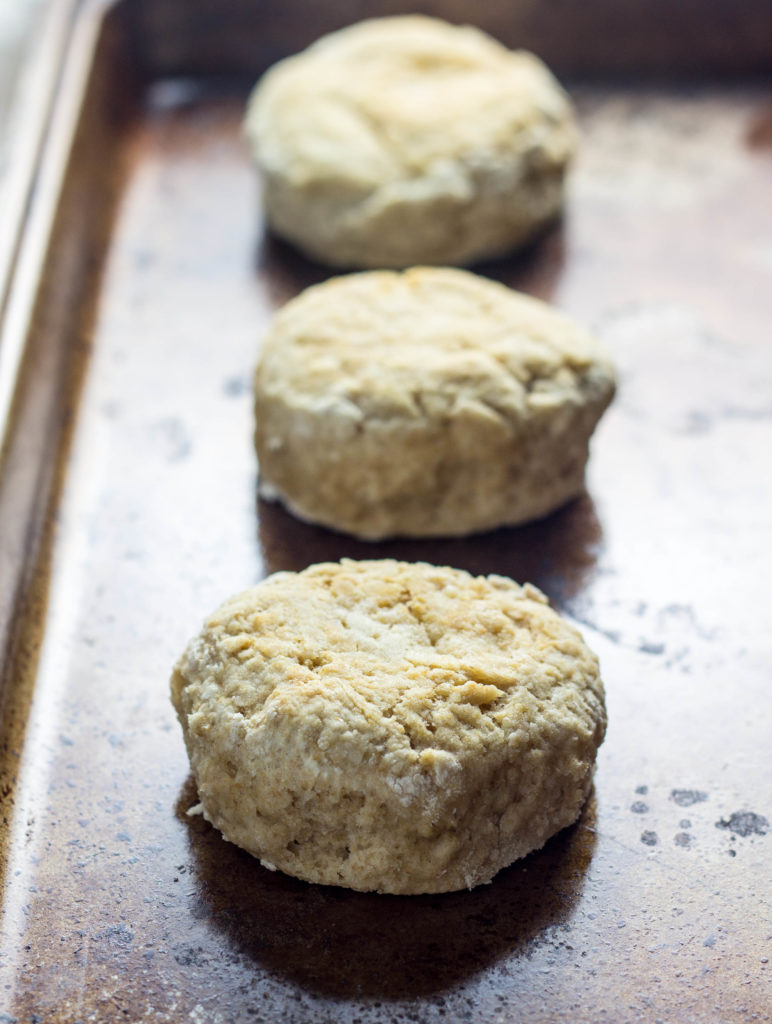 If you try these Fluffy Vegan Oil Free Biscuits, let me know how it turns out! Leave a comment below or snap a pic and tag it @weelittlevegans on Instagram so I'll be sure to see it!
Fluffy Vegan Oil Free Biscuits
Ingredients
1 ½

cup

flour- all purpose or white whole wheat

I use ¾ cup of each flour.

1

tablespoon

baking powder

¼

tsp

baking soda

½

teaspoon

salt

1

5.3 oz

container non dairy yogurt, unsweetened & plain

I use So Delicious coconut yogurt

¼

cup

non dairy milk

I use almond milk.

1

tablespoon

apple cider vinegar
Instructions
Preheat oven to 425 degrees and line a baking sheet with parchment paper, silicone mat or lightly grease instead. Set aside.

Add apple cider vinegar to non dairy milk. Set aside.

Combine flour, baking powder, baking soda and salt in a large bowl and whisk to thoroughly incorporate.

Make a well in the center of flour mixture, add non dairy yogurt and milk. Use a wooden spoon to stir just to combine and bring together a dough. Do not over mix.

Turn out dough on a lightly floured surface. Sprinkle with additional flour. With floured hands work the dough into a flat rectangle about ¾ - 1 inch thick.

Lightly flour a 2 ½ inch round cutter or glass and press straight down into dough. Lift and transfer cut biscuit to prepared baking sheet.

Continue until you have used all dough, reworking scraps into a rectangle as needed.

Place the biscuits close together on baking sheet. It's okay if they are touching.

Brush with melted vegan butter, if desired and bake for 12-13 minutes or until tops begin to brown very lightly.

Brush with additional melted butter, if desired and serve immediately.